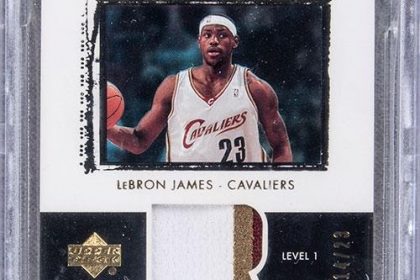 Did you think you'd see the day when a modern sports card sold for more than an NBA player's salary? Well, here's the day, and the comparison.
Milwaukee Buck Pat Connaughton played in 61 games prior to the NBA suspension. He averaged 5.1 points and 4.2 rebounds per game and appeared in the 2020 All-Star Game Dunk Contest. Connaughton's contract for the 2019-20 NBA season is valued at $1,723,050. 
Sure, Connaughton can buy a lot of things with his 2019-20 earnings: several new cars and multiple houses around the Milwaukee area, if he wanted. But one thing he couldn't buy—a LeBron James 2003 Exquisite Rookie Patch Autographs /23 BGS 9.5. 
Late Saturday night, that LeBron sold for an all-time modern sports card record of $1,800,000 (via Goldin Auctions), which was double the value of the previous record (Mike Trout 2009 Bowman Chrome Red Refractor Autograph /5 BGS 9.5 sold for $900,000 just 2 months ago).
For those of you that don't know about the Bronny card, here's a brief synopsis. It features LeBron James—one of the best NBA players ever. It is from 2003 Exquisite—one of the highest valued products ever and is from LeBron's rookie year (hence it being a rookie card). It has a piece of LeBron's jersey inside of the card. It is hand-signed by LeBron. It is a parallel limited to only 23 copies in the universe (normally they are /99). It is a BGS 9.5, which is in Gem Mint condition and has an extremely tough grade on the thick card stock (there is only one other BGS 9.5 in existence). And finally, it's one of the most iconic NBA cards of all time.
While the $1,800,000 sale in itself is an extremely big deal, the aftershock is really where the impact will be felt. Major news outlets picked up this story, and not just sports news outlets. Of course, ESPN among other big-name sports media outlets reported on it, but The Today Show also ran a piece on the sale. Social media was sent into a frenzy too. Anyone involved in sports cards was sharing the news, as many use big sales like this to prove to their friends and family the industry is no joke.
The sports-card market has been on absolute fire in 2020, with the only "lull" occurring the month after live sports were suspended. Since then, it feels like each individual card is setting a new record high each day. Giannis Antetokounmpo 2013 Prizm RC PSA 10s are now selling for over $4,000, and Luka Doncic 2018 Prizm Silver RC PSA 10s are going for more than $5,250. Both of those values doubled since the start of June, and during that time neither player has been in a single game. So many new faces (and with it new money) are coming into the sports-card game. The market supply can't keep up with the demand. Hence values are exploding.
The LeBron RC card will always be remembered as the groundbreaking sale that landed sports cards on front page. But this type of recognition for sports cards has long been overdue. The weekend of hype was awesome to see, but the ripples that follow will likely impact the sports-card industry for much longer. Here's our three-point breakdown why: 
1. This Sale Validates The Market Explosion
I can't tell you the amount of times over the past year I've heard, "We're in a bubble. The sports-card market is going to crash. Sell everything now before it's too late." And each month after, more people come into the market, card values increase, and more people enjoy the growth of the industry. This big time LeBron sale will put some of those questions to rest, as this provides even MORE consumer confidence to new entrants than before. Seeing a modern sports card sell for $1M+ (with many interested buyers) proves there is so much more room for growth overall. And that's not just in the high-end market, but also in the day-to-day sports-card-flipping world. As more people come in and buy, sellers get more capital to apply to new card investments. As long as they keep putting money back in (like they have), it's a cycle that builds the industry ridiculously fast (as we've seen).
2. Sports Stars Will Help Drive The Industry
This is by far one of the biggest takeaways. Sports Center posted about the sale, and LeBron chimed in stating he owned a couple himself.
This isn't the first time we've seen an NBA superstar reveal they owned sports cards of themselves. Just a month ago Giannis Antetokounmpo posted a massive stash of his own Panini cards on TikTok (which was later deleted). Good thing we shared the video, so you can still see his incredible "personal" collection.
As more athletes see players like LeBron and Giannis buying and holding their own sports cards, they will be intrigued to do the same. The more they acquire, the higher likelihood they share them to their social media pages. Once that happens, it reaches thousands (and potentially millions) fans, exposing them to the fun and value of sports cards. From there, it's a domino effect. More players looking into it, talking about them, and leading to more people wanting to participate. 
In terms of players talking about sports cards, we aren't even in phase one. Imagine if after Giannis gets his second MVP and wins the NBA Finals he posts a graph of his sports card as an investment, displaying to his audience that big performances led to big ROI. A simple educational effort would set the industry into frenzy.
3. There Appears To Be No End In Sight
As discussed in No. 1, the market has gotten bigger than any of us could've imagined by the end of July. The best part is, there seems to be no limit on how many people can get involved in sports cards. In the past, it always appeared that the same group of people bought and sold, with not many new entrants coming along. Was it because there wasn't enough information out there? Was it because sports cards weren't "cool" like they are today? I can tell you this much, there's never been more information available on the sports-card industry than there is today.
For the people comparing today's market to the 90s market, things are completely different. Information sharing, social media, and more in-depth discussions around cards and what makes a card "valuable" will keep the wheels turning. In the past, there were 1 million of a card produced for one player each year, and that was the end of the story. Now, there are multiple different variations that lead to scarcity, along with grading population reports that add even more scarcity to investment debates.
We are doing our best to help expand the hobby and the market to everyone, and we can't wait until our new SlabStox platform releases. We aren't ready yet for launch, but over the next month, we will have more information available! In the meantime, make sure to pre-register so you're the first to know!
There are many reasons to be excited about the sports card industry, and the $1.8M LeBron sale was just another storyline of excitement on a long laundry list. For those that have been involved in the market for a while, congrats! For those that are considering jumping into the market, do your research and enjoy the ride.
Sign up for The Daily Slab email to get the most up-to-date sports card insights straight to your inbox.