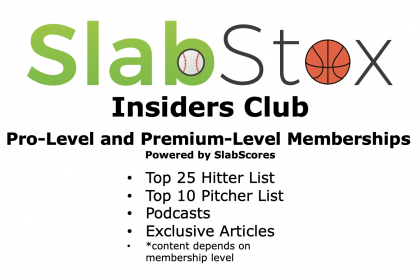 After lots of testing, discussing, planning, and recommendations, the SlabStox Pro-Level and Premium-Level memberships are here.
The release of these new membership levels coincide with the start of the Minor League season, immediately bringing you the analytics and insights you need to make great investment decisions from the first pitch of the MiLB season.
What's in it for you? This article includes everything you need to know about both subscription levels and how you can use SlabStox membership to make better, more informed card buying and selling decisions.
If you are wondering if SlabStox subscriptions will impact any of the great free content you've come to rely on, you'll be happy with the answer—NO! The subscription levels, however, provide expanded analytics and information to help you make more educated, data-driven investments.
The biggest thing about the new subscriptions is NOTHING will be held back. Everything will be included to make sure you are getting the most value out of your subscriptions.
A free-preview revealing some information will be provided at the end.
What sports does this subscription cover?
Both the Pro-Level and Premium-Level subscriptions are 100% focused on baseball prospects. In the future, we'll look at expanding to MLB players. But for now, it's all hinged on 1st Bowman Chrome prospect autographs.
Make sure to not purchase either subscription if you're looking for basketball or football in-depth investment advice. To find out more about those sports, check out the next question.
Will there be other sports added in the future?
That is still to be determined. As the Minor League season starts to wind down, there is a possibility of two new subscriptions added next fall: Basketball and Off-Season Baseball. Off-Season Baseball is pretty much a guarantee, and we'll have to consider basketball and football.
For the Off-Season Baseball subscription, you'll receive analysis, articles, and podcasts on the AFL and Spring Training, plus get advice on the best off-season investments and times to buy.
*The subscriptions right now do not cover off-season coverage
What is a SlabScore and WHY does it matter?
Before getting into the different pricing and inclusions, first you need to understand what a SlabScore is and why you can use it to make data-driven, insightful investments.
SlabScore (n): a whole number assigned to a player indicating the investment potential based off of scouting, grades, statistics, and card value.
We worked hard to build an equation assigning values to each prospect given certain conditions that makes a player a smart investment. When all the data is compiled and factored into our formula, you get a SlabScore. The higher the SlabScore, the better the investment.
With the SlabScores, you will be able to know which players to target as investments, putting you ahead of the curve. SlabScores individually don't mean a whole lot, but once you create a list comparing 25 prospects, they are incredibly useful. Since the scores incorporate how much each cards costs, you can use that to your advantage and buy accordingly.
Which type of investor are these subscriptions geared towards?
These subscriptions are targeted at the investor looking to spend between $10 to $150 per base autograph of a player. Since the SlabScores are price relative, you won't see a lot of the Top-10 prospects in the content. It will be geared towards outside of the Top 10, but sometimes a top prospect will sneak in there (a good indication to make sure you own one of them).
If you're looking for in-depth analysis on which Top-10 prospects are going to be the best long-term investments in the MLB, this isn't for you. In the coming weeks we will be adding a custom research section to the website, which you can utilize if you are interested in something like that.
What is included in each subscription?
There are two different subscription levels: Pro-Level and Premium-Level.
The main value of each subscription is the WEEKLY SlabScore list. Yep, you heard that right. Each week, the SlabScore lists will be updated and published, giving you weekly access to the best investments.
Pro-Level:
Top-10 Hitter list powered by SlabScores
Top-3 Pitcher list
Premium-Level:
Top-25 Hitter list powered by SlabScores
Top-10 Pitcher list
Weekly Insider podcast breaking down the best investment options from each list
Exclusive articles geared to the Premium card investor
While the SlabScore List offers a great list of 10 or 25 prospects (depending on your membership level) to look out for and invest in, looking at it as #1 being the best investment and #25 being the last recommendation to put money in would be wrong. While the SlabScores are a great way to assign values (not money value) to players, there is a lot of intuition, scouting, and research that needs to go into investments. It's more than just names and scores. If you are a Pro-Level member, it is a lot more risky. Each list will not always mean buy number 1 and 2 before the others. That is where the Premium-Level membership comes in.
The content gap between the two levels is large. The Pro membership is geared towards investors who are looking for 13 names a week to look for and invest in. The Premium membership unlocks the knowledge, insights, and the SlabStox braintrust. Between the extra names (15 more hitters, 7 more pitchers), weekly podcast, and exclusive articles, the Premium membership will guide you through the Minor League season and how to invest. We will even be giving advice on when to sell these purchases if they get hot and peak in value.
Just to make sure it's clear since that was a lot of information in those last two paragraphs, the Pro and Premium top 10 hitter lists are the same, but the Premium's extends out to 25. The pitcher list is the same top 3, but the Premium's extends out to 10.
The weekly podcast is a huge asset to Premium members. It will consist of:
A breakdown of the Top-25 SlabScores and why they are there
In-depth analysis and research recommending the best purchases from both the Hitter and Pitcher lists.
The exclusive articles will be extra value to Premium members. We will not guarantee a specific number of articles, but if you know us, we will go all out to make sure you're getting the valuable content you will need to find all the best purchases. That's what we do!
We'll include players to watch, buy-alerts, sell-alerts, and a variety of in-depth research articles. The exclusive articles won't disappoint, making you a more savvy card investor.
How much does each subscription cost?
*the full-season (year) memberships will only be available until the end of April. If you jump on a full-season now, you get 20% which is equivalent to one month FREE of content!
Pro-Level subscription:
$4.99/month
$19.95/year ($3.99/month value)
Premium-Level subscription:
$14.99/month
$59.95/year ($11.99/month value)
Since the Minor League season only lasts 5 months, there is a yearly subscription provided (can also be viewed as a season subscription). The yearly subscription is a reduced rate that you pay up front, and you're guaranteed to get all of our great investment content for the entire 2019 Minor League season.
The price difference between the Pro-Level and Premium-Level is because of the specific, targeted advice and extra content offered with the Premium-Level. If you are looking to maximize your investments and content value, the Premium membership is the way to go.
Be sure when you browse the plans that you read which ones are yearly versus monthly and Pro versus Premium.
What do I get if I buy today?
If you buy either membership today, you will among the first to get the Pre-Season List for each subscription level. For Pro members, there will be a Top-10 hitter list and Top-3 pitcher list. For Premium members, there will be a podcast embedded, breaking down the Top-25 hitter list and Top-10 pitcher list. The exclusive articles will be added with time and will shortly follow the release of the subscriptions.
The Pre-Season Lists will be posted for the first week of the Minor League season, with Week 1 of SlabScores being released on Sunday, April 14. Week 2 will be released on Sunday, April 21 and so on from there.
There will be no SlabScore values for pitchers for the first few weeks of the subscription. The sample size to assign SlabScores is just not large enough; however, there will be a SlabScore attached to pitchers sooner rather than later.
As this season moves forward, a huge value boost will be adding in the 2018 Draft players that are performing well and the new 2019 Bowman prospects. 2018 draftees (other than the ones on the list already) will be added as soon as they start playing and warrant a spot on the list. The 2019 Bowman prospects will be added as soon as the product releases and cards start selling.
Where do I go to subscribe?
At the top of the page there is a "Plans & Pricing" page. If you go there, it will have the four different plans laid out including options to select a plan. From there, you can check out with PayPal or credit/debit card, and then you will receive access to the Pro or Premium membership page.
How do I cancel if I want to?
If you buy the yearly rate, you are locked in for the full year. If you want to cancel for the next year, send an email to slabstox@gmail.com and the membership will be canceled.
If you buy the monthly rate, you are not locked in for multiple months, which is why it is more expensive. If you want to cancel for the next month, be sure to send an email to slabstox@gmail.com
It would be awesome if you could manage your own subscriptions in your account profile, but the website host doesn't have an option for that yet.
An example of how a cancellation would work:
You start you monthly Pro membership on April 5 for $4.99 a month. May 7 comes around and you don't want to receive the content anymore. You email us, and we will cancel your membership. However, sine you canceled after the one-month point, you will have paid for the second month and you will not be refunded for it, but you would still receive the rest of the content of your membership until June 5.
Basically, you need to email at the very latest the day before your membership would be automatically renewed (so May 4) that you don't want to be subscribed anymore.
---
If you have any questions, please do not hesitate to ask. I will be readily available to answer via Instagram DM, email (slabstox@gmail.com), the contact form through the website, or through the SlabStox Facebook page.
Thank you all for taking the time to give our subscription levels a thought. We couldn't be more excited for you to join our Insiders Club and start using our analytics and insights to make informed investment decisions. We're glad you see the value in using analytics to wisely spend your money, and we can't wait to bring you the content you want to be able to do that.
*All paid content is copy righted and owned by SlabStox, and you pay to view it. SlabStox owns the legal right to everything produced, meaning paid content cannot be shared with non-paying members. This shouldn't be a problem because all of the content you will receive is an edge on people that don't have it. If it is shared with others, you are jeopardizing your own profit margins.
---
Revealing 3 of the Pre-Season Top 25 Hitter list