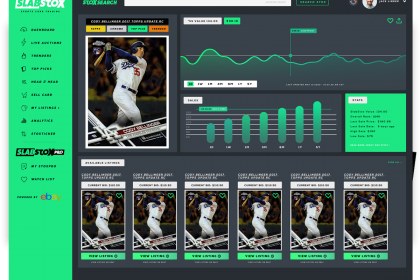 The day has finally come to announce SlabStox's biggest development yet. Ever since I started this company, my goal was to build a better way to buy, sell, and analyze sports cards – and we have done just that. Data has always been the driving force behind our content, and it will be the driving force behind SlabStoxPro – the easiest way to access sports card data.
As the sports-card market has grown at an incredible rate in the past year, there's been a new wave of collectors and investors. For new entrants into the industry, the question always is, "Where do I start?" I can speak to this first-hand, as we've received thousands of Instagram direct messages asking just that. As a 10-year+ sports card collector, it's easy for me to say, "Run some eBay searches and check out the completed sales to start learning the market." But it's much harder for someone to actually take that information and act.
Because of that, our driving force behind SlabStoxPro is making it easy to get involved in the sports-card market. Interest is at an all-time high, and the current process of buying, selling, and analyzing isn't conducive to consumers. That is until now. We are here to change that forever.
Here's What SlabStoxPro Can Do
On SlabStoxPro, you will be able to view and analyze sports-card performance like you would stocks. Each card (or Slab) has its own item page. Each Slab will have a current market value, historical data and real-time sales. Basketball, baseball, football, soccer, hockey and Pokémon cards will all be incorporated on the initial SlabStoxPro launch.
You will also be able to track your investments on SlabStoxPro. Every user's account will have a "portfolio," and you will be able to custom build that on SlabStoxPro, as long as your investment matches a Slab we're tracking. We also are providing a comparison tool, where you can view two different Slabs against each other to weigh your buying/selling decisions.
Help SlabStox Grow
The last feature we're excited about is our Stox Request Form. If you can't find a sports card on SlabStoxPro and want it added to our database, let us know by simply submitting a Stox request. We will do our best to add it!
Now, you're probably wondering, "How much to use SlabStoxPro?" The answer: SlabStoxPro is completely FREE. All of the functions and capabilities you just read about are provided to every user at the cost of $0. We know how important it is to make every dollar count when it comes to sports cards, and we want to do everything we can to provide you as many tools as possible to succeed in the sports card market.
This is a very exciting day for us. Definitely the most exciting day at SlabStox yet, but this date will be topped very soon when we go LIVE. This all-inclusive sports-card trading platform isn't ready quite yet, but we're building it now! The goal is to launch in March 2021, so the wait won't be too long.
In the meantime, be sure to pre-register your email here.
I can say for myself and the SlabStox team, we are committed to making the sports-card market accessible and more informative for everyone.
Thank you all for the endless support,
Aaron Nowak
CEO & Founder