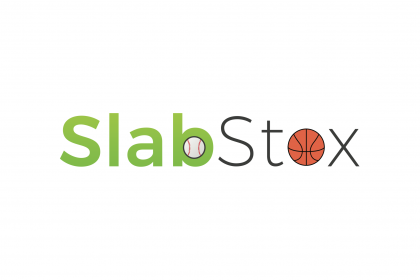 SlabStox's goal has never changed from day one–help card collectors make the most intelligent buying and selling decisions by providing valuable and useful content and data. Hopefully, our insights, thoughts, and knowledge have helped you be more successful in your card collecting and investing along the way. Helping others is what our legacy will be built on.
This week, however, the chatter on our social platforms has been overwhelmingly negative and heavily focused on me (Aaron), Nate, and accusations and theories about the intent of our platform and content. There are numerous people accusing SlabStox of intentionally boosting values of the cards we own with content posts, then purposely cashing in later to profit ourselves.
That simply isn't the case.
But we make no excuses. Everything SlabStox falls on our shoulders. If this perception exists, it is our fault. Period. If this perception exists, we take full responsibility. Period.
We also have to take full responsibility to share all the information and facts, so you can evaluate our integrity and credibility for yourself.
While it's been painful to see so much negative discussion around our brand, character, and reputation, we've also received numerous DMs and emails from people who support us and SlabStox's mission. We want to thank those of you for that.
However, there is one common thing everyone has shared. They want clarity. And that's what we will provide in this post.
Don't forget to read to the end before you make a judgment on SlabStox. We have put a transparent policy in place to make sure this perception never tarnishes our integrity again.
Mistakes Along the Way
Did we make mistakes, you bet. Here's a list for anyone that is keeping score:
Nate and I tried to address any concerns immediately this week with a video post on Instagram titled "Free Will." We did an absolutely terrible job. People who support us told us in those exact words. Even my Dad said it was the worst piece of content he has seen on SlabStox because it brought absolutely no value or clarity to anyone. They're right and that one is on us. It was a big mistake to post that, and it doesn't sit well with us today. The right choice would've been coming out with this from the start.
It was a mistake listing any of our cards on eBay accounts other than SlabStox, including my mom's. It was not being fully transparent, and I am sorry for that.
I owned Acuna, Bellinger, and Ohtani cards and did make posts on them without stating they were in my collection. And I did sell them (more on this in the detail section below). That isn't transparent and it's on me.
We launched a new content piece related to "rookie buy" recommendations (produced between April 22 and April 30). We didn't anticipate those posts would result in immediate price spikes. The infamous Paul DeJong post (April 28) brought this to light (I do not own him, nor did I at that time), when his card jumped from $1 to $3 after my post recommending him as a buy. Once Nate and I noticed this trend, we stopped making these "rookie buy" recommendations (the last one being Rhys Hoskins on April 30). In the moment, these posts seemed like a good idea so collectors could pick up cards at reasonable prices, but it turned out the opposite. Prices increased beyond market price.
My Bellinger purchase was way too close to the posting of a content piece about his rookie cards. Graphs below will show that. Yes, I should not have sold them (more on this below).
Ultimately, we didn't have a policy in place for creating content on cards we owned. It's my fault.
Here are the Details
Since January, SlabStox has produced more than 600 pieces of content through various platforms. There is speculation that we boosted the market on three posts related to these players to further benefit our own interests: Cody Bellinger (4/22 a.m., Instagram post), Ronald Acuna Jr. (4/22 p.m., article), and Shohei Ohtani (4/25, video).
I will share the facts about each of these by using data, and shed light on my content thought process and buy/sell strategies.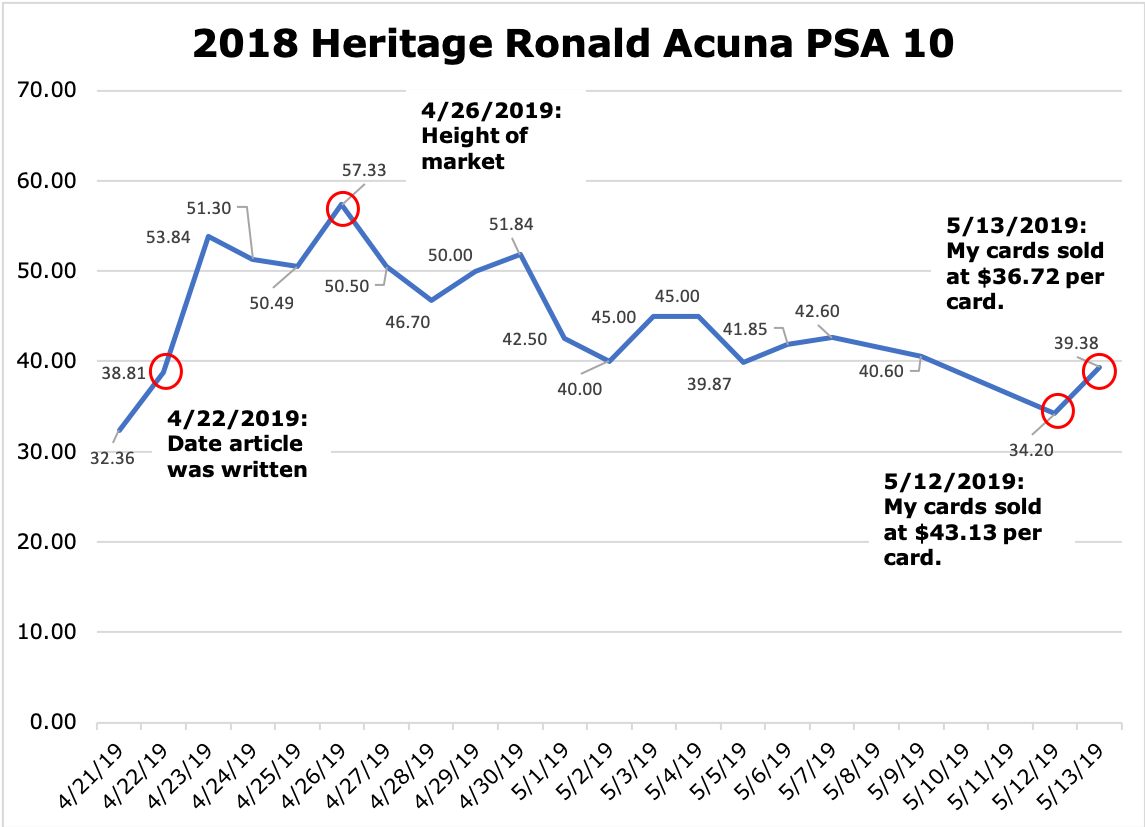 The Acuna Facts
Content Strategy: Why I made the post
This was the first day I made "rookie buy" posts (Bellinger and Acuna were posted on the same day).
Frankly, I think rookie cards are cool, and was excited to post this content with the community.
Update Acuna rookie cards were quickly increasing in value, and Heritage were not following. I informed collectors not to ignore the Heritage Acuna rookie cards, as they were a good buy.
At the time, the target price of the Heritage Acuna rookie was $40 (market value).
Acuna Buy/Sell Strategy
My cards were purchased ungraded in September 2018.
I sent them in for a 65-day submission to PSA right at the start of 2019 before starting up the daily content.
They were shipped from PSA on 4/10.
I did notice, as shown on the chart above, that values spiked after this post. Our intention was NEVER to impact markets with our post, and we recommended that buyers should purchase at market value ($40).
Once I noticed the market went up, I made a conscious effort to hold these cards and not take advantage of the potential spike. I watched the market until I felt like I could list and sell without benefiting from any price spike about three weeks later, and sold on May 12 and May 13.
Acuna Sales Breakdown
Average eBay sale the day before posting 4/21: $32.36
Average eBay sale on 5/12 and 5/13: $34.20 and $39.38
My average combined sale on 5/12 and 5/13: $38.86 (all sold in multi-card lots and not included in average eBay sales represented in graph)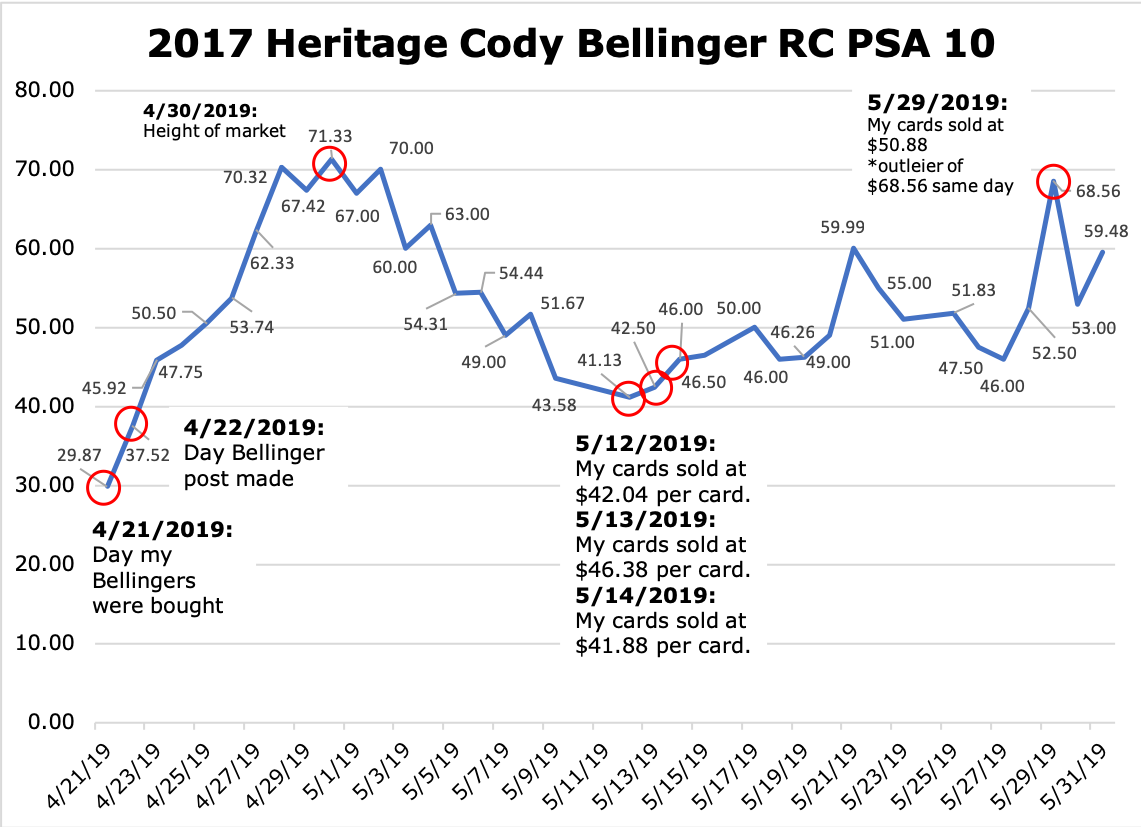 The Bellinger Facts
Content Strategy: Why I made the post
After watching Belli hit a game-winning homer against my Milwaukee Brewers on April 21, I thought he was going to continue to go up, making it a good time to buy. However, the problem was I made a very big mistake with this piece of content, noted below.
I really liked Bellinger rookies, so I figured I should post about him as others may want to invest in Bellinger, too. Especially if he was starting an MVP run, which we now see is a strong possibility. So I created an informative post about which Bellinger rookies to target on 4/22 (a.m.), comparing Update Bellinger rookie cards to the Topps Chrome and Heritage rookie card.
Admittedly, I made a bad call in this post, recommending the Heritage and Topps Chrome rookie cards over the Update and Update Chrome. The market has proved me wrong, going in the opposite direction.
The target price of the Heritage Bellinger rookie in the post was $35, what they could be bought for at that moment on eBay.
Bellinger Buy/Sell Strategy
These cards were purchased as PSA 10s on 4/21, as noted on the graph. Yes, that is the day before the post.
I originally purchased these as a long-term hold; however, as time went on, I didn't want to hold positions from cards that were benefiting from a post if they kept rising.
Like I did with the Acuna, I waited until the market had a down turn, as at one point these were doing $70 a couple days in a row, and there is no way I was going to sell at that point.
It was a mistake to buy and then post on these cards, and sell at a later date. With this post being the first of its kind, I didn't expect a market boost from it. And by putting a target of $35 on these cards, I figured it wouldn't lead to higher prices.
Even though there were no intentions to manipulate sales in my favor, I take responsibility for selling this one. Any perception that I took advantage of the market is my fault and I'm sorry.
Bellinger Sales Breakdown
Average eBay sale price the day before posting, 4/21: $29.87 (date of purchase)
Average eBay sale on 5/12, 5/13, 5/14, and 5/29 (not including my sales): $41.13, $42.50, $46.00, and $68.56.
The sale of $68.56 on 5/29 were NOT my sales. That was on outlier that happened on the same day that mine sold for $50.88.
What I sold these for on 5/12, 5/13, 5/14, and 5/29: $42.04, $46.38, $41.88, and $50.88.
The profit made from these Bellingers after fees and shipping was $179.19 for 20 cards, right around $9 per card.
What did I learn from this?
It's evident. Everything SlabStox does in the card market needs to be completely in the open. That has become painfully obvious.
I should not post on cards I purchase, no matter how cool they are. This is perceived as intent to benefit, and takes cards off the market from others. Another mistake I own up to.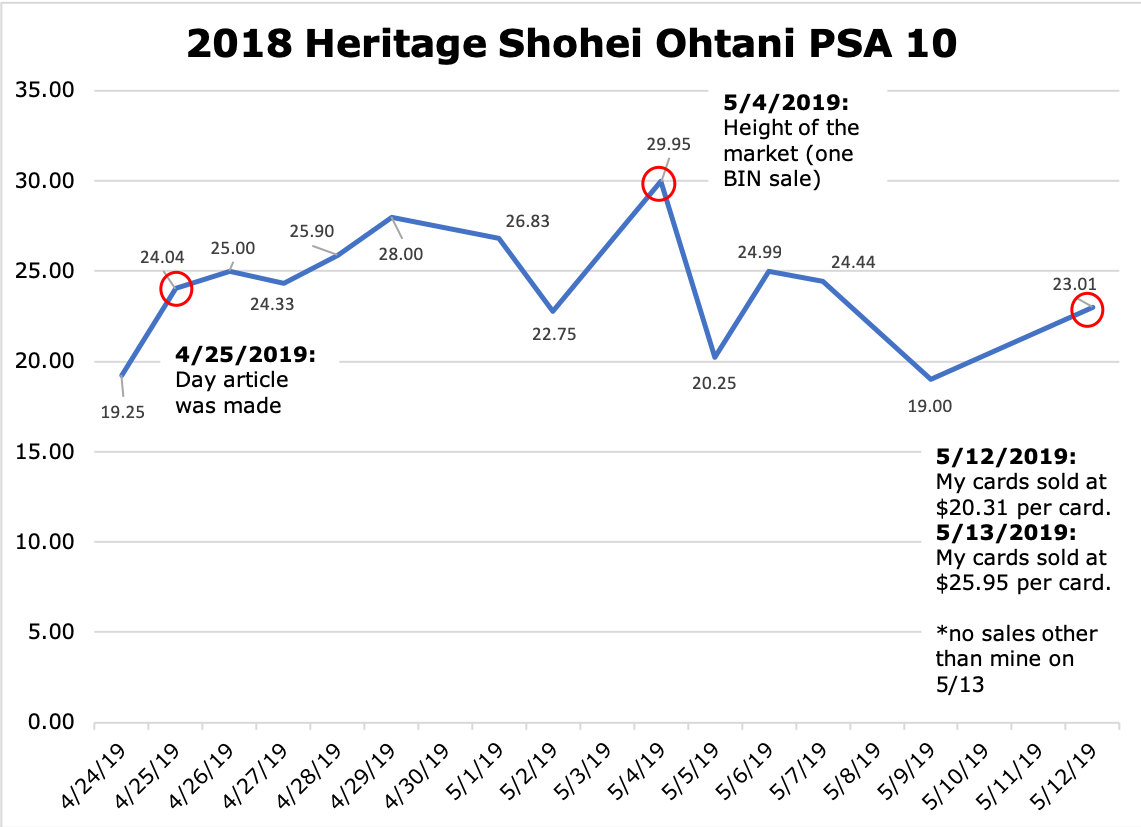 The Ohtani Facts
Content Strategy: Why I made the post
This one was a no brainer to me. A guy that was injured at the time with all the talent in the world playing with Mike Trout, it seemed like a perfect buying window. I wanted to let my followers know it.
Since I truly didn't know what card would do better long-term between the Heritage and the Update, I talked about both in the video. With the Heritage, if he never pitched again, it would make sense to buy that one since he has a bat in the picture. If he were to start pitching again, I said the Update (US1 and HMT1) would do well.
Considering Ohtani is one of my favorite players, it seemed like a good time to make a video about him.
Other than a couple raw US1 and HMT1 through pack pulls, I own none of those, especially graded.
Ohtani Buy/Sell Strategy
The Ohtani rookies were in the same PSA submission as the Acunas. They were purchased at the same point in September 2018 and sent off to be graded right at the start of 2019.
Like the Acunas, these were sent in with the intention to sell after grading them.
With the Ohtani market, not much really changed. The market moved up a little bit with sales, but the height was $29.95 on only one buy-it-now sales. If I were to even go back further before 4/24, there were sales that sometimes hit $30 on "buy it nows."
While I never felt like this market was changing, I still didn't want to sell close to the post, so I waited several weeks before I sold them.
In no way was I trying to take advantage of this market.
Ohtani Sales Breakdown
Average eBay sale day before posting 4/21: $19.25
Average eBay sale on 5/12 and 5/13: $20.31 and $25.95
My average combined sale on 5/12 and 5/13: $23.13 (all sold in multi-card lots and not included in average eBay sales in graph)
---
I hope these graphs and data show I tried not to intentionally benefit off of any price increases in cards I posted on and owned.
When I started SlabStox, and brought Nate along for the journey, we founded it on a fundamental purpose: to provide valuable information, data, and knowledge to card collectors so they can continue to enjoy this hobby for life, and even invite a few new people into our community. In return, it allows us to have fun each and every day, pursuing our passion and doing what we love.
That mission continues. This year, we have created tons of focused content and have plans for tons more. We've helped people each day through DM, emails, and in person. What I'm saying is this. In no way would I ever do something that would hurt the SlabStox brand that we so carefully built.
Are there things I could have done differently? 100% yes. Were mistakes made? 100% yes. But, like most of you, I'm learning as I go and will continue to evolve this platform as far as our talent and energy can take it.
We are lucky enough to be able to pursue our passion of cards, sports, and data each day. And, to continue doing that, some clear changes need to be made to make sure transparency is always there. With that, we are putting our first SlabStox "corporate policy" in place.
NEW: SlabStox Content Policy (Policy canceled on 01/01/2021 – if we own a card and we discuss that player or card, we will disclose our holding)
When we write on a specific player's card, we will indicate if we own or do not own them for absolute clarity.
Anyone producing content for any SlabStox platform cannot buy or sell cards we produce content on within 3 months of publishing date.
All sales will only go through the "slabstox" eBay account.
Comments will be left open on social media posts.
To get better as a person and as a company, we have to learn from our mistakes and stay focused on our mission–to make SlabStox the place where card collectors get information to help make the most intelligent buying and selling decisions.
Finally, we want to thank the entire SlabStox community. It's your feedback that makes us better. Continue to send your thoughts on content, and we will use those to improve.
If this has affected you in any way, we sincerely apologize.
-Aaron & Nate