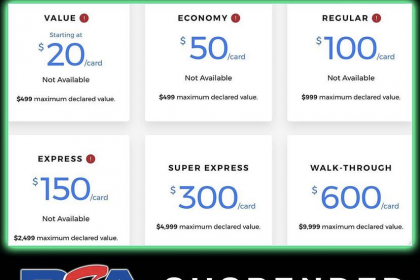 After what has been rumored to be up to a 10-million card backlog, grading industry leader PSA has decided to make another significant move, ultimately changing the outlook of the hobby twice in the month of March.
The move?
PSA is suspending all submissions for levels of grading up to the Super Express ($300/card) tier. These suspended tiers account for 98% of PSA submissions. This means any cards that have already been submitted before March 30th will still be processed, but no additional submissions will be accepted (unless submitted at $300 or $600 per card)
Another major part of this news is that PSA announced they will reopen each level from the top-down as they catch up on the backlog. The grader says plans are to reopen all price levels by July 1. 
The massive change comes on the heels of a 2x PSA price increase announced on 3/1/2020.
Let's break down what the latest PSA news means for different segments of card collecting and investing: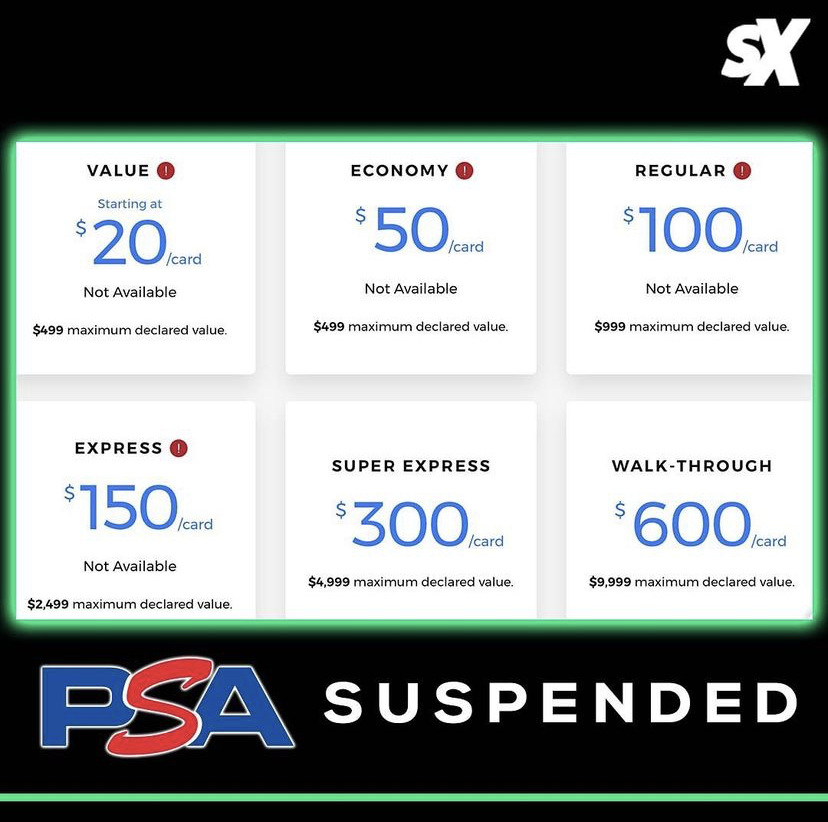 Collectors
Initially, this appeared to be terrible news for collectors. The move basically shut collectors off from grading cards at a reasonable price with PSA. However, this is likely a good move for hobbyists for a few reasons:
PSA will be able to be more thorough with their grading. Having a multi-million card backlog doesn't exactly inspire graders to review each individual card to the best of their ability. A massive wall of backlogged cards is intimidating, to say the least.
Once the backlog goes back down and PSA reopens, the hope is for a faster turnaround time for all collectors.
Some collectors, however, could abandon PSA for a different grading company. Alternative grading companies have to deliver value in the market and better service, like decreasing turn-around times, to be a significant threat to PSA.
Grading Services
This is the perfect opportunity for other companies to be able to grab market share from PSA. Collectors will undoubtedly look at BGS, SGC, HGA, or other grading companies during this time, assuming they also don't have significant backlog issues.
This could also be the tipping point for card grading, driving high-tech innovation into the space. Many have suggested that AI grading could completely remove the human element from card grading. Only time will tell.
Wax
The wax (sealed product) dynamic may change slightly because of the grading suspension. Prices will likely drop because cards just opened cannot be shipped immediately for grading, significantly increasing the value of these hits. For example, the resale price of the newly released 2020 Panini Prizm Basketball set will likely suffer as collectors are not going to submit their LaMelo Ball base rookies for a $300 fee.
PSA Slabs
This move comes as a double-edged sword. On one hand, fewer cards will be sent to be graded, increasing the total value of cards already graded by PSA. On the other hand, PSA will be finally grading the millions of cards sitting in their warehouse, leading to an increased supply of ultra-modern PSA slabs on the market. In general, low population, rare PSA graded cards will continue to appreciate in value, while high population, high supply cards will flood to eBay and other selling platforms. It all comes down to supply and demand.
All information was supplied by a combined effort of Jameel (MeelyStox host) and Aaron (SlabStox Founder). Check out Jameel's YouTube video and Aaron's Instagram live stream.