This is THE MONTH for card collectors with The National Sports Collectors Convention '23 descending on Chicago July 26-30. What does the market look like going into the biggest card show of the year?
TAKE 1: Tips for The National (and Card Shows)
TAKE 2: The Card Community Speaks
TAKE 3: Tracking the June Card Market
TAKE 4: Top-5 Card Sales of the Month
LOOKING AHEAD: Upcoming Shows & Product Releases
Join the ONE37pm CardTalk Pod as @LouisGeneux and @SlabStoxAaron debate takeaways from this Card Market Report to help you in your card-collecting journey. Stay tuned to social media for updates.
If you want to receive this SlabStox Card Market Report every month, subscribe to SlabStox's FREE Daily Slab newsletter.
DISCLOSURES: 
All market data in this report is from Card Ladder. Card Ladder is an independent, third-party partner of SlabStox, providing card collectors and investors insights to make informed, data-driven decisions. Every investment and trading move involves risk. Do your research before making any decision. 
SlabStox does not own any of the specific cards represented in the SX100 Index. SlabStox owns cards of Wembanyama, Elly De La Cruz, Giannis and Jimmy Butler (players mentioned in this report).
5 Takes from the June Sports Card Market
TAKE 1: Tips for Attending The National (or Any Card Show)
You hear it every year. If you're attending The National, or any big card show, go in with a plan. To help out, here's what we've learned after attending multiple Nationals over the years, from Chicago to Cleveland to Atlantic City:
1. Set a budget. Sounds simple, but there is so much at The National it's hard to hold back. If you have a budget, and some time to shop the show, you can pocket some great deals early, trade your way up and come away ahead by the end of the show. No matter how big the budget, most people see so much great stuff at this mega-card event they wish their wallet was a bit fatter. Our recommendation: Spend within your means, look to trade your way up and just enjoy being there. This goes for any show you attend. We love the card show atmosphere, the personal connections that are made with face-to-face deals and saving on fees.
2. Be open-minded. Many of us are chasing certain cards and will stretch the deal to acquire that one missing card from our collection. However, be creative. For instance, you can often come away with better buys by packaging multiple cards on one deal. In fact, this works to both the buyer's and seller's advantage almost every time. So don't get focused on just one card. Check out what else may be available from the same seller. Crafting a creative deal that works for both the seller and buyer is one of the most enjoyable and satisfying experiences of the card hobby.
On the same note, look at comps but if you're selling, be sure to consider what you are saving on fees and shipping. As a buyer, it's completely fair and reasonable to strike a deal anywhere between 80% to 100% of comps, of course depending on the card and what the rarity is.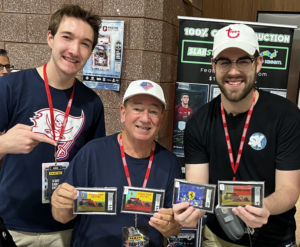 Ferrari F1 deal at The National 2022, Atlantic City
3. Day 1 Deals. Always get to a show as early as possible. For many shows we attend the biggest and best deals are done even before the show opens. Not everyone can be at a show before it opens, but those extended "VIP hours" can easily pay for themselves by striking a few early deals. And, if you are diving into the bargain boxes, you know what they say: Early bird gets the best cards.
Specifically for The National, the Preview Day (Wednesday) is the time to do some early shopping and strike some of the best deals.
4. Don't pass up a buy. The National is a seller's world. With more than 50,000 card collectors coming through the doors, there are quite a few buyers pouring over the supply. So as a buyer, know the market, use tools like Card Ladder Pro's Sales History or filter eBay for completed sales. When you see something that is a good deal or even a fair price, don't pass it up. If you do, there is a good chance it won't be there 10-minutes later. This goes the same for smaller shows, too. Card buyers are savvy and know a good deal. They can be hard to come by, but when they are there it is time to buy.
5. Bring water and wear comfortable shoes. With more than 800,000 square feet of cards on display in Chicago, there is a lot of walking. Covering the basics like this will make the day way more tolerable and enjoyable.
If you're at The National, be sure to stop by and say "hey" to both SlabStox (Booth 579/696) and Card Talk (Booth 689/691). View the full floor plan and the dealer list before going!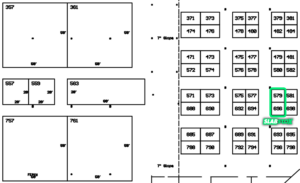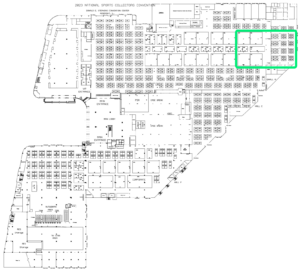 TAKE 2: The Card Community Speaks
SlabStox posted nearly 70 different pieces of sports card news in June on Instagram, and these three posts were among the most engaged by our audience. We always love seeing what collectors think about the card market and we're sharing some of their thoughts here: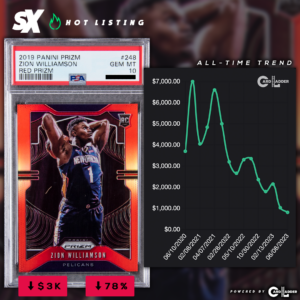 Zion entered the NBA as one of the most hyped prospects in recent memory. He's now entering his fifth year and things haven't quite gone to plan. From injuries to off-the-court drama, Zion hasn't done much to help build his brand in a "what have you done for me lately" world. His market has suffered all-time low sales for certain cards in June, including this 2019 Prizm Red RC /299 PSA 10. Judging by the comments on this post, there is not much hope for a bounce back from him either.
Not even close to the bottom. Why buy now?

@backtothecards
$810 is still too high IMO.

@hd_rippz
No, his career will be over in the next 5 years. His body type is not built for basketball.

@jackhoch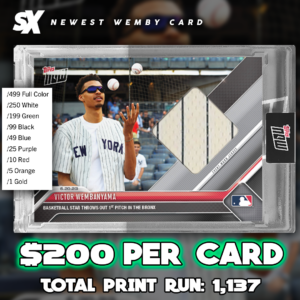 The first jersey/patch card to come out for Victor Wembanyama wasn't a basketball jersey. It was a baseball jersey! Victor had the opportunity to throw out the first pitch at the Yankees game on June 20. We imagine he wishes he practiced more, as it will go down as one of the poorer first pitches in recent memory. However, Topps and the potential 1,137 collectors that bought this relic are happy with it. They acquired the jersey he wore for the pitch and turned it into 1,137 cards. At $200 per card, that's $227,400 in sales. The collectors that purchased it are smart as well, as they're now selling for over $350 on eBay. The reaction to this news was a bit mixed.
If he's a once in a generation talent like they say, this is a no brainer buy for the upside. How much would a 1984 event-worn MJ 1/1 card of him throwing out the first pitch at Wrigley for an NLCS-caliber Cubs team go for?

@msciolto
 $200 for a relic and ships in 4 months when a million other rookies will flood the market? No thanks

@yugiohtube
Over/under $25 in a year?

@gemmintcards23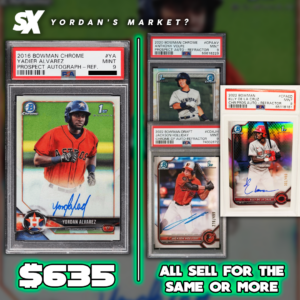 Yordan Alvarez has been one of the best hitters in baseball for years, and while he's not the best defender, he still plays in the field enough to not be just a DH. Despite his .974 career OPS, his 2018 Bowman Chrome 1st Refractor Auto /499 PSA 9, at the time of this post, was selling for the same or less than Anthony Volpe, Jackson Holiday and Elly De La Cruz. At that time Cruz and Holliday hadn't made the majors and Volpe was underachieving. Yordan's low sales could be a case of anti-Astros bias or anti-DH bias. When comparing a top-2 hitter in baseball to prospects, one would hope the hitter sells better.
Yes it's ridiculous same with Devers he shouldn't be less when he can actually play

@upstate_sports_cards
If he was Dodger, Yankee, Red Sox or almost any other team we wouldn't be having this conversation. The Astros are still not loved and YA's card value is a victim of that…I think.

@j_aronson:
Needs more attention, he's been putting up numbers for the last 2+ years and has a WS ring with an ALCS MVP!

@crazzcards_:
TAKE 3: Tracking The Card Market
SX100 PUBLIC index: The SX100 is a community-driven sports card index that aims to represent the everyday card collector. It made its public debut on Card Ladder's list of indexes in May. The SX100 tracks modern cards of active players. June showed minimal change in the SX100, as it decreased 1.71%.
SX100 Breakdown:
32 cards decreased in value in June (54 in May)
40 cards increased in value in June (16 in May)
12 cards did not have a sale in June (9 in May)
16 cards sold only once in June.
3 Big Winners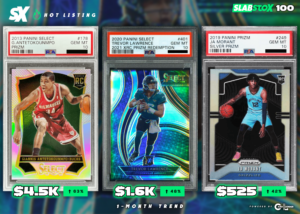 Giannis 2013 Select Silver RC PSA 10:
Sometimes, all it takes is one sale. For the first time since August of 2022, this card sold for $4,500 or more. It was an eBay buy-it-now sale, and it increased 63% in June. Someone must be excited about the Bucks running it back with a similar team with a new coach.
Trevor Lawrence 2021 Select XRC Silver PSA 10: 
The football hype always builds right around July into August, as The National is always a hotbed for football cards. Dealers will be selling football, buyers will be making last-second plays and cards like this Lawrence will be on the rise.
Ja Morant 2019 Prizm Silver RC PSA 10:
Not often does a card make its way from the "3 Big Losers" to the "3 Big Winners" section in the span of a month. The only explanation here is that Morant's Prizm Silver PSA 10 tanked so hard in May that it was bound to hit a spike in June after buyers realized it was too good of a deal to pass up.
3 Big Losers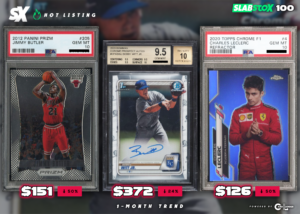 Jimmy Butler 2012 Prizm Base RC PSA 10: 
Well, Butler pulled off what Ja Morant did but the opposite. Butler was in May's "3 Big Winners" section for the Heat's crazy run to the NBA Finals, but what goes up must come down. And that's exactly what happened with this 2012 Prizm RC PSA 10.
Bobby Witt Jr. 2020 Bowman Chrome Auto BGS 9.5:
It's been a difficult year for Bobby Witt Jr. and the Royals. One of the baseball card market darlings going into the year, not many collectors are jumping on his cards considering he has a 95 OPS+ (below league average).
Charles Leclerc 2020 Topps Chrome F1 Portrait Refractor PSA 10:
Ferrari's struggles continued in June, as Leclerc finished in 11th and 4th in the June races. Luckily, he just got back on track in July, as he snagged a podium spot at 2nd place in Austria. Maybe he can flip the script like Ja Moarnt and end up in July's SX100 winner section.
See all 100 cards in the SX100 on Card Ladder and how they are trending.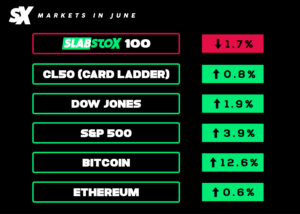 Grading Volumes
One way to track how healthy the card market is–check the volume of cards being graded month-over-month by major grading companies. Data for this information is gathered and tracked by Gem Rate. The below graphs represent what was graded in June 2023.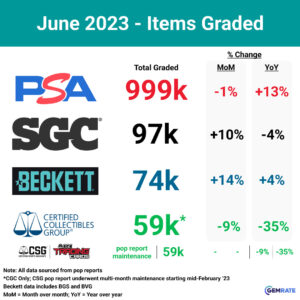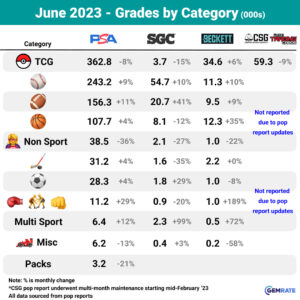 TAKE 4: Top-5 Card Sales of the Month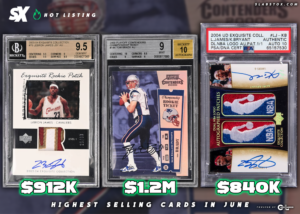 Tom Brady 2000 Playoff Contenders Championship Ticket RC Auto /100 BGS 9
This Brady Contenders Auto was the only card to sell for north of $1M in June, as it sold for $1,200,000 on June 14th via Goldin. Not only that, but it was only the third card to sell for over $1M in 2023. There were 19 sales over $1M at the halfway point in 2022. This card is the second most expensive card to sell this year, but it would have only placed 18th last year.
LeBron James 2003 UD Exquisite RC Patch Auto /99 BGS 9.5
This LeBron Exquisite RPA BGS 9.5 (POP 12) sold for $912,000 on June 14th via Goldin. While that is a hefty sum, it's the second lowest sale price of all time (4 sales) and 62% lower than the all-time high last October.
LeBron James and Kobe Bryant 2004 UD Exquisite Dual Logoman Patch Auto 1/1 PSA Authentic/10
This LeBron and Kobe Dual Logoman Auto 1/1 sold for $840,000 on June 14th via Goldin. Considering the love the hobby has for LeBron, Kobe and Logoman cards, it may be somewhat surprising to see it sell for under $1M, but this is the most expensive sale ever for any dual Logoman card.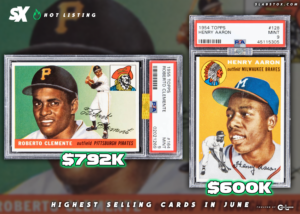 Roberto Clemente 1955 Topps RC PSA 9
This Clemente RC PSA 9 sold for $792,000 on June 14th via Goldin. There are 6,615 Clemente 1955 rookies graded by PSA, and there are only 11 PSA 9s in the world with just one PSA 10. Despite the difficulty to find this card in a PSA 9 grade,  this card is down 25% in the last 9 months.
Hank Aaron 1954 Topps RC PSA 9
This Aaron 1954 RC PSA 9 sold for $600,000 on June 14th via Goldin. When it comes to iconic cards, few can match Hank Aaron's rookie. This $600,000 price tag is the 4th highest sale price for this card all-time (13 sales).
TAKE 5: Looking Ahead
Sports Card Shows Worth Checking Out
Add your sports card show to the list of upcoming "Card Shows" on Sports Card Portal here.
July 7-9
(July 7-8) Ft. Lauderdale Sports Card Show, Ft. Lauderdale, FL
(July 8-9) San Francisco Card Show, San Francisco, California
(July 9) Plainview Holiday Inn Local Show, Plainview, NY
(July 8) Minnesota Card Show, Rosemount, MN
July 13-16
(July 13-16) Dallas Card Show, Allen, TX
(July 15) Billings Sports Card & Memorabilia Show, Billings, MT
(July 15) Auctions By Moldenhauer, LLC Card Show, Michigan City, IN
(July 16) Georgia Collectibles Show, Chamblee, GA
July 26-30
(July 26-30) National Sports Collectors Convention (NSCC), Rosemont, IL
(July 22) The Flip Sports Card & Collectibles Trade Show, Montgomery, AL
(July 29) Lexington Quality Inn Show, Lexington, KY
(July 30) Wilmington Sports Card & Collectible Show, Wilmington, DE
July Product Releases
The release dates below are subject to change by the manufacturer. Dates provided by Cardboard Connection.
July 5
2023 Panini Chronicles Draft Picks Football
July 7
2022-23 Panini Chronicles Soccer
2022-23 Panini Obsidian Basketball
2022-23 Topps Finest OTE Overtime Elite Basketball
2023 Futera Unique World Football Soccer
July 12
2023 Topps Chrome Sapphire Star Wars Return of the Jedi
2023 Upper Deck AEW All Elite Wrestling
July 14
2022-23 Topps Museum Collection UEFA Champions League Soccer
July 19
2022-23 Panini Chronicles Basketball
2022-23 Panini Impeccable Premier League Soccer
2022-23 Topps Chrome Bundesliga Soccer (TBA)
July 21
2023 Panini Select Draft Picks Football
July 26
2022 Panini National Treasures Football
2023 Topps MLS Major League Soccer
July 28