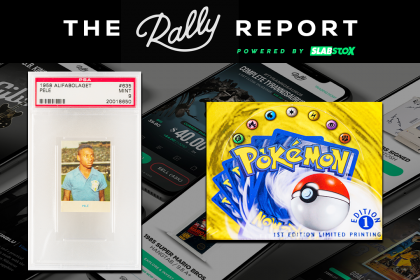 This message is sponsored by Rally. RSE Archive, LLC may be referred to individually as a Rally Entity. Rally is not a broker-dealer and securities are offered to investors via registered broker-dealers and members of FINRA & SIPC. Any private security investments contain a high degree of risk and we urge you to review full details and disclaimer at rallyrd.com/disclaimer.
Welcome back to this weeks SlabStox Rally Report, sponsored by Rally. Rally is a platform that allows users to buy and sell "shares" of hundreds of collectible assets. Last week on Rally, the 1957 Topps Ghost Mantle increased its market cap by 35%, and this week we're stepping one year forward as our highlight of the week is the 1958 Pelé Alifabolaget Rookie Card PSA 9, currently valued at $378,000! If you missed last week's video, be sure to check it out to hear how Rally works!
Pelé 1958 Alifabolaget Rookie Card PSA 9
The first card we're discussing this week is none other than the Pelé 1958 Alifabolaget rookie card PSA 9. This card is extremely interesting as it is Pelé's most widely recognized rookie card, and the rarity due to the low PSA population report.
Back in the fifties, each baseball player had one or two cards each year. Mickey Mantle had the 1952 Bowman and 1952 Topps, but someone like Hank Aaron only had the 1954 Topps rookie card. There were not many options, which centralized the demand. When it comes to Pelé cards, there are multiple options for 1958 including both cardboard cards and also stickers which would be glued into albums. These stickers would need to later be cut out to get graded. The Alifabolaget card is the most desired of the bunch, as it was released in Sweden with a low production run in congruence with the 1958 World Cup held in Sweden. It also features a full-color image and appealing portrait photo.
The PSA 9 grade is the highest grade for this card by any grading company. There are only six total PSA 9s and zero PSA 10s for this Pelé. In total, there are only 90 graded by PSA, and another eight graded by SGC. When you compare its pop reports to other iconic cards, it really stands out. Considering the 1952 Topps Mickey Mantle with 563 graded by SGC and 1,794 graded by PSA, it is clear how exclusive it is getting your hands on this 1958 Pelé. Now, the Mantle is one of the most iconic cards of all-time next to the Honus Wagner T206 and '86 Fleer Michael Jordan, but this Pelé has huge chops in the "GOAT" market.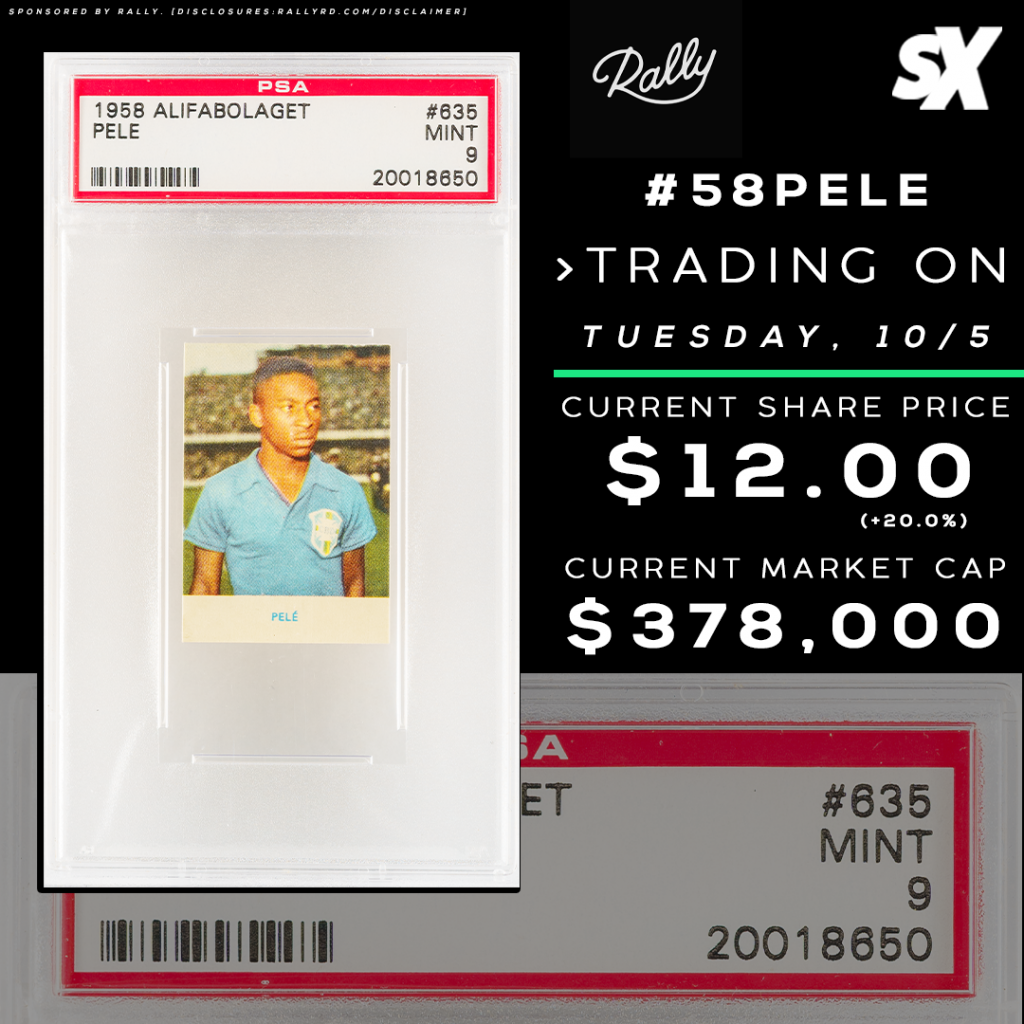 This Pelé was initially offered in January 2021 for $10 per share, with 31,500 shares, and a $315,000 initial market cap. Since then, there's been two trading windows – on May 4th which resulted in a share price of $11.35 a share and on July 19th that ended at $12 per share, equaling a 20% increase from the IO and bringing the market cap to $378,000. The last direct PSA 9 sale was October 2020 for $280,000, but a PSA 8.5 sold for $372,000 in May 2021. The Pelé is available next on Tuesday, October 5th on the Rally app.
Lou Gehrig 1934 Goudey #61 PSA 8
When you talk about baseball history, it's nearly impossible to talk about it without bringing up Lou Gehrig. A legend in his time and an even bigger legend today, Gehrig was one of the greatest players to ever play baseball. The "Luckiest man in the world" has his name littered across the record books. He's top twenty all time in career batting average, top five in On base percentage, top three in slugging percentage and has the second longest consecutive games played streak at two thousand one hundred and thirty. His career stats are actually comparable to Barry Bonds… the only difference is he certainly didn't use steroids. All of these on field records along with his off the field health concerns lead to the Yankees making him the first player in MLB history to have his number retired, which they did on July 4th, 1939.
Lou Gehrig is truly historic, as is the 1934 Goudey #61 PSA 8 being offered by Rally. It's his second Goudey from 1934, but arguably the more rare of the two. The #37 Gehrig has a PSA pop report of 813 graded with 32 PSA 8s and 3 PSA 9s. The #61 Gehrig only has a PSA pop report of 649. The #61 does have slightly more higher graded cards with 35 PSA 8s and 4 PSA 9s. When you add in SGC graded cards though, not only does the #61 become more rare (there are 272 SGC graded #61 Gehrigs compared to 402 SGC graded #37 Gehrigs), but the PSA 8 becomes more appealing as there is 1 SGC 10, 3 SGC 9s and 2 SGC 8.5s of the #37 Gehrig and no cards graded higher than an SGC 8 for the #61 Gehrig.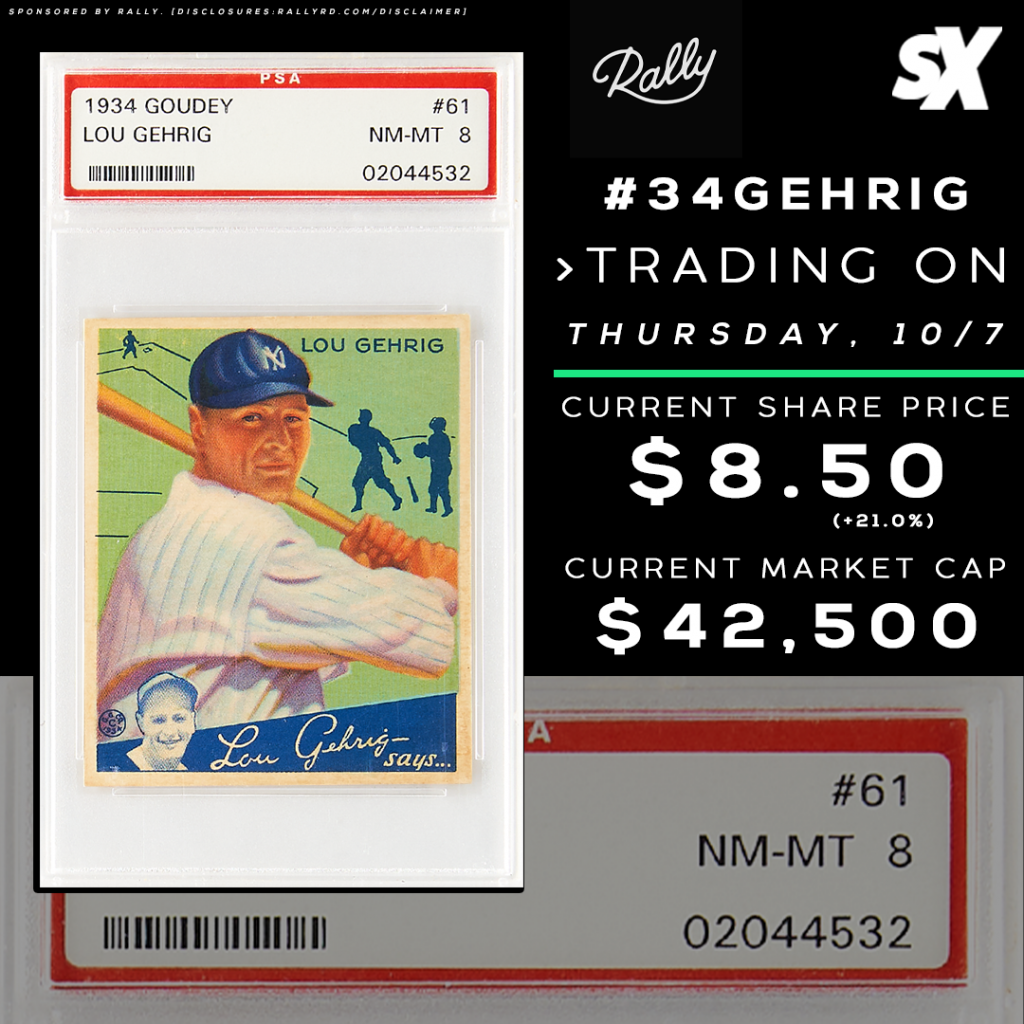 This Gehrig PSA 8 was initially offered in December 2020, and it had an IO price of $7 per share, with 5000 shares offered for an initial market cap of $35,000. Since the IO, there have been two trading windows. The first trading window happened on March 16, 2021 and share prices rose to $8.50. The second trading window happened on June 8, 2021, which resulted in no price movement. The current market cap is $42,500, and the next trading window will happen on October 7, 2021. Last sale of this card was for $81,000 on July 26, 2021 from Robert Edward Auctions.
Pokémon 1st Edition Booster Box
Take yourself back to 1999. If you're sitting here thinking about school recess right now, there's a good chance that might've involved Pokémon trading cards in some capacity. That was the year the first English Pokémon set was released by Wizards of the Coast, and this particular box, the 1st Edition Booster Box, is the holy grail of sealed boxes. While these boxes are extremely collectible when kept sealed, opening them can lead to viral moments. When the interest of Pokémon cards exploded in 2020, some of these boxes got opened on video, leading to millions of views for different creators like Logan Paul, PokéRev, and Leonhart.
For anyone not familiar with Pokémon cards, the biggest chase in this set is the Charizard 1st Edition Holo. The fiery beast is recognized as one of the most popular Pokémon of all-time, and is depicted on the outside of the box. Two Charizard 1st Edition Holo PSA 10 copies recently sold on the same day in September – one through the PWCC Premier Auction for $252,000 and one through Goldin Auctions for $270,600. Other chase cards from the set include the Blastoise, Venusaur, Gyrados, and Mewtwo 1st Edition Holos.
On top of the 1999 1st Edition Booster Box, Rally also has a complete PSA 10 set on their platform, which has a current market cap of $400,000.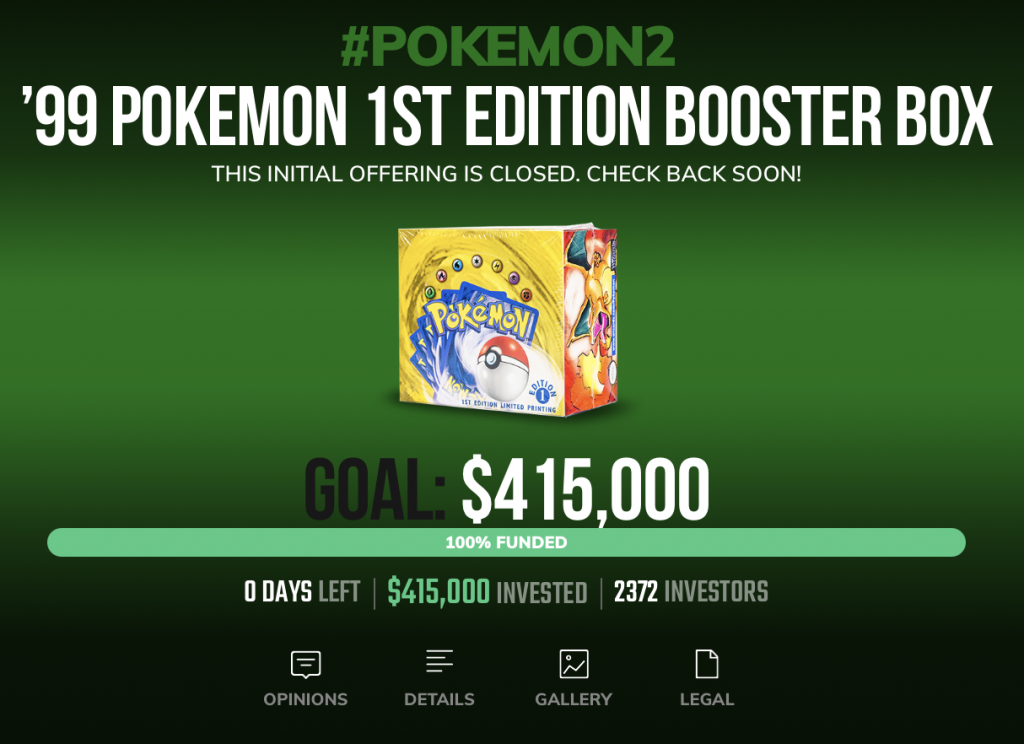 This box had its IO on April 2, 2021 for $10 per share, with 41,500 shares for an initial market cap of $415,000. There hasn't been a trading window yet, so on Monday, October 4th, we will get our first look at the trend of this coveted sealed box (as of this writing the window has closed and shares are down 12.5% to $8.75 per share, for a market cap of $363,125).
Kobe Game Used Jersey
Kobe Bryant is one of the most loved and revered basketball players of all-time, even though that might not have been the case during his playing days. He was a 1 of 1 on the court with his ferocity and scoring prowess, and he was a 1 of 1 off the court with the way he attacked other interests like writing and fatherhood. With his Mamba Mentality, he was never to be out worked and never settled for second best.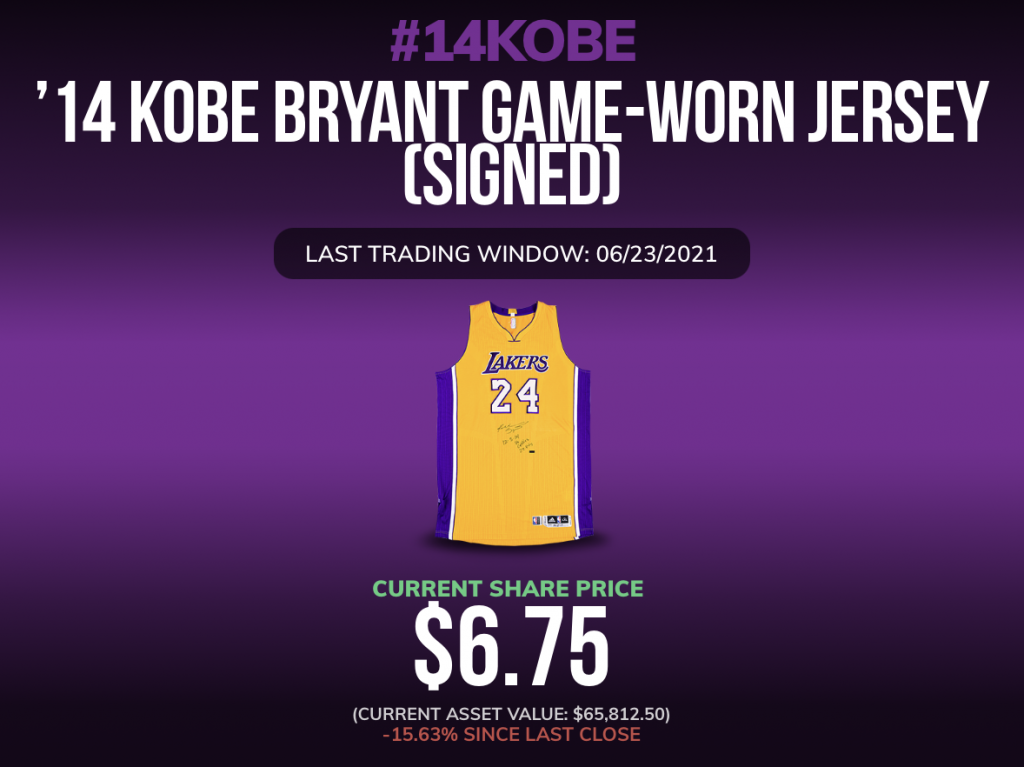 This 2014 Game-worn autographed jersey had an IO in February 2021 for $8 per share, with 9,750 shares offered, for a market cap of $78,000. Since then, there has been one trading window on June 23, 2021, with a share price decrease of 15.6% to $6.75 per share. The next trading window opens October 8, 2021.
Conclusion
Pelé, Gehrig, Charizard, and Kobe. Nothing describes these figures more than "GREATNESS." Whether it's a card produced in Sweden or a sealed box of fictional characters, these items are some of the best of the best, and that's the beauty of fractional investing. Thank you everyone for tuning into another SlabStox Rally Report, and we will see you all in the next one.