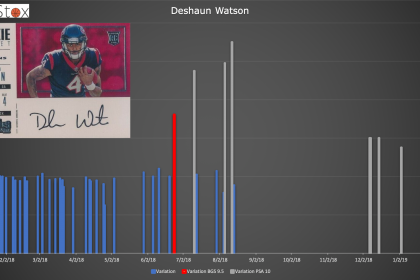 The 2017 NFL Draft quarterback class is proving to be one for the ages, and they've only played two seasons. The top of the class includes Patrick Mahomes, Deshaun Watson, and Mitchell Trubisky.
Each quarterback reached the playoffs in their second season, while showing promise for the future. Their 2017 Panini Contenders Variation Rookie auto may launch into the must own rookie auto class moving forward. The limited print run makes them extremely rare and popular among collectors. For this week's article, I'll look at the difference in raw Variation autos and graded Variation autos, to see the premium put on graded copies.
Deshaun Watson was the first quarterback selected and had the strongest rookie season. Watson matched the total sales of Trubisky and Mahomes the two months following the release of 2017 Contenders. Watson Variation autos were sold at an average of $389.19 over 28 different sales. Over the rest of the offseason (March-August), Watson sales only decreased slightly to $376.40.
Recently, the PSA 10 sales have dropped off nearly 50% since the first three sales. There have only been a couple BGS 9.5/10 sales since its release with the latest sale going well below the average of raw copies during the last offseason. I think Watson is a strong buy currently. Last season, he was overshadowed by the success of Mahomes and Trubisky leading the Bears to an NFC North title.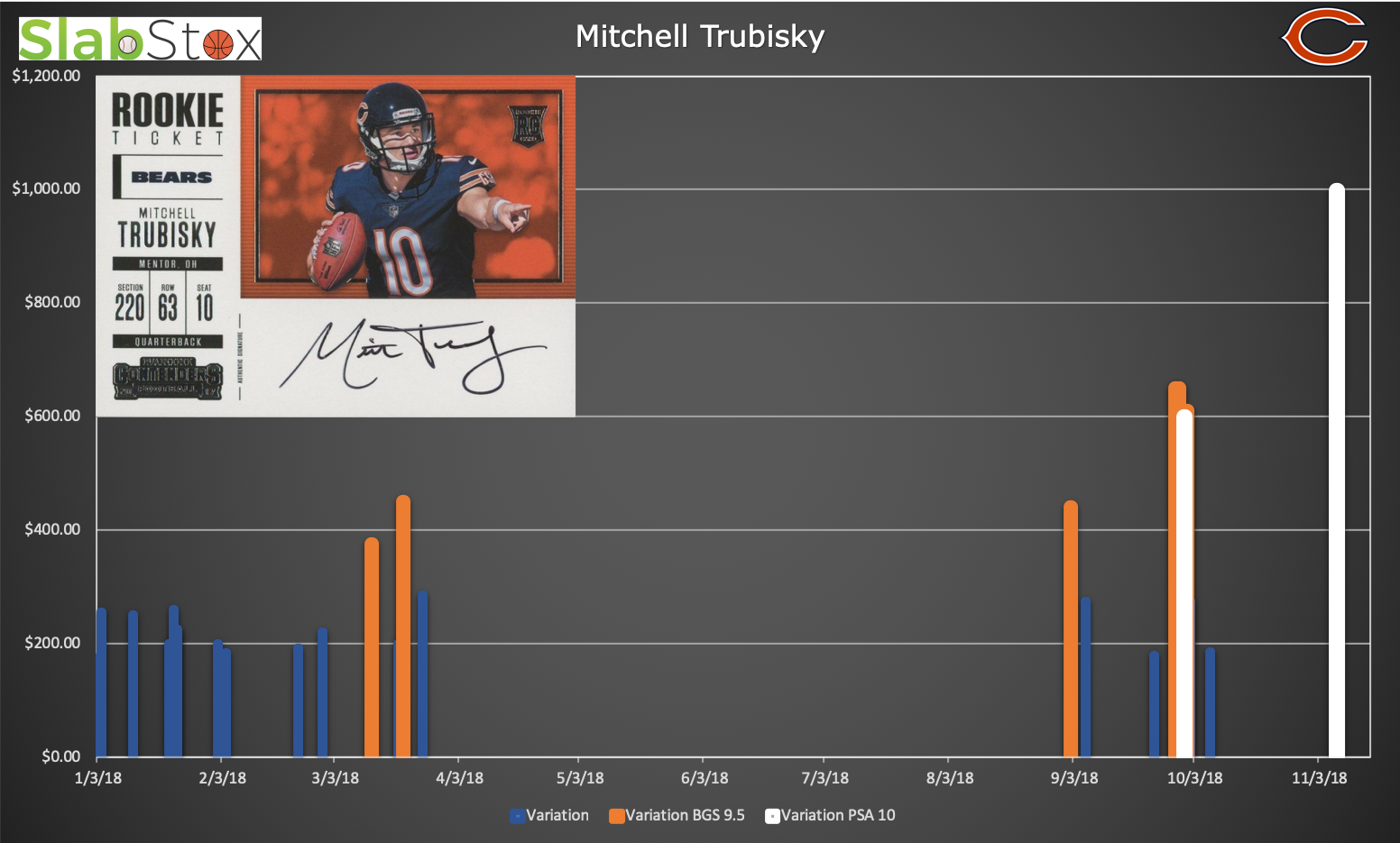 Although Trubisky received plenty of playing time during his rookie season, I don't believe it did his value any favors, as it was a low point for sales. Trubisky and Mahomes had a long drought of no sales of raw autos from the end of March to the beginning of the 2018 season.
I believe there are three reasons why something like this would've happened.
Scarcity of the Variation autos
Buyers were being skeptical because of their experience or how they had played in the previous season
Asking prices could've been too high for potential buyers to commit to unproven players
When looking at Trubisky sales BGS 9.5s more than double up on raw ($221.80 to $529.36), while PSA 10s are at around $800 with only two sales.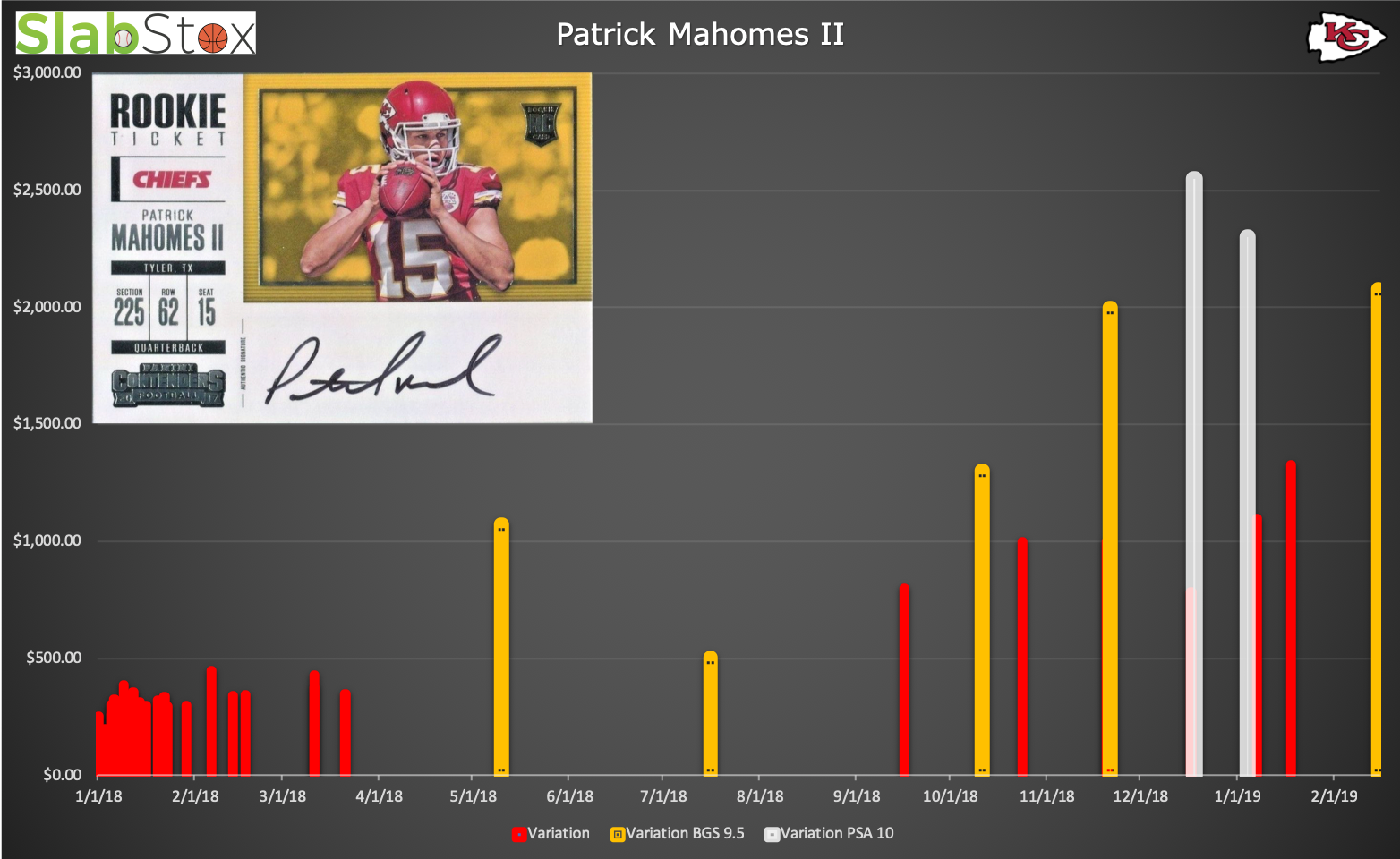 Even though Mahomes played one game during his rookie season, his sales were much higher than Trubisky's during that time. People believed in his talent and liked what they saw in Week 17 of 2017. It seems like investors bought up all the Mahomes they could in the first three months. After March, there wasn't another raw Mahomes Variation sold until September during the season.
During the first three months, raw copies averaged $327.36. This is a relatively high number for a quarterback who had only played one NFL game at this point. Of course, this was an extremely smart investment with Mahomes winning the 2018 MVP. For raw and BGS 9.5 autos, every sale was higher than the last; however, the most recent PSA 10 sold a bit lower than the last. When buying a card at this price, I'd want to see high-definition scans. Buying a raw copy can be risky, but if you are able to snag a gem grade on it, the potential for profit is sky-high (a multiplier of over two times as much).
Sign up for The Daily Slab email to get the most up-to-date sports card insights straight to your inbox.