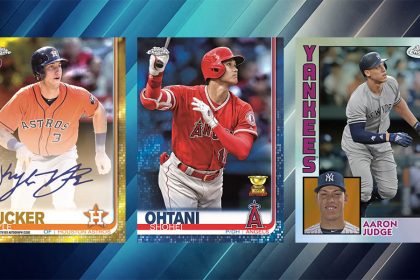 This time of year is always exciting for SlabStox because there's always a new product coming out seemingly every week. Next week is no different, as 2019 Topps Chrome Baseball is coming out on Wednesday, July 31st. This gives you yet another chance to snag some rookie cards and autos. For those of you attending the 2019 National in Chicago, you'll have the new release right at your fingertips to rip boxes upon boxes.
Like we did with Allen & Ginter, we'll be looking at a couple of rookies from last year's product to see if we can find the correct buying time for your investing needs. I'll also cover who I'd be looking to (hypothetically) buy from 2019 Topps Chrome. First up is Gleyber Torres redemption cards.
The following data is for auction sales only.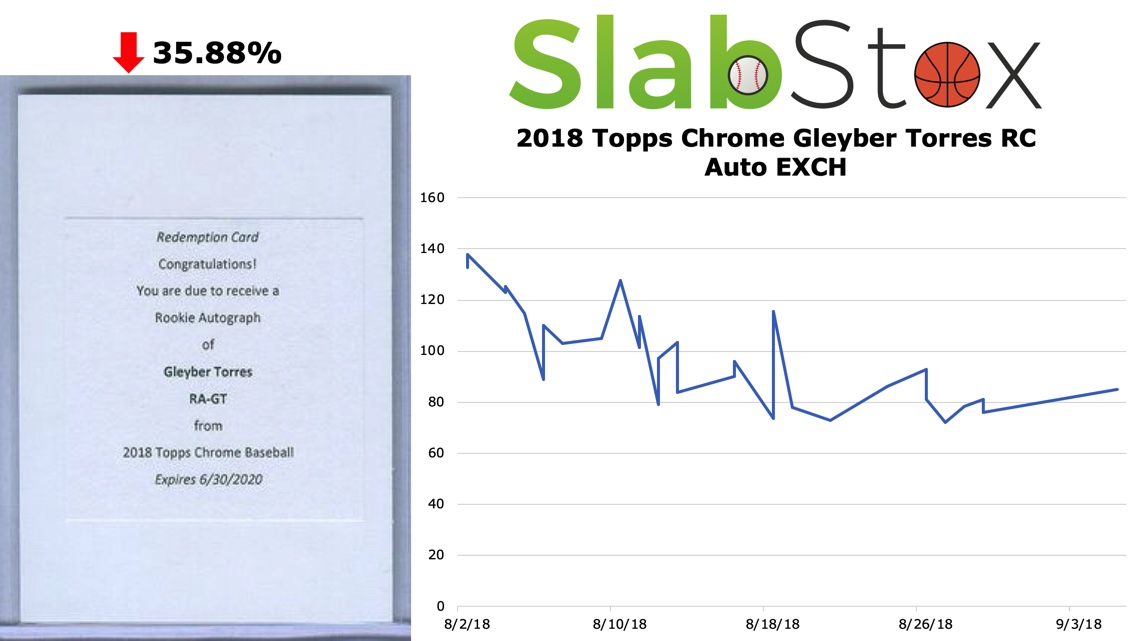 For Gleyber, I took just his redemption sales from the first month of sales data. His prices started out in the $130 range and took a wild ride before settling around the $80 range. The one thing clear from this graph is that the absolute worst time to buy was instantly.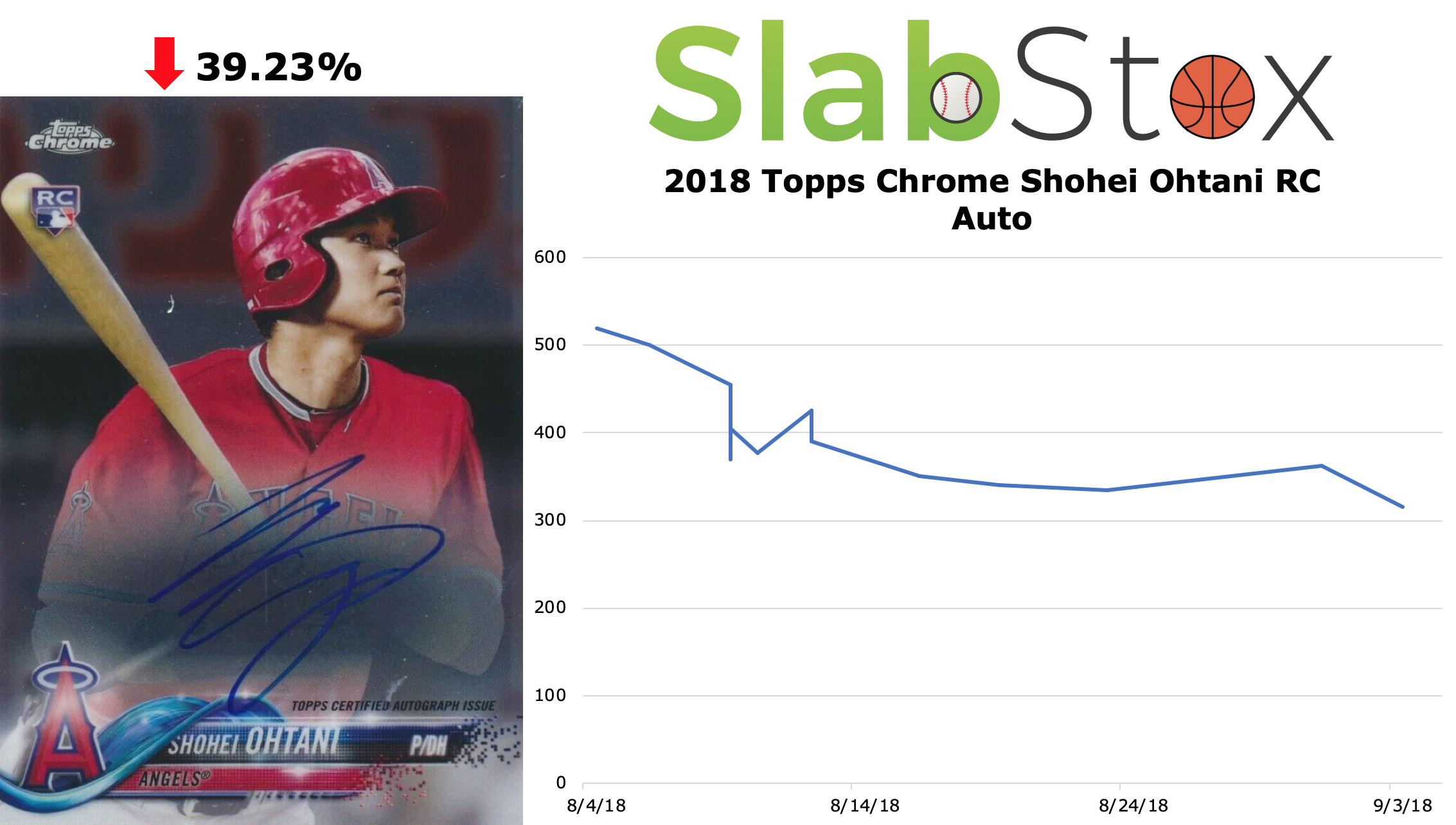 For Ohtani, I took the first month of sales data for his base autos. Like Gleyber, you can see that his prices started out high ($500+) and steadily dropped into the low $300 range. Once again, we can see by not buying right out of the gate you can save yourself significant money. In Ohtani's case, you could have saved a couple of hundred bucks.
We learned from Allen & Ginter, and nearly every other product release up to this point, that buying singles on release is a poor investment strategy, and Topps Chrome is no different. By waiting a month, you'll still get the cards you want, but at a significantly lower price.
My 2019 Topps Chrome Top 10 List
For rookies, 2019 Topps Chrome's checklist is absolutely loaded. Definitely the best year I have ever seen. With that being said, let's take a closer look at the top 10 rookies I'd (hypothetically) like to buy a month after release.
Please note: This is a personal preference and not advice for investing.
1) RA-KH Keston Hiura – Milwaukee Brewers: Obviously, Keston is first. Not only is he absolutely murdering the ball, but he also has a chance to be the best homegrown Brewers player since Ryan Braun.
RA-VGJ Vladimir Guerrero Jr. – Toronto Blue Jays: Stats are down in the early going but still is a generational talent with the bat. Potential for price to be lower than they will be in the future.
RA-FT Fernando Tatis Jr. – San Diego Padres: Not many 20-year-old players hit .326/.387/.590. He is on pace early in his career to be an all-timer. It would be fun having some of his rookie autos twenty years down the line.
RA-PA Pete Alonso – New York Mets: A rookie that has a shot to lead the league in home runs doesn't happen every year. I want a piece of history.
RA-JM Jeff McNeil – New York Mets: While everyone else zigs, McNeil zags. He recently stated he is more interested in AVG than OPS. While I disagree with him on that, I don't disagree with his .341 AVG and .909 OPS.
RA-DF David Fletcher – Los Angeles Angels: All contact and no power in today's MLB is always going to be interesting to me. Fletcher has 105 hits this year of which only 28 have gone for extra bases. It would be interesting to see how many extra base hits he'd have without juiced baseballs.
RA-CPA Chris Paddack – San Diego Padres: One of my favorite pitching prospects has come up and been really good for the Padres. He has a 2.84 ERA and a deserved run average (DRA) of 3.01 which is spectacular.
RA-LU Luis Urias – San Diego Padres: One of Aaron's favorite players. I'll be interested to see how he does in extended time in the MLB. He was always a contact over power guy but has hit 19 bombs in AAA this year.
RA-NS Nick Senzel – Cincinnati Reds: Drafted to play 3rd but is now playing centerfield. Very interesting prospect who can play multiple positions with the bat of a corner infielder. Currently has a .798 OPS, which I believe will only get better as he gets more comfortable and hopefully less injured.
RA-RL Ramon Laureano – Oakland Athletics: Normally, a guy like Laureano wouldn't be on my list of guys I'd like to buy, but his last month has been insane. In July, he has hit .397/.443/.824 with 7 dingers which is something I did not see coming. He's firmly put himself on the "better than just a good story" list.
If this list shows you anything, it's that 2019 Topps Chrome is absolutely loaded with rookie autos. If you plan your investment right, you can do well with a lot of these rookies. I hope you all go out next week to support your LCS and buy some 2019 Topps Chrome packs. After that, I hope you all are wise and wait a few weeks before buying singles.
Good luck!
Sign up for The Daily Slab email to get the most up-to-date sports card insights straight to your inbox.
*Full disclosure: We own various Gleyber Torres rookies and inserts, a Torres Heritage Color Swap PSA 10, various Shohei Ohtani rookies and inserts, an Ohtani Heritage Black Refractor /69 PSA 10, blue/black/purple 9.5 autos of Keston Hiura, and an orange non-auto PSA 9, various Tatis rookies and Bowman Chrome non-autos, a couple of non-auto base Bowman Chrome Pete Alonso including a refractor non-auto, a sky blue 1st Bowman Chrome David Fletcher non-auto, a Chris Paddack blue refractor auto and base auto, a Luis Urias Bowman Chrome Superfractor auto 1/1, two Urias red ink autos from Heritage, a Clear Acetate RC /10 of Urias, a Black RC /67 of Urias, an Independence /76 of Urias, and a few blue ink Heritage autos, a Nick Senzel Bowman Chrome auto 9.5, and a Series 2 Ramon Laureano RC Auto /150.