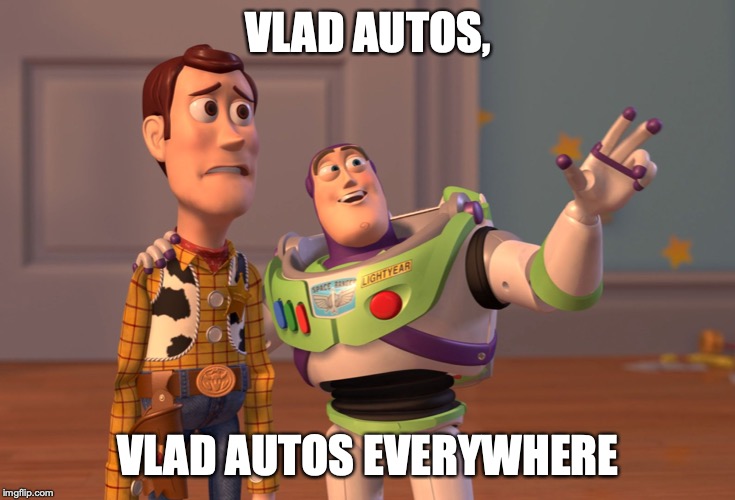 Are you having trouble getting your hands on an auto of Vladimir Guerrero, Jr.? Have no fear, 2019 will bring you all the autos you could ever want of the top prospect in baseball.
Over the past few days, Jesse Guerrero (a family friend and business manager), has been posting many pictures of new Vlad Jr. cards on the way in upcoming products. All the following pictures are from @jesseguerrero.jg on Instagram.
Join SlabStox as we take a look.
2019 Bowman – 2nd Bowman Auto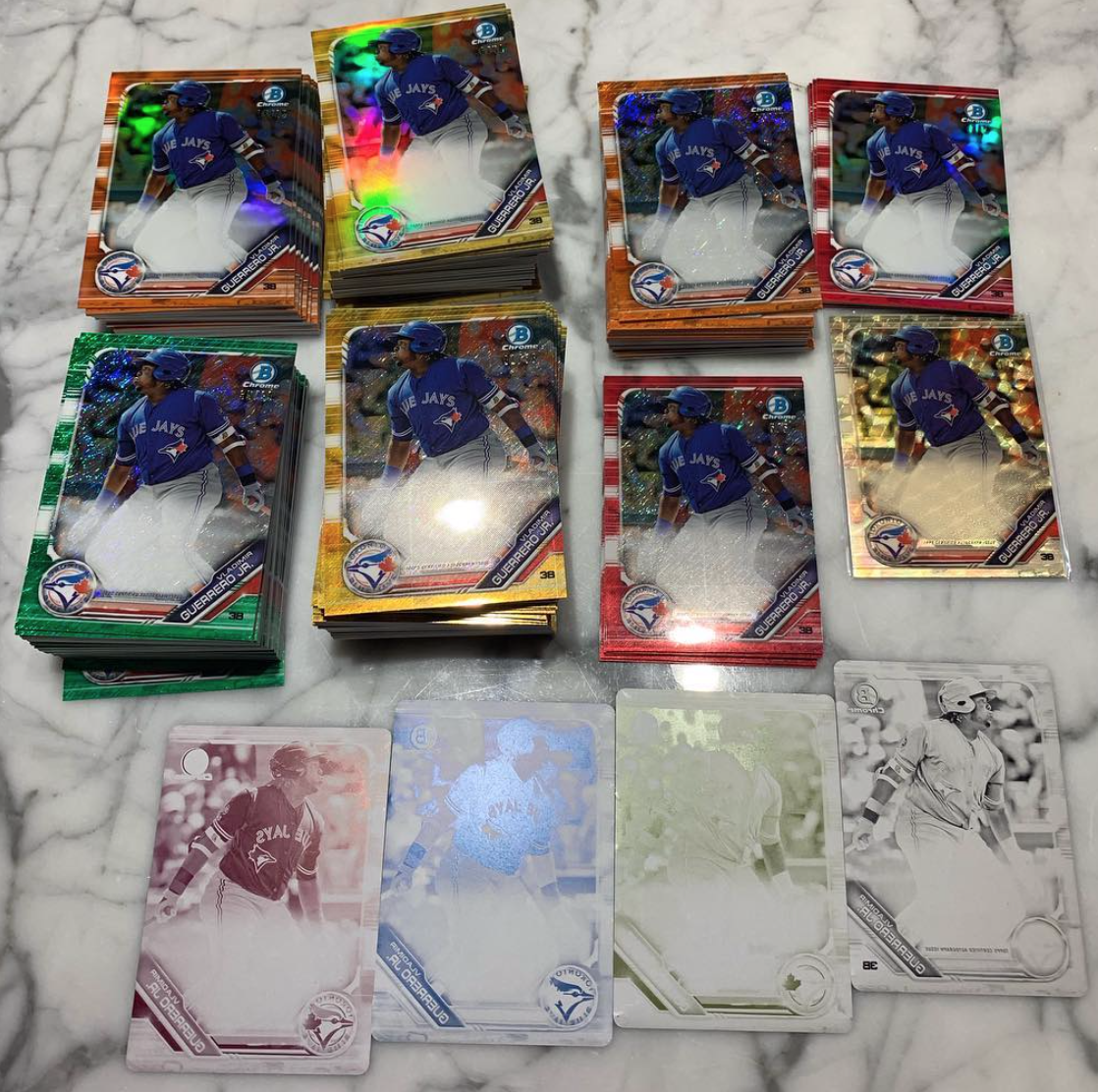 For the second time, Vlad Jr. will be featured as a prospect auto in the Bowman line. This time, of course, it will not feature the "1st" logo, so don't expect a $1,000 base auto out of this product.
It is my assumption these will be in 2019 Bowman, and you will see why soon. If that is the case, I better say goodbye to any chance I had to break this product, as it now includes Wander Franco and Joey Bart as 1st Bowmans and the top prospect in baseball's 2nd Bowman auto.
2019 Bowman Mega – Prospect Auto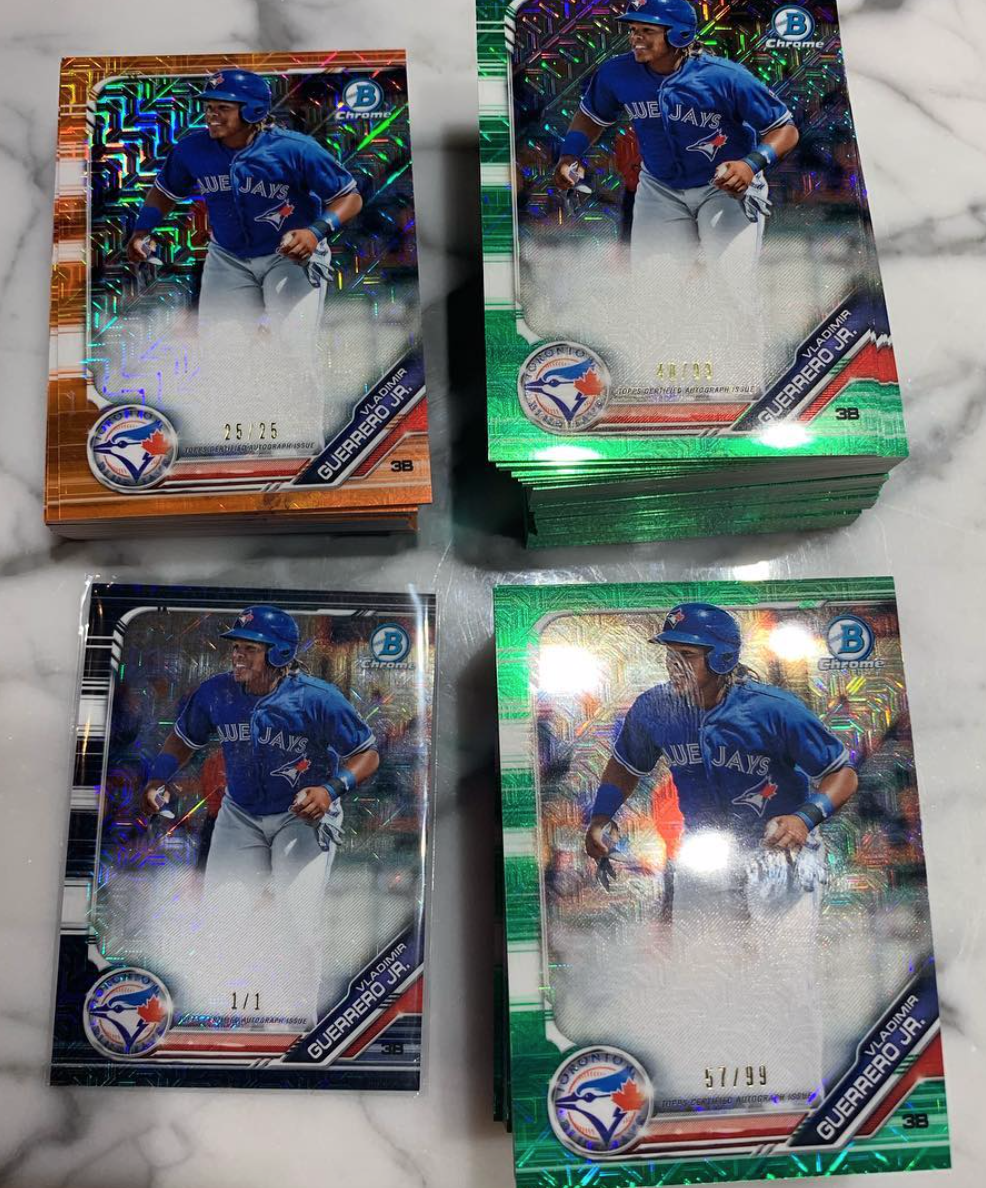 Each year, Bowman Mega refractors are some of my favorite-looking cards. It's safe to assume these will be appearing in the retail release of 2019 Bowman Mega and not included in 2019 Bowman as variation autos.
In the past, Bowman Mega boxes retailed at $15 per box including 5 packs of the main Bowman retail line and 2 "Exclusive Mega Box Chrome Packs." This year should be no different for the configuration of the box, but it would be silly to believe the price point would remain the same if Vlad Jr. autos were in it.
For the past two years, the retail craze of Bowman Mega has been insane. It had people going to multiple different targets to buy out their stock. I would expect the demand to go up even more this year with Vlad Jr. included.
So far, this is great. Vlad Jr. autos have not been released since 2016, and this gives collectors who can't drop $800 on a 2016 1st Bowman Chrome base auto a chance to acquire some form of Vlad Jr. ink for their collection.
Here's where it gets crazy.
2019 Topps Chrome – Rookie Variation Auto (Possible 20th Anniversary Insert Auto?) & Dual Autos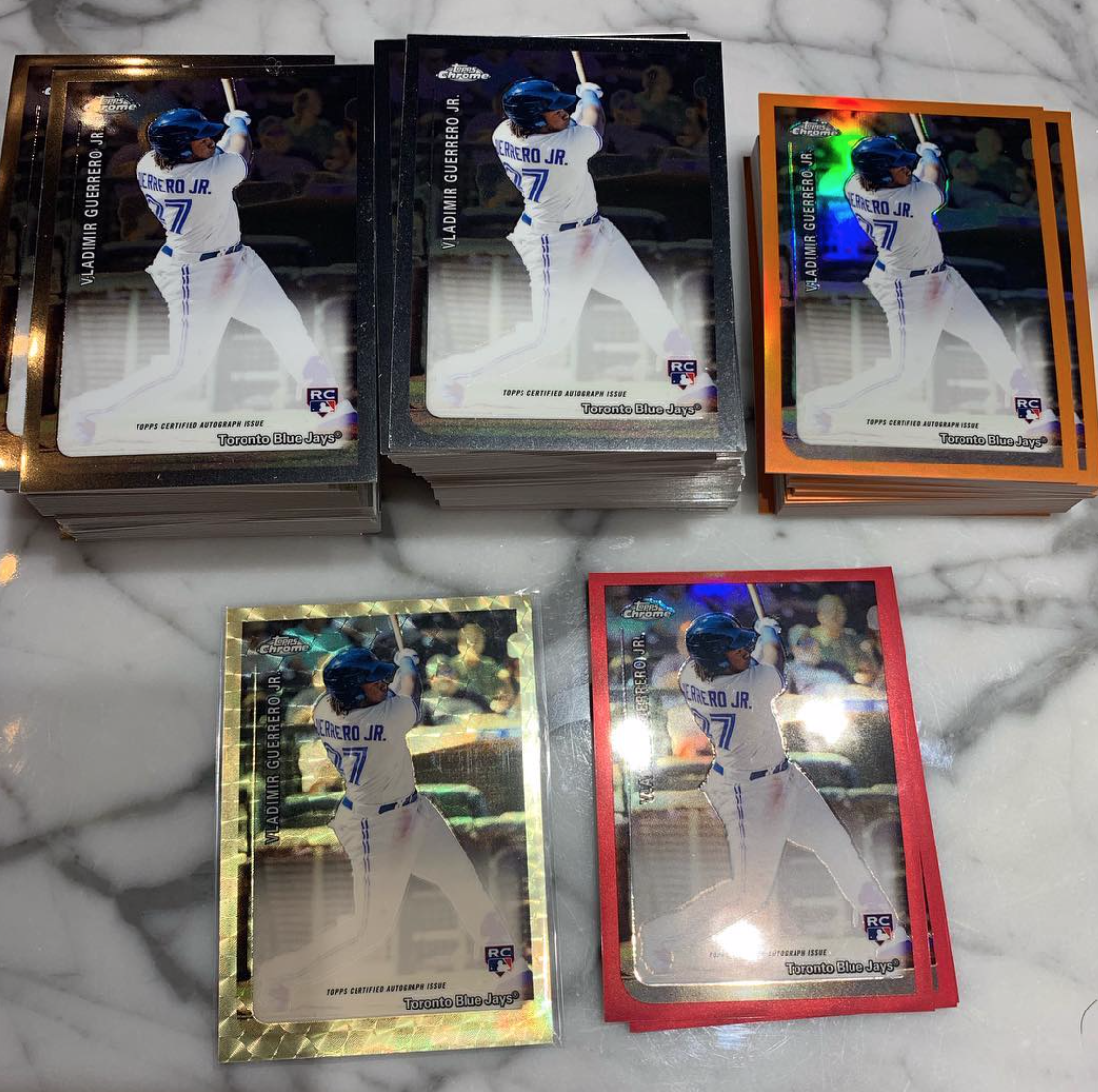 Wait, he's already signing ROOKIE autos? He hasn't even debuted yet?
Yep, you heard it right. Topps is prematurely having him sign 2019 Topps Chrome rookie autos.
While it seems off, it is good on their part to be ahead of the game to get the top prospects included in the mainstay rookie products after omitting Juan Soto from last year's 2018 Topps Chrome. Not having an on-card Topps Chrome Juan Soto rookie auto is unfortunate, and it appears they are preparing for the next big thing's debut ahead of time.
While these are not the base rookie autos (a different design), I read these are a possible 20th Anniversary auto-insert.
Here is a 1999 Topps Chrome Jeter Refractor featuring the original design.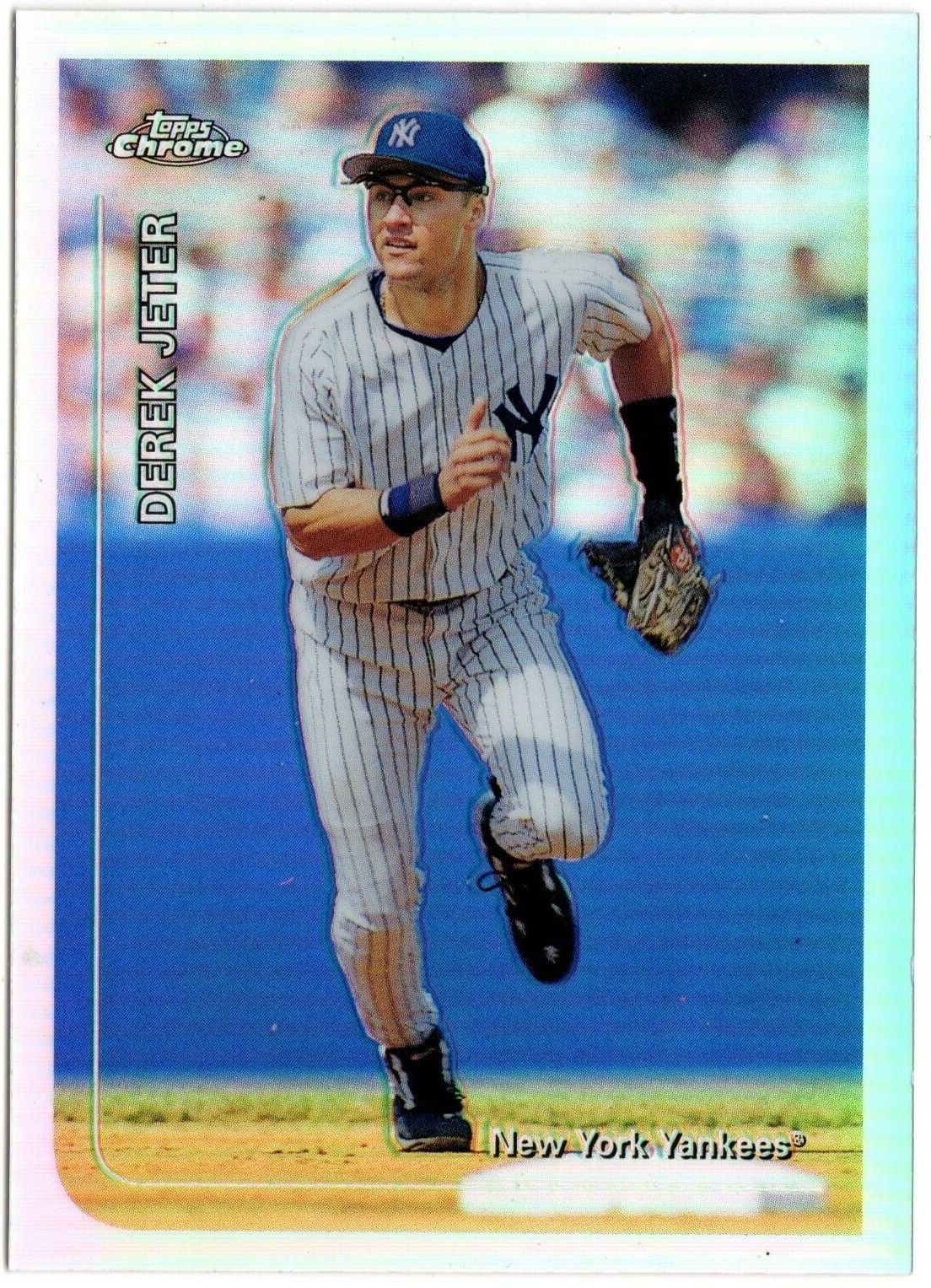 Will he have rookie autos featuring the 2019 Topps Chrome design? That is yet to be known. If they're having him sign insert autos, it'd be a reasonable assumption they'd try to include him as a true rookie auto, as well.
Staying in Topps Chrome, Vlad will be featured on dual autos with… Bo Bichette. Wait, what?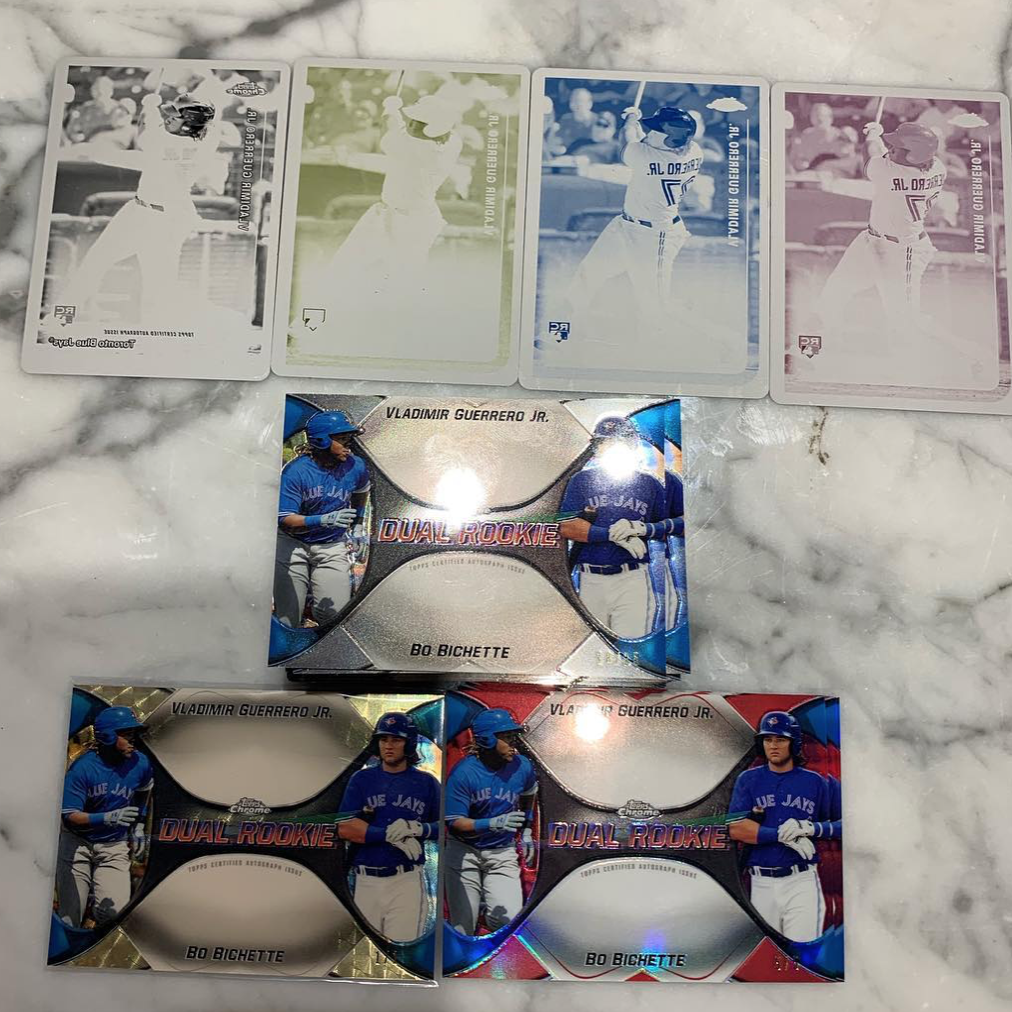 Yep, Bo Bichette being tagged a rookie in 2019 Topps Chrome. It is a little funny to see the top prospect in baseball signing rookie cards before a debut, but it is even more out there seeing the #10 prospect signing prematurely. There will also be a Vlad Jr. and Eloy Jimenez dual auto, but after Eloy's record extension for a prospect, this one makes sense.
While Bichette has been blistering this spring and people are now expecting him to be up sooner rather than later, they're really going all in on this one. Once again, if Vlad and Bichette are both up by the release of Chrome (July 31), this is a HUGE inclusion. The two faces of the franchise featured on one rookie auto? Count me in.
With the July 31st release (the first day of the 2019 National in Chicago), could there be a 2019 Topps Chrome Vlad Jr. and Bichette hunt at SlabStox Booth 695?
2019 Topps Definitive & 2019 Topps Museum Collection – Dual Auto & Dual Patch
Woah. Now this is really going for it all.
Vlad Jr. will be included as a dual auto and a dual patch (1/1 only shown) next to none other than his father and recent Hall of Fame inductee, Vladimir Guerrero.
This is big to get Vlad Jr. not only included as rookie autos, but into a high-end products like Definitive (pre-sale $979.95 a box) and Museum Collection (pre-sale $196.95 a box).
These dual cards with him and his father are going to sell like hot cakes. I can't wait to see what that 1/1 dual patch sells for. It will also be interesting to see if there are any other variations other than a single 1/1.
What does this mean for the hobby in 2019?
First off, Topps is very smart get these inclusions set in stone for early 2019 products. They're a business, and they need to provide their customers with value. That is exactly what they are doing here.
Are they putting too much stock into Vlad Jr. earning a call-up by midseason?
Possibly, but if Vlad isn't called up by the time Topps Chrome is released, there are some major problems in that Toronto front office.
Assuming he gets called up, 2019 will be an amazing year for collectors, investors, and even new people brought to the hobby by Vlad Jr. In 2017, a lot of people re-joined or joined the sports card world because of Aaron Judge and Cody Bellinger. If Vlad Jr. can even have half the affect, we will be in for one awesome year of product releases.
Investment implications with the release of 2019 Vlad Jr. rookie autos?
This shouldn't have any effect on his 1st Bowman Chrome market. The big dogs are in it for a reason, and they still will be with the same force when rookies are released. The only thing that will affect his 1st Bowman Chrome going forward is his performance on the field.
To learn about the investment viability of his 2nd Bowman, I'd recommend reading these two articles:
The 2019 rookie cards to invest in will be the same as in past years. Some order of Topps Chrome, Topps Flagship Rookie (will it be Series 2 or Update?), and Topps Heritage (High Number for Vlad Jr).
In February, I wrote about Heritage versus Update using Juan Soto and Ronald Acuña as examples. Be sure to give that a read to start planning your 2019 rookie investing!
This is all great news for the hobby. The future is bright!
Sign up for The Daily Slab email to get the most up-to-date sports card insights straight to your inbox.