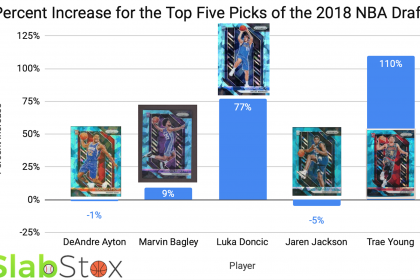 As the 2019 NBA All-Star Weekend comes to a close, teams are now either gearing up for a playoff push or developing young talent in hopes of acquiring a lottery pick next year.
While the All-Star break doesn't represent the true midway point of the season, it does mark a good spot to evaluate players' performances thus far, leaving ample time for improvement or regression. I decided to take a look at some of the most surprising trends in the "first-half" of this season, from the breakout of players like Pascal Siakam, to the discouraging play of guys like Lonzo Ball. With plenty of time left in the regular season, now is a great time to research potential investments and decide which cards you would like to buy or sell as we near the playoffs.
After starting off extremely cheap due to overproduction and lack of consistent play apart from Luka Doncic, this year's rookie class has begun to rise considerably in prices.
It is no surprise that the price of Prizm Silver RC Parallels from 2018-19 Panini Prizm are generally much lower than in year's past. Despite strong play from a variety of top picks, namely Luka Doncic's historic rookie season, vast overproduction and a slew of new colored Prizms have prevented demand from surpassing the current supply of these exciting rookies. However, as retail dries up and long-term investors keep their sealed hobby boxes off the shelves, prices have slowly started to recover.
I decided to track the cost of a few rookie blue ice refractors /99 (an emerging key parallel from Prizm) since being released, choosing 1st overall pick DeAndre Ayton, to go with Trae Young, Luka Doncic, Marvin Bagley, and Jaren Jackson Jr. The first two weeks of sale prices are ignored, as these tend to misrepresent the true price of the cards due to the initial hype of a new product.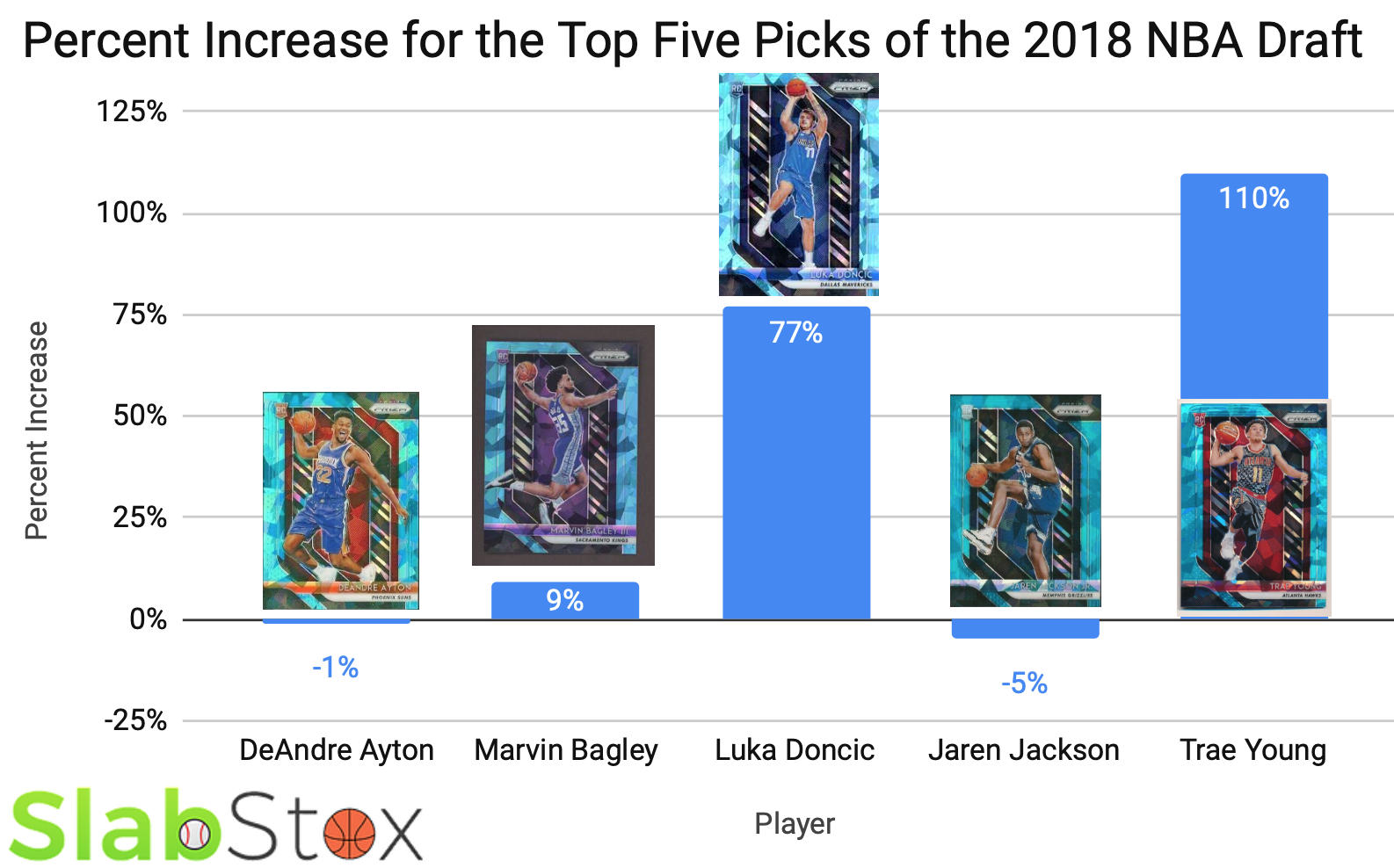 In general, we have seen a large increase in the value of Blue Ice Prizms /99, with only slight drops in the price of Ayton and Jackson Jr's cards. I believe this class is one of the best in recent years, and I expect the prices of its top players to rise in the coming months, along with the price of sealed wax, specifically hobby and First Off the Line.
Pascal Siakam has emerged as the favorite for Most Improved Player, and his prices are starting to reflect his stellar play.
Siakam has always possessed intriguing athleticism and potential as a shooter, but he struggled to find shots in a stacked Raptors offense the last two years. This season, the 24-year-old from Cameroon has found himself a crucial role in Toronto's contending unit, averaging 16 PPG on 55/34/79% shooting. "Spicy-P" has established himself as the leading candidate for the NBA's Most Improved Player, and his silvers have skyrocketed since the beginning of the season.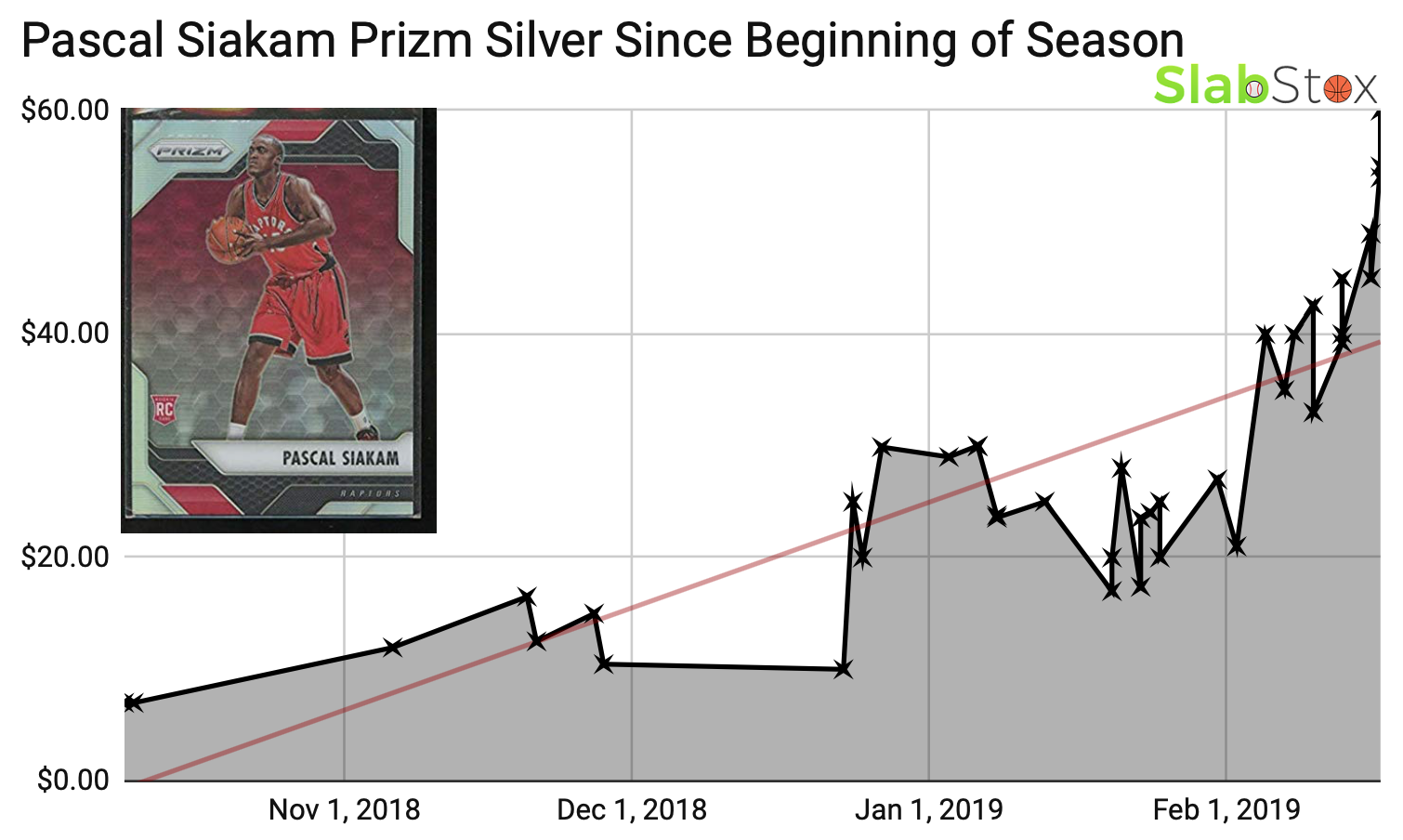 Starting at $10.00, Siakam's Silver RC has now almost reached $60 per raw copy, an amazing 500% increase in just half a season. Following his recent 44 point game, Siakam is playing with tons of confidence and should continue to thrive as the Raptors prepare for the playoffs.
As Lonzo Ball struggles through injury and shooting woes, it seems his hype is quickly dying off, leading to a massive drop in prices despite his strong defensive ability.
Ball has always been a polarizing figure in the basketball world, showcasing unique talent as a playmaker while capturing the media spotlight, much in part to his father's boisterous claims and criticism of Luke Walton. Despite Lavar claiming his son is better than Stephen Curry, Lonzo has failed to ecplise 10 PPG this season, shooting a dreadful 41% from the field and a pitiful 42% from the free throw line. As expected, his cards are down as a whole, but his National Treasures RPAs have taken an especially large hit.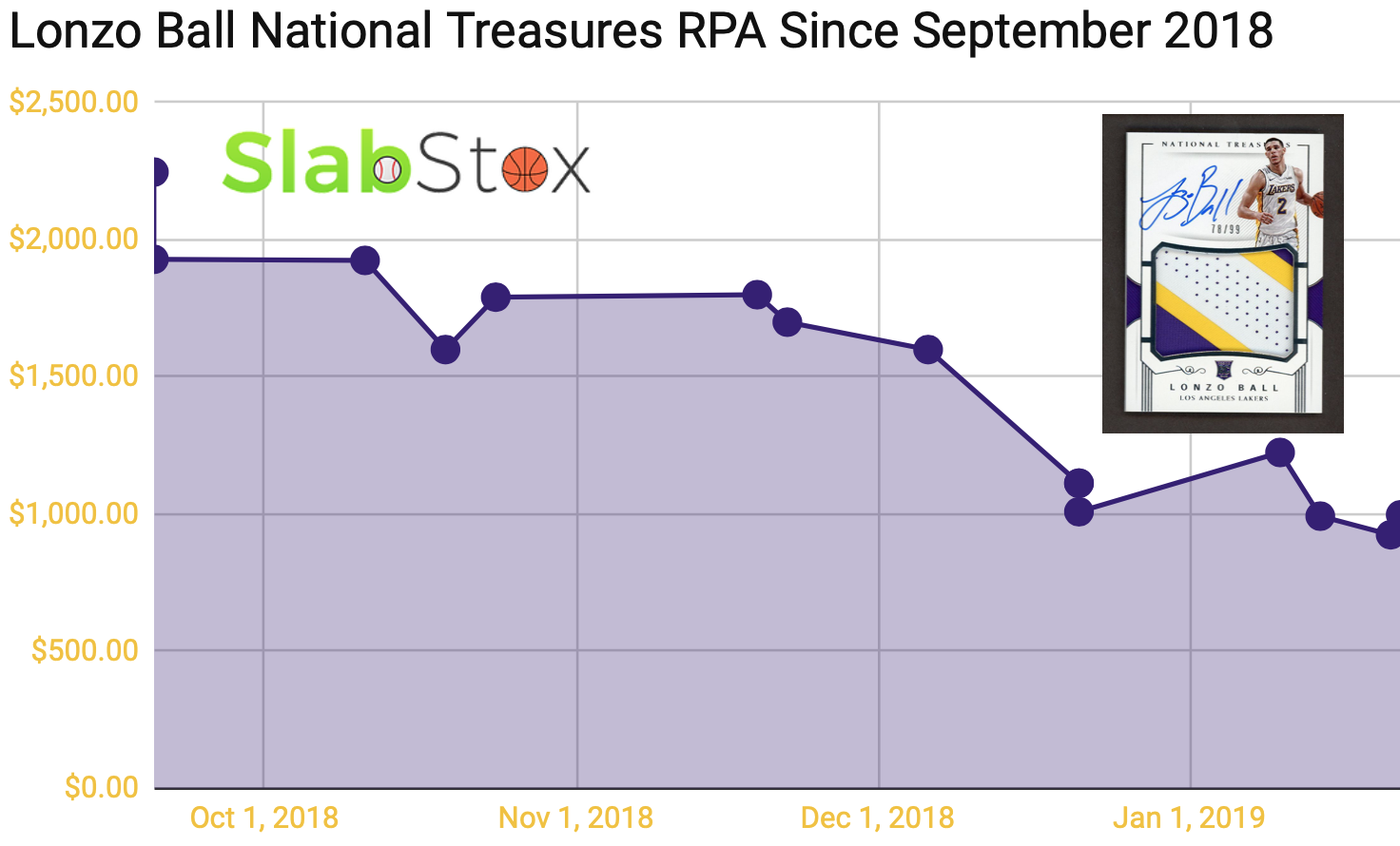 Ball's NT RPAs have dropped as low as $925 in recent sales, as opposed to $2,247 before the season. Even if the Lakers make a playoff run, it is hard to imagine Lonzo fixes his shooting issues enough to garner hype as the season comes to a close.
Let me know if there were any large developments in the basketball card market I missed, and be sure to drop a comment with your thoughts on this year's rookie class, Pascal Siakam, Lonzo, or any other relevant basketball topic.
Thank you!