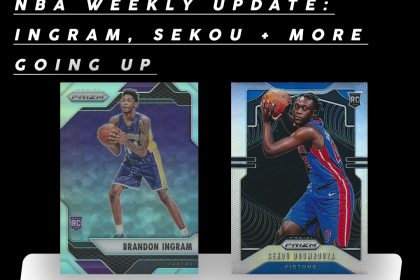 Mid-January has given card collectors a lot to think about. Here's a look at who and what's shaking in the NBA this week and players that deserve some attention in the sports card market.
Brandon Ingram, New Orleans, Pelicans
Recent Sale: Prizm Silver RC PSA 10 – $375
Sam's Take: No hesitation—buy and buy some more.
Ingram put the team on his back in an overtime win over the Jazz on January 16. Get this: 49 points, 8 rebounds, 6 assists, and 3 threes on 60 percent shooting!
The changes this guy has made this season are incredible!
Most of us thought of him as damaged goods coming to the Pelicans from L.A., yet almost overnight Ingram has become the player we thought he could be. The transformation is amazing:
His first three seasons Ingram's free-throw percentage sat at 62%/68%/67%. This year, it's jumped to 86% percent!
His first three years Ingram's 3-point percentage was a dismal 33% on just two attempts per game. This year, he's hoisting six 3s per game and hitting at a 40% clip!
The gains are incredible. Ingram is a legit top-20 player in the NBA so far this season, and he's no doubt going to cash in on a max deal this summer. The Pelicans look super exciting with Ingram, Zion and an improving Lonzo Ball in their starting five.
Ingram Investment Strategy
That's why as an investment, Ingram has been so confusing so far this year. And I really think the market is reading this wrong.
In early October, Ingram's PSA 10 Prizm Silver Rookies were going for around $300. By early November, we all woke up to what he was doing on the court and his cards shot up over $500. That's exactly what should've happened.
Now a couple months later, Ingram's Prizm Silver Rookies are back to around $300. WHY? There is just no reason for it!
If I had to guess, it is over concerns his role will shrink when Zion Williamson returns to the lineup. But Ingram won't disappear. Clearly this team is going to build around Zion AND Ingram. I think you buy this guy whatever you can—Prizm, Optic, Select all work.
Whenever there is a drop in price over no bad news, and frankly all good news, I think you buy, buy, buy, and buy.
Investment Target: Optic Checkerboard RC SSP PSA 10 – $300 OBO
Target Price: $250
Markelle Fultz, Orlando Magic
Recent Sale: Prizm Silver RC – $47
Sam's Take: Under the radar—buy.
I love this guy. He put up a triple double on the road against the Lakers on January 15 with 21 points, 11 rebounds, and 10 assists. Now that he's out of the toxic Philadelphia locker room, Orlando has done him well. He's out of the limelight and it has really helped him.
My guess is he gets better in upcoming years. I wouldn't go as far as to say he will be a perennial All-Star, but it wouldn't surprise me if he makes that roster a few times in his career. He is that good of a player.
Right now, Fultz is under the radar. He isn't getting a lot of national attention and his cards are a bit underpriced. I wouldn't hesitate to buy.
Investment Target: Prizm Silver RC – $65 OBO
Target Price: $55
DeAndre Ayton, Phoenix Suns
Recent Sale: Prizm Silver RC – $50
Sam's Take: Pre-hype—buy.
For some reason Monty Williams was playing Ayton with the second unit and said some garbage the other day like, "We really like how he's looked with the second unit…he's been playing well." My response: Give him more minutes numb nuts!
Ayton got the start against the Knicks on January 16. He put in 26 points, snatched 21 rebounds, and two blocks. This is the type of thing Ayton can do consistently. Dominate on the glass and put up 20 points and 12 rebounds every night.
That comes with a big IF. If Monty Williams lets him do it.
Ayton's market was a bit down for a stretch here, which makes sense due to injuries and Monty Williams jerking him around. But if he is back and putting up these eye-popping stat lines, that is what makes people take notice. That drives hype. And hype drives prices. I think that means right now, he is a buy.
Investment Target: Prizm Purple Ice RC /149 PSA 10 – $290 OBO
Target Price: $275
Michael Porter Jr.
Recent Sales: Prizm Silver RC PSA 10 – $150 to $180
Sam's Take: We will never see his card values lower.
After his breakout game a few weeks back, the market jumped all over MPJ. A couple days later, another good game and wads of cash were thrown around to get his card into the portfolio.
In early January, Porter Jr's PSA 10 Prizm Silver Rookies were regularly going for $275. I warned several times that while these performances were a really good sign for him, it probably wasn't going to be something we saw every single night. The Nuggets have too many players deserving of minutes and some nights MPJ probably is going to get dud stat lines and the market would eventually cool.
I hope you were listening. And I hope you're listening now. Over the past week these same Prizm Silver Rookie PSA 10s have dropped to $150 to $180. That's almost half of what they were going for just a few weeks back. That means MPJ is an absolute STEAL!
Every time MPJ gets the minutes, he becomes the engine that drives the Nuggets. He IS going to be really good and this team IS going to build around him, Jamal Murray and Jokić.
Listen up. I'm going to make a really big statement here. THIS IS THE LOWEST WE WILL EVER SEE HIS PRICES. If you can't afford it, snatch up ungraded Prizm Base Rookies. Keep track of his games because when he goes five games in a row doing nothing because he isn't getting playing time, prices will drop. PICK HIM UP! If you recognize the buying opportunity, buy and profit later.
Investment Target: Optic Orange Holo RC /199 PSA 10 – $300 OBO
Target Price: $240
Sekou Doumbouya, Detroit Pistons
Recent Sale: Prizm Silver RC – $75
Sam's Take: Youngest in the league and room to improve. He's a buy.
Take a look at Doumbouya's ungraded Prizm Silver RCs: $75. That might feel pretty high for the youngest player in league that is still very raw. But as the youngest player in league, he's averaging 17 points, 4 rebounds, and nearly two 3s per game. And, he's been doing great things on both the offensive and defensive sides.
Did I mention Doumbouya is the youngest player in the league?
To see such a young unrefined player getting these minutes and performing like this, you have good reason to be excited about Doumbouya.
We still don't really have an idea what he will become, but what he's been doing gives you reason for optimism and should ease your mind if you think he's a risk. Doumbouya is rawer than most players, but maybe less than what we once thought. I think the floor is pretty high on this guy. He is a buy at the moment.
Investment Target: Prizm Blue RC /199 – $450 OBO
Target Price: $250
Jarrett Culver
Recent Sale: Prizm Silver RC – $40
Sam's Take: Possible trade to a bench role. I'm not buying.
Culver's been absolutely terrible over the course of this season. A couple weeks ago he had a nice four-game stretch to start the new year. I cautioned at the time that he had been so bad and so inefficient that I would temper any investment thoughts on this guy.
In four games since, he's shot 49% from the field, averaged 14 points, 6 rebounds and two assists. Over the past 8 games, the Wolves most productive lineups have included Culver instead of Jeff Teague. Both lineups have been net positive. That's huge on a bad team.
Since then, the Timberwolves have shipped Teague to Atlanta. That should mean good things for Culver. He will be doing more for the T-Wolves. Not sure driving the offense will be his position long term. But the Wolves will give him the opportunity to prove hit.
The big question: Will Culver get his big opportunity on the Wolves? Or, will it happen on another team. The Wolves are signaling that whey want to trade for D'Angelo Russell. We know they went after him in the off-season. We know he's buds with Karl-Anthony Townes. And we know the Wolves would still like to pick up D'Angelo. If that happens, I think Culver is automatically involved in the trade. If so, he's coming off bench behind Steph and Klay.
If Culver stays with the Timberwolves, things are looking up. If he is shipped out, you have to assume it takes a while before he sees meaningful minutes. For that reason, I still don't know if I'm buying.
Sign up for The Daily Slab email to get the most up-to-date sports card insights straight to your inbox.