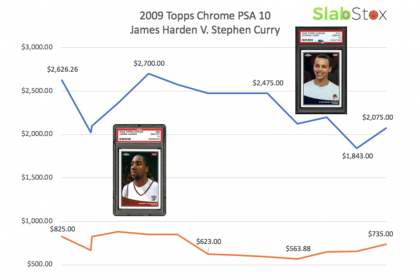 Stephen Curry is probably the second most recognizable name in basketball right now, only behind one of the greatest of all-time, LeBron James. Since his rookie season, Stephen Curry has been electric, amassing two consecutive MVPs, six All-Star appearances, and most importantly, three NBA Championships. The Baby-Faced Assassin holds seven NBA records; three of them Playoff records, and six Warriors franchise records. But, this article isn't about him. It's about the person who is going to surpass him, Mr. James Edward Harden Jr.
James Harden's 2018-19 season has been incredible, to put it tamely. His 36.36 PPG is good for 7th on the single season PPG list, ahead of seasons put together by all-time greats like Michael Jordan, Kobe Bryant, and Kareem Abdul-Jabbar. The KIA MVP ladder, on NBA.com, has Harden at 2nd in the running for the award, behind Milwaukee superstar Giannis Antetokounmpo. If Harden can somehow surpass the Greek Freak and put together his second consecutive NBA MVP season, Curry is going to have some real competition for the title of second in command behind LeBron.
The 2009-10 Topps Chrome set featured base rookie cards with a limited print run of 999. Stephen Curry and James Harden's rookie cards were featured in this set. Despite what I told you, there is a massive price discrepancy between the two cards. The rookie cards of two extremely talented players on the same level exhibit an imbalance of price that sometimes gets close to $2,000. Before you look at the following chart, take a guess on which player is outselling the other.
First, let me clear something up. The 2009-10 Topps set has seen countless fakes hit the market, and as a precaution, I would advise only buying these cards in a PSA or BGS slab, which is why the PSA 10 versions are the ones featured in the chart. The ungraded cards face a discrepancy as well, but the high number of fakes makes it impossible to tell which sales are real and which aren't.
Did you guess correctly? It is Curry's Topps Chrome rookie blowing Harden's out of the water. Harden has better per game stats in almost every category, yet his TC RCs have yet to get within $1,000 of Curry's. I've had people tell me it's Curry's 3-point shooting, but if that was true, Buddy Hield's Prizm Silver rookie (within .03 of Curry's 3PT%) would be selling for more than $45.
It seems the only reason Steph Curry is outselling James Harden is because, well, he's Steph Curry. Something about him; MVP's, maybe it's the Warriors dominance, makes him worth over $1,500 more than a player of the same caliber to buyers. It won't… it can't, stay like this for much longer. In light of Harden's recent record breaking streak, the spotlight is on him, and it will stay there.
It may be a long-term investment, but if you have the money, pick up a copy or two of James Harden's 2009 Topps Chrome PSA 10. Curry tops out at almost $3,000, while his cards Harden's have yet to hit $900. The combination of this discrepancy and their scarcity, they should be sitting comfortably at $1,200-$1,500, if not breaking the $2,000 barrier. The market is bound to pick up on this, and if you have two or three when they do, you will be a happy investor.
Fear the Beard, baby.
Sign up for The Daily Slab email to get the most up-to-date sports card insights straight to your inbox.