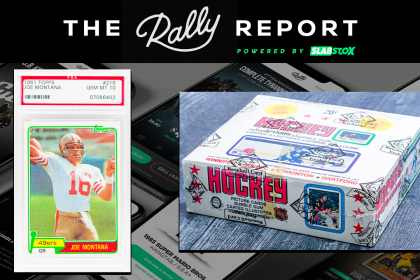 This message is sponsored by Rally. RSE Archive, LLC may be referred to individually as a Rally Entity. Rally is not a broker-dealer and securities are offered to investors via registered broker-dealers and members of FINRA & SIPC. Any private security investments contain a high degree of risk and we urge you to review full details and disclaimer at rallyrd.com/disclaimer.
Welcome back everyone to the SlabStox Rally Report, sponsored by Rally! This week we are covering some rare assets on the Rally platform, ranging from vintage football, hockey and basketball cards to game worn sneakers. Rally is a platform that allows users to buy and sell "shares" of hundreds of collectible assets. If you missed our intro video from a couple weeks ago, be sure to check it out to hear how Rally works!
1981 Topps Joe Montana RC PSA 10
Long before we entered the golden age of quarterbacks – before you had guys like Brady, Manning and Favre breaking every record in the book – we had Joe Montana. Montana was the poster child of winning in the 1980s. He ended up with two MVP awards, three Super bowl MVPs and four Super Bowl Wins. While he might not have had as good of stats as Dan Marino, he did something Dan Marino didn't do in his career – win the big game. At the time of his retirement, Montana was tied with Terry Bradshaw for the most Super Bowl victories by a QB. This record has been passed by only the great Tom Brady, who sits with an incredible seven rings.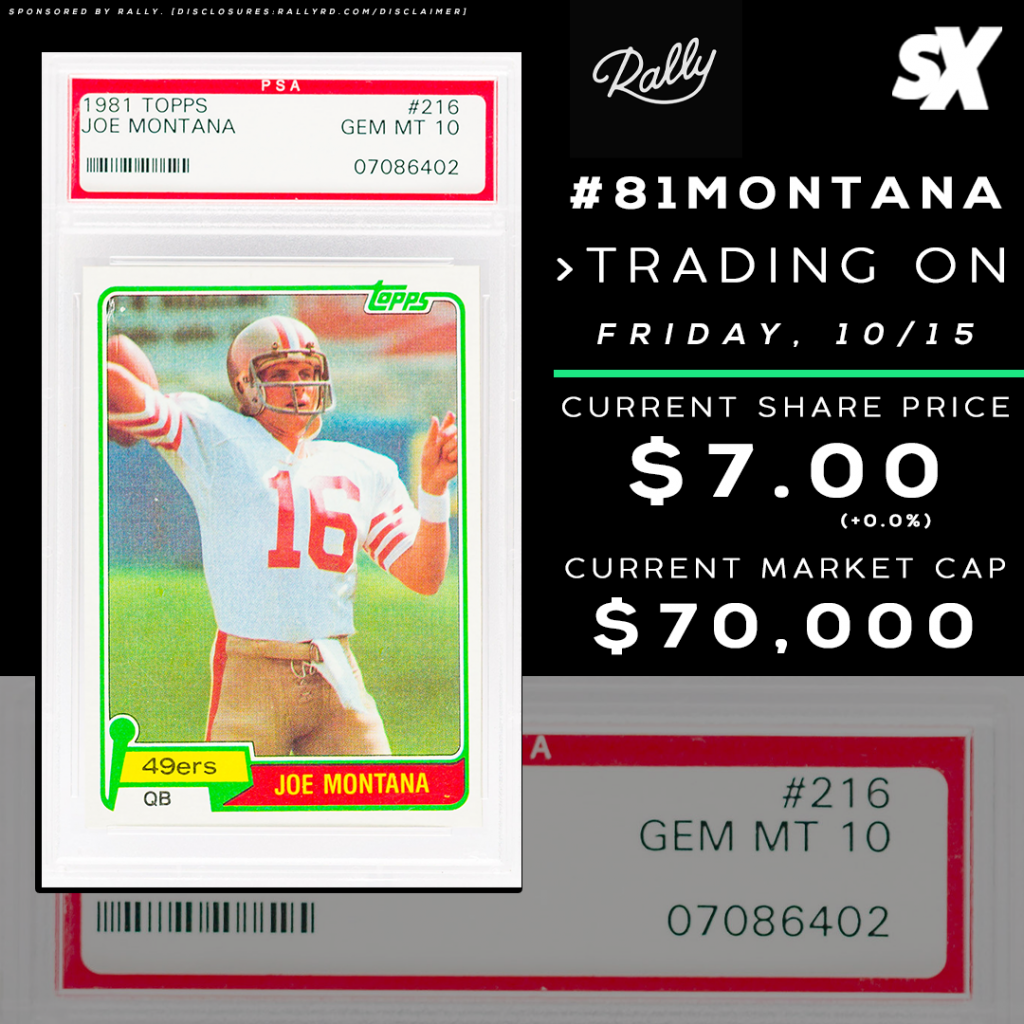 While many of his stats have been beaten by this pass-happy generation we are in now, when you look at Montana's stats in context with his generation, along with his Super Bowl victories, you're looking at one of the greatest QBs to ever play the game.
Joe Montana is one of the greatest QB's of all-time, and he also happens to have one of the most iconic football cards of all-time with his 1981 Topps rookie. There is no shortage of Montana Topps rookies available, but getting a Gem Mint, PSA 10 grade on one is like finding a needle in a haystack. There are 108 PSA 10's in existence, but over 20,000 have been graded. That equates to just 0.5% of all copies graded receiving the 10. The Montana Topps PSA 10 had an Initial Offering in March of this year at $7 per share with 10,000 shares offered, and a market cap of $70,000. This Montana hasn't had a trading window to date, but its first window is coming up on Friday, October 15th, 2021.
1979 O-Pee-Chee Wax Box (sealed with Gretzky Rookie)
If you lived in Canada in the late 1970s and had twenty cents in your pocket, you would've had a shot to pull a Wayne Gretzky rookie card with a future valuation upwards of $1,000,000. That's the amount it would've cost you for one pack of O-Pee-Chee hockey cards in 1979. According to the 1979 O-Pee-Chee Collector's Guide by HockeyMedia, the price per pack of OPC was CA$9.60. Accounting for inflation, that would mean these boxes would have a retail value of CA$31.71 if put into stores today (and just to be clear, we are talking about Candadian dollars, not American – essentially apples to Canadian apples).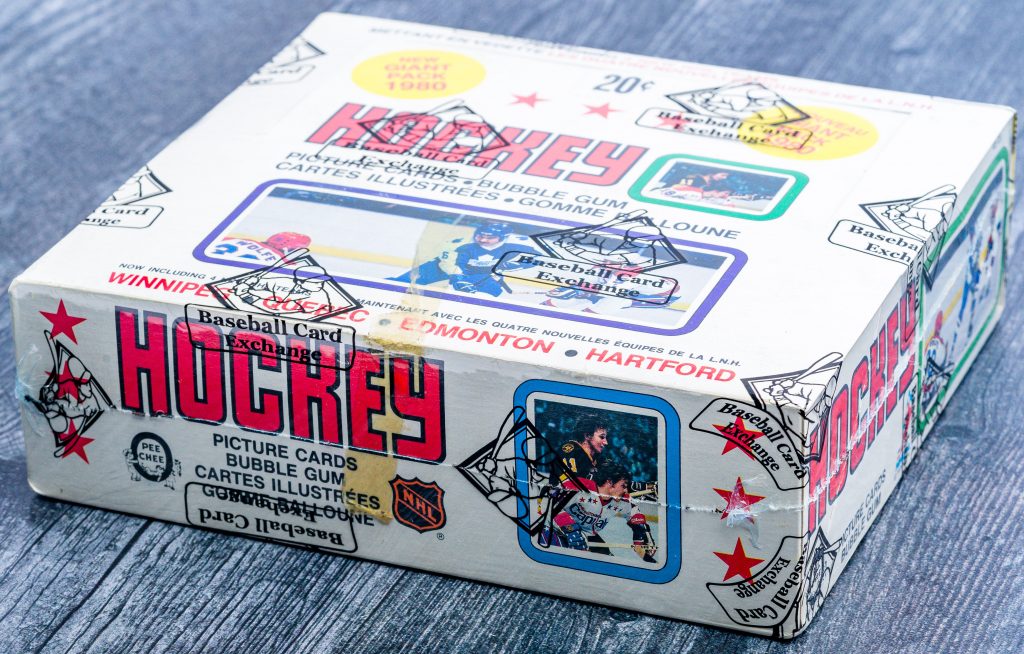 If you aren't familiar with the 1979 Wayne Gretzky card, you might mistake a Topps Rookie Card for an O-Pee-Chee Rookie Card. The O-Pee-Chee card was distributed in Canada, while the Topps card was distributed in the US. The design is identical, the photograph is the exact same, but there are three slight differences. The first difference is on the back of the card, the copyright says "O-Pee-Chee." The second difference is there's some French on the back of the OPC, and the third difference is the way these cards were cut. The OPC cards were cut with wires and have natural rough edges, while the Topps cards were cut with a blade and have natural straight edges. As for which one is more desired, the OPC PSA 10 sold for $3.75 million in late May 2021 shortly after a Topps PSA 10 sold for $1,050,000. These cards have a PSA population of two each.
This box is certified by BBCE (Baseball Card Exchange) and contains at least one visible indication of a Gretzky rookie card. It was initially offered in February 2021 at $30 per share with 10,000 shares, for an initial market cap of $300,000. Since the initial offering, there's been only one trading window on June 25, 2021 when shares dropped to $20 for a 33% decrease. The next trading window is this week on Thursday, October 14, 2021.
1981 Topps Larry Bird PSA 10
"Larry Legend" – the 1980 Rookie of the Year, back to back to back MVP award winner, and 3x NBA champion is a man that needs no introduction. Everyone and their mom knows about the historic bouts between Larry Bird and Magic Johnson. What they might not know is the significance of his 1981 Topps card. While it's not his rookie card, the 1981 Topps is Larry Bird's first solo card. His rookie card was in the 1980 Topps set, which featured triple panel cards where each individual player had a mini card that occupied one-third of the whole card.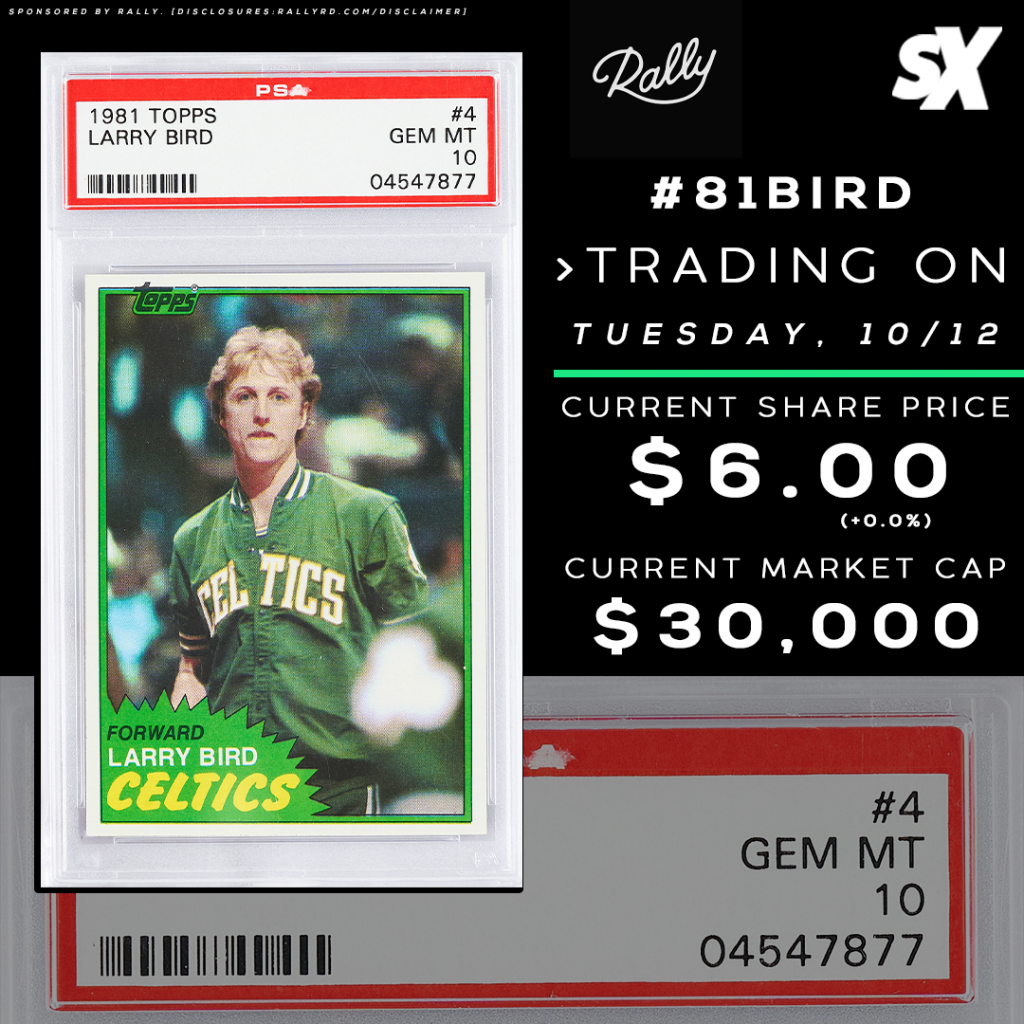 While these 1980 cards are sought after, Larry has to share the limelight with a number of well known players including Magic Johnson and Julius Erving. The 1981 card, on the other hand, is him alone which makes it one of the more sought after "second issue" cards of all-time.
The 1981 Topps is special, but a PSA 10 of this card is even more special considering there are only 61 PSA 10's out of 4,888 total graded.
The Rally 1981 Topps PSA 10 Larry Bird had an Initial Offering in August 2021. It had an IO share price of $6 per share with 5,000 shares offered, at a market cap of $30,000. The first trading window will open Tuesday, October 12, 2021.
Zion Williamson Game-Worn Sneakers
When thinking about the most popular high school basketball players ever, a few names come to mind. LeBron James, John Wall, and Andrew Wiggins are up there, but no one sparked a social media craze quite like Zion Williamson. The 6'8" freak of nature was breaking YouTube with his highlight reel dunks, gaining millions of views across multiple videos, and his decision to commit to Duke felt like a replay of LeBron's famous "The Decision" special where he announced he was leaving Cleveland to join Wade and Bosh in Miami.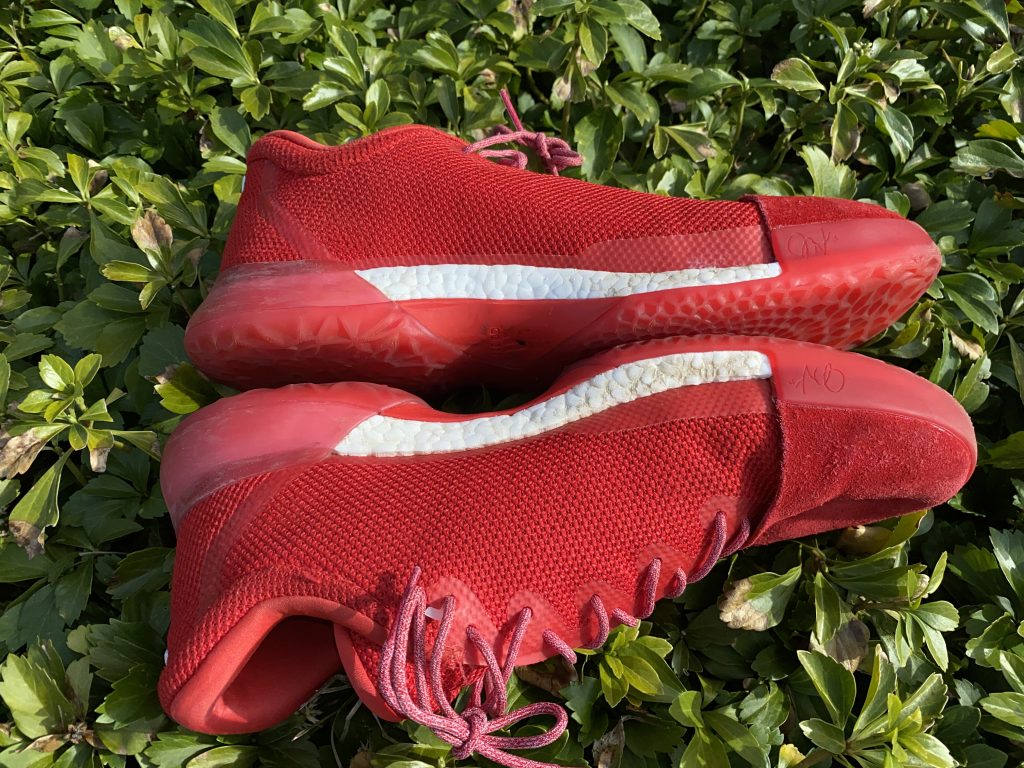 Zion Willamson's high school career is such an integral part of his story, and so are the shoes that lead to his highlight reel dunks. Up for trading this week is a pair of Zion Williamson game-used Adidas James Harden Volume One shoes from his high school days at Spartanburg Day School. There haven't been many game-worn shoes to sell of Zion Williamson, and ones from his high school days mark one of the earliest examples in the market.
These shoes were initially offered for $30 per share with 500 shares, at an initial market cap of $15,000. This asset has had multiple trading windows so far, with two occurring in 2020, and three occurring in 2021. From the Initial Offering of $30 per share, share prices have increased 90% with the most recent window closing on June 28, 2021 at $58.15, for a market cap of $29,075. These shoes will be back up for trading on Wednesday, October 13, 2021.
Conclusion
Between all four of these assets, the word I'd describe all of them as is '"rare." Some game-worn Zion high school shoes, PSA ten's with miniscule gem rates, and a sealed box that used to retail for less than ten dollars but is now worth hundreds of thousands are the main highlights. Thank you everyone for tuning into another SlabStox Rally Report, and we will see you all in the next one.