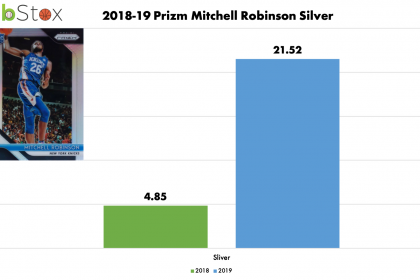 This rookie class is deep in both pure talent and potential. With gems going at the top of the draft like Trae Young, Luka Doncic, and Jaren Jackson Jr, to later picks like Landry Shamet, Rodions Kurucs, and our feature player of the week, Mitchell Robinson, this class top to bottom has been the best draft class in terms of production for a long time.
We've heard all season how Luka is dominating the league with his impeccable performances night in and night out. Now, with Trae Young on the come up as well, we can start to see some of these other rookies receive the credit they deserve, as they are putting up historical numbers.
With that being said, Mitchell Robinson is putting himself in some conversations with Hall of Famers in terms of the feats he's accomplished over his shortened season. If not for his shortened season, he could be in the conversation for being a Defensive Player of the Year candidate. Basketball Reference stated Robinson is on pace to be the sixth rookie since 1985 to average more than 2 blocks per game and have a 50% shooting percentage.
The other five you may ask? Hakeem Olajuwon, Chris Webber, Tim Duncan, David Robinson, and Shaquille O'Neal. That is pretty elite company consisting of Hall of Famers and Future Hall of Famers.
Knicks fans and NBA die hards have heard Mitchell's name long before he's been in the spotlight. Now that he is being recognized as a generational defensive talent who can shoot, his prices are slowly and surely rising and reflecting his production. He even has blocked fourteen three point attempts more than Myles Turner, Rudy Gobert, and Anthony Davis COMBINED.
Over the last five games, he's averaging barely under a double-double a game at 11.4 PPG and 9.8 RPG. Add in his 3.6 BPG, and this is a dominant player in the making.
Here is his Prizm Silver analytics from December 2018 to March 2019.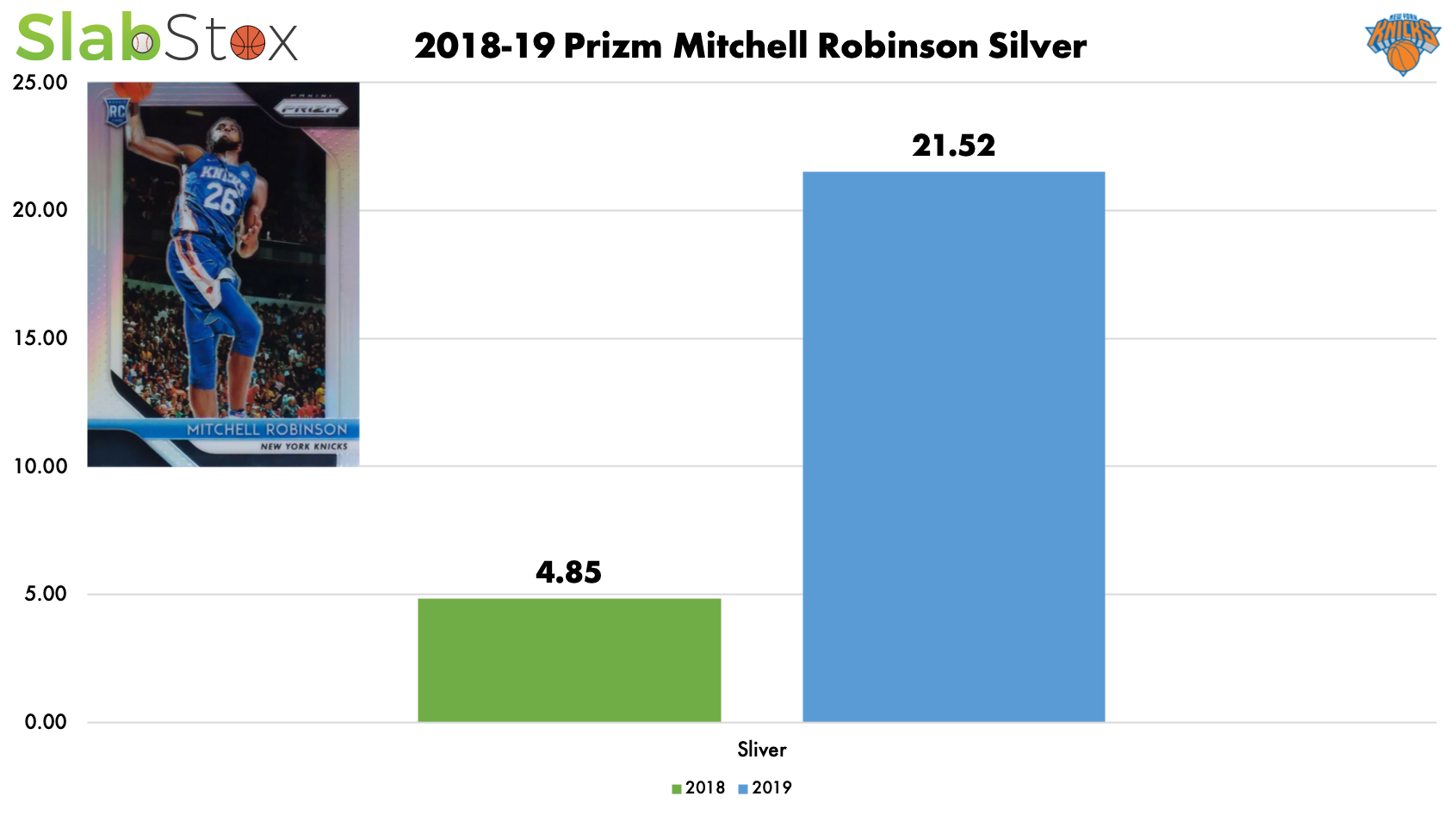 Robinson Prizm Silvers have increased 343.71% in a three month period. By the end of the season, expect a greater increase. This is the beauty of card collecting and investing. Not even three months later, a card you threw in a box and forgot about is getting dust blown off and put into a nice case or even graded.
Mitchell Robinson is an amazing talent who got overlooked quite a bit with Kevin Knox being their poster boy. In terms of overall raw talent and potential, Mitchell Robinson could very well be the best player on the Knicks right now.
Down the road, the Knicks are looking ahead to a bright future. Allonzo Trier, Kevin Knox, Dennis Smith Jr, Mitchell Robinson, and possibly Zion Williamson being added next year could make for a dangerous young core of talent contending for a championship in the coming years, even without landing Kyrie or Durant. If they can get one of the two free agents (or both), watch out.
The Knicks and Mitchell Robinson are on the rise and if you blink for a millisecond, you will miss out on your opportunity to pick up their next key component and defensive extraordinaire's Silver Prizm before you're shelling out triple digits to get it.
Sign up for The Daily Slab today! Get news, trends, and insights on the sports card industry straight to your inbox, courtesy of SlabStox.