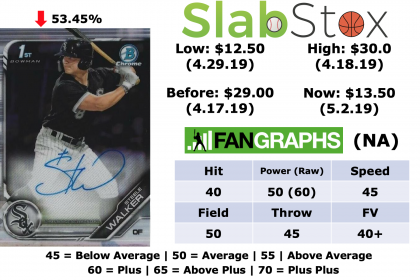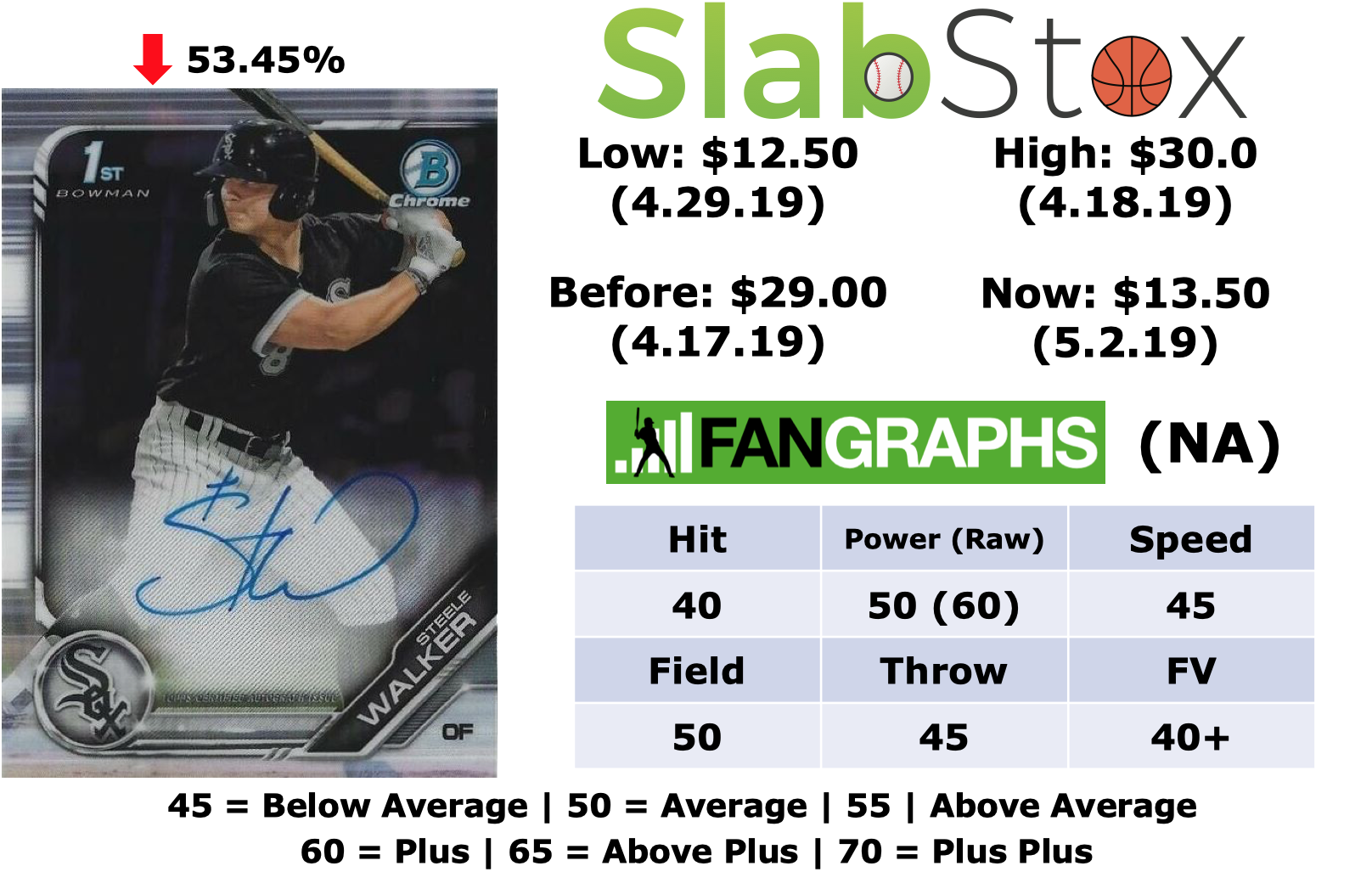 When investing, not all prospects are a buy right away. Sometimes, you need to let the prospect simmer before you decide to dive in. One such prospect for me is Steele Walker. He's a very interesting prospect who is showing some interesting improvements early on. Despite all that, I have some reservations due to age and level. Let's take a closer look at the intriguing White Sox prospect.
There are a few things that jump off the page when looking at Walker's stats to start the year. For starters, he is walking at a 9% of the time and only striking out 17% of the time. This is keeping in line with his college production at Oklahoma. While it's not an improvement, it's nice to see he has continued having a decent eye at the plate in professional ball. The second thing that jumps out is that he has plus raw power already. A potential center fielder (probable left fielder) with plus power and a good eye at the plate is a nice baseline for value on the investment market.
One other thing that intrigues me is his line drive rates and hit directions in the early going. He has a line drive rate of 32% and a center field hit percentage of 35%. The reason I am excited about this is because it is, obviously, a lot harder to get out on line drives and if he hits up the middle, he should be able to hit the power alleys and rack up extra base hits. This is especially true because he plays in the AL Central, home of the Tigers, Twins, Indians, and Royals all of whom have parks that ranked in the top half of the league in doubles and triples given up in 2018 (ESPN park factors).
While Walker has a good track record on his side during college and has started out the year scorching hot (.365/.437/.581) in A-ball, I worry about two things. The first thing is his age. He is already going to be 23 in July, which is old for a player in A-ball. The second thing is him playing in A-ball to begin with. While his stats are nice and there is hope in his stats, I can't really justify investing because of his stats. He was a top college bat; you should expect him to do well in A ball, especially coming out of the Big 12. If he were putting up these numbers in AA, then we'd be having a very different conversation.
For me, Steele Walker is a wait and see if you plan on investing long-term. I need to see him in a tougher environment to see if his eye at the plate holds up and if he can continue getting extra base hits at the same clip in the early going.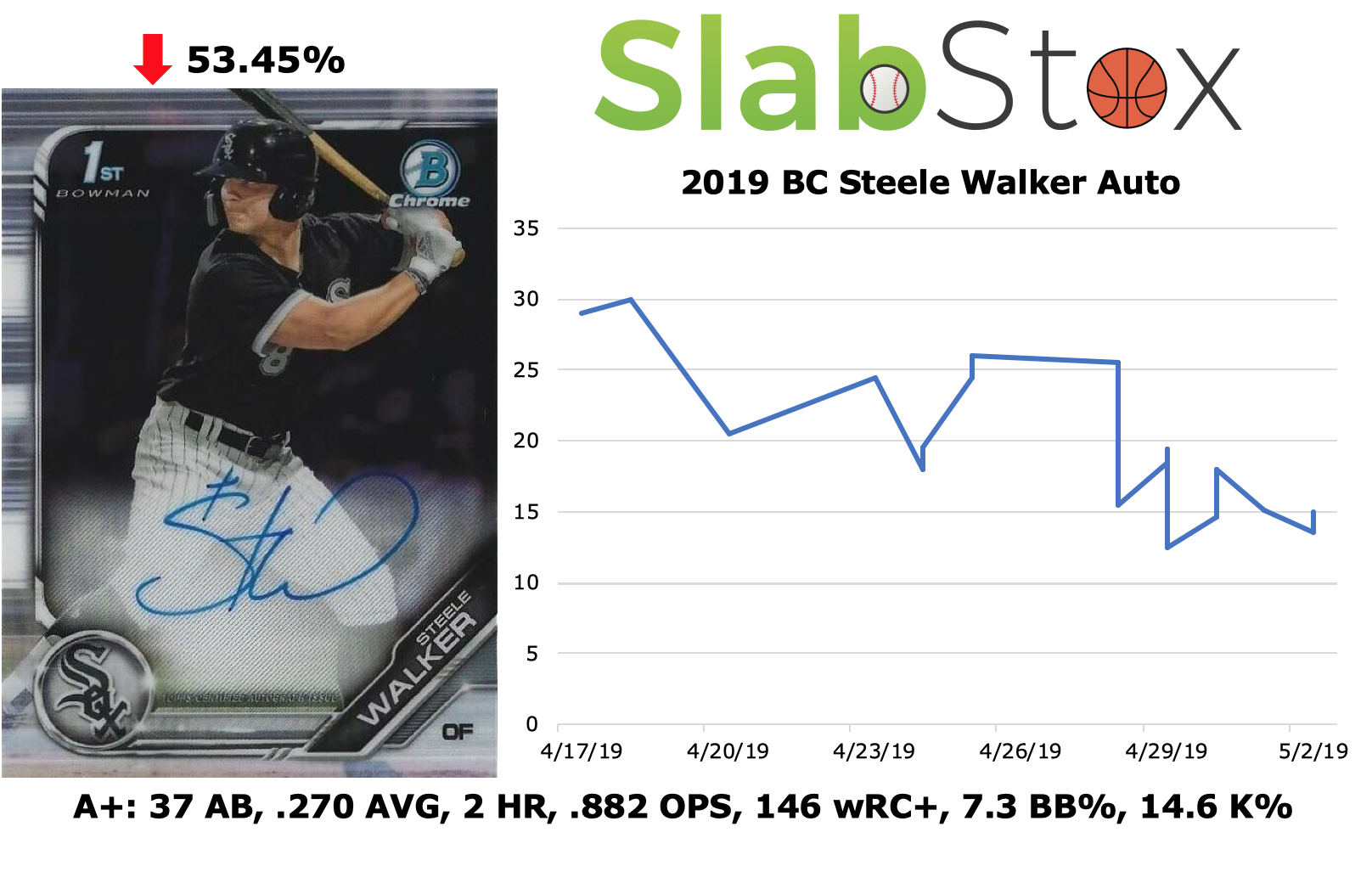 If you're going to try to flip him, this might be the perfect time to buy. His base autos are in the $15 range. If he can keep his stats up through A and A+ ball, I could see a nice jump in his price into that low to mid $20 range.
Sign up for The Daily Slab email to get the most up-to-date sports card insights straight to your inbox.