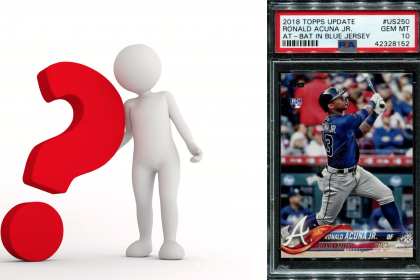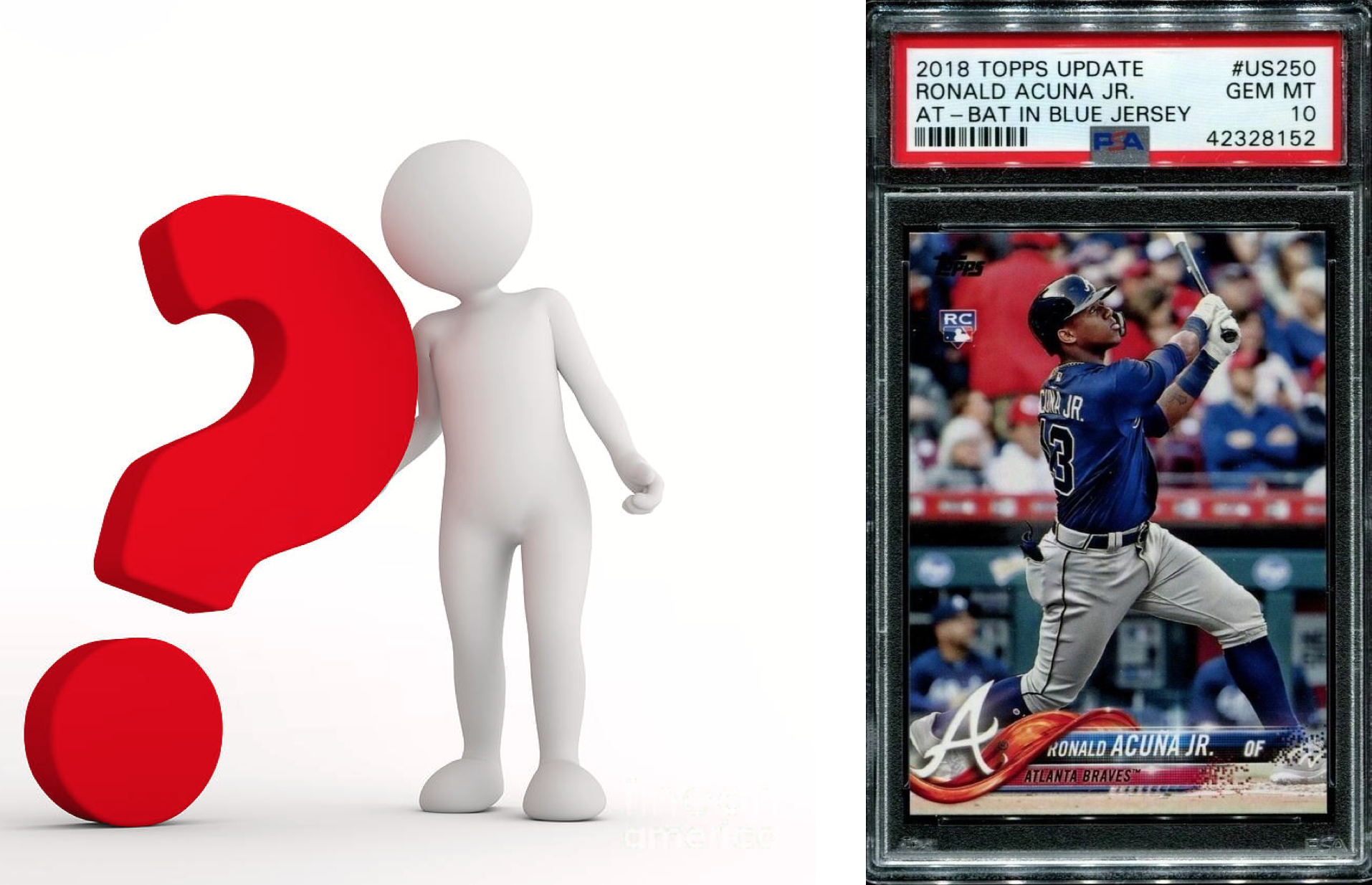 If anyone has been tracking my Instagram stories closely, you'd notice in the last two weeks there has been a Ronald Acuña 2018 Topps Update US250 PSA 10 revolution going on. People are snagging these up QUICK which is leading to higher demand, thus increasing prices (a few copies sold today for $75). While the Update US250 PSA 10 is the best "base" rookie card of Acuña out there (keep in mind "base"), there are plenty of other PSA 10 rookies that haven't increased the way the Update has, and 100% will with the way Acuña is producing daily. The 21-year-old phenom is just getting started, and the best is yet to come.
Don't get me wrong, the Update PSA 10 is still a great investment; however, the profit margin is starting to get smaller as the days go by. There are a few other base rookies out there that haven't increased yet. In my last article, I stated the 2017 1st BC non-auto PSA 10 has only increased 32% while the Update US250 PSA 10 has increased 136%. The 2017 1st BC PSA 10 is still a great investment as well, but for the purposes of this article, rookies will be the focus.
Here are my "Next Three" base rookies to invest in other than the Update US250 PSA 10. If you are a high roller and are looking to get into short print Acuña rookies, stick around until the end for two "must own" rookie short prints of Acuña.
Keep in mind, all of these cards can be bought ungraded. In fact, if you have the time and are willing to risk getting a PSA 9, you can make a lot more money buying all of these copies ungraded and sending them to PSA on a bulk submission for low cost.
1. 2018 Topps Heritage High Number PSA 10
PSA 10 Pop Report: 1,681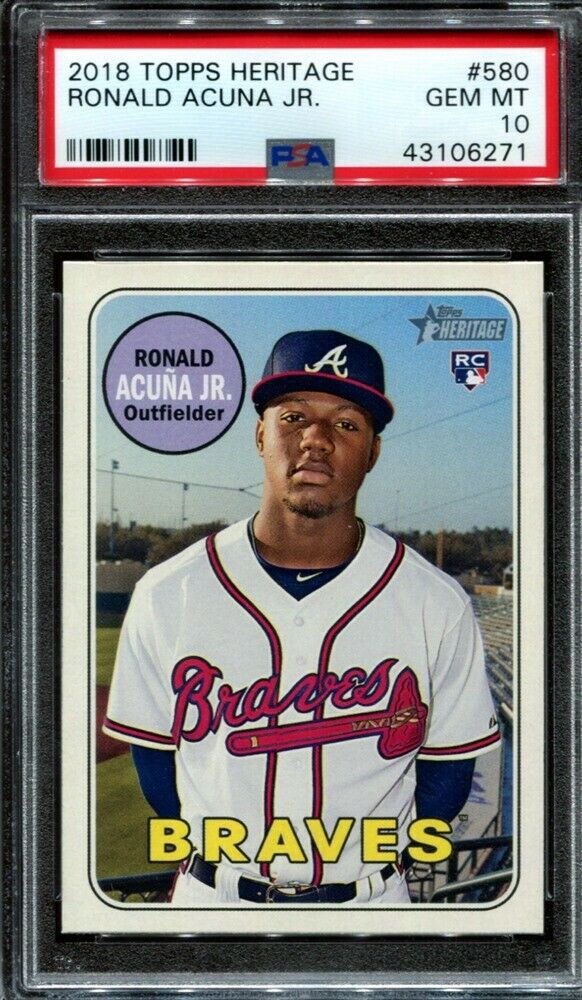 Back in February, I wrote about the differences between Heritage and Update and said the Update should be bought before the Heritage. At the time, the Heritage and Update PSA 10 rookies were selling for about the same. Now, there is a $35 price difference between the two. Rarely does an Update PSA 10 outsell the Heritage PSA 10 of the same player by double.
At $40 a pop, these are no question a buy. The Update PSA 10 will always be highest in demand, but with the way Acuña is trending, there needs to be a lot more supply than only the Update. Looking at the increase from February to today, the Heritage PSA 10 has only increased 67% compared to the 167.86% for the Update US250 PSA 10. My recommendation would to buy as many of these as you can between $35 to $45, stash them, sit back, and watch Acuña destroy the baseball.
2A. 2018 Topps Chrome Update Ronald Acuña PSA 10
PSA 10 Pop Report: 1,160
2B. 2018 Topps Chrome Ronald Acuña PSA 10
PSA 10 Pop Report: 1,891
I'm going to lump these into the same write-up, since the Topps Chrome Ronald Acuña dilemma may be one of the biggest head scratchers out there. Not only because it's difficult to decide which to buy, but also because the 2018 Topps Update PSA 10 sells for more than both of the Chrome versions which we normally never see. The explanation is due to the picture on the cards. Collectors/investors are obsessed with the Acuña batting cards (either Series 2 SP #698 "Bat Up" or Update US250 "Bat Down"). They aren't as fond of the TCU or TC photos. The TCU is Acuña on the bases standing there, and the TC is a photoshopped image (much like the TC Ohtani).
Let me start by saying the Heritage is an easy buy over either of these two rookies because of a) Heritage is a heavily collected set and it is always up there for either the top rookie or second best rookie for each player and b) It's easy. You buy the #580 PSA 10 rookie. No debating between which picture is better, which came first, which one is more rare. None of that.
The first 2018 Topps Chrome Ronald Acuña base rookie was released in the normal Topps Chrome release that came out at the beginning of August. However, the debate lives on between the two Topps Chrome rookie images. Personally, I could see the Update Chrome doing better, but honestly there is really no way of knowing right now. I've heard rumors that the Update Chrome is rarer due to the format it was released in (Topps Chrome Update mega retail boxes), but I don't have data to back that up. Both of them sell for around $30. If I were you, I'd pick up one of each to cover all bases with Topps Chrome.
Two Short Print Rookies
Series 2 Bat Down & Heritage Action
Here's the two SPs to own. The S2 Bat Down SP PSA 10 has shot up an incredible amount, with them now going over $400. The Action SP PSA 10 is going around $250 right now. If you are a big rookie collector, these two should be in your collection!
Honestly, at this point, nothing of Ronald Acuña is considered a bad investment.
Sign up for The Daily Slab today! Get news, trends, and insights on the sports card industry straight to your inbox, courtesy of SlabStox.