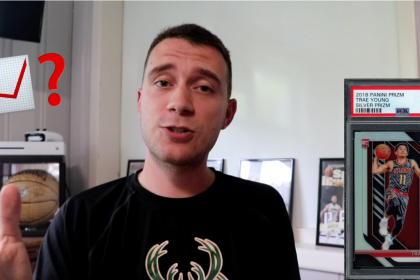 What up what up what up, welcome back to Sam Dunks, the weekly NBA show over at SlabStox. I'm your host Sam. Please, follow us on Instagram @slabstox, subscribe on YouTube, and subscribe to our newsletter at the top of this page. 
Big show today, we are jumping right into the 2018 NBA draft, and I'm just going to say up front that I have no idea how many weeks this will take. I'd like to do it in two, but it may end up being three. It's just so much deeper than the 2019 draft, really a lot more to be excited over. But, we'll just start this week by climbing through the first seven picks of the first round, evaluating each player's on court performance, some of the factors surrounding them on their respective teams, and finally evaluating their current price and whether you should be buying, selling or holding. And again, I will just be evaluating each player's Prizm Silver RC, some will be evaluating their PSA 10's, some just ungraded. And also again, this isn't my favorite card, nor is it automatically the best for you to invest in, I just need a card to evaluate as the baseline for comparison's sake. 
With the FIRST PICK in the 2018 NBA draft, the Phoenix Suns made a mistake, but it was the selection they almost had to make, hometown boy out of the U of Arizona, DeAndre Ayton.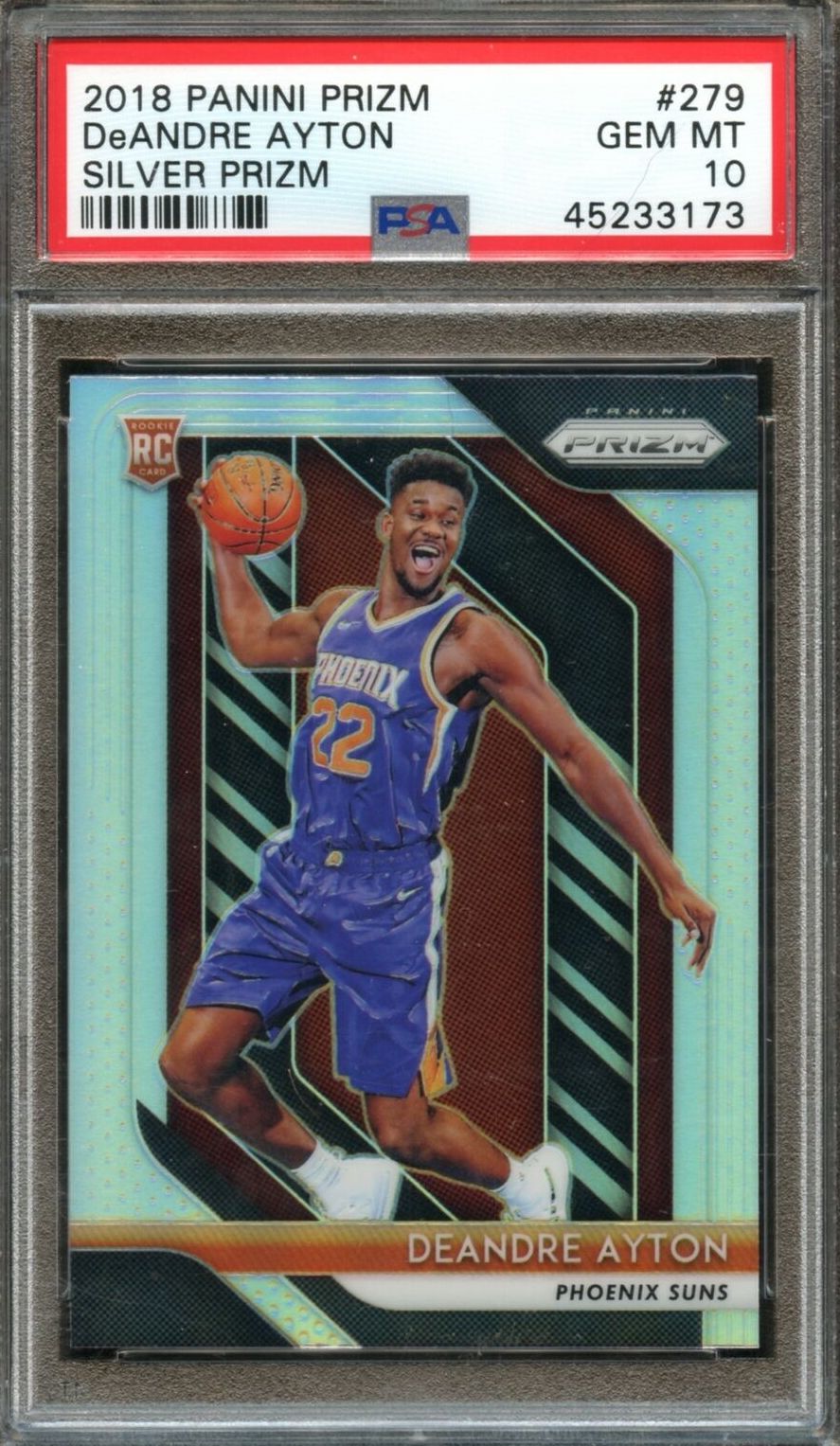 Ayton is a big fella, 6'11" 250 pounds, just size that we don't see all that often anymore. He was suspended for 25 games to start the year after testing positive for a diuretic, and after returning all he did was average 19 points, 12 rebounds, and 1.7 blocks per game while shooting 55% from the field and 77% from the free throw line. Now, Ayton is always going to be compared to Luka, since he was selected first and Luka was still on the board, and so he'll always carry that comparison moving forward. Which is really too bad, because 19, 12, and almost 2 blocks from your second year center would be considered a home run in most drafts, just not so much when you compare him to the guy that went two spots after. 
So, let's not do that to him here, and instead we'll just consider what Ayton has done and where he can go from here. So, again 19, 12, 1.7, efficient shooting, that's all good! My only question is where can he go from here? He's shown an odd fascination with playing Power Forward, he was quoted last fall as saying that Power Forward was his born and raised position, and that's fine, I'm happy for you that's great you used to play that position, but he's obviously not a 4 in the NBA. In his career he's attempted 7 three's and made 0 of them, which is a stat that would make Ben Simmons proud, but it's not really what you want from your modern day Big man. Sticking as a center, I think he could easily average 24 points per game, and if he's averaging 24 and 12, that would be really good, but he'd have to get to the line more, he only averages 2.5 FT attempts per game, and he'd have to up his usage a little bit. I think both are doable, but the ceiling is limited since his game is so dependent on living close to the hoop. Nearly 70% of his shots are within ten feet of the hoop. 
On the other end, he has improved quite a bit, only a 4.5% block rate which is right around Jonas Valenciunas territory, and you'd like to see him raise that up a little bit, but on the whole, he was pretty good at protecting the rim. Ayton defended the 2nd most shots per game in the NBA, but opposing players shot 7.5% worse against him than their season averages. That's not elite, but it is good considering defense was one of his question marks coming into the league. Also, this past season the Suns were the 9th best defense in the league when Ayton was on the court, and 20th ranked defense when he was off. So all told, pretty good defense, not elite, but pretty good. 
In two seasons, Ayton's only played 101 games, and obviously there are lots of reasons for that. But it means that we still don't quite know what we have with him, or where he can go from here. Year 3 is going to be huge for him, and for us as we're evaluating his prospects as a card investment. The Suns are clearly planning on the team being built around him and Devin Booker, so he's going to have the opportunities, but next year we will learn more about if his ceiling is much higher, or if he'll just be a steady 20 and 10 type of guy. 
I have my doubts about his future ceiling as regards his card value. He is a rather traditional center, so that does deflate his value a bit, which to be honest I don't really understand, but I do know a lot of people just aren't super interested in centers for whatever reason, and demand dictates value. There is generally more interest in the more 1st option stretch bigs, but that's just not Ayton at this point. He doesn't shoot it and he's never going to pass up Booker as the top option. His PSA 10 Prizm Silver RC's have been auctioning off in the month of May in the $140-150 range, which is up about 30% from where it was when the season was cut short. So at this point, I don't think I would be buying, I'm not the biggest believer in his long-term value, especially now as we're not getting any sort of discount. 
I believe he's going to have a long NBA career, and if he can carve out 4-5 years as a top 5 to 10 center averaging 24 points 12 rebounds and 2 blocks, there's still a lot to like. And really, I do like him a lot as an NBA player, just not so much if we're talking about the card side of things. But who knows, he's still a question mark, we'll have to see what happens with him this year. And if in a few years the Suns make the playoffs and Ayton goes to an All-Star game, $150 could be a steal. It's just hard to really know at this point. He's a tough one to project. If you have a different perspective on Ayton, I'd really love to hear it, just sound off in the comments. 
I feel a little more comfortable projecting the next player, with the second pick by the Sacramento Kings, Power Forward out of Duke – Marvin Bagley. This is not hindsight when I say this, the Kings really messed up this pick, and that was the case in the moment as well. I was listening to a podcast with John Hollinger the other day, former GM of the Memphis Grizzlies, and according to him every draft room in the top 5 was celebrating the pick because they all knew a good player would slide one more pick than they really should, since none of them were planning on taking Bagley.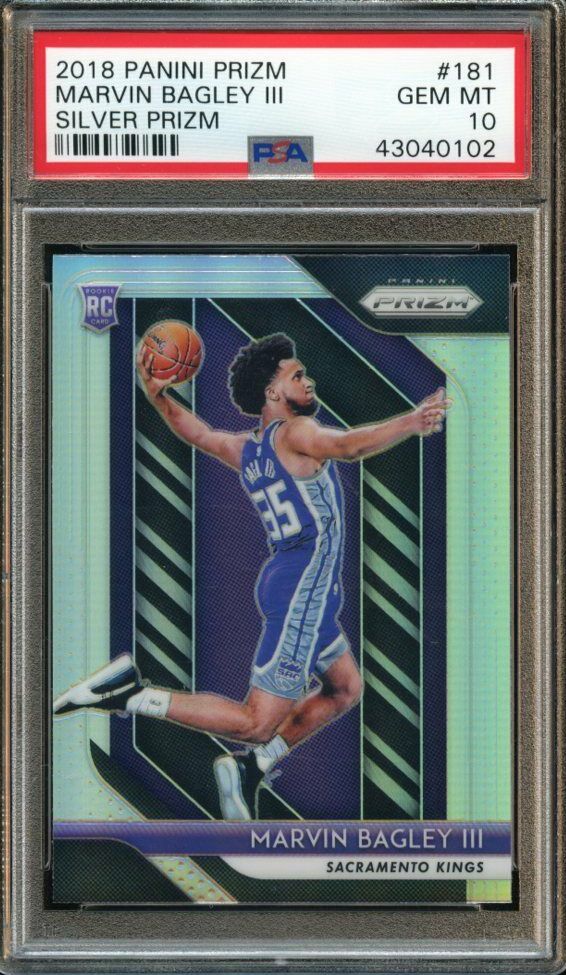 This is what we have in Bagley, a power forward that can't shoot outside of 10 feet, only shot 25% on such shots last year. A career 29% three point shooter. The Kings can't cover these deficiencies and move him up to center because he cannot be relied upon to anchor a defense or defend the basket, because he's a bad defender by literally every single metric that you can pull up. He can score fine, he can rebound, and I think he'll continue to do those things, but outside of that he really offers nothing. He has a seriously limited ceiling as a player. 
Long-term, I think he's a bench big, first big off the bench type of guy, lead scorer on a second unit. Will the Kings do that? Probably not for a while since who would punt on their number 2 overall pick so quickly. I just don't think it's ever going to work out for him, and he'll continue to scuffle until he becomes pretty much irrelevant. 
Now, the same caveats apply that I mentioned with Ayton, Bagley has played only 75 games. Not even a full season's worth of games in two years. He's been injured a lot, this past season was particularly frustrating on that front, so we haven't seen a ton from him and even when he has been out there he hasn't been healthy. But, at some point the injuries become a really big concern and you have to wonder if he'll ever be healthy for a full season, and you combine that with the on-court concerns, and you can see why I'm so out on him as an investment. His PSA 10 Prizm Silver RC's have been auctioning off in the $120 range the past several days, and if I was holding and someone offered me $120, I would overnight that package and not think twice about it. 
Maybe you think I'm not giving him enough of a chance, I just don't see how he's going to fit in today's NBA, and at the end of the day, I don't want to lose you money. So, my thumb is firmly pressed down on the SELL button. 
ALRIGHT, moving on to the BEST player in the draft, I'm going to get those negative thoughts out of my head with Luka Doncic, who went Number 3 to the Dallas Mavericks. What an amazing deal. I really don't think I need to spend much time on this guy, he's on an all-time trajectory, and he's so much better than every single other player in this draft. He's top 10 in most of the really important offensive metrics. 28.7 points, 9.3 rebounds, 8.7 assists, just over a steal. Yeah, only shot 32% from deep on 9 attempts per game, but he was still easily a top 5 player in the league this year with that being the case, if he can get that closer to 35% he's completely unstoppable. He's pretty much there already.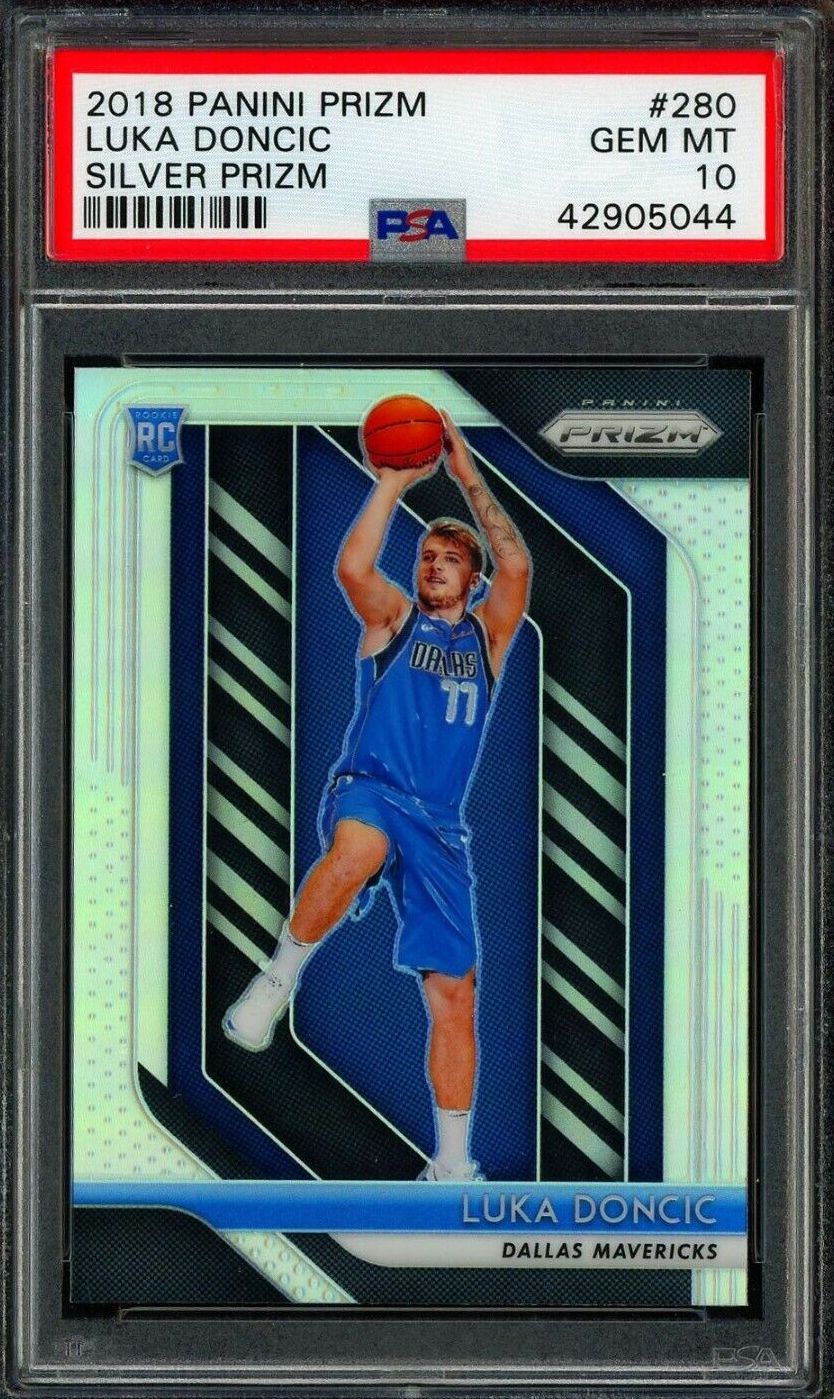 His PSA 10 Prizm Silver RC's are auctioning off over $2200, and sure that's a ton of money, and I would probably never spend that much money on a card, but I am pretty conservative with my money, but longterm that's probably still a good deal. Assuming most of you can't afford that, I really would be looking into any of his cards. He figures to be alongside Giannis and Zion as the faces of the league through the next decade, and like with Giannis and Lebron, any card you can get of Luka should become more valuable as we go. So buy all day long if you can afford it. Differentiate your portfolio! But you should definitely try to have at least some stock in Luka. Big time buy for the next ten years. Optic, Select, Prizm should all definitely continue rising for some time. Not going to spend any more time on him because it is unnecessary to do so. 
With the fourth pick, the Memphis Grizzlies selected Jaren Jackson Jr. out Michigan State. Can't stand Michigan State myself, but I do love triple J. He is opposite Marvin Bagley in literally every single way, he can play center he can play power forward. He can shoot 6 threes a game and hit at a 40% rate like he did this year. He can block shots at a 5% clip with 1.6 blocks per game as he did this. He can score: in only 28 minutes per night he averaged 17 points, per 36 minutes that's 22 points. He's not as good of a rebounder as Bagley, but literally every single other thing on the court he is vastly superior.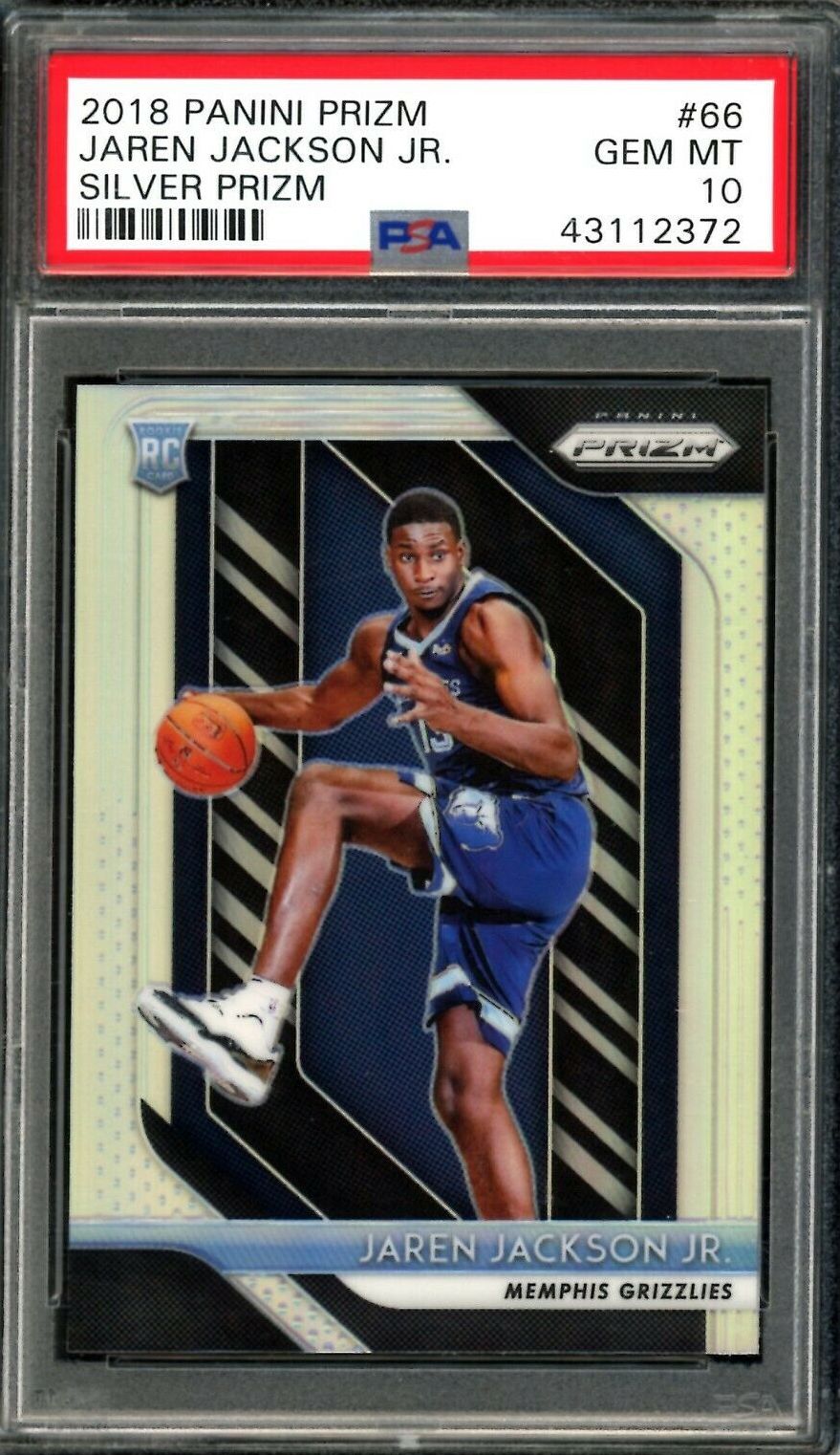 He's not a tremendous defender outside of his shot blocking, but he's very athletic and switchable and as he puts on a little more weight and gets a little more experienced, I think the defense will improve. He's still super young, won't turn 21 until September and he already has two seasons under his belt. There's just a lot to like about him. Do I think he and Ja Morant are going to make a good long-term pairing? Yes, very much so. Do I think JJJ will make an All-Star team? Yes, probably quite a few. Do I think he's all-NBA? Yes, I do, probably in 3-4 years he'll start being in that conversation. This was an extremely deep draft also with a lot of high end talent, and Jaren Jackson Jr. should be one of the very best from this draft long-term. He didn't take the biggest leap forward this year after his great rookie season, but I think that's coming as he and the other young Grizzlies continue to get comfortable.
His PSA 10 Prizm Silver RC's have been auctioning in the $180 dollar range of late, and I again am absolutely hammering the buy button on him. I know Aaron sends out a lot of JJJ buy it nows on our eBay link emails, and you should absolutely be racing to buy those. 
We kind of rapid fired through the last two picks, but we have to have a bit more nuanced of a discussion with the fifth pick to the Atlanta Hawks, Trae Young. Obviously, he has been really really good offensilvey to this point, and I don't think that's going to change for another ten years. He averaged just about 30 points, 9 assists and a steal, 4 rebounds for good measure, shot 36% from deep on 9 and a half three point attempts, and shot 86% from the line. All really really good, and he's only 21 years old.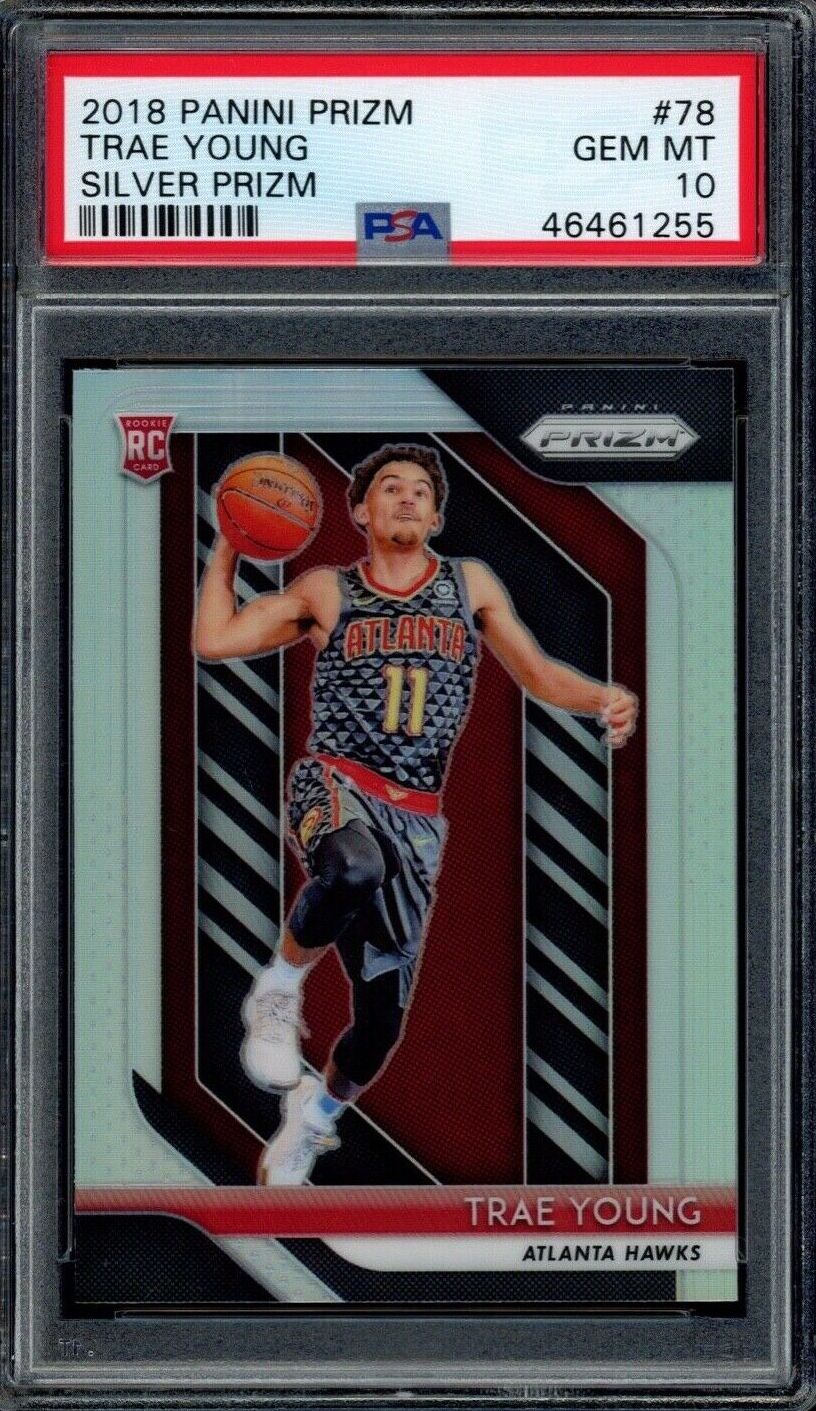 The bad comes on the other side of the ball where Trae is atrocious. There's really no other word for it. You know how in school when you get an F, you really don't want your parents to find out in any case, but mentally you'd almost rather just get a 0 than a 55 or something like that? Because if you get a 0 it means you just didn't do it, but if you get a 55 it means you tried and failed. But then the catch 22 is that the difference between a 55 and a 0 on your report card is HUGE, a zero can really drag down your overall grade. Well Trae Young has received an F on defense so far, and not the 55 kind either, he's an absolute 0 on that side of the ball. Out of 516 players in the NBA this season, Trae Young ranked 516th in Defensive Impact, just really really really really bad. Now, in the words of Jabari Parker, you don't get paid to play defense. And I don't agree with that assessment, but when it comes to Trae Young, he's never going to be hurting financially, he's clearly a max player, because he's just that good offensively. 
The problem for this Hawks team comes in with the roster construction around him. I don't really care if a point guard is a bad defender, even all-time bad defender, a lot of teams have been able to make that work. But you have to have the right personnel around him, and the Hawks aren't there yet. There are a number of intriguing young players on the roster, but one of the more notable problems is John Collins. They'd like him to be the number 2 to Trae Young, but he's a guy that is best offensively at the 5 and best defensively at the 4, which is opposite of what you'd like him to be. But he's a restricted free agent after next season, and the Hawks are going to want to figure out really quickly if he fits or if they need to trade him. It's a tough situation. Even with Trae Young playing other worldly offense, they still finished this year out with the fourth worst record in the league at 20 and 47. They're a long way from winning much less the playoffs. 
I don't know that it will ever really matter with Trae, he came into the league with a ton of popularity, and the skills that people gravitate towards are the things that Trae Young has in spades. Fancy dribbling, flashy passes, limitless range—he's got all that. But if the Hawks can't build a winner around him, I could imagine some sort of turn on him as he ages out of being this young exciting player.   
Now, all of that being said, I'm still buying Trae Young. I think the popularity is through the roof, the scoring is terrific, I think he's going to continue to be at the forefront of the national conversation as a player, and because of that, I think the cards will remain in demand for a long time. PSA 10 Prizm Silvers are auctioning off in the $700 range. And that's still a buy to me, but it's just not as firm of a buy as it is for some of these other guys, because I think on-court I think there's a very real ceiling for any Trae Young team, and I don't know how long the NBA media will be so forgiving if he continues to keep losing. So buy for now, but I would be aware of the limitations and understand the risks involved. I like Trae Young, but there are probably some better values out there even in this class. But he is still a buy. 
Selected with the 6th pick, out of Texas, the big man, Mo Bamba. The results have not been very good thus far: in his career he only has averaged 15 minutes per game,  5.8 points, 5 rebounds, and a block and a half. Really not much else to write home about, but this year he did attempt 1.7 threes per game and convert those at a 36% rate, which is ok. Shooting overall was pretty bad, only 47% from the field which is really bad for a big man, even his shooting at the rim was down quite a bit this year, and his mid-range shooting was quite terrible.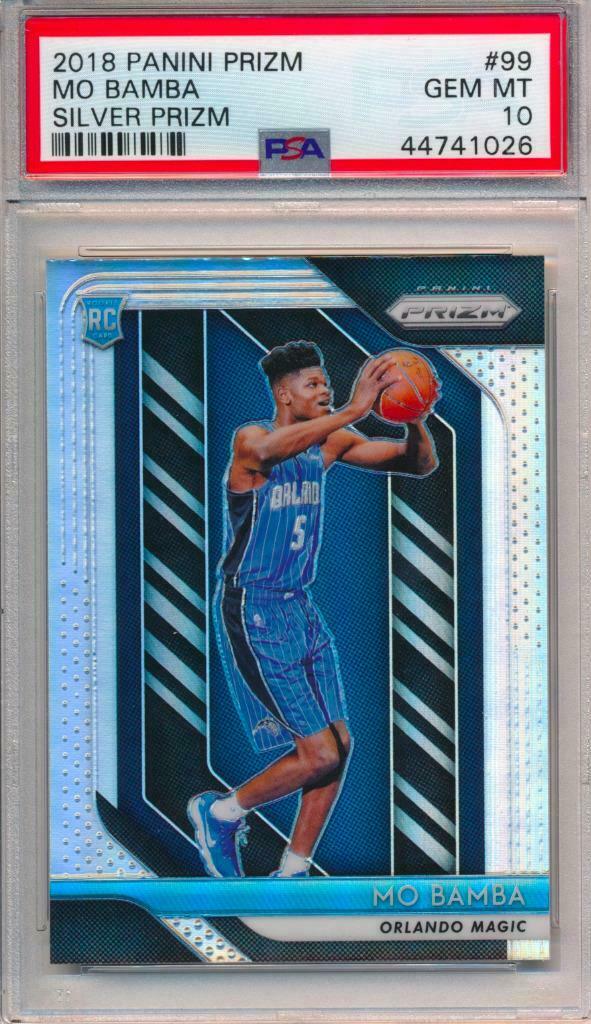 That all being said, the advanced metrics still really like him, which maybe you might think is an indictment on advanced metrics, but it's really because his defense is so good. He's a top 20 defensive player in the league by a number of different statistics, and when he's on the court, the Magic are the second best defense in the league by defensive rating, and when he's off they're 15th. If you can envision a future when Mo Bamba and Jonathan Isaac are patrolling the Orlando front court for 30+ minutes a night, that is the BEST defensive front court in the entire league. Now, both of these guys fit the John Hammond draft strategy to a T. He loves long, athletic big men that might take some time to develop but have huge ceilings. That's what he did with the Bucks, that's why he drafted Giannis 15th overall, but it's also why he drafted John Henson and Thon Maker in the lottery. So it doesn't always work out. Still there are some positive signs with Bamba, such as the three point shooting and the defense already being so good, that I'm not out on him despite his first two years being pretty forgettable. It will be quite some time before he's a good starting center, but I still believe it could happen. A big part of the reason he's seen so few minutes thus far is because the best player on the team also plays center. That would obviously be Nikola Vucevic. But he's 29 years old, and yes he just signed a four year deal last off season, but it would be shocking if the Magic DIDN'T try to trade him in the next year or two. That would then open up things for Mo Bamba. 
Bamba could certainly not pan out, but I like his potential as a player, and with his PSA 10 Prizm Silver RC's auctioning in the $25-30 range, I mean, that's not a bad lottery ticket to hold onto for a few years. And if he doesn't pan out and even if you can't sell him later, that's not a big enough loss to scare me away. So I'm not saying Bamba is going to pan out like I think a lot of these other players are certain to pan out, but I don't think he's a bust, and that's what his cards are being priced as at the moment. So I'm buying Bamba with the understanding that it really is a gamble, but I think it could be a smart gamble. Plus, I would just love to see a Magic team in three years with Isaac and Bamba tearing it up on both ends. 
The last player I have time to talk about today is Wendell Carter Jr. of the Chicago Bulls. He was picked 7th out of Duke, and he has been criminally misused by the Chicago Bulls to this point. Up until recently, this organization has literally demonstrated not even an iota of an idea of how to run a team, not on the court, not in the front office, i don't know, probably not even in ticket sales judging by the rest of it. One of the real laughing stocks of the league, but I just wasn't sure the Bulls were self-aware enough to realize any of this. Of course, that has changed recently, the Bulls moved on from the Braintrust of Gar Foreman and John Paxton, although I'm not sure braintrust is the right word to use there. We don't know what we're getting with Kornisovas or Marc Eversley, but it's hard to imagine them being worse than what the Bulls have been dealing with.
Usually a new GM will come in and install a new coach that they can work with, and although nothing has been announced, I would imagine that is the next domino to fall in Chicago, which would be great news for a number of the young bulls players, Wendell Carter Jr. certainly included. 
Here's a list of things that I think Wendell Carter can do: I think he can handle the ball pretty well especially for a big man, he can pass, he can shoot threes, he can defend the rim, he can defend multiple positions. And this is what the Bulls have asked him to do: stand still on offense so that he has no part in the offense, and constantly run away from the rim on defense so that his best defensive skill is effectively nullified. It's gotten so bad that he was asking to play power forward, because the center position in Jim Boylen's scheme is essentially a write-off on both ends of the court. I feel really bad for the kid, he just had two years of development completely wiped off the board by Boylen's and the Bull's incompetency. I'm very hopeful for this new Bulls regime, and I think Carter will end up really impressing a lot of people if he's given the opportunity to run a bit of the offense, and stretch his game to the three point line, and anchor the defense in front of the rim. I guess we don't really know if he'll be able to do all those things since he hasn't gotten the opportunity, but I really do believe that he will be a versatile and effective NBA big on both sides of the ball. 
So I am buying Wendell Carter Jr., although that is dependent on Jim Boylen being replaced by someone more competent. His PSA 10 Prizm Silver auctions have been all over the place recently, as low as $20 and as high as $70. Now, when the range is that wide in just a day or two, I always look at the auctions with a bit of a side eye that maybe there's something fishy going on, and I'll let you look into that for yourselves, but if Carter Jr.'s PSA 10's Prizm silvers can be won for $20-30, that is absolutely a risk that I'm willing to take. I'm buying on the lower end, and banking on his talent winning out in a much smarter Bulls' organization moving forward. Fingers crossed. 
Alright, that's all I have time for. A couple weeks ago I was thinking I'd cover this entire draft in one week, but I forgot how deep it was, so it looks like it's going to be at least three weeks. But, we have some time to kill until the NBA comes back, so that's ok with me. Alright, see you next week, thanks for tuning in!
Stay up-to-date on all things sports card trading with SlabStox. Sign up for The Daily Slab today!