What a difference a month makes.
Fanatics Collectibles' most recent acquisition, announced on May 22, shakes up the card market.
Wemby and Caitlin Clark autos hit the secondary market with initial sales starting north of 4-figures.
The Miami Heat take down three Eastern Conference giants en route to the NBA Finals against the Denver Nuggets.
If that doesn't convince you sports and sports cards are unpredictable, think about this: Two NHL teams from U.S. cities with average June temps of 102°F (Vegas Golden Knights) and 86°F (Florida Panthers – Sunrise, Fla.) face off for The Stanley Cup this weekend!
Here's more of what's in this month's Sports Card Market Report:
TAKE 1: Fanatics Collectibles Sports Card Footprint Grows
TAKE 2: The Card Community Speaks
TAKE 3: Tracking the Card Market
TAKE 4: Top-5 Card Sales of the Month
LOOKING AHEAD: Upcoming Shows & Product Releases
Join the CardTalk Pod as @LouisGeneux and @SlabStoxAaron debate takeaways from this Card Market Report to help you in your card-collecting journey. Stay tuned to social media for updates.
If you want to receive this SlabStox Card Market Report every month, subscribe to SlabStox's FREE Daily Slab newsletter.
DISCLOSURES: 
All market data in this report is from Card Ladder. Card Ladder is an independent, third-party partner of SlabStox, providing card collectors and investors insights to make informed, data-driven decisions. Every investment and trading move involves risk. Do your research before making any decision. 
SlabStox is partners with PWCC, covering the weekly auction live every Sunday at 9:45 p.m. ET.
SlabStox does not own any of the specific cards represented in the SX100 Index. SlabStox owns Jamal Musiala and Caitlin Clark cards, both mentioned in this report.
5 Takes from the May Sports Card Market
TAKE 1: Fanatics Collectibles Sports Card Footprint Grows
The biggest sports card news of the month goes to Fanatics. The all-sports enterprise acquired sports card marketplace PWCC for an undisclosed amount. This expands Fanatics growing foothold in the card market, and comes less than two years after acquiring the biggest name in the industry—Topps.
Now Fanatics owns a piece of most facets of the card industry, including:
Production and design
Manufacturing
Distribution
Online marketplace (PWCC)
Fanatics Live (the soon-to-be-launched breaker platform)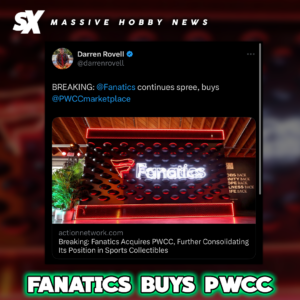 That leaves only one missing piece from the Fanatics' card-market ecosystem—card grading. According to Sports Collectors Daily, Blackstone's Tactical Opportunities acquired Certified Collectibles Group (CGC and CSG parent company) in 2021, and additional investors included Jay-Z's Roc Nation, Michael Rubin (Fanatics Owner) among others. Collectors have discussed Michael Rubin's position in this investment as a hint at Fanatics' grading company play, but there is no indication it will affect what Fanatics is doing (for now).
It doesn't stop at the functions of the card market either. When Fanatics burst onto the card market scene in 2021, they struck licensing deals with the MLB, NFL and NBA, with the entry point all at various times. After buying Topps, they then acquired the licenses to things like F1, UEFA (soccer) and all of Topps' non-sport licenses.
With Topps not being able to create NFL and NBA cards yet, it seems they are getting creative to deplete Panini's offerings. After the NFL Rookie Premiere in late May, word out of the event (from CardCollector2 among others) was that players like Bryce Young, CJ Stroud and Will Levis, all top QBs in 2023 NFL products, are under exclusive autograph deals with Fanatics. That means if Panini doesn't sell to Fanatics, you won't be able to pull any Carolina Panthers autos of Bryce Young in Prizm, National Treasures or any other Panini brand.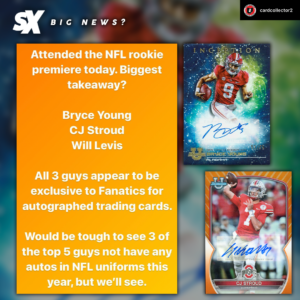 While there is no official confirmation, the speculation has spilled over into the basketball market as well, as Wembanayma's "1st" Auto announcement in Bowman Chrome University (read below) sparked collector discourse on if there'd be no Panini Wemby autos, as well.
There's been much discussion over a Panini acquisition in the near future, but recent reports are a stalemate between Fanatics and Panini over valuation. Only time will tell if Fanatics will soon acquire the most important short-term piece in the hobby: the rights to produce Wembanyama's first NBA rookie card.
TAKE 2: The Card Community Speaks
SlabStox posted nearly 90 different pieces of sports card news in May on Instagram, and these three posts specifically had a high amount of discussion in the comments. We always love seeing what our audience thinks about news in the market, and we're sharing those thoughts.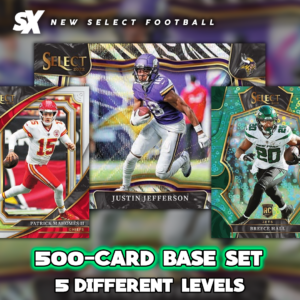 It was announced in May that the June release of 2022 Select Football would include a new Suite Level. That brings the Select Football levels to a grand total of five: Concourse, Premier, Club, Suite and Field Level. Each level consists of 100 cards, so the base set is now bigger than ever. When adding all of the different parallels you can get per level (around 9 – 13 per level), you can see why this was a hot-button topic with collectors. Here's what the community said:
Can we get the parking lot level for those of us that can't afford to get in the game

@Crad6.5
Field level will still remain king & hold its value. All others will plummet after initial pump up.

@Jordynbrooksrainbowchaser
The bigger question is will the great QB class & their XRCs be enough to carry the product's price tag. Personally I'd rather have more cards & less parallels than 9000 different numbered cards.

@Raw0526
Keep flooding the market with garbage

@Healyinvestments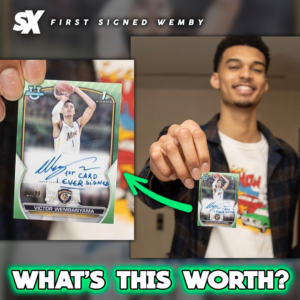 The Victor Wembanyama craze is in full force. First, it was the release of Bowman Inception U with the first Wemby autos (redemptions). Collectors quickly moved on to the next Wemby release thanks to Michael Rubin, founder of Fanatics, who posted a picture (above) of the phenom holding a card that was inscribed "1st card I ever signed." This added excitement to the chase for both this Wemby auto and Bowman Chrome U basketball releasing on June 2. Here's what the community had to say when we asked if this card will be worth over $10,000:
This is actually really cool 👌🏻👏

@Allsportscards1
Easy, not even a question. It's a 1 of 1 in its own category

@Hoodiehaskins
This is going to be a massive card lol. And I love it. Talking about it on this week's episode that's for sure. I'm loving the creativity coming from athletes these days on the cards lol it's more than some do for their auto 😂

@Igtppodcast
I love it. I love that players are getting more involved in signing to make some special cards in the era of beyond mass printed junk. This will dwarf the 90's junk wax. There are 15 parallels numbered to 100 in a set now. This card sets itself apart as a 1/1

@Lebron_james_cards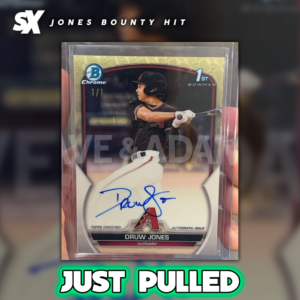 Every Bowman Baseball release is a big deal, but Dave and Adam's Card World upped the ante this year. When the product was released in April, they announced that if the Druw Jones Superfractor Auto 1/1 was pulled within the first 30 days, they would pay $250,000 for it. Or, you could hold onto it and if Jones became a Hall of Famer, they would pay $1M for it. Once it was pulled, the entire hobby came out with an opinion on it. Surprisingly, for what may be the first time in the history of the hobby, everyone seemed to agree. Here's what the community had to say:
This value of all unopened cases of this product just dropped heavily in value. Dealers update your prices ⬇️

@Playmaker88x
His Father, Andruw Jones has been on the HOF ballot since 2018, and only got 41.4% of the 75% required for getting into the HOF in 2022. He's halfway through his eligibility. I don't think he's going to make it and Druw might be a huge prospect, but the HOF is not an easy feat. If I were the one who pulled this bounty, I'd take the $250K ASAP before it expires!!

@Djjee500
Time Is Money. He won't even be in the MLB for a couple years. After 15 years in the bigs you still have to wait 10- 20 years to make it to HOF. You can turn 250k today to 10 million or more in that 30 year wait.

@Djsredzone
I totally agree with the posted comments. Take the money now, invested. Congrats.

@Speedy cards21
If you're curious to hear the story about how the Druw Jones card was pulled and what's next for it, watch our exclusive SlabStox Stories interview with the lucky collectors!
TAKE 3: Tracking The Card Market
SX100, now a PUBLIC index: The SX100, a community-driven sports card index that aims to represent the everyday card collector, made its public debut on Card Ladder's list of public indexes in May. The SX100 tracks modern cards of active players. May was not kind to the SX100 index–it dropped just over 6%.
Overall takeaways:
For the year, the SX100 is down 9%. In comparison, the CL50 (Card Ladder's index of 50 cards including modern, vintage and non-sports) is down 4% on the year.
54 cards in the SX100 decreased in value in May
16 cards increased in value in May
9 cards did not have a sale in May
3 Big Winners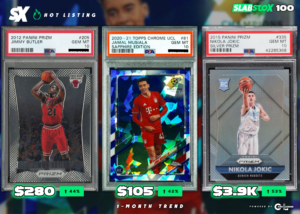 Jimmy Butler 2012 Prizm Base RC PSA 10
A year after getting eliminated by the Celtics in Game 7 to go to the NBA Finals, he came back and beat the same team on their home court. Rightfully so, his market is moving up.
Nikola Jokic 2015 Prizm Silver RC PSA 10
Jokic is a back-to-back MVP that has been ragged on for not taking his team to the Finals yet, but this year, he swept the Lakers 4-0 with the help of a healthy Jamal Murray. If Jokic can bring the Nuggets their first championship ever, he's in the same class as Giannis (aside from not winning DPOY).
Jamal Musiala 2020 Topps Chrome Sapphire RC PSA 10
What better way to end a season than scoring a TITLE CLINCHING goal in the 89' minute? The 20-year-old Musiala scored an absolutely incredible goal with just a 6% probability (according to AWS). It's no surprise–when you deliver Bayern Munich an 11th straight Bundesliga title, it's likely your cards will trend up.
3 Big Losers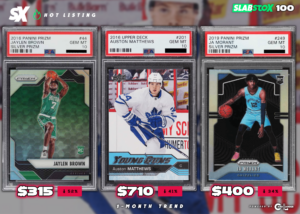 Jaylen Brown 2016 Prizm Silver RC PSA 10
If you want to know what a terrible performance looks like, look no further than Brown's Game 7 against the Heat. Tons of turnovers and missed shots added up to a -17 for Brown, the worst on the team for someone that played over 20 minutes.
Auston Matthews 2016 UD Young Guns RC PSA 10
As we've seen over the years, playoff eliminations hurt card markets… bad. Auston Matthews had Maple Leaf fans believing for the first time in a long time, as they won their first series since 2004. The Leafs followed that series win up by losing 4-1 to the Florida Panthers, and Matthews had 0 goals in that series (and only 2 assists). It's understandable why his market lost any gains that were had from their first-round win.
Ja Morant 2019 Prizm Silver RC PSA 10
Fool me once, shame on you; fool me twice, shame on me. That's what Ja Morant collectors are probably thinking after his second Instagram Live gun incident in as many months. The first time, his market didn't drop much, but after this second time, it's noticeable.
See all 100 cards in the SX100 on Card Ladder and how they are trending.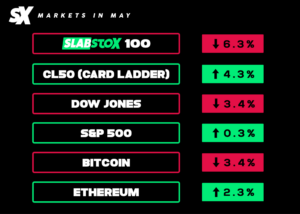 Grading Volumes
Summer card shows have picked up and The National in Chicago is just 2 months away. That means card grading season could/should be hot as dealers and collectors prepare to trade for an entire week straight. One way to track how healthy the card market is–check the volume of cards being graded month-over-month by major grading companies. Data for this information is gathered and tracked by Gem Rate. The below graphs represent what was graded in May 2023.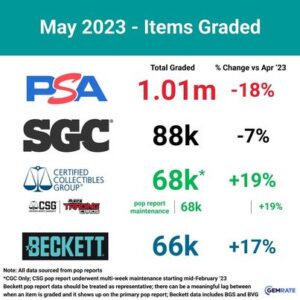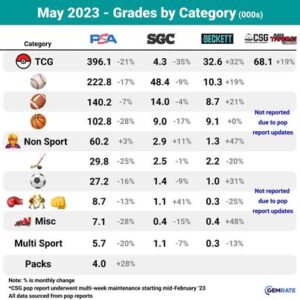 TAKE 4: Top-5 Card Sales of the Month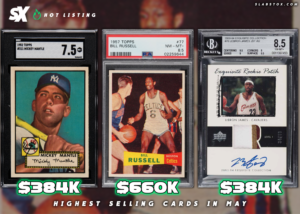 Bill Russell 1957 Topps RC PSA 8.5
Not only is Bill Russell the winningest player in NBA history, with 11 championships in 13 years; he also takes home May's top spot for most expensive card sale. His 1957 Topps RC PSA 8.5 (Pop 2 w/ 3 higher) sold for $660,000 (5/11/23) via the PWCC Premier Auction.  That is now the record for the all-time highest Bill Russell sale.
Mickey Mantle 1952 Topps SGC 7.5
The 1952 Topps Mickey Mantle is the most iconic card ever created. No matter what the grade is, it always sells for a significant amount of money. This SGC 7.5 that sold for $384,000 (5/12/23) is a POP 16. It is the third-highest sale of a Mantle rookie with a 7/7.5 grade.
LeBron James 2003 Exquisite RPA /99 BGS 8.5
Long before there were National Treasures RC Patch Autos, there were Exquisite Collection RPAs. LeBron's most desired card is arguably the 2003 Exquisite RC Patch Auto /99. In May one of those sold as a BGS 8.5 for $384,000 (5/26/23). We can only imagine what the lone PSA 10 would sell for if it ever pops up.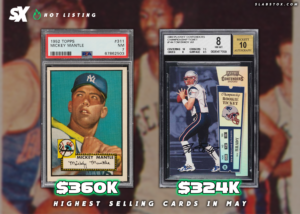 Mickey Mantle 1952 Topps PSA 7 
You read that right–another Mantle shows up in the top 5. While a PSA 7 isn't as good of a grade as an SGC 7.5, the .5 difference between these two Mantles resulted in a $24,000 difference. Eye appeal is always the biggest factor for vintage card sales, and this one sold for $360,000 (5/12/23).
Tom Brady 2000 Playoff Contenders Championship Ticket RC Auto /100 BGS 8
While this might not be the most iconic card ever, Brady's 2000 Playoff Contenders Championship Ticket RC Auto /100 is definitely the most iconic football card. This BGS 8 sold for $324,000 (5/26/23) which makes it the only football card to sell north of $140,000 this month.
TAKE 5: Looking Ahead
Sports Card Shows Worth Checking Out
Add your sports card show to the list of upcoming "Card Shows" on Sports Card Portal here.
June 3-4
(June 3) Collectibles on College, Tempe, AZ
(June 3) Fat Daddy's Sports Card Show, Oak Creek, WI
(June 4) Plainview Holiday Inn Local Show, Plainview NY
June 11-12
(June 11) Sports Card and Non-Sports Card Show, Cuyahoga Falls OH
(June 11) Triple Crown Promotion, Old Bridge, NJ
(June 11) 365Collectibles.com Card Show, South Miami, FL
(June 10-11) The Flip Sports Card & Collectibles Trade Show, Huntsville, AL
June 24-25
(June 24) Lexington KY Sports Cards & Collectibles Show, Lexington, KY
June Product Releases
The release dates below are subject to change by the manufacturer. Dates provided by Cardboard Connection.
June 2
2022-23 Bowman University Chrome Basketball
June 7
June 9
2022-23 Panini Select FIFA Soccer
2022-23 Topps Finest OTE Overtime Elite Basketball
June 14
June 21
2022-23 Panini Immaculate Collection Soccer
2023 Topps Chrome Sapphire Star Wars Return of the Jedi
June 23
2022 Panini National Treasures Football
June 27
2023 Topps Chrome UEFA Champions League (TBA)
June 28
2022-23 Panini Select Basketball
2022 Upper Deck Goodwin Champions
2023 Rittenhouse Star Trek Discovery Season 4