New releases, big competitions and big price swings defined March. Whether you're a fan of baseball, basketball, football, soccer, hockey or F1, this month had something for everyone. The sports card market is constantly changing, and we're here to get you the most important information from the month of March. Here we go!
Take 1: March Madness + Playoff Season Approaches
Take 2: Baseball's Off To A Hot Start
Take 3: Prizm Football Release and Big-Time Reshuffle
Take 4: Card & Market Trend: SX100 Sports Card Index
Take 5: Who's Hot / Who's Not
Looking ahead: Shows, product releases
Join the CardTalk Pod as @LouisGeneux and @SlabStoxAaron debate takeaways from this Card Market Report to help you in your card-collecting journey. Stay tuned to social media for updates.
If you want to receive this SlabStox Card Market Report every month, subscribe to SlabStox's FREE Daily Slab newsletter.
DISCLOSURES: 
All market data in this report is from Card Ladder. Card Ladder is an independent, third-party partner of SlabStox, providing card collectors and investors insights to make informed, data-driven decisions. Every investment and trading move involves risk. Do your research before making any decision. 
SlabStox does not own any of the specific cards represented in the SX100 Index. SlabStox owns cards of Aaron Nowak, Ryan Johnson, Randy Arozarena and Aaron Rodgers.
5 Takes from the March Sports Card Market
TAKE 1: March Madness + Playoff Season Approaches
Just about two years ago (June 2021) the news struck about the NIL (name, image and likeness) policy getting passed, allowing college athletes to start signing endorsement deals. Immediately our minds went to what the impact would be on the card market. We envisioned a day when card collectors could buy and sell cards of the biggest college stars right during the March Madness tournament. Last year's 2021/22 Bowman University Basketball set was the first release of cards depicting college basketball players, and those cards were available on the secondary market during this year's tournament to buy and sell. The only problem? Many of the players shining in this year's tournament don't have cards as the Final Four was all but what people predicted.
The top players in 2021/22 Bowman University that were active college players during the 2022/23 season: Drew Timme (Gonzaga), Caleb Love (UNC), RJ Davis (UNC), Leaky Black (UNC) and Jeremy Roach (Duke).
The biggest problem with that? UNC didn't make the tournament (the first team to be ranked pre-season AP No.1 and missed it), and Duke flopped out early. Drew Timme was the only star player who actually had some card movement from the 2021/22 Bowman University set, however, Jordan Hawkins has various Leaf and Wild Card non-licensed cards.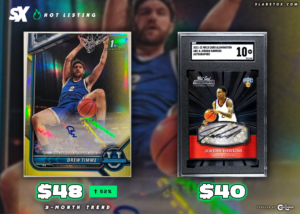 So where does that leave us? The Final Four featured one previous champ (UConn), and three teams that have never won it all before: FAU (9), SDSU (5) and Miami (5). UConn proved they were under-seeded and dominated every game on their way to the championship game.
What earned the most tournament hype? Easily the Iowa Hawkeyes Caitlin Clark who delivered one of the most memorable tournament performances EVER! She set the all-time NCAA Tournament record for points scored in a tournament – 191 in five games. That beat out the previous women's record that stood for more than three decades set by Sheryl Swoopes (1993) at 177 points.
Clark had an amazing run to the finals before LSU shut down the Hawkeyes 102-85 for their first NCAA Championship in program history. Even with the loss, Clark put up 30 of her team's points in the Championship, following back-to-back 41-point performances against Louisville and South Carolina. Other records Clark recorded:
She became the only player to put together back-to-back 40 point performances in women's NCAA tournament history
Recorded the first triple-double in women's NCAA Tournament history
Recorded the first 40-point triple-double in men's or women's NCAA Tournament history
Made a record 8 three-pointers in the Championship Game
If that is not scary enough, Clark is ineligible for the WNBA draft, which means she'll be back again next season with the Hawkeyes, putting her at the top of the NIL radar next season.
Her Sports Illustrated For Kids rookie caught fire, with raw copies rising from ~$25 in early March to over $100 by the end of March. There was even a high-graded (for SI cards) copy of it to sell: an SGC 8.5 for $310.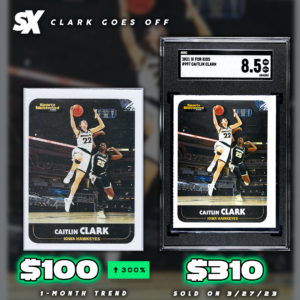 NBA West Playoffs
As March gives way to April, the Western Conference playoff picture is no clearer than it was to start March. As of the start of the day on March 31, the 6th through 11th seeds were separated by only 3 games. With every team having only 5-6 games left, the playoff picture could change drastically in early April, or not at all. Let's take a closer look at some of the more interesting teams in this grouping.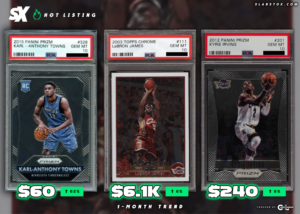 Timberwolves: Karl Anthony Towns hadn't stepped on an NBA court for the Timberwolves between the dates of November 28 and March 22. In that time the T-Wolves went 26-26 doing just enough to stay afloat without their superstar. He is now back, and the Wolves started off well by winning three straight games (although Towns only played in two of them), but now have lost three straight (6-6 total). They have their sights set on making noise in the playoffs, but they'll most likely be in the play-in tournament. If they don't do anything, it could be a long offseason for one of the NBA's best big men and his card market. Since the start of March, Towns' 2015 Prizm Base RC PSA 10 increased 62%.
Lakers: As long as Anthony Davis and LeBron James play every game the rest of the way, the dynamic duo will have missed a combined 53 games this year. A team that misses its two highest usage rate players for that many games will usually find themselves on the outside looking in. Thankfully for the Lakers, there aren't that many dominant teams in the West. Now it's up to LeBron and AD to will their team into at least the play-in tournament. If they can do that, you may be hard-pressed to find someone that wants to bet against a healthy LeBron and AD. Case in point is this LeBron 2003 Topps Chrome Base RC PSA 10. While it's not a crazy gain, this card increased 8% in March.
Mavericks: When the Mavericks traded for Kyrie Irving, many NBA fans questioned if that was the right move. Since moving away from Cleveland and LeBron, Kyrie's teams by and large disappointed. With hindsight being 20/20, we now know that Kyrie's Mavs team is no different. Leading up to the trade, Luka Doncic and the Mavs were 29-26 and doing enough to stay in playoff position despite the lack of talent around Luka. Since Kyrie started playing with the Mavs, they have gone 8-14 and dropped to 11th in the West. That 11th seed drops them out of play-in position. Kyrie burned bridges with fans everywhere he has gone, and his card market has suffered for it. Even with the brutal team play, Irving's 2012 Prizm Base RC PSA 10 increased 9% since the start of March. If he were to tank the Mavericks playoff chances, that may be the last nail in the coffin for his card market.
TAKE 2: Baseball's Off To A Hot Start
The month of March is always an important time in the baseball card market, but this March felt more important than in years past. One big reason was the World Baseball Classic, played for the first time since 2017. The other big reason was the number of young prospects that took spring training by storm and forced their way onto the big league rosters to start this season.
The World Baseball Classic (WBC)
The WBC is held every four years, just like the World Cup for soccer. Due to COVID, 2021's WBC was postponed until 2023. This year, 20 different national teams descended upon Taichung, Tokyo, Phoenix and Miami in search of glory. There were many different heroes including Italy's Sal Frelick to Japan's Shohei Ohtani. Here are some movers and shakers from this year's WBC: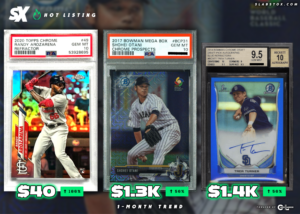 Shohei Ohtani, Japan: The biggest moment of the entire WBC was the last out, as major league teammates and the two best players in the world faced off. Shohei Ohtani pitching against Mike Trout in a one-run game in the bottom of the 9th with 2 outs is what every baseball fan dreamed of. It lived up to the hype as Trout took Ohtani to a full count before swinging and missing on a slider. Ohtani and Japan beat the reigning champs (USA) and captured glory. That was far from Ohtani's only shining moment though. In the batter's box, the two-way star hit .435/.606/.739 with four 2Bs, a HR and more walks than strikeouts. On the mound, he pitched 9.2 innings, giving up just 2 runs while striking out 11. This tournament showcased the best of what Ohtani is, and he got the chance to shine bright on the world stage. His card market has boomed since; his 2017 Bowman WBC Mega Box PSA 10 increased 56% in March.
Trea Turner, USA: Turner, a 185 pound shortstop for the Phillies, is known more for his legs than his power. That's not to say he doesn't have power, but his career high in home runs is 28, and he has only crossed the 20 HR threshold twice in his career. Yet it was Turner, not Trout, Schwarber, or any other MLB power hitter, who led the WBC field in home runs. Turner had 5 in 6 games, including one in the WBC final against Japan. It was the defining moment for Turner's career and finally earned him the respect he deserved in the card market. In the month of March, Turner's 2014 Bowman Chrome 1st Blue Auto /150 BGS 9.5 increased 56%.
Randy Arozarena, Mexico: Team Mexico opened the WBC with the 6th best betting odds to win the whole thing. It was an impressive overachievement to make it to the semifinals and only lose by one to team Japan. A lot of the credit for Mexico's success goes to Randy Arozarena. He set the tone for the whole team, both with the bat and in the field. With the bat, he had the second-highest OPS of any player in the tournament at 1.507 (even higher than Trea Turner). With the glove, he had multiple run-saving catches in left field including robbing Japan of a home run in the semifinal. Arozarena has played in the Futures Game, was the 2020 ALCS MVP and the 2021 Rookie of the Year, yet none of that compares to what he did in the WBC. Those heroics caused his market to take off. A card as simple as his 2020 Topps Chrome RC Refractor PSA 10 increased 186% in March.
Duque Hebbert, Nicaragua: Hebbert not only didn't have a trading card before the WBC, but he didn't even have an MLB organization to call home before the tournament began. Now he has both after one impressive inning against the Dominican Republic. With his team down 5 in the 9th inning, the 21-year-old was called on to face Juan Soto, Julio Rodriguez and Rafael Devers. He proceeded to strike out all three. That performance not only got Hebbert a Topps Now card but also got him a minor league contract with the Detroit Tigers. This story almost feels too good to be true, but that's what the WBC is all about.
Shining Young Stars
There are young stars that perform well every spring training and force their way into their MLB club's plans sooner than expected. This year was no different, as 20-year-old Jordan Walker and 21-year-old Anthony Volpe earned roster positions on the Cardinals and Yankees, respectively.
Jordan Walker: The young left fielder got off to a torrid start in spring training, as through his first 9 games he had 12 hits including 3 home runs. While he didn't stay that hot to finish off the last 11 games of spring training, it was enough for him to make the big league club. The Cardinal's new RF is now the youngest opening-day player to play for the Cardinals since Rick Ankiel in 1999. They are surely hoping his big league career pans out a bit differently than Ankiel, who spent most of his mid 20's trying to figure out how to make it back to the majors. As for Walker's cards during his hot spring, they took off and then cooled off as he did. Walker's 2020 Bowman Chrome Base Auto PSA 10 only increased 4.44% in March. If you only look at from the start of the month to the peak on 3/12/23, it jumped 39%.
Anthony Volpe: Volpe was the 5th ranked prospect by MLB Pipeline before the season, and he played like it this spring. The new Yankee SS put up a 1.035 OPS in 63 plate appearances. It was the type of performance Yankees fans have been dreaming of and are hoping he can keep up. If he can, he will finally nail down the SS position that has been a revolving cast of characters since Derek Jeter retired in 2014. The most impressive sale in March was his 2020 Bowman Chrome 1st Blue Auto /150 PSA 10 that sold for an all-time high of $6,000 on 3/16/23.
Topps Big League Release
On the baseball card side of the equation, March was a big month for the SlabStox and Card Talk family. On March 31, Topps Big League released for the first time since 2021. It's a baseball card set produced for kids, and in the set, they put in the "Hobby Influencer Short Print" insert. This checklist is only 5 cards and includes "rookie cards" of Card Talk's Ryan Johnson (@cardcollector2) and SlabStox's Aaron Nowak (@slabstoxaaron).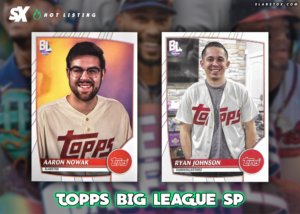 TAKE 3: Prizm Football Release and Big Time Reshuffle
Even in the offseason, football is generating big news and the football card market is reacting. Free agency moves and new product releases have kept the football card market exciting and some of the biggest storylines for the upcoming season are developing right now. Here is what's buzzing:
Community Sounds Off On 2022 Prizm Football 
Two monsters were unleashed: 2022 Panini Prizm Football and 2022 Contenders Football. In a series of Instagram posts, we gathered collectors' reactions to these new releases.
2022 Prizm Football 
Weak rookie classes don't bode well anywhere in the card market, especially at the quarterback position. The only highly sought-after QB in this release is Kenny Pickett, as he was the only first-round QB from the 2022 draft. Desmond Ridder, Sauce Gardner, Garrett Wilson and Breece Hall also are driving some action. Despite the low number of quality rookies to chase, the FOTL Boxes sold by Panini via Dutch Auction were gone at $812.50. We asked the card community their thoughts about the 2022 Prizm Football release:
Price: Price is always a sensitive issue for the card community. Many continue to sound off that collectors are priced out of the market, but that also comes down to when you actually entered the card market.
LMAO! This should be a 200$ box at the MOST. QBs stink, WRs aren't elite and all u can chase is Brady 😹😹
It's good to see the wax prices coming back down to a decent price. 1200-1500 was simply greed! The hobby is stronger when singles outsell box prices. If the box prices are out selling singles those boxes will collect dust until the singles prices reach box prices. You have smarter consumers in the hobby. Why buy boxes if you can get singles you want for same price or cheaper. All hobby boxes should start off at lower prices and increase from there not starting at peak price and only going up a few hundred dollars after release. It's better to build the hype not start at the hype peak pricing.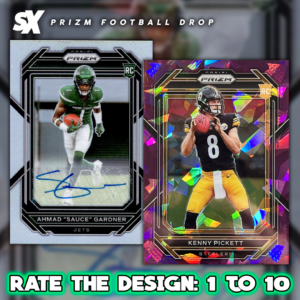 Design: Consensus is hard to achieve when it comes to sports card design. That said, we saw lots of positives for the new set in our comments, with others just not buying it (literally!).
Much better than last year (design) but not as good as 2020
Way too much border. Until qc is on point, panini should do away with borders altogether. We all know that 90% are going to be oc to the right 🤷‍♂️
Design = 8.1 but the rookie class 1.8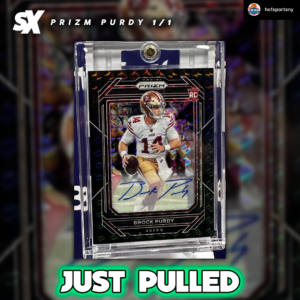 Big Pulls: Making the biggest news of this release was the very early 1/1 Brock Purdy pull at local card shop (LCS) Hall Of Fame Sports Collectibles in New York. The comparisons to Justin Herbert, whose 1/1 Prizm sold for a whopping $162K in February, began immediately:
Great to see this pulled at an LCS! Breakers have been getting too much of the spotlight and we need to remember to support our LCS!
Considering Herbert's went for $162k, this shouldn't be worth over $20k and that's still too much imo. He may never start another game. Lance has the benefits of being a high pick & they signed Darnold. And seeing how pretty much any QB can thrive in SF, it's a bad investment.
Big Sales: If you've studied the sports card market even for a short time, one of the first things to learn is to wait for the hype to subside. The card market plays out nearly the same way every single release: The set drops, the first secondary sales are hot, and smart buyers wait until all the excitement passes to jump into the market. Here's a perfect example: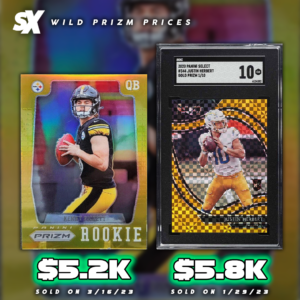 Meanwhile I'm scooping up rookie base parallels and rookie auto parallels of Geno Smith for under $100. But hey, y'all do you!
Prospecting is and always will be the driving force of the hobby. Love it or hate it.
Football Market Shakeups
First things first. The Aaron Rodgers saga continues and for both SlabStox (Milwaukee) and Card Talk (NYC), we have been treated, or burdened, with a front-row seat to the saga. Both media markets have been obsessed with Rodgers going to the Jets this year. We can say on our end the Packer faithful appear to be ready to move on to the next Titletown chapter written by Jordan Love. For Jets fans, let's quote @LouisGeneux from Card Talk: "THAT'S MY QUARTERBACK" (3/19/23)
You already know we'll talk about this on our upcoming SlabStox/Card Talk Pod episode.
Big Seller:  Is Jordan Love worth the risk? All signs point to Love being the next starting QB in Green Bay (source: media reports ad nauseam), but he has massive shoes to fill left behind by Rodgers and Brett Favre before that. Rodgers stated on the @patmcafeeshow that he intends to play for the New York Jets next season, as the Packers and Jets work on a trade package. This led to the Jordan Love 2020 National Treasures Stars and Stripes RPA /20 BGS 9, selling for $12,000 on 3/11/23, making it the most expensive Love card to sell in March (at the time of the post).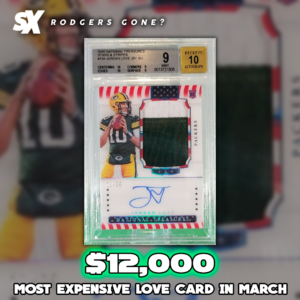 So, where does that leave Rodgers? We're calling it a "wait-and-see" approach for the card market. Sales over the last month have been fairly steady, gaining 17% for his 2005 Topps Rookie PSA 10 ($322, 3/28/23). Should Rodgers get off to a hot start with the Jets, you know Jets fans will be over the moon and the card market will follow.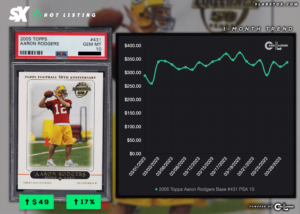 TAKE 4: Card & Market Trend: SX100 Sports Card Index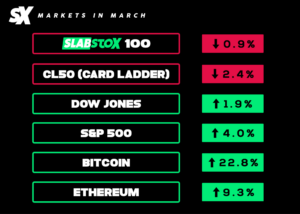 In January's SlabStox Market Report, we debuted the SX100 (SlabStox 100) – a community-driven sports card index that aims to represent the everyday card collector. The goal is to not only represent the everyday card collector but also give them a say in what's included. We will be sending out our first SX100 survey in mid-April (to give us a full quarter of sales data to analyze) via our free Daily Slab newsletter. Subscribe here to get daily hobby news and to take part in the first SX100 update.
March SX100 overall takeaways: 
Barely down in March (-.9%), and even less since the start of 2023 (-.05%)
9 cards did not have a sale in March
43 cards decreased in value in March
29 cards increased in value in March
Here are three non-baseball/basketball/football cards that increased in March.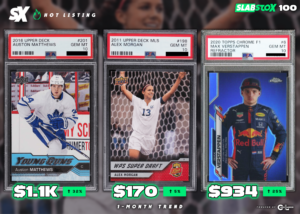 Auston Matthews 2016 Upper Deck Young Guns RC PSA 10
The Maple Leafs clinched their spot in the playoffs again, but they have yet to make it out of the first round since 2004. Auston Matthews is having a down year (compared to last year's 60-goal explosion), but he can change that all around if the Leafs can make a run.
Alex Morgan 2011 Upper Deck MLS RC PSA 10
The Women's World Cup starts on Thursday, July 20, and Alex Morgan is looking to appear in the fourth of her incredible career. She already has two World Cup trophies to her name, and has scored 121 times in 204 appearances for the USWNT.
Max Verstappen 2020 Topps Chrome F1 Portrait Refractor PSA 10
We're three races into the 2023 Formula 1 season, and Red Bull won each race quite easily. Max has taken two first-place finishes home (his teammate Sergio Perez winning the other), and his card market is benefiting from his (and Red Bull's) dominance once again.
To view all 100 cards in the SlabStox100, check out January's market report.
TAKE 5: Who's Hot / Who's Not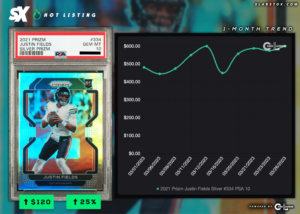 Fields of Dreams: Justin Fields' 2021 Prism Silver Rookie PSA 10 is up 25% since the start of the month. The Bears traded away the 2023 No. 1 NFL Draft pick to the Panthers for D.J. Moore and four additional draft picks (2023 picks 9, 61 and a 2024 first-round and 2025 second-round pick). That will put a ton of talent around Fields, raising expectations to take Chicago to the next level. Overall, the Bears will have an arsenal of 10 picks in 2023, so speculation on Fields' sports cards could hit fever pitch before the season starts (like Jalen Hurts in 2022). If the card market feels the talent added to the Bears roster will take them from the cellar to deep in the playoffs, the early speculation on his cards could be insane.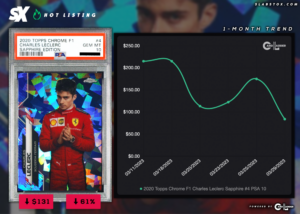 It's been a Ferrari fiasco through the first three races of the 2023 Formula 1 season. After last season's debacle, which saw Ferrari blow the Drivers and Constructors Championship, the team looked to minimize its mistakes to start the new season. However, the first three races so far have been disastrous. Charles Leclerc in particular has had a very rough few races, retiring in the first and third race while finishing 7th in the second race (thanks to a grid penalty resulting from new parts after the first race). Leclerc's 2020 Topps F1 Chrome Sapphire PSA 10 is down 61% and his 2020 Topps Dynasty Triple Patch Auto /5 sold for $5,100 on 3/29/23, a 36% drop in just over a year.
Looking Ahead
Sports Card Shows Worth Checking Out
April 7-9
(April 8th) Colts Neck Coin & Card Expo, Cots Neck, NJ
(April 8th) Collectibles on College, Tempe, AZ
(April 8th) Vintage Card Show At Rickwood Field, Birmingham, AL
(April 8th) The Villages Sports Card and Collectible Club, The Villages, FL
(April 8th) The Rockford Card Show, Rockford, IL
April 14-16 
(April 15th) Long Island National Show, Hempstead, NY
(April 16th) Ramada Hotel & Convention Center Sports Card Show, Cedar Rapids, IA
(April 16th) East Cobb Sports Collectible Show, Dunwoody, GA
(April 14-15) GG2 Sports Card Show, Bentonville, AR
(April 15-16) Eastbay Sports Card & Collectors Show, Concord, CA
(April 15th) Bat City Sports Card Show, Austin, TX
April 20-23
(April 20-23) Minnesota Card Show, Minneapolis, MN
(April 22-23) Silicon Valley Trade Card Show, San Jose, CA
(April 22nd) Nona Collects Card Show, Orlando, FL
(April 22nd) Trumbull Cards Show, Trumbull, CT
(April 21-23) Coach Estes Sports Cards Show, Springfield, MO
April 29-30
(April 29th) Lexington KY Sports Cards & Collectibles Show, Lexington, KY
(April 29-30) Denver Card Show, Denver, CO
(April 30th) Sports Card & Collectibles Show, Wilmington, DE
(April 29-30) The Flip Sports Card & Collectibles Trade Show, Panama City Beach, FL
(April 29th) Man Cave Sports Cards and Collectibles Show, Stanton, MI
(April 28-30) Sports Card & Collectibles Show, Eau Claire, WI
April Important Product Releases
The release dates below are subject to change by the manufacturer. Dates provided by Cardboard Connection.
April  5:
2022-23 Panini Contenders Basketball
2022-23 Upper Deck Series 2 Hockey
April 7:
2021-22 Panini Eminence Basketball
2023 Panini Prizm WWE Wrestling
April 12:
2022-23 Panini Prizm Basketball
April 19:
2022-23 Panini Revolution Basketball
2022-23 Panini Select La Liga Soccer
April 21:
2022 Panini Contenders Optic Football
2021-22 Panini Flawless Basketball
April 26:
2022-23 Panini Crown Royale Basketball
2022-23 Panini Select Premier League Soccer