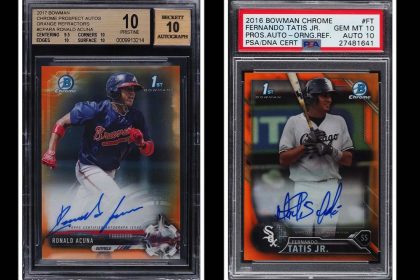 What played out at this big-time auction could impact the card market for every investor and collector.
(In partnership with PWCC)
Big auctions have become a spectator event for card collectors and investors, and PWCC jumped in with its first-ever Premier Auction. The 10-day auction included iconic cards of some of the biggest modern-era athletes (Kobe, LeBron, Trout and more), and its extended bidding format created lots of buzz until the final closing early Friday, May 21.
SlabStox has partnered with PWCC to create independent content and analysis of these events. All reporting and insights are fully objective. Our key takeaway: While every collector may not have the budget to bid on Premier Auctions, the results carry over into the hobby at all levels.
Why should collectors follow these auctions? The storylines are fascinating. "Matchups" between similar cards and players were on full display over the 10 days. Here are the six most intriguing storylines the SlabStox team identified heading into the auction, how they played out. What do they mean to the sports card market moving forward?
Storyline #1: The Most Expensive Card
This one is rather straightforward, but important and interesting. We picked out two cards we thought would take the crown for the most expensive at close: the 2003 Exquisite Collection Limited Logos Lebron James RC Patch Auto /75 in a BGS 9.5 grade, and the 1996 Skybox E-X2000 Credentials Kobe Bryant RC /499 in a PSA 10 grade.
Both are incredible cards, and the remarkable 360-degree imaging on the PWCC platform allows you to grasp the full aesthetic of the cards as if they were in hand. Check out the auction to see for yourself.
The PSA population report on this Kobe card is extremely low (only four PSA 10's in existence). When it was all said and done, the card sold for $360,000.
It is also important to point out this sale came after Kobe's inauguration in the NBA Hall of Fame, where his Wife, Vanessa Bryant and Michael Jordan inducted him into basketball's most prestigious group. It will be interesting to see how this affects all Kobe Bryant cards, and if other events, such as a potential Kobe Bryant documentary, will have any affect on his cards moving forward. Card collectors will be watching to see if this plays out similar to The Last Dance documentary last summer and its impact on all Michael Jordan cards.
While the Kobe card did sell high, the winner of this matchup went to King James. The LeBron 2003 Exquisite Limited Logos Rookie Patch Auto /75 BGS 9.5 sold for $480,000, and it reigned supreme over all the cards in the PWCC auction. Not a surprise. This card comes from one of the most sought after sets of all-time, and features one of the greatest ever to play. This set is also very condition sensitive due to its thicker card size, so to see the BGS 9.5 grade is truly spectacular.
Storyline #2: Soccer Showdown
The soccer card market has taken huge leaps over the last year, and the two cards in this month's PWCC Premier Auction could have a huge impact on the soccer market moving forward.
Highlighted were the 2002 Panini Futebol Portugal Stickers Cristiano Ronaldo RC in a BGS 10 Pristine grade, and the 2019 Topps Chrome UCL Sapphire Purple Erling Haaland Rookie /25, PSA 10 grade. Both of these are extremely respected in the soccer market. Ronaldo is one of the greatest to step foot on the pitch, and Haaland may be one to follow in his footsteps as the player of the current generation.
The Ronaldo sticker is an incredible grade at almost 20-years-old, so it is no surprise it sold at a final price of $120,000. That's four times the amount the Haaland Topps Chrome Purple Sapphire closed at, with a final sale of $30,000.
These two sales are a good sign of the overall health of the soccer card market. It will be interesting to see how it progresses in the future as more collectors and investors get involved in both the U.S. and Europe. If you had to choose between these two cards, would you buy into the Haaland with hopes he can reach the levels of Ronaldo? Or do you play it safe and invest into one of the greatest players ever?
Storyline #3: Showdown-Bowman Chrome Orange Auto
The PWCC Premier Auction featured some big MLB head-to-head matchups as well, with some of the young stars in the game today: Ronald Acuña Jr. and Fernando Tatis Jr.
The auction housed Tatis Jr.'s 2016 Bowman Chrome Orange Refractor Rookie Auto /25 in a PSA 10 grade/10 auto grade, to an equally impressive 2017 Bowman Chrome Orange Refractor Rookie of Acuña Jr., Auto /25 in a BGS 10 Pristine grade/10 auto grade. You can't go wrong with either of these two players. Both flash the potential to be the face of baseball for the next generation.
After the close, it was very interesting to see the Tatis Jr. card sold almost $25,000 MORE than Ronald Acuña. Tatis's Bowman Chrome Orange Auto sold at $132,000, with the Acuña Jr. Bowman Chrome Orange Auto closing at $108,000. Even after Acuña's hot start this season (currently tied for the lead in home runs), buyers are extremely high on Fernando Tatis Jr., as well as the condition sensitive 2016 Bowman Chrome set (tough to grade due to back corners and front centering).
Storyline #4: 2018 Sealed Wax
Matchup #4 features two of the most sought after cases from the 2018 Panini basketball card line—a case of 2018-19 Panini Prizm Basketball Hobby Jumbo boxes (12 boxes) and 2018 Panini National Treasures (4 boxes). These two sets contain some of the most desirable and sought after Luka Doncic and Trae Young Rookie Cards.
The National Treasurers brand is the high-end brand of modern basketball cards and has been compared to Exquisite from back in the early 2000s. As for Panini Prizm, you have the more "mainstream" brand containing sought after parallels that can fetch five to six figures each.
The 2018 Panini Prizm case sold for $30,000 more than the National Treasures case. The more mainstream brand prevailed in this auction, crowning it as "King" in the modern basketball card market. The real question? Will this buyer rip these boxes or stash them away hoping Luka leads the Mavericks to a future NBA Championship?
Storyline #5: Ja vs. Steph, RPA (Rookie Patch Auto)
This storyline was perfect, playing into the final NBA play-in tournament game as Steph Curry and the Golden State Warriors faced Ja Morant and the Memphis Grizzlies this past Friday night for the last spot in this year's NBA Playoff bracket.
The matchup: Ja Morant's 2019 National Treasurers FOTL Stars & Stripes Rookie Patch Auto /30, PSA 9 grade vs. Steph Curry's 2009 Limited Platinum Spotlight Rookie Patch Auto 1/1, BGS 9.5 grade.
These two cards were released a decade apart, with one of the game's rising stars from the 2019 draft class and the best shooter of all-time. The bidding was neck-and-neck the whole way, and the Morant RPA sold for a respectable $30,000, topping Steph's RPA which sold for $27,500.
It seems investors are buying into the modern high-end brand in National Treasurers and have enough faith to put that money into a risky, unestablished player in Ja. The Steph Curry card is from 2009 Panini Limited, a product which is no longer produced. While the Steph is a 1/1, that could have played a factor in low price of the Curry, along with the auto being signed on a sticker and not on the actual card.
Storyline #6: Demand and Product Rank vs. Scarcity
The final story was a classic example of demand and product rank vs. scarcity. This is always an interesting topic of discussion in the card market, and this month it was on full display with two beautiful LeBron James cards.
We watched LeBron's 2004 Topps Chrome Gold Refractor /99, BGS 9.5 grade and his 2004 Topps Finest Gold XFractor /5, BGS 10 Pristine grade. Topps Chrome is usually the more "mainstream" brand people gravitate to, but in this case, the lesser brand (Topps Finest) is the scarcer card that prevailed. A helping hand was the BGS 10 Pristine grade versus the BGS 9.5 Gem Mint grade.
After a neck-and-neck battle for most of the bidding period, the 2004 Topps Finest Gold XFractor ($45,000) ended up selling for 50% more than the Topps Chrome Gold Refractor ($30,000).
This comparison can be applied to many other players and examples in the modern market today at every set level. SlabStox Aaron believes a comparison could be drawn between Panini Prizm and Select today, as Prizm is more sought after, but Select is much scarcer. It was the perfect wrap up of our storylines from May's PWCC Premier Auction.
If you didn't get a chance to track this month's auction items for the PWCC Premier Auction, be sure to check out the next one in July. Again, this auction may not be for everyone due to high-priced items, but it is important and fun to understand what is happening in these auctions as it will have a huge impact on the card market for the everyday investor.
Head over to the SlabStox Instagram recap post and drop your thoughts on the PWCC Premier Auction results in the comments.