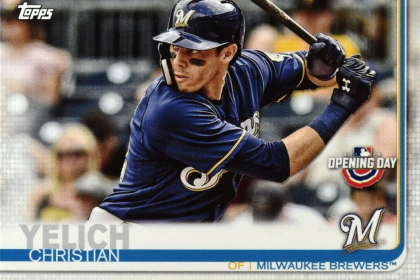 Over the weekend, Christian Yelich did something that is very rare in MLB history. So rare in fact, it has only happened six more times than a perfect game. Of course, if you read the title, you'll know I'm talking about the 40 home run/20 stolen base season. I thought to myself, what does the 40/20 season historically point to for individual accolades and/or team success? Let's try to find the answer to these questions and hopefully make my life as a Brewers fan a little bit more enjoyable. First, let's take a look at who has won the award in the past.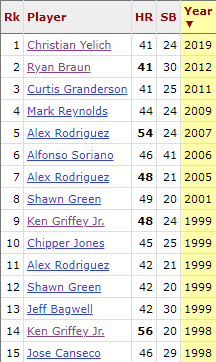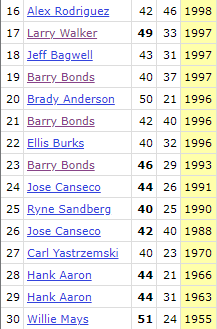 You'll notice from the list that there are various Hall of Famers, plenty of steroid users, Brady Anderson, who hit above 24 homers exactly one time in his career, and zero Cardinals, Reds or Pirates. I repeat zero Cardinals, Reds or Pirates and only one Cub. Meanwhile, the Brewers have the last two players to ever pull off this feat (shout out to Ryan Braun, the greatest player to ever play the game). The Cards, Cubs, Reds and Pirates might have twenty-four world Series championships between the four of them, but they only have one 40/20 player. I've got TWO 40/20 players on my team. (side note: being a Brewers fan is extremely tough sometimes)
Aside from giving me a small sense of pride as a Brewers fan, what else can we glean from this list? For starters, there are only thirty seasons where this has happened but only seven of those seasons ended up with an MVP award. Two of those seasons were by Alex Rodriguez, one by Larry Walker, one by Jose Canseco, one by Barry Bonds and one by Chipper Jones. These are all incredible players that won the MVP award during their 40/20 seasons. Almost all of the other seasons on this list finished in the top 10 in the MVP vote and most had top 5 finishes. Unfortunately, six out of thirty is pretty bad odds if you're hoping a 40/20 season guarantees you an MVP award.
Well, if it doesn't guarantee individual accolades, does it at least guarantee team success? The answer to that is a definite no. Of the thirty 40/20 seasons in MLB history, only seven of them have ended in a playoff appearance. They were: Brady Anderson in 1996, Jose Canseco in 1988, Barry Bonds in 1997, Chipper Jones in 1999, Jeff Bagwell in 1997 and 1999, and Curtis Granderson in 2011. Of those seven seasons, only two players, Jones and Canseco, made it to the World Series and both teams lost. If things stay the way the're going, I wouldn't expect Yelich to be the eighth player to make the playoffs.
As a Brewers fan, the fact that historically this stat neither guarantees team success or individual accolades is a real bummer. The nice thing is it has been a boon for Yelich's card prices. Coming off of an MVP award last season, you could have bought Yelich's 2013 Topps Update PSA 10 for $30 -$40 in the winter. Now those same cards are going for $130 -$140 pretty consistently. You might not have team success, but you'll have card success.
As a heads up for anyone interested, the next player to cross the 40/20 threshold is definitely going to be Ronald Acuna. He's currently at 35 bombs and 29 SB. Hold on to those cards because he's on a hall of fame trajectory, especially when considering the 40/30 club is even more rare, with only 11 such seasons in MLB history. He would be the youngest player ever to achieve that milestone.
The 40/20 season was always something I was excited about, but it has shaped up to be historically underwhelming. The only thing it proves is how rare productive power/speed guys are. As a Brewers fan, I wished it proved more, because I don't have any World Series championships to fall back on.
Sign up for The Daily Slab email to get the most up-to-date sports card insights straight to your inbox.