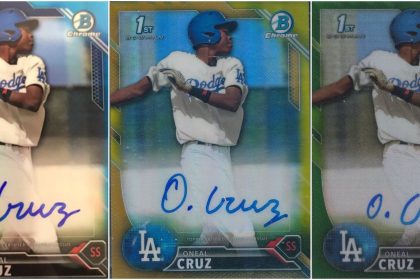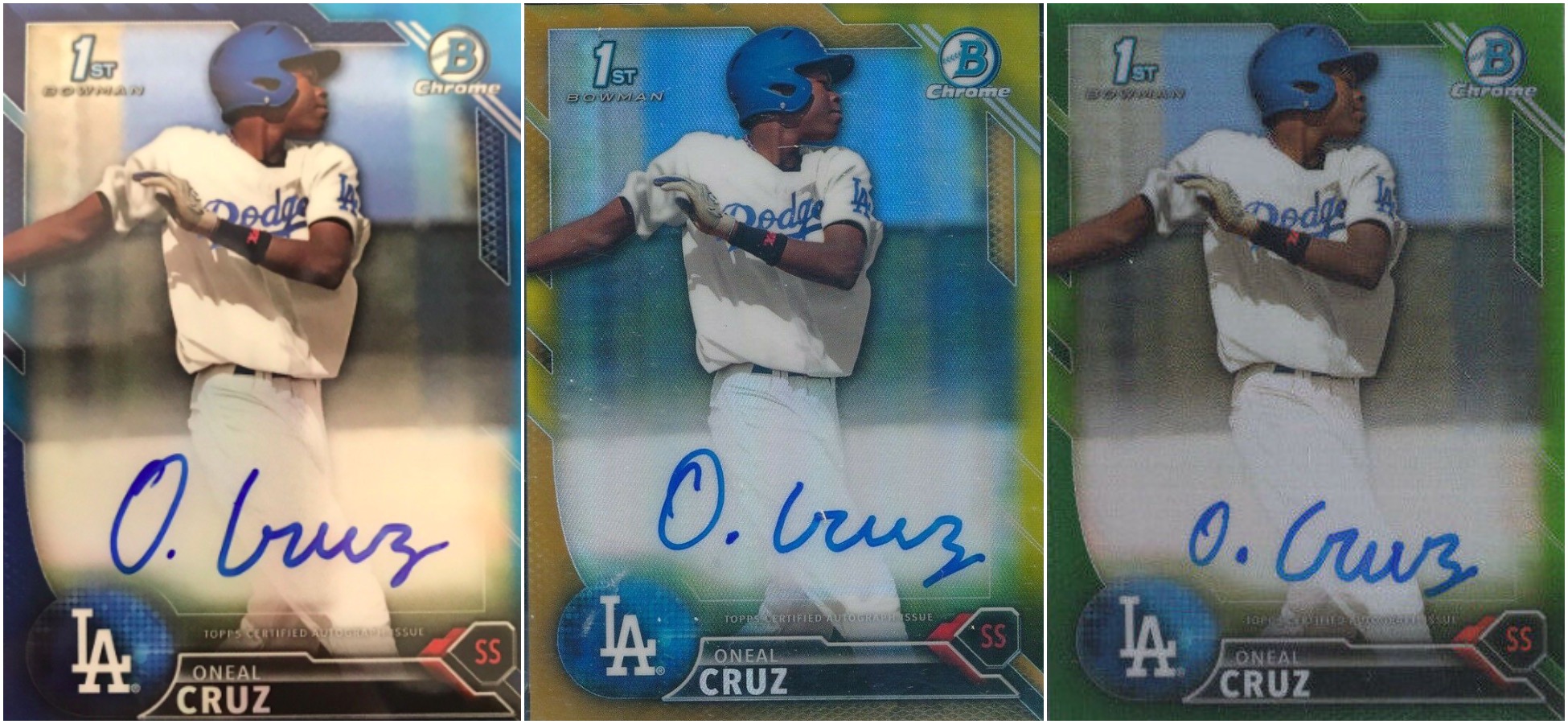 When it comes to judging prospects, there are a few biases I need to work through. One bias is towards uncommonly tall players. Growing up, I always heard tall players had holes in their swing because of their long arms. The thought process was the longer the arms, the slower the bat gets through the zone. The problem with this line of thinking is I never would've thought to invest in guys like Giancarlo Stanton or Aaron Judge. My past bias kept me from buying cards of two of the best players in the game.
When looking into their stats, I found something interesting. On Fangraphs, I dug into their zone contact percentage leader board. After setting the minimum plate appearance requirement to 300 a list of 278 players showed up. Of the 278 players, Stanton ranked 249 (80.5% Z-contact) and Judge ranked 257 (78.2% Z-contact). Z-contact is calculated by dividing a player's swings at pitches inside the zone by pitches inside the zone. The low zone contact percentages may be attributed to baseball's two premier power hitters selling out for power. Some of it, though, probably supports the old belief taller guys have longer arms, and longer arms mean more holes in the swing. What this belief didn't tell me was, even when the boot fits, the player can still be extremely valuable.
All of that was a roundabout way to tell you we're going to look at another uncommonly tall baseball player: Oneil Cruz.
Hopefully along the way, we learn more about him as a player, and I destroy my bias one paragraph at a time. Let's dive in.
Overview
Obviously, the first thing you'll notice about Cruz is he's a 6′ 6″, 175 lb shortstop. I would venture a guess there's never been a 6′ 6″ shortstop in baseball. With that being said, we shouldn't just assume he'll move off of it. Cruz has an 80 grade arm and grades out barely below average fielding wise. His bat and arm should be enough to cover any deficiencies he has fielding the ball at shortstop.
Speaking of his bat, Fangraphs projects him to have 80 future raw power and 60 future game power. To get to those lofty goals, he'll have to add weight. If he does add weight, I expect his 60 run grade will drop to around average. It will also most likely cause him to be more heavy footed at shortstop than he already is.
The biggest question mark when it comes to Cruz, as it does for all tall players, is his hit tool, which is graded out at a future 40 (which equates to around a .240 average). For comparison, in Judge's last prospect update he was given a 50 future hit tool.
I feel like Cruz has made some advances in this area in the last year. As a 19-year-old, in his second year in A-ball, he struck out a career low 22.6%, while keeping his walk rate at a respectable 7.7%. He did all this while hitting for more power (.201 ISO) than he did in his previous two seasons.
Prospect Outlook
When it comes to prospects, I try not to judge anything off of A-ball stats. Though Cruz had good numbers last year and he's trending in the right direction, he still is a high ceiling/low floor player. There's a plethora of ways Cruz could make the majors. If he stays as he is now, I could see him breaking through with great power as a shortstop. If shortstop doesn't work, he has the athleticism to play center field.
Say he adds weight. He could end up being a solid third baseman or left field with power. He could also end up being an Aaron Judge lite in right field, where his 80 grade arm would be a huge asset.
If everything else fails, he could slot in as a first baseman where he would have good defense and decent speed, but the bat would become average for the position and the arm would go to waste. I could see him making the majors at any of these positions, and potentially being a star at five of the six (first base being the lone holdout). With that being said, I could also see him never making the majors if his hit tool doesn't advance.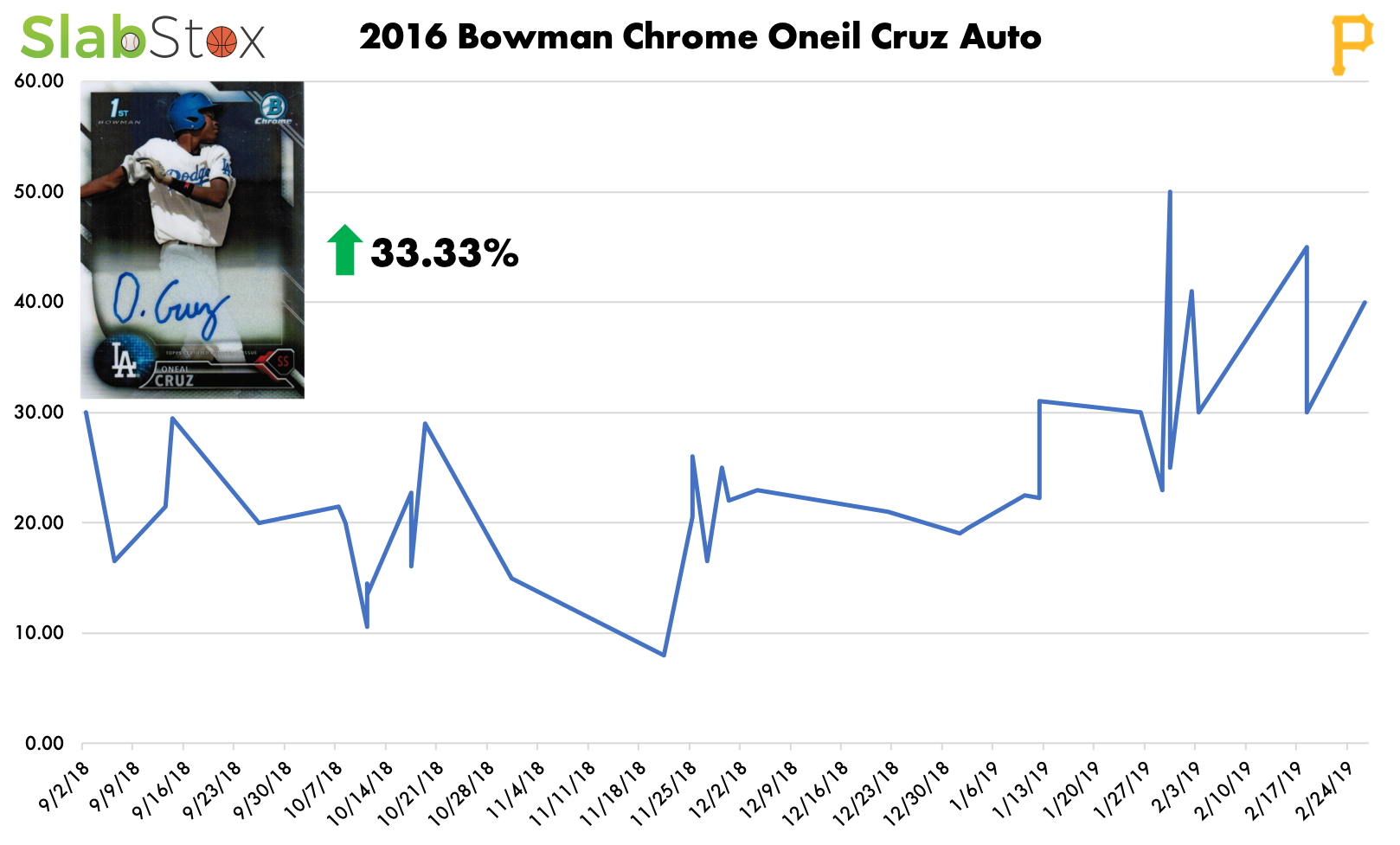 Investment Outlook
While his 22.6% K-rate looks good, Judge also had a 21% K-rate in A-ball. Judge has struck out 30% of the time his last two years in the majors. There is a high likelihood Cruz's K-rate goes up as he moves up the ladder.
Unfortunately, Cruz neither has Judge's power nor patience at the plate. Judge walked over 10% of the time at every stop except AA (8.6%). Cruz has a walk rate of 8.4% over his three year career. What Cruz has going for him, over Judge, is he is much younger at this point in his career than Judge was, and he plays shortstop.
I believe he could become a lite version of Judge, given he advances his hit tool. If he adds weight and can stick at shortstop, he'll be an extremely valuable player and one of the top 25 prospects in baseball. If he has to move down the defensive spectrum, his prices will go down accordingly. At around $40 a base auto, I think he has incredible room for growth. I would suggest grabbing a few to stash, as his upside is off the charts.
*If you are searching for his 2016 Bowman Chrome auto, his name is listed as "Oneal" Cruz, but every prospect website has him as Oneil Cruz. Make sure to search using Oneal Cruz (or do two searches, one with each to cross check).
*Oneil was traded from the Dodgers to the Pirates in 2017, which is not represented on his Bowman Chrome auto.
Previously on SlabStox: #StoxTrends: Spring Training Week 1
Next on SlabStox: The Curious Case of Population Reports
Sign up for The Daily Slab email to get the most up-to-date sports card insights straight to your inbox.