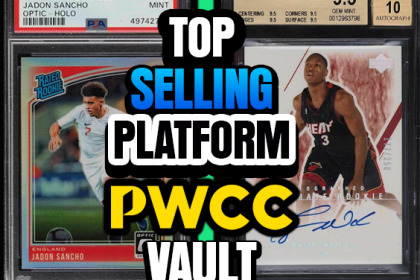 If you're like me, listing cards on eBay eats away at the time you want to be doing other things, like finding great cards for your collection. If you ever said to yourself, "There's got to be a faster, easier way to sell my cards," there is.
The PWCC Vault (sponsored by and in partnership with PWCC)
The PWCC Vault, commonly referred to as the "Vault," is a great resource for buying and selling your sports cards, especially graded cards that sell for $100 or higher. It is an easy way to click and list your cards on eBay.
We know what you're thinking—before you commit to sending your cards to any Vault, you want to know what to expect and what you get in return. I don't blame you one bit. Over the last month, we gave the PWCC Vault a full test run and this is what we found out.
SlabStox users get FREE submissions
If you want to try the Vault, SlabStox has partnered with PWCC to offer our users three free submissions to the Vault by using the promo code "SLABSTOX".
You can send up to three submissions free
Unlimited cards can be sent per each submission
This promo code is only available for limited time
This promo only is valid for GRADED cards
If you ever wanted to try it, now's a great time to do it.
First, what is the PWCC Vault?
The Vault is housed in Oregon, where PWCC keeps a various amount of sports card items (graded cards, wax, etc). All cards are insured, so that takes a lot of the worry out of it. Once your cards are curated and housed in the Vault, you can list them straight to eBay with a few simple clicks.
Here's an example of the PWCC Vault profile:
The Big 3: Advantages of PWCC Vault
There are many reasons to house cards in the Vault, but let's stick to what I call the Big 3:
No tax. There is no sales tax on purchases from eBay. Why? Because Oregon is one of only five states in the nation that levies no sales or use tax. Since the Vault is headquartered in Tigard, Oregon, you have the benefit of tax-free purchases. How it works:
When you buy a card on eBay, send it directly to your vault account. PWCC will provide the Oregon address to send your cards.
Each card submitted to the Vault is reviewed and appraised by PWCC. The process takes about one week.
Once your card is entered into your account, you can decide what you want to do with it: Hold it or sell it.
Purchases can be shipped directly to you from the Vault without paying sales tax.
Click to sell. The sell feature through the Vault is quick and easy.
You do not have to scan, title, write descriptions, ship, or provide supplies when selling cards.
To sell a card from the Vault, click "LIST NOW"
From there, select one of four options to list your card. See the chart below.
Quick demo: I listed a 2019 Panini Chronicles Pitch Kings Mason Greenwood Rookie PSA 10 from the Vault.

I chose a fixed price listing (I think this is one of the best options).
From here, you can set the price and select if you want to allow offers or auto-decline low offers.
The final step: Accept settings and confirm listing.
That's it. The site provides an estimated fee, based on the asking price.
The only fees you incur with the promo code "SLABSTOX" are selling fees.
Selling fees are assessed as if selling through eBay.
Selling fees are detailed below.
Smart notifications: PWCC's notification system keeps you informed on the status of your card sales every step of the way.
For fixed auctions you'll be notified of offers via email.
Payment notifications are sent, as are cleared payments.
Payments of sales are sent to your PWCC account within a few days of each sale.
Side notes:
Cards purchased from PWCC on eBay can be transferred to the Vault for free.
If you want to ship a card from the Vault to you, there is a 0.25% fulfillment fee.
Insured values of cards do not guarantee or affect final sale values.
Listing fees without the special promo code "SlabStox" are listed below:
How to submit slabs to PWCC
PWCC slab submissions are easy and take only a few steps:
Head onto the PWCC website.
Make a user profile and you'll receive a PWCC Vault address, where you want to send all purchased cards.
Click "Create Vault Submission"
The site will walk you through the simple steps to submit cards.
At the bottom of the submission, be sure to type in promo code "SLABSTOX"
And that's it! PWCC will notify you when your submission is received. They will then take 5 to 10 days to process and curate the submission. Once that is done, you can start selling your cards!