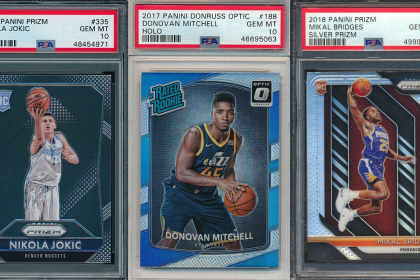 SlabStox navigates Week 2 of the NBA season.
It has been a crazy couple of weeks in the NBA, as the start of the season has really kept everyone guessing about what the true power rankings are. There have been so many blowouts around the league with good teams destroying bad teams, bad teams destroying good teams, and even good teams beating up on other good teams. 
There hasn't been any rhyme or reason to this start, but this lack of clarity is most likely due to a very small sample size. There is a ton we simply don't know and can't be sure of due to a number of extraneous factors. 
As basketball collectors and investors; however, it is important to be able to navigate through this market, even with a small sample size and uncertainty. This uncertainty can sometimes lead to an enormous return on investment, and great opportunities to either buy or sell some of your favorite players after a very good or surprisingly poor start to the season.
The Big Man: Nikola Jokic 
One player putting up very consistent and solid numbers to start off the season, despite being on an unpredictable team, is Denver Nuggets All-Star Center Nikola Jokic. Through six games this season, the big man is averaging a triple-double with 22.3 PPG, 11.2 REB, and a staggering 12.8 AST. In addition, he is currently sporting a 3-point percentage of 43.8%, which should eventually come down to earth. 
What's even more impressive than these numbers are the advanced stats for Jokic. He has an astronomical 70% true shooting percentage, and on top of that, he is also facilitating in incredible fashion with a 55% assist rate. This means while Jokic is on the floor, over half of every teammate made field goal comes from a Jokic assist. That is insane.
Another positive is Jokic's 28.4 NET rating. The NET rating is calculated by subtracting a player's defensive rating from their offensive rating, and a good rating for an entire season is usually in the 10-15 range. This truly shows how valuable he is as a player to the Denver Nuggets since the team is exponentially better with him on the court rather than off. This, on top of the second-best Player Efficiency Rating (PER) in the league, has led to many investors getting excited about his long-term outlook. The 25-year-old came into this season in surprisingly good physical shape and is directing the Nuggets' offense so well that MVP talks are a legitimate possibility.   
There hasn't been a ton of sales for Nikola Jokic's 2015 Panini Prizm PSA RC 10, but over the last two weeks, this card increased 22% and is selling for just over $800 (UPDATE: On 1/7, a PSA 10 sold $1,025 on eBay via best offer). If you are looking for a high-end player with good stability to invest in at a relatively reasonable price, this big man may fit the description, as he seems to be undervalued in this hot basketball card market. 
When comparing Jokic to two other prominent Centers from his rookie class, it is pretty clear he is outperforming both of them. Jokic's Panini Prizm RC PSA 10 is easily lapping Karl-Anthony Towns and Kristaps Porzingis's Prizm RC PSA 10's
Dating back to 2015, it is pretty safe to say not many people would have seen these prices coming. All three are very well-respected big men in the NBA, but Jokic has been a class above both Porzingis and Towns. Trades, injuries, and losing teams have hurt the other two, but the main difference between these three big men is how the offense runs on their respective teams. The entire offense flows through Jokic in Denver, which gives him an edge over the other two in terms of performance and overall investor appeal.
Bottom line: It is not fair to lump Jokic into the conversation of "the market doesn't care about big men." The market realizing Jokic could be in a category all on his own could lead to significant gains in his card prices.  
The Guard: Donovan Mitchell 
Staying out in the West with a player who's struggling to start off the season is Rudy Gobert's lesser paid teammate; Donovan Mitchell. After an incredible Bubble performance featuring his first-ever 50-point playoff game, Mitchell hasn't been able to replicate that success so far this season.
In a very small size, Mitchell has 20.2 PPG, 3.5 REB, and 5.3 AST. While these are not horrible numbers, they are not even close to what he was doing in the NBA Bubble this past summer, which led to his card market increasing dramatically.
What is even more alarming is his advanced stats through 6 games. He is shooting an underwhelming 33.9% from 3-point range and is struggling to shoot the ball with a 48.3% true shooting percentage. 
When analyzing Mitchell's 2017 Panini Donruss Optic Holo RC PSA 10, it spiked to an all-time high sale price of $800 due to his bubble performances and then dipped immediately after that. This dip is nothing out of the ordinary since almost every single NBA card saw the same decline in prices post-NBA Bubble. The steady rise leading up to the season emphasizes the need to not panic sell in the offseason of any sport. A decline in prices is natural since the market follows a cyclical pattern of supply and demand. 
Be sure to remember this chart as we go into the next NBA offseason. Instead of panic selling as the market drops, buy up more cards of your favorite investments. With this method, your cards *should* bring good profit before a single minute of the next season gets played.   
As of now, Donovan Mitchell investors should not be panicking too much. His numbers are at career lows, but his usage percentage is still very high, showing the Jazz are not taking the ball out of his hands and believe in him to be their team leader. Once he shakes off some rust and starts to put up better numbers, the national spotlight will shift back to him again and his card market should be rejuvenated. 
Twitter Drama: Marvin Bagley III
As of late, Kings' big man Marvin Bagley III is in the headlines. Unfortunately, this is not due to any stellar play on the court. To start off the season, he is sporting some very poor numbers and is not getting the job done. While it is promising he has a 26.2% usage rate, he simply isn't doing anything with that attention. He is averaging 11.8 PPG, 8 REB, and 1 AST, while also having a very poor 43.7% true shooting percentage. 
A couple of days ago, Bagley's dad took to Twitter to voice his frustration with the Kings organization. He tweeted, "@SacramentoKings PLEASE trade Marvin Bagley III ASAP!" This is not good for young team dynamics, and led to even more drama when De'Aaron Fox's dad also hopped on Twitter to post, "Trade him." The fathers obviously don't run the front office of the Kings, but this is a frustrating situation that isn't needed for a relatively hot team to start the season. 
If you are a Marvin Bagley III Prizm Silver RC PSA 10 card holder, it may not be a bad idea to sell off some of these cards and pocket the profit. There seems to be plenty of people buying these cards up, so all hope is not lost it seems. 
The "Starting" Five
Here is a check-in by Sam on 5 young players who have been in the league for 1-3 years. These players are still starting their careers off and have either been trending in the right or wrong direction. Remember, this is only after a few games for each player. These trends could certainly change as the season progresses. 
Donte DiVincenzo: Trending Up
After finding his stroke from downtown to start off the season, DiVincenzo's Prizm Silver RC PSA 10 is up about 43% over the past 2 weeks. His shot is much quicker and smoother this season and with very little hesitation. This is almost the complete opposite of what Bucks fans saw last season and is very promising from an investment standpoint.   
Mikal Bridges: Trending Up
Bridges Prizm Silver RC PSA 10's are up 26% over the past few weeks, and understandably so. He has been phenomenal so far to start this season, as he is shooting with great efficiency. Also, he's averaging 14 points and 5.6 rebounds this season, all while playing his prodigious defense on the other end of the court. He is playing with a lot of confidence so far, and he's meshed very well with the arrival of veteran guard Chris Paul. His stock is definitely heading in the right direction.  
Tyrese Haliburton: Trending Up
Haliburton has looked predictably good so far with the Sacramento Kings. He is positioning himself as an early Rookie of the Year candidate by simply doing everything well, and looking comfortable playing alongside De'Aaron Fox. His PER has been great so far, and he's been shooting well from everywhere around the court. He is playing with so much control as a rookie, which is something that is extremely valuable and a rarity from the point guard position.  
De'Andre Hunter: Trending Up
Hunter is seeing the court much more than expected, which is a pleasant surprise so far this season for the Atlanta Hawks. After struggling last year, he has turned it around on the court by increasing his scoring, rebounding, and assists. Playing next to Trae Young last year was a tough transition for him from college, but he has embraced his role this year with the very deep Hawks team. He is finding comfortability in a complementary role, which is huge for his investors to see. 
Facundo Campazzo: Trending Up
The 29-year-old rookie from Argentina on the Nuggets had a great game the other night after not playing much over the first 5 games of the season. His name probably won't get brought up many times over the course of the season, but his performance in the sixth game of the season was noteworthy for a rookie. Against Minnesota, he played 21 minutes and turned that into 15 points, 2 assists, 3 steals, and a block. He obviously won't be taking over Jamal Murray's role on the team, but he could challenge Gary Harris since he has looked pretty bad over the last couple of years. Campazzo has a very high basketball IQ and is very savvy on the court from his professional experience back in Europe. His ceiling is definitely capped being a 29-year-old rookie, but he could become a regular player in the backcourt and a fan favorite. This could lead to some interesting trends in his card market.  
For the full scoop, watch Sam Dunks' full video.
Sign up for The Daily Slab today! Get news, trends, and insights on the sports card industry straight to your inbox, courtesy of SlabStox.