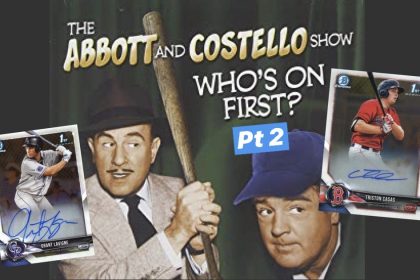 As promised (a few days late but who's counting), here's Pt 2 of my coverage of MLB Pipeline's top 10 first base prospects. If you haven't checked out Pt 1, make sure you do before reading the rest of this post. It'll give you insight into the first base Bowman Chrome market, which will be necessary background to understand my analysis.
Let's dive in.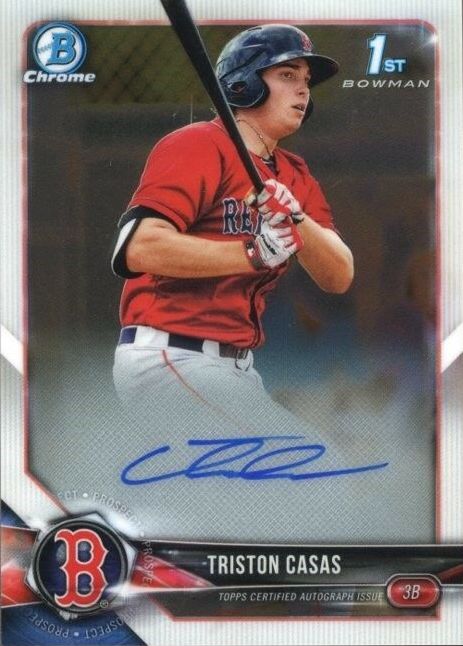 Triston Casas
1B Rank: 6
Top 100: NR
Grades: Hit 50, Power 60, Run 30, Field 55, Arm 60
eBay Price: 44.89 +3.66 shipping
Age: 19
Casas has endless amounts of power. MLB Pipeline gave him a plus-grade at 60, but Fangraphs is even more bullish projecting him to have 80 raw power and 70 game power in the future. The nice thing about Casas is he's not a one trick pony. He projects to have an average to above hit tool and excellent defense at first base to go along with the unbelievable amount of power.
Investment Strategy
Unfortunately, we have no stats to look at when judging Casas for future investment. His tools and Fangraphs praise of him screams future stud, but until I see him in game, I have a hard time investing in him. If his tools play like they're projected and he can stay at third base, his value will go up from $45. If he plays well but has to move to first base like Fangraphs projects, then I would advise to invest in a different player for that $45 price tag.
---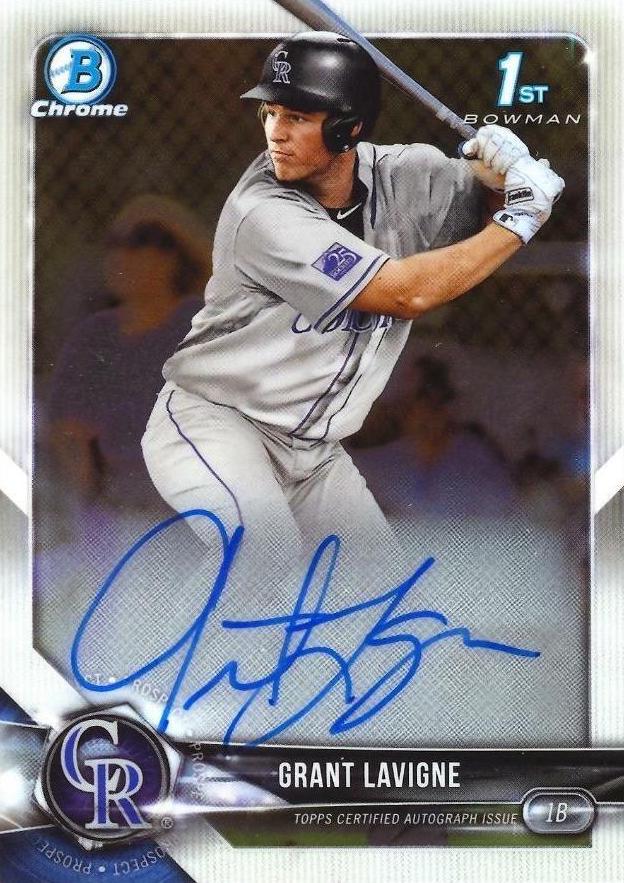 Grant Lavigne
1B Rank: 7
Top 100: NR
Grades: Hit 55, Power 55, Run 30, Field 50, Arm 40
eBay Price: $55 + 3.95 shipping (!!!)
Age: 19
Let me be the first to say Grant Lavigne is a fun prospect. He's got an average to above hit tool with above average power. Fangraphs believes he'll eventually get to plus power. He couples good hit and power tools with an outstanding eye at the plate. As an 18-year-old in his first year of affiliated ball, he walked 17.4% and struck out 15.5% of the time. A young kid from a cold weather state to have that advanced of a feel at the plate is incredible and has me very excited about his future. He also had 21 XBH in 206 ABs which means he's putting his power to good use.
Investment Strategy
18-year-olds that walk 17% of the time and walk more than they strikeout don't grow on trees. Add in the fact that Lavigne has a decent hit tool, solid power, and is expected to be an average defender at first base and you have all the ingredients for the next great 1B prospect. Unfortunately, a lot of people know this and his card prices reflect it. His last base auto sold for $55 on auction. That's only $30 under Anthony Rizzo.
After diving into Lavigne, I like him more than the next guy, but investing $55 into a first base prospect off of his rookie ball stats is bonkers. The likelihood he turns into as good a player as Rizzo is slim. If I were to bet on anybody in this back half to become an All-Star, it would be Lavigne; however, I'd be looking to invest elsewhere unless his prices drop.
---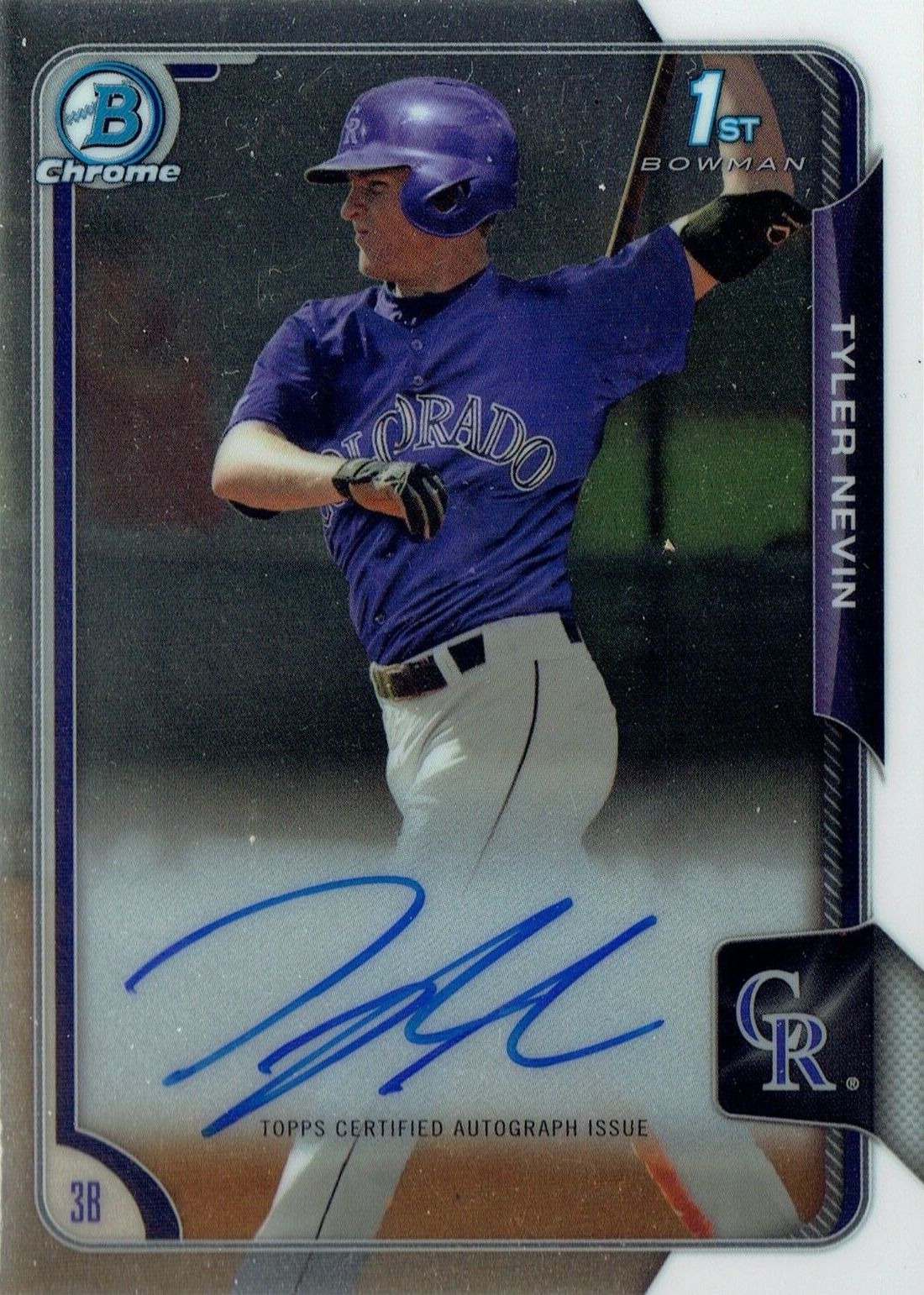 Tyler Nevin
1B Rank: 8
Top 100: NR
Grades: Hit 55, Power 50, Run 40, Field 50, Arm 50
eBay Prices last 3 days: Purple 9/10 $25.09, Base $23, Refractor $25.95
(His Prices are all over the map and therefore hard to judge what his actual value is).
Age: 21
Nevin isn't as exciting to me as the last two prospects. He's a better athlete than Lavigne and Casas and has performed well in A+ ball, but he's two years older than them and comes with less power. Nevin had a decent walk rate this year of 8.2% and a strikeout rate of 18.5%. His overall slash line looked really good this year at .328/.386/.503, but it was elevated by a .383 BABIP.
Investment Strategy
Overall if I'm thinking about Nevin the baseball player, I think he's a fine prospect. He walks a decent amount, doesn't strikeout a ton, makes decent contact, has some power, and can play a decent first base. As an investment opportunity, he's a bit bland. He is a "whole is greater than the sum of his parts" type of player. For $20 a base (I'm making a guesstimate here since there's no rhyme or reason to his prices) and no real dominate tools, I can't see him turning into a top first baseman.
---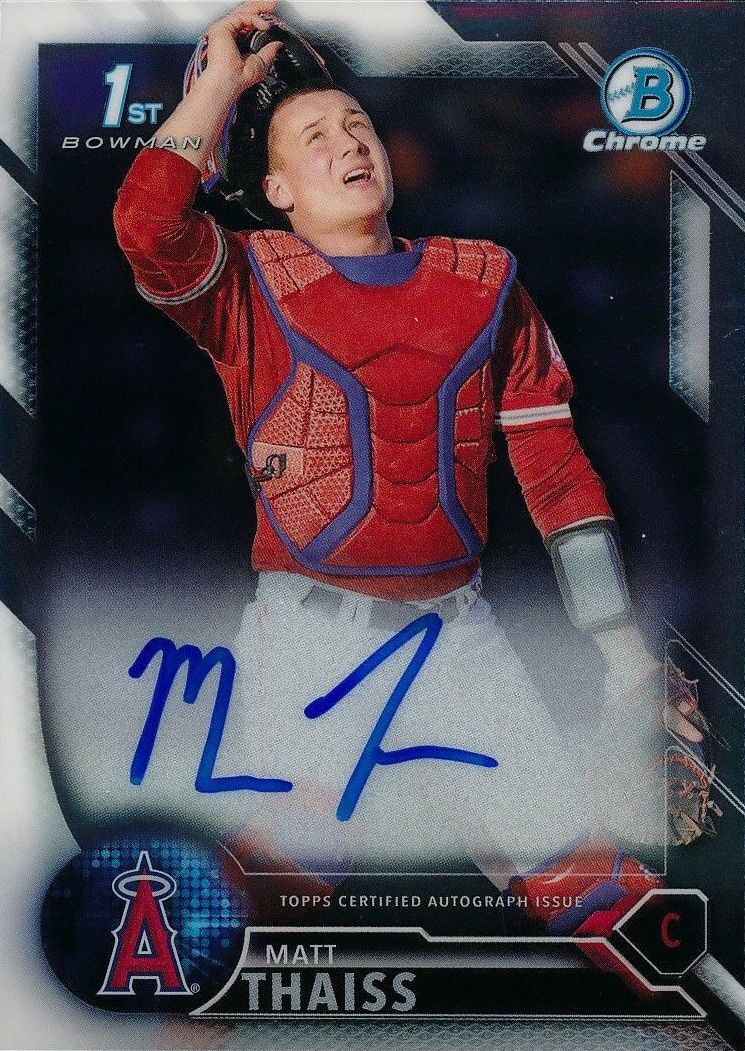 Matt Thaiss
1B Rank: 9
Top 100: NR
Grades: Hit 55, Power 50, Run 30, Field 50, Arm 50
eBay Price: $2.50 + 3.82 shipping
Age: 23
Let's face it, you're probably not here to read about Matt Thaiss, so I'll keep it short and sweet. He had an alright walk rate last year at 7% in AAA. He also had a good strikeout rate at 17%. He hit a fly ball 39.2% of the time last year, which was the highest of his ground ball/line drive/fly ball ratio. He had 58 XBH in 525 AB's, which is pretty good.
Investment Strategy
Thaiss is another perfectly fine, albeit unexciting first base prospect. He doesn't do anything particularly amazing but won't hurt you anywhere either. With an above average hit tool, average power, decent walk and strikeout rates, and average defense, I could see him carving out a decent MLB role. I do worry about his average power combined with his high fly ball rates and the Angels park. He could have an issue getting to his power consistently at the MLB level. At $2.50 a base auto, there isn't much to lose, but based on his skill set and position, there isn't much to gain either.
---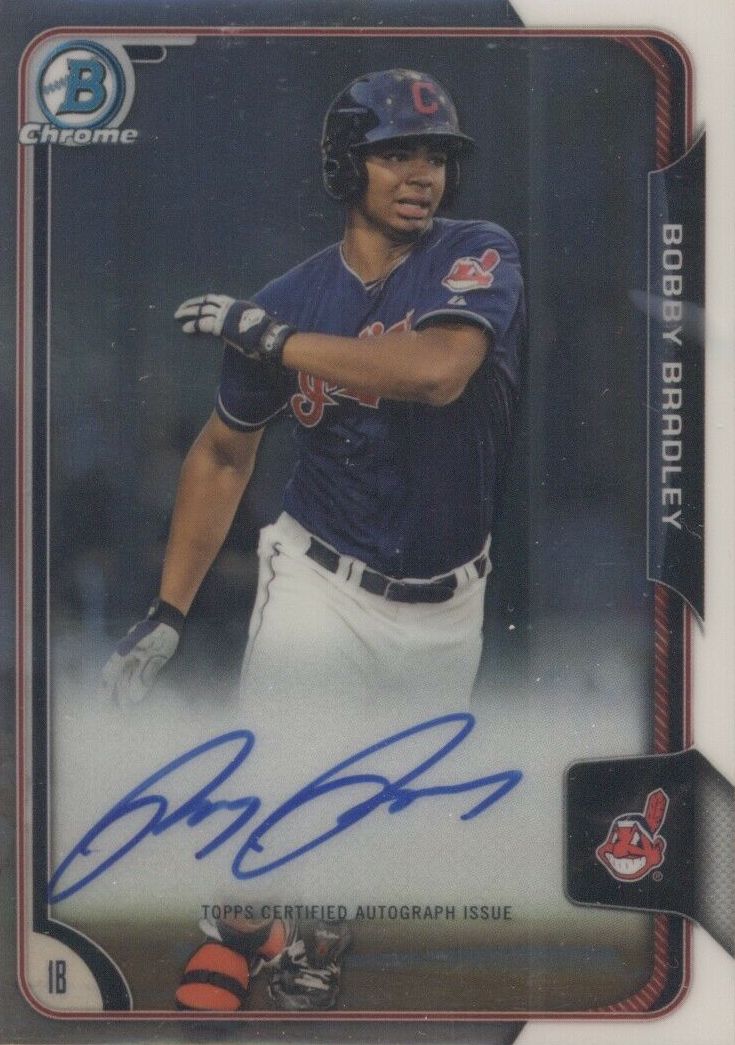 Bobby Bradley
1B Rank: 10
Top 100: NR
Grades: Hit 40, Power 60, Run 20, Field 45, Arm 50
eBay Price: $12.03 + 3.50 shipping (last non-graded base)
Age: 22
Our last first baseman of this two-part segment is Bobby Bradley, a player that will produce three true outcomes. Bradley has a ton of pop having hit in the mid 20's for home runs each of the last four years. With that power comes a decent walk rate: 10.7% in AA and 8.6% in AAA. Unfortunately, he also strikes out a ton: 24.9% in AA and 33.6% in AAA. For what it's worth, he also has bottom-of-the-barrel speed.
Investment Strategy
Ask yourself, "How valuable is a Mark Reynolds auto?" Now ask yourself, "How valuable a Chris Carter auto?" If those guys aren't valued by the current system, I have a hard time believing Bobby Bradley will be. Low average, low on-base, high slugging guys are easy to come by. At $12 a base auto, I have a hard time seeing how his current profile will increase his prices. I'd stay far away. He adds no value via AVG, OBP, on the base paths, or defensively. All his value is tied up in his power, which out of the first base position isn't a very valuable investment.
---
Final Wrap-Up
There are a decent number of good looking first base prospects. My favorites of the 10 players analyzed in Pt 1 and Pt 2 are:
1. Pete Alonso
2. Grant Lavigne
3. Triston Casas
Unfortunately, each prospect is already over valued and doesn't have a ton of room to grow compared to the top of the market.
I hope both Pt 1 and Pt 2 of my "Who's on First?" analysis shows why Aaron and I are hesitant to invest in first basemen. The first basemen I'd want to invest in are already priced high. The ones I wouldn't put money in have major flaws, keeping them from reaching that upper echelon of this position.
Sign up for The Daily Slab email to get the most up-to-date sports card insights straight to your inbox.