Here's a topic one of SlabStox's very loyal followers DM'ed me a week or two ago on Instagram that read:
"With the new 2019-20 Panini Prizm LeBron James in Lakers uniform having a lot of buzz as the 'first Laker Prizm' for LeBron, will this card in any way affect the 2018-19 Optical LeBron James in Lakers uniform, which was anointed as THE card to have of LBJ in a Lakers uniform? Will the Prizm card make prices drop for the Optic card and at some point take over as the "first" Lakers unique card for LeBron? Thanks for your thoughts guys whenever you have a chance."
Here's your chance to hear my thoughts.
Let's start with the optic
You may or may not know that the 2018 Optic LeBron James card is super popular. The Holo from 2018 started soaring in price, which kind of led to an entire Optic Holo craze. Other popular Optic Holos include Luca and Trae. People love them.
LeBron James Optic Holos go for $200 ungraded if well centered. That's the hitch, however. Many of the Holos are centered really poorly. Like so bad, PSA will not grade consider them for a 10. And before you go dropping big bucks without looking, check out the difference in pricing:
The ones that are not centered (PSA 9s or below) go for around $100-$120 on eBay.
The centered ones—those go for an impressive $200.
That's a huge difference! Why?
It's because PSA 10s go for about $775 to $825. There's only 66 PSA 10 out of 176 total graded, That's an amazingly low 37.5%. I'm sure there are only 176 graded because most of them have horrendous centering. People aren't even sending them in to be graded.
I did notice, however, a PSA 9 sold for a surprising $140. So if you have a $100 non-centered card, and you think you could get a PSA 9, make the effort and spend $11 and ship off to @claycards. He'll get you great prices on grading as he sends them in large batches, and you will have a good shot at getting that $140 you wanted.
But what is driving the market are those $800 PSA 10s. With that kind of top-end value, raw cards that are centered are selling for $200!
And yes, there are a ton of LeBron James parallels of this card: orange /99, lime-green /149, red /99, blues /49. There are even unnumbered pink hypers and purple holos. Pick what you want. Look for centering as your first criteria in investing, and trust your gut. If you like the looks of the card, chances are a lot of others will like them too.
Optic Holo PSA 10 – $1,500 OBO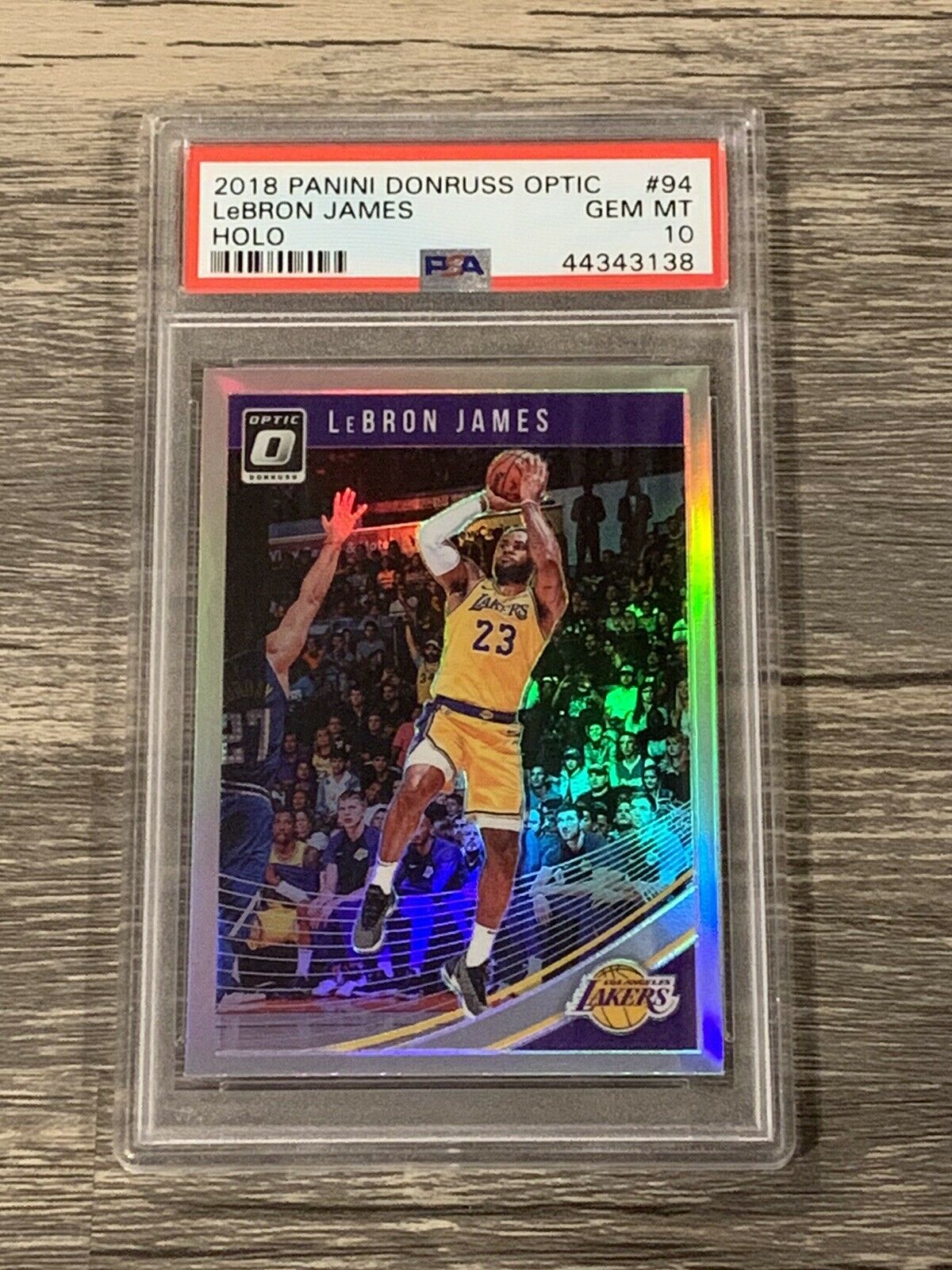 Now, Let's Analyze Prizm Silvers
Don't forget our follower's question: Will the LeBron Prizm L.A. Silver decrease the value of the Optic Holo, or other Optic cards from 2018?
First, remember the 2019 Prizm Silver LeBron James card has two things going for it:
It is LeBron's first Prizm card ever!
It's his first-ever card in a Lakers jersey!
Of course, Prizm has long been the staple brand and is produced at higher levels than Optic, which is why Silvers from this year are only selling for about $85 (centered) compared to the $200 Optic Holos (centered). Non-centered Prizm Silvers are going from $60 to $65, quite a bit less than the Optic Holos.
Like the Holos, Prizm Silvers have some centering issues this year. So buyer beware. Keep an eye on the centering to get the most out of your purchases.
2019 Prizm Silver – $130 OBO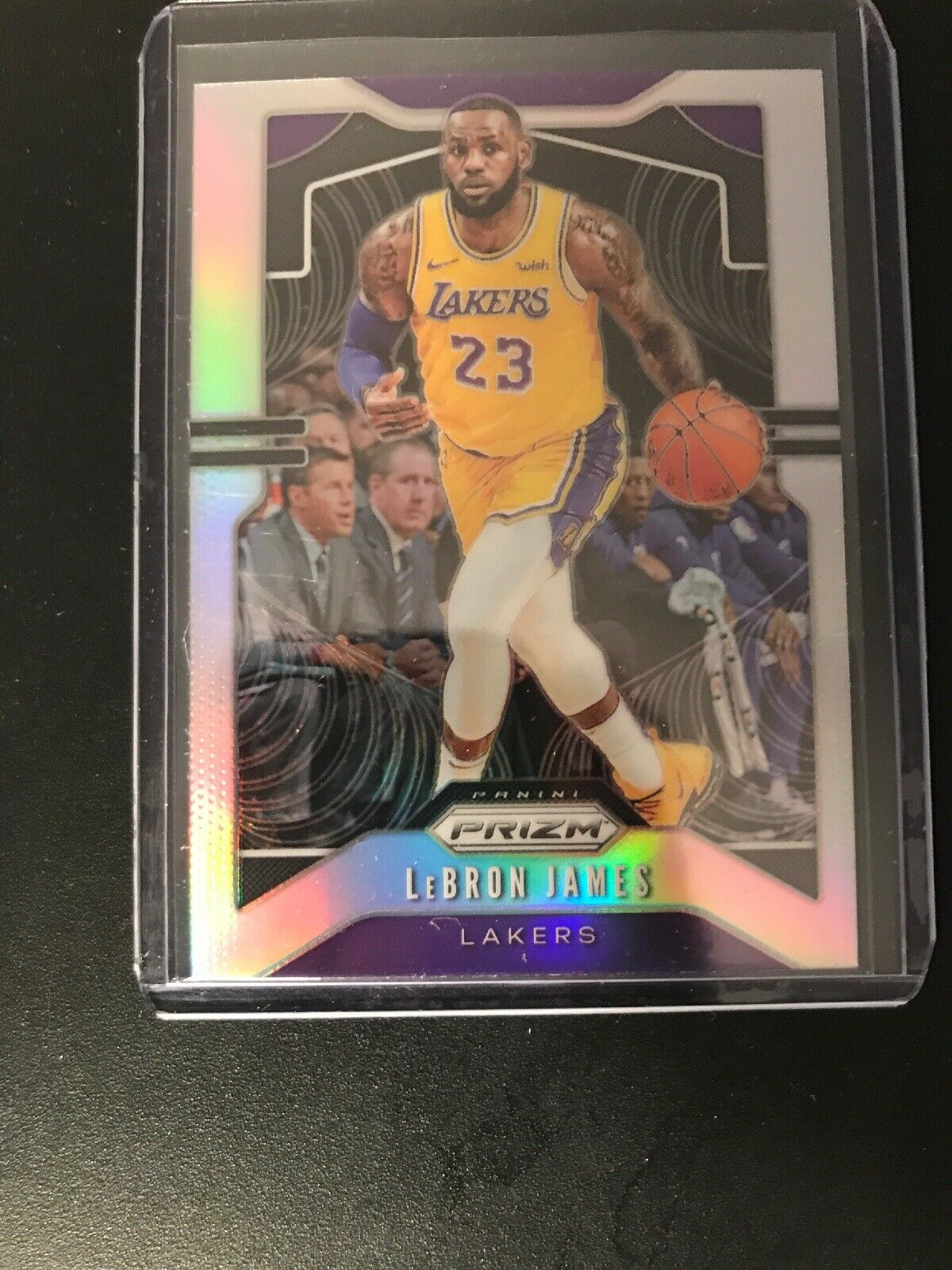 One More Sleeper to Consider
Another card to consider is the Hyper Raw. To me, this is the must-buy Prizm parallel based on scarcity and the PSA Pop Report.
There have only been 40 or 50 Hypers of LeBron that have sold. That's way below the 500+ LeBron Silvers that have sold on eBay. And you can't go wrong with the price.
Hyper raws are selling for $35 with perfect centering. If I were you, I would consider looking at a Hyper LeBron James 2019 parallel as a place to get into the market at a price that won't break the bank.
The Final Take: All these Laker LeBron cards—2018 Optic Holos, 2019 Prizm Silver, and even the Hypers—are great pickups in my mind. I really think that these cards will hold long-term. We'll see. If LeBron gets a championship with L.A., these will all be in high demand. Those that get in on it now will be happy they did.
Sign up for The Daily Slab email to get the most up-to-date sports card insights straight to your inbox.