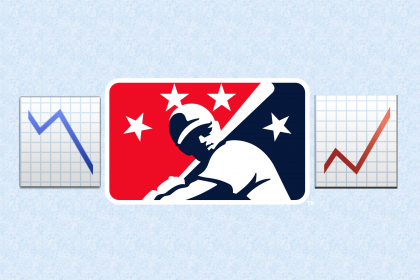 On June 4th, we hit the two month mark of the MiLB season. It's felt like the 2019 season has been going for longer, but I also can't believe it's already summer. At the two month point is where we start to see stabilized movers. Meaning, they *could* be slump proof. Obviously, a slump from anyone will decrease demand and there will be less action with prices, generally leading to a small dip. But, I'm not talking about that. I'm talking about players that go up quickly and then slow down, leading to a correction back to what they were (ahem, Matt Thaiss). At this point, the if they're hot, they're hot.
While it's always interesting to check out who the biggest gainers are, I figured adding in three prospects that have lost substantial value would be an interesting look into the flip side of investing. While these may not be the biggest gainers/losers (could be), these are all prospects on Top 100 lists, so it makes it very intriguing. Let's get right into it.
Three Big Losers (low to high)
3. Luis Garcia – Washington Nationals (2B)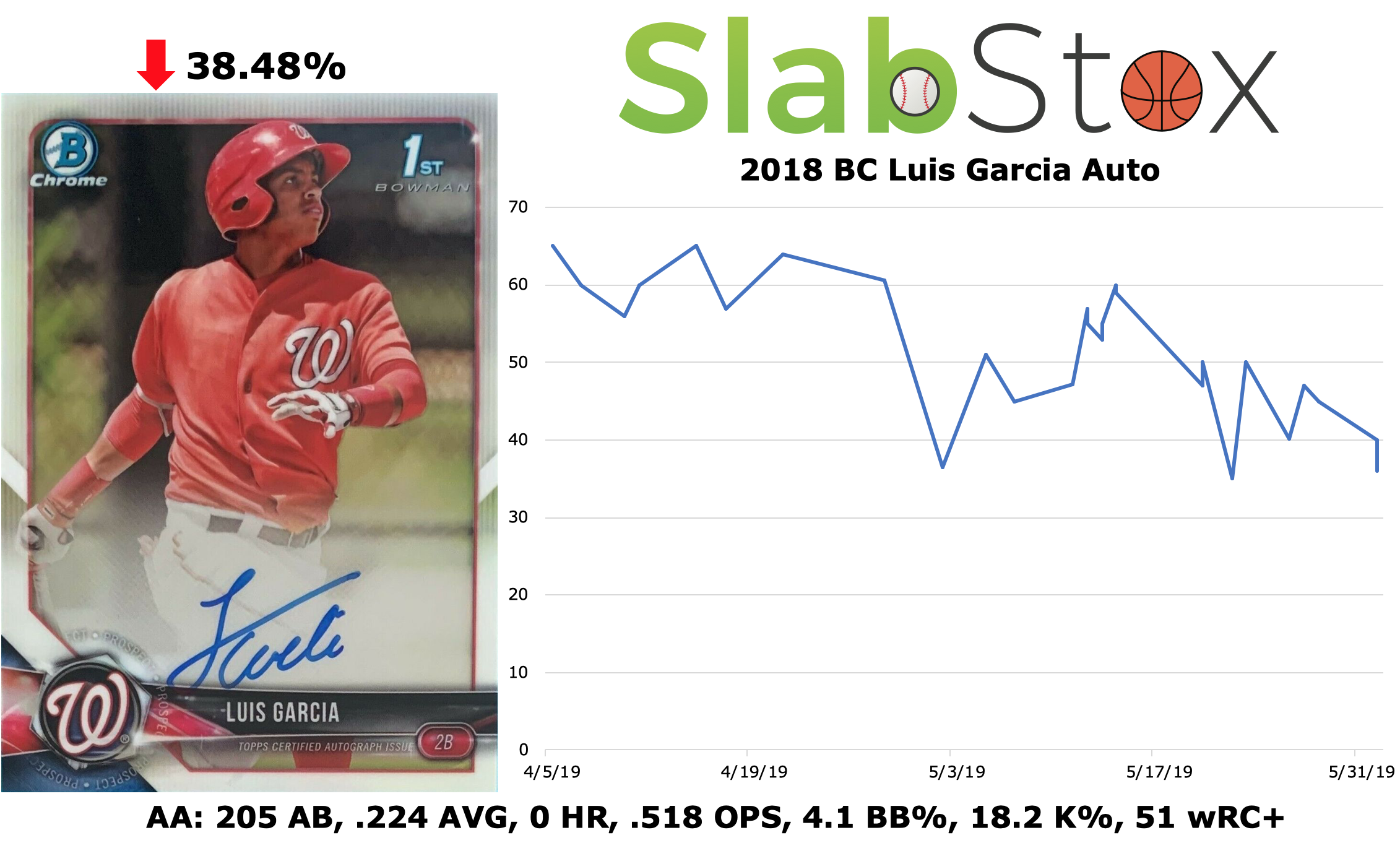 Before the season, Nate wrote a Prospect Profile on Luis Garcia, and it a couple people into a tizzy. Some people were unhappy with what Nate wrote on Garcia, but so far, he's hit the nail right on the head. I give Nate props for writing a risky article on a 20-year-old prospect that many were buying into.
Garcia has struggled badly this season to hit, walk, and produce any power. Yes, he is young for his level. He could turn it around. However, we must keep in mind potential isn't everything; there needs to be production.
Clearly, people are not ready to cut bait on Garcia (not many cards have sold since the start of the season), and I don't blame them in the slightest. Taking a 40% loss on all of your Garcia's would be a tough pill to swallow. For the investors' sake, I hope he starts to turn it around.
End of season Base auto prediction: $30 (25% drop from today)
2. Jazz Chisholm – Arizona Diamondbacks (SS)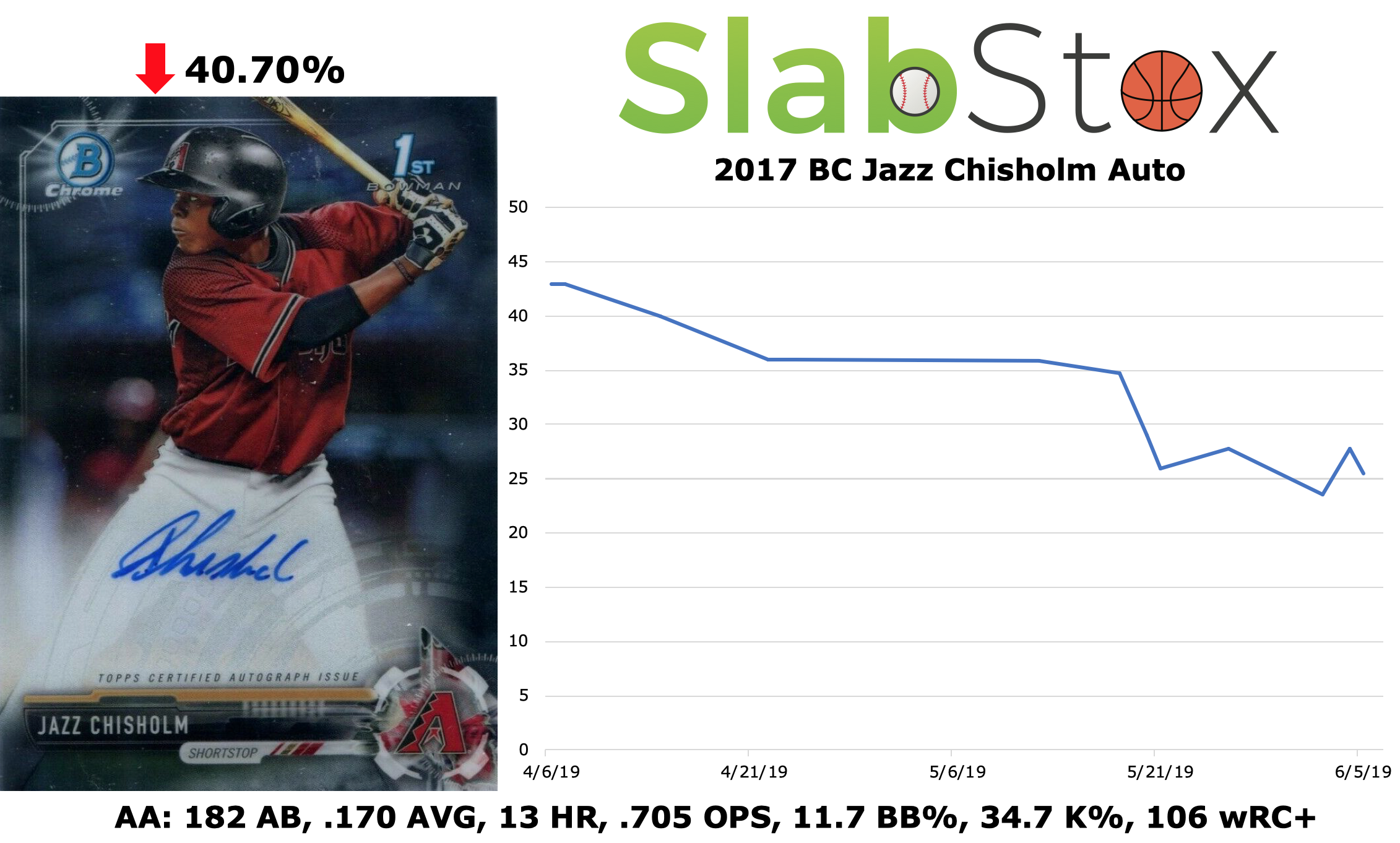 Well, the power is still there at least. His bat has pretty much been non-existent, and he's still striking out a lot. On the plus side, his wRC+ is above average, which is a good thing. I've been answering tons of questions on him since the beginning of the season, and every time my answer is "he's a boom or bust prospect." He could easily keep this production (or lack there of) through the rest of the season, or he could go BOOM and hit .250 when it's all said and done with 35 bombs.
End of season Base auto prediction: $25 (0% movement)
1. Kyle Wright – Atlanta Braves (SP)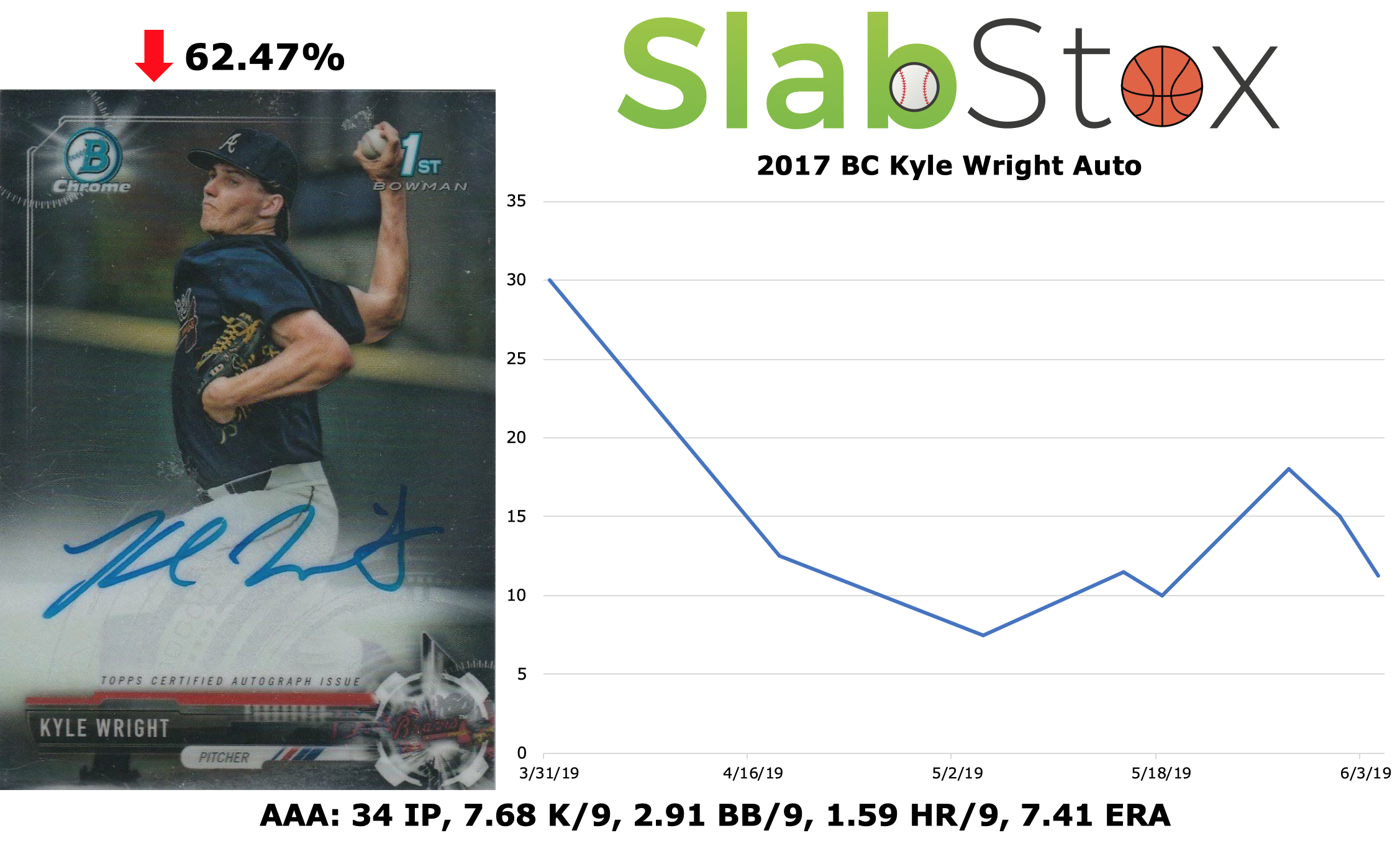 It's been putrid for Wright. He's always been towards the top of prospect lists since he got drafted in 2017, and he made his big league debut late last season. This season he's been bad, really bad. He's going to have to figure it out quickly, otherwise, he's going to be forgotten about in a hurry with that loaded Braves system.
End of season Base auto prediction: $7 (36.36% drop)
Three Big Gainers (low to high)
3. Jarred Kelenic – Seattle Mariner (OF)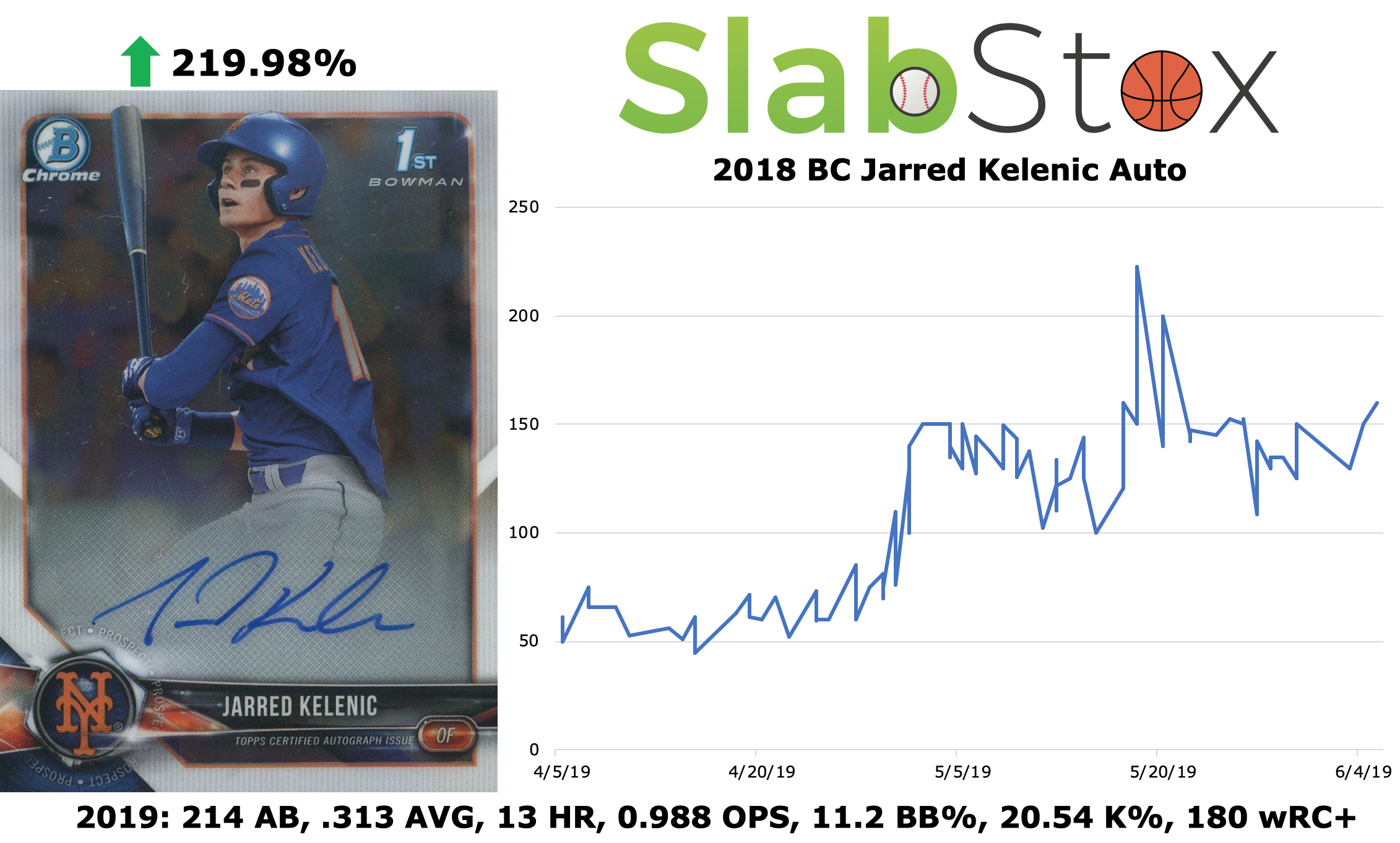 Kelenic has been absolutely amazing this year at 19-years-old. He's been hitting, walking, and showing great power, while not striking out too much. Everything you'd want to see in a young prospect, albeit any prospect! Honestly, I'm surprised he hasn't stayed above $200. he's still killing it in High-A since his promotion. I could easily see Kelenic becoming a top 25 prospect by mid-season.
End of season Base auto prediction: $250 (56.25% gain)
2. Casey Mize – Detroit Tigers (SP)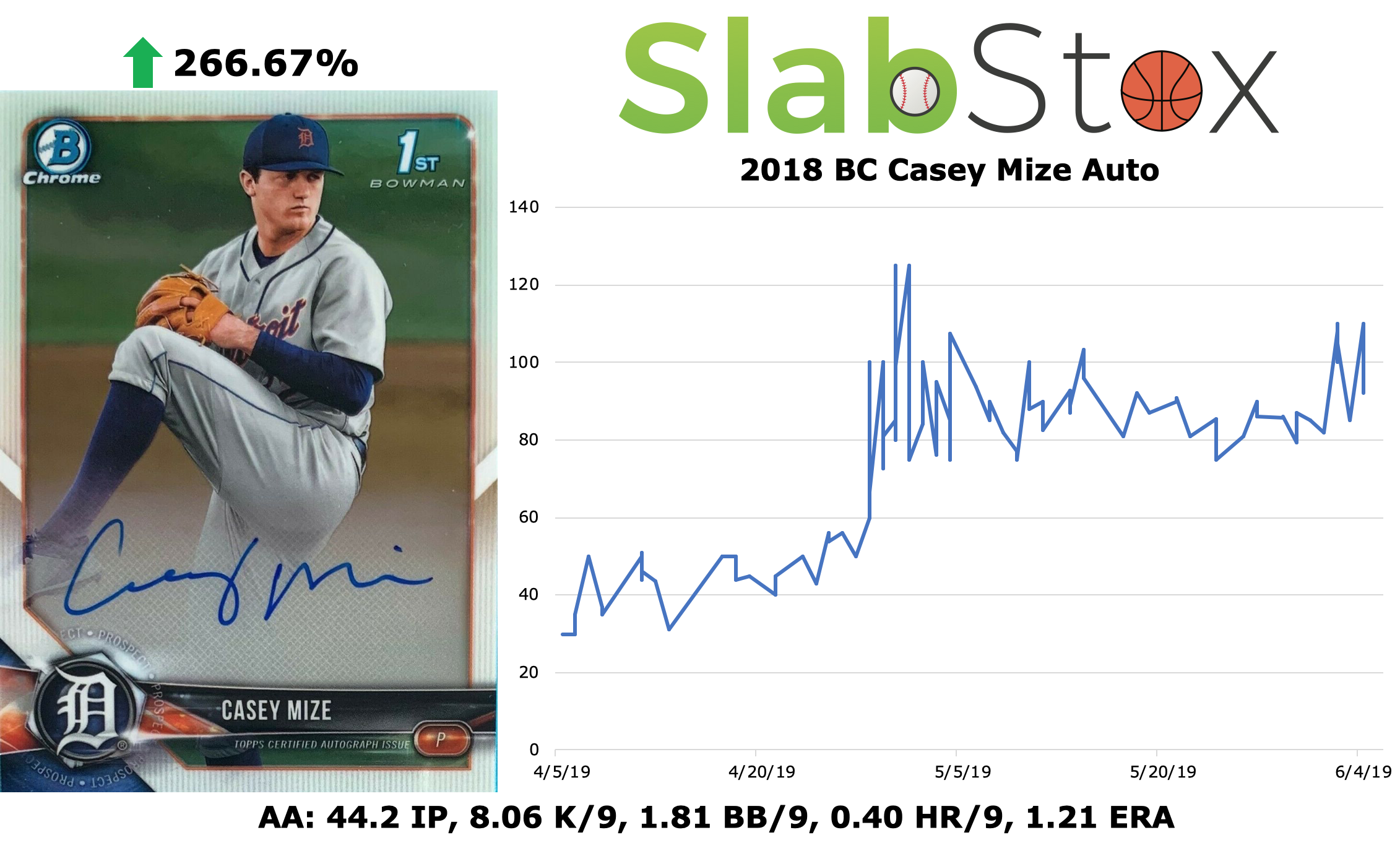 Is he the best pitching prospect in baseball? The debate is on between Casey Mize, MacKenzie Gore, and Brendan McKay, especially since Whitley has been awful this year, and Luzardo is still hurt. His walk rate, home run rate, and ERA are incredible this year. He isn't striking out batters like Gore is, but you'd be hard-pressed to find someone more consistent than Casey Mize (McKay says hi). He threw a no-hitter this year, too (can you guess when that happened by looking at the graph?).
End of season Base auto prediction: $90 (0% movement)
1. Yordan Alvarez – Houston Astros (1B/OF/DH)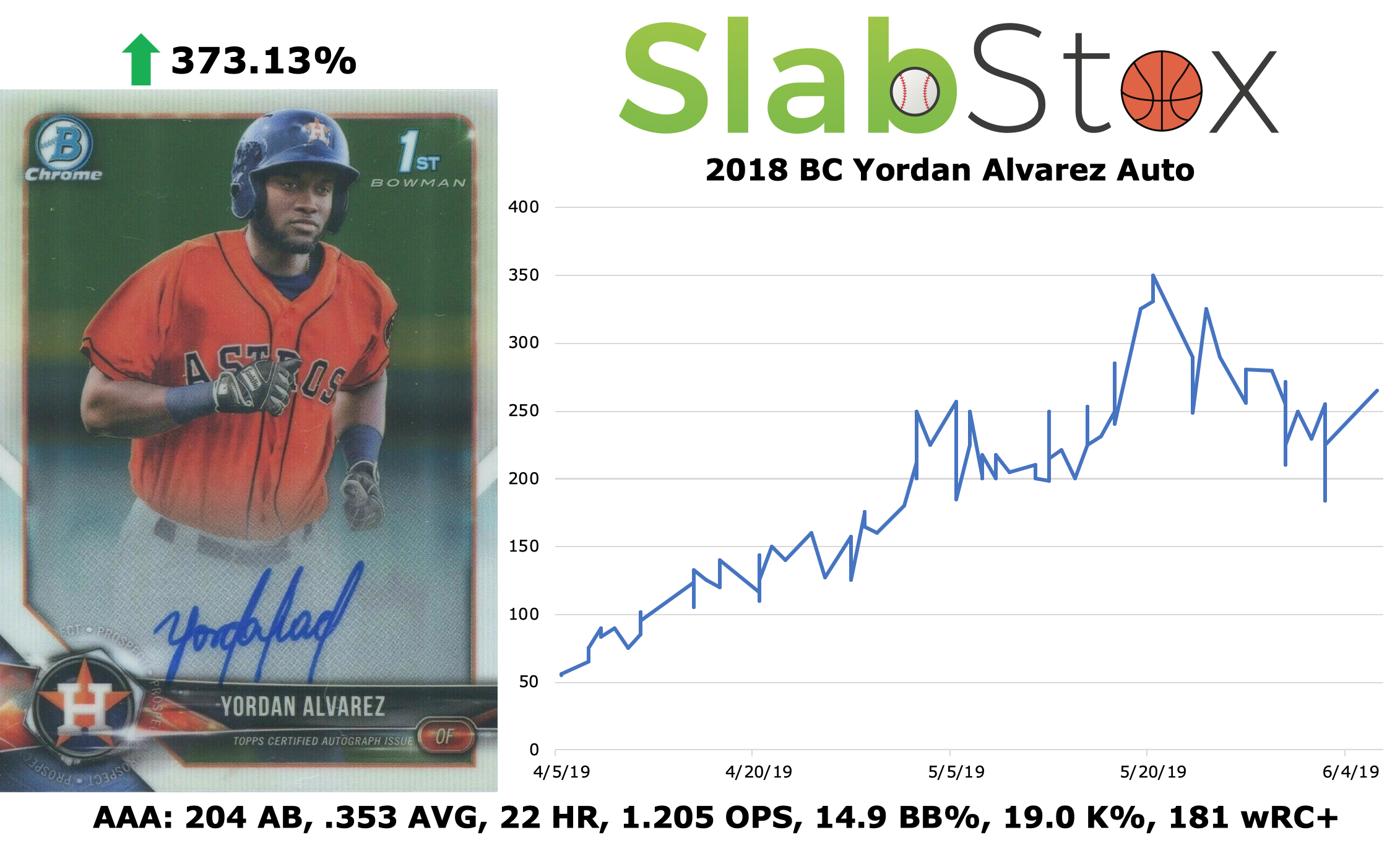 Really, what else is there to say? The dude has been incredible thus far in all facets of offensive production. He's easily been the biggest headline of this season, as it seems every 10 at-bats he's hitting a home run (oh wait, that's because he is). The question is not can he hit for average anymore, but now it is when will he get called up. Even if the Astros don't need him, you'd think he's beginning to force their hand to call him up soon. It's tough to let this type of production sit in AAA. Honestly, even more crazy than his stats are the adjustments he's made at the age of 22. Sometimes adjustments like this take 5+ years or just never happen.
End of season Base auto prediction: Impossible prediction. He can either be called up, kill it, and they soar. Called up, do average, and they drop. Or they could keep him in the Minors all season and they hover around $300.
Well, do you own losers or gainers?
Sign up for The Daily Slab email to get the most up-to-date sports card insights straight to your inbox.