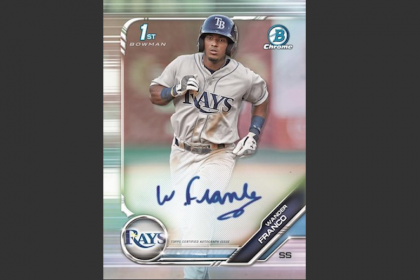 April 17, 2019: The release day for 2019 Bowman Baseball. In other words, the day Wander Franco 1st Bowman Chrome autographs are mass released to the public.
In recent memory, SlabStox can't think of a prospect as hyped as Franco without a Bowman autograph. Wander Franco, at 17 years old, finds himself in the top 5 of both Baseball America (4) and Fangraphs' (2) top 100 lists, and at 13 in MLB Pipeline's list (far too low, in my opinion).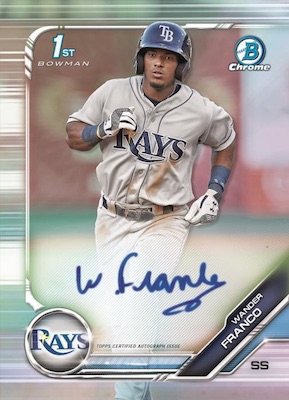 I am sure there will be people out there saying he is ranked too high for only playing in Rookie ball, but in reality, we haven't seen a prospect put up these types of numbers at that level, even Vlad Jr.
So far, Franco has played in 61 games, with 273 plate appearances. In that time, he slashed .351/.418/.587 to go along with 11 home runs, 10 doubles, and 7 triples. That is incredible for a shortstop at the age of 17, let alone anyone.
Vlad Jr. played 62 games in Rookie ball at 17 and slashed .271/.359/.449 with 8 home runs, 12 doubles, and 3 triples. While those are respectable numbers, they do not even come close to Franco's.
Not only does Franco know how to barrel up the ball (7% K-rate), he posted a 9.9% BB rate. Fangraphs gives Franco a 65 FV, which is just behind Vlad Jr. and right in line with Fernando Tatis Jr. and Royce Lewis. The combination of a 65 future raw power and a 65 future hit grade is a tandem that will give pitchers nightmares for years to come (catchers too, with a 60 speed grade).
Let's say you don't want to wait until April to grab one of Franco's autos. Your option currently lies with 2018 Elite Extra Edition, a non-licensed Panini Baseball product. Currently, his EEE base autos are grabbing over $80.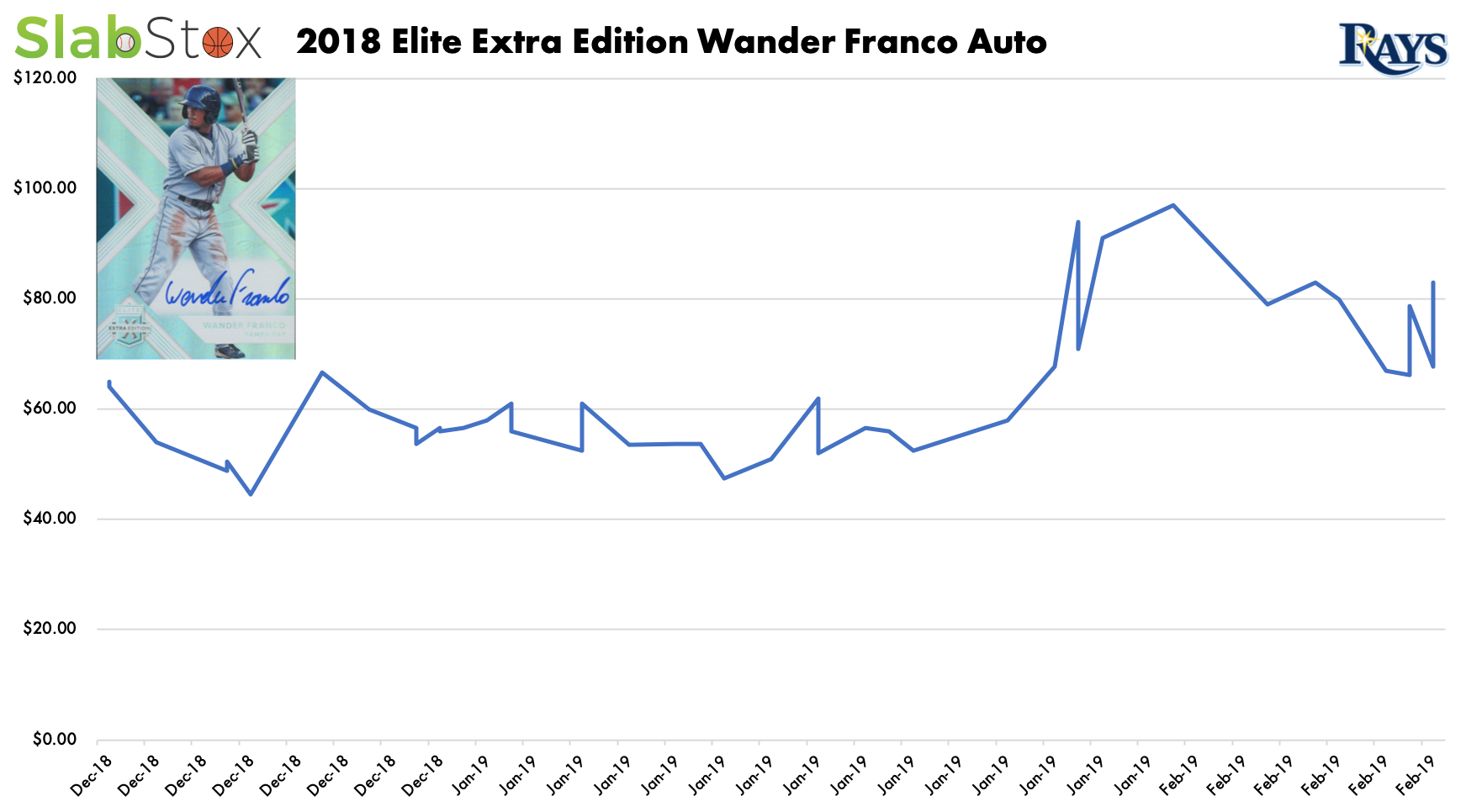 However, it would be smart to save that money and invest it into his 2019 Bowman Chrome auto when it comes out. Estevan Florial, one of the more hyped Yankees prospects, had an EEE auto as well before his 1st Bowman Chrome auto released in 2018 Bowman Chrome (September 2018).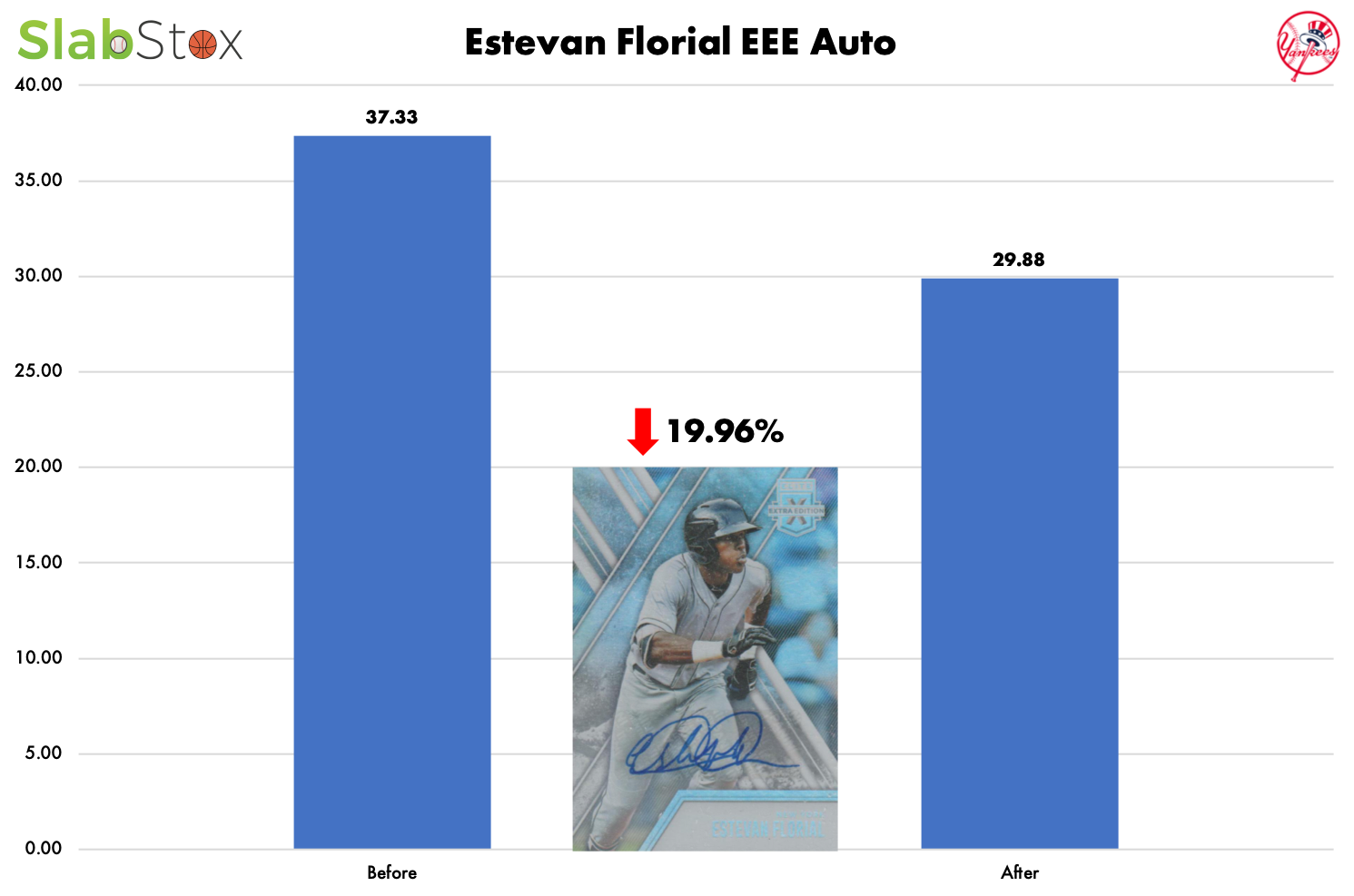 Before 2018 BC was released, his EEE auto was selling for around $37. After, it dropped under $30. While the price drop may be correlated with the offseason coming and Florial not being in MLB Pipeline's top 100, I think there is still something to be said for non-licensed autos dropping when a player receives a 1st Bowman Chrome auto.
Currently, Florial's EEE auto is worth around 25.89% of his 1st Bowman Chrome auto. If that logic is applied to Wander Franco's auto (accounting for a 20% drop in EEE auto, as well), it would be Franco's 1st Bowman Chrome auto at $256.47.
However, that logic cannot be applied here. Franco is a 17-year-old hyped shortstop, so all logic goes out the window. As we see with Nolan Gorman, hype sells (unwarranted hype).
What is different about Franco is he deserves the hype. His hit, power, and speed combo is an extremely well-rounded prospect. Let's not forget about his 60 throw grade, as well.
If I were to guess where a 1st Bowman Chrome Franco auto will start out of the gate, I'd put it around $400. After the first two weeks of rushing to grab one (even then, there still will be a lot of buyers), I'd imagine they will settle in around $300-$350.
At the point his autos are released, he could have already started playing if the Rays push for him to play in full-season ball. His performance could directly impact the price of his autos.
I am sure many of you have already said, "yep, I'm buying a Franco," or, "nope, too rich for my blood." At what point does it become too much for those wanting to go in on Franco?
Sign up for The Daily Slab email to get the most up-to-date sports card insights straight to your inbox.