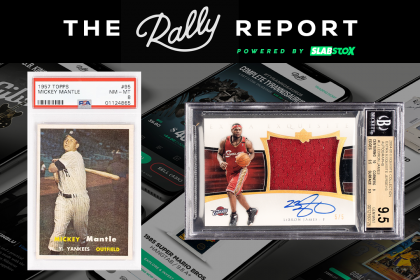 This message is sponsored by Rally. RSE Archive, LLC may be referred to individually as a Rally Entity. Rally is not a broker-dealer and securities are offered to investors via registered broker-dealers and members of FINRA & SIPC. Any private security investments contain a high degree of risk and we urge you to review full details and disclaimer at rallyrd.com/disclaimer.
Another week, another SlabStox Rally Report, sponsored by Rally! Rally is a platform that allows users to buy and sell "shares" of hundreds of collectible assets, including the highest graded Pelé Alifabolaget rookie card in existence, one of only five PSA 9's in existence. In last week's report, we covered Rally's Kobe Bryant '03 Exquisite Patch Auto /100 and the Honus Waghner T206 SGC Authentic cards. However, the big increase of the week was the Mike Tyson Punch Out!! WATA 9.4 A+, increasing 158%, and now it sits at $12.90 cents a share. If you missed last week's video, be sure to check it out to hear how Rally works!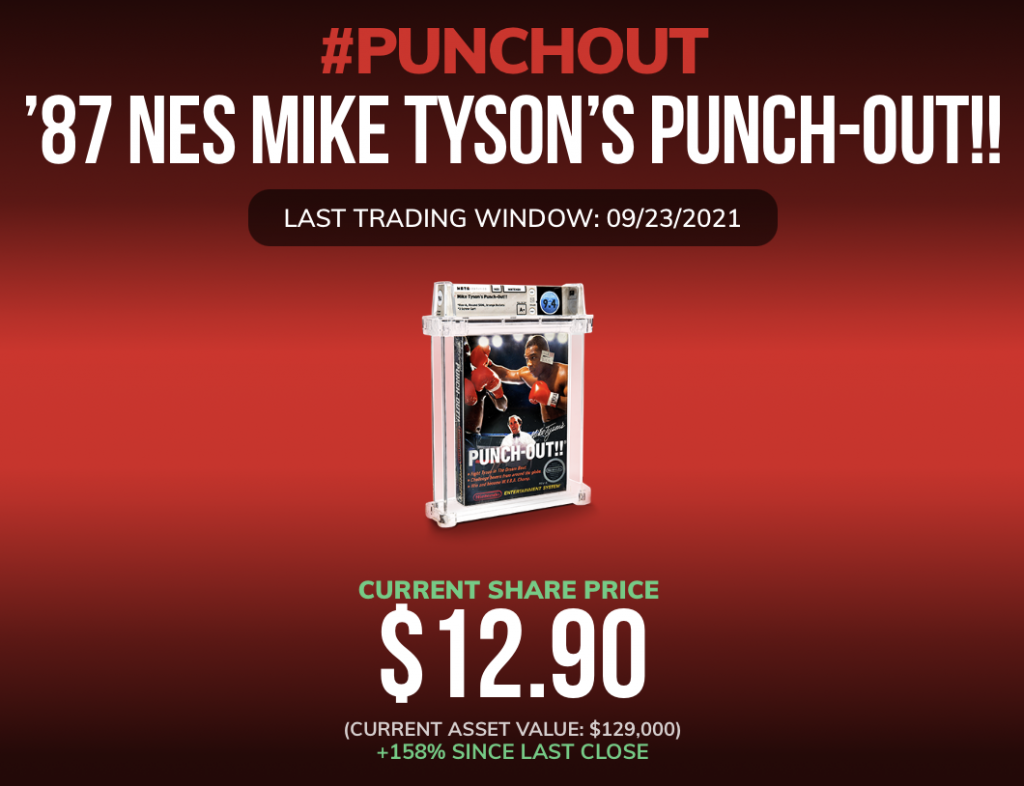 LeBron James 2004 Exquisite Extra Jumbo Jersey Autograph /5 BGS 9.5
When thinking about the perfect combinations in life, I have some personal favorites. Peanut butter and banana, ice and coffee, brownies and ice cream to name. When it comes to perfect card combinations, it'd be hard to find something more perfect than LeBron and Exquisite. Now, I can actually have my personal favorite combinations because they're affordable; however, so is a LeBron James Exquisite thanks to Rally – coming up Wednesday, September 29 the 2004 Exquisite Extra Jersey Autograph /5 graded a BGS 9.5 (with none higher) is entering its trading window.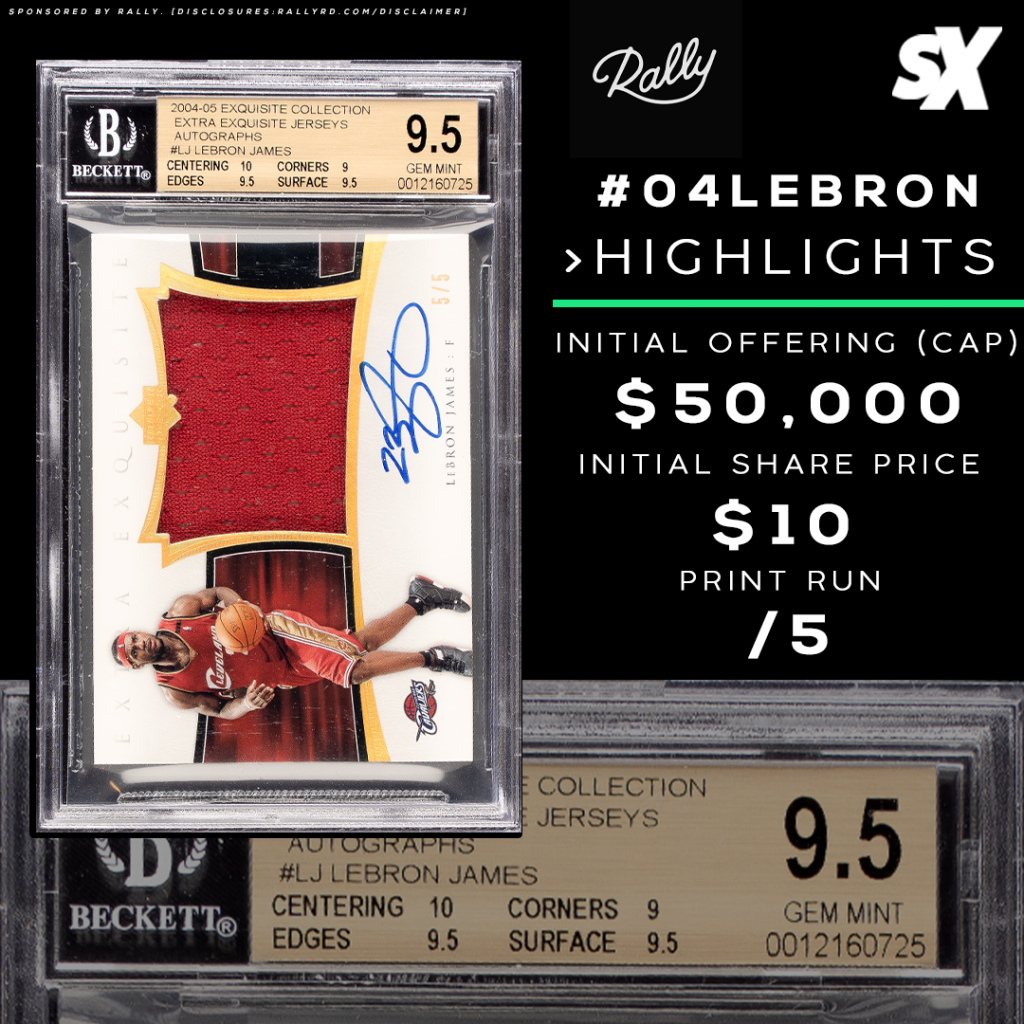 Currently, this card is sitting at a price per share of $15, and it was first offered on October 29, 2020 for $10 per share, a total market cap of $50,000. Since being added to the platform, the card has gone from $10 to $15 dollars a share, a 50% gain.
This LeBron James card was released in his second season, which also happened to be the second year of Exquisite basketball. It is one of the most important sets of all-time, as it set the stage for what we know as the National Treasures Patch Autographs, some of the most important cards in the marketplace today. When people normally think about Exquisite Basketball, they think about the Rookie Patch Autos /99 or the Limited Logos /75, but this particular copy from the Exquisite Extra sub-set is numbered to only five and features a bold, blue auto. Early 2000's cards can be subject to autograph fading, so getting a bold autograph is key. There are only three total BGS 9.5's in the population report, and this particular copy features a pristine 10 centering grade. Be on the lookout for the card on Rally this Wednesday.
Mickey Mantle 1957 Topps PSA 8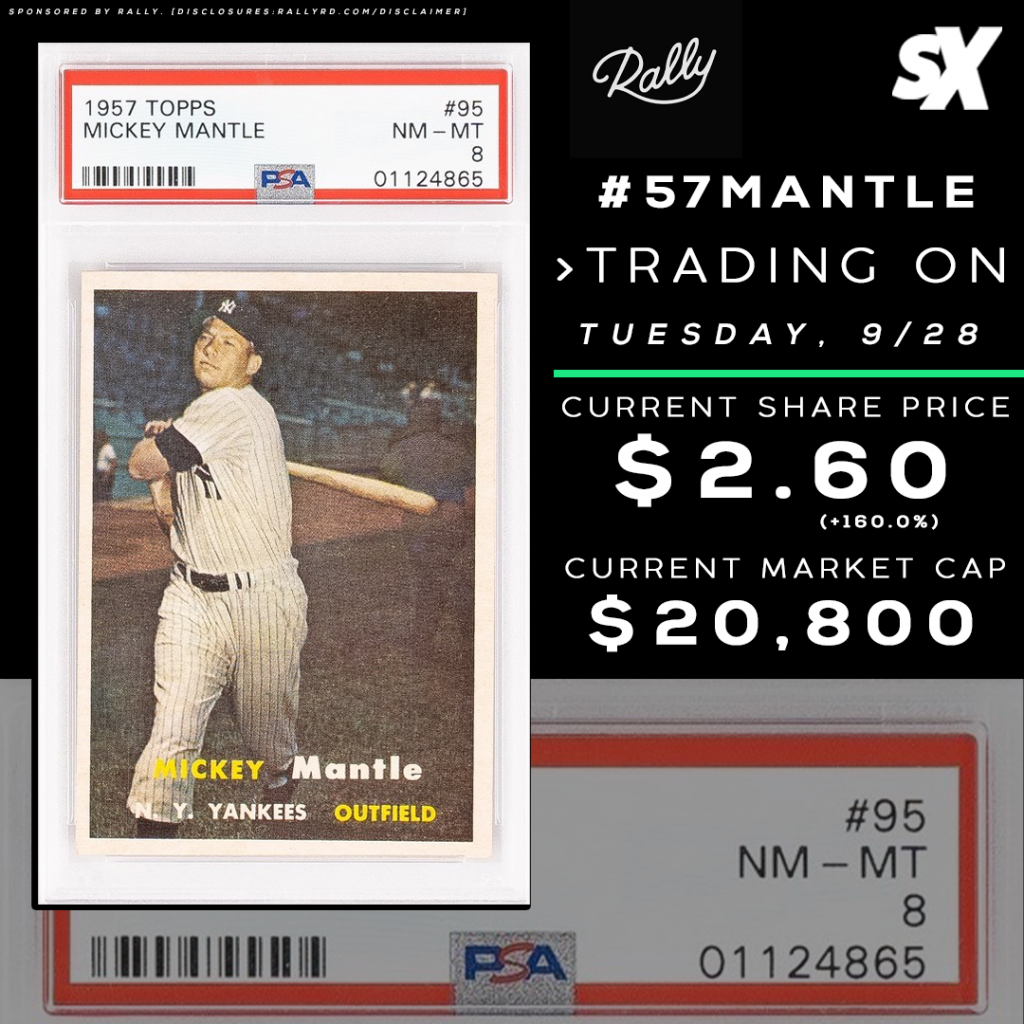 If you take a good long look at this 1957 Topps Mickey Mantle, you might start believing in ghosts and there's a good reason for that. There is an airbrushed figure just to the right of Mantle's bat. This caused a bit of a stir in 1957, with some people deciding it was just a utility worker or photographer that got in the shot, while other people thought that it might just be Babe Ruth's Ghost making an appearance. While we know it's not a ghost, the mystery around this has caused this nineteen fifty seven Mantle to be nicknamed "The Ghost Mantle" and it has become one of Mantle's most historic cards.
Because of the aura around this card, acquiring a high graded card can become pricey. In fact, this PSA 8 is in the top 6.6% of all 1957 Topps Mantles graded by PSA. Sidenote, if you're interested, this isn't the only Mantle on Rally. They also have the famed 1952, 1956 and 1961 Topps Mantles as well as a 1951 Bowman.
This Mantle had an initial offering on September 6, 2020 at a price of $1 a share, 8,000 shares available and an $8,000 market cap. Since the IO, the card has been repriced three times. On December 29, 2020, share prices rose to $1.20 a share, a 20% increase from the IO. On March 11, 2021 it increased to $2.55 a share. The final change was on June 20, 2021 and saw share prices rise five cents a share up to $2.60, where it currently sits 160% above its initial offering price.
The card will be on Rally this week and we'll be curious to see where this historic "Ghost Mantle" can go from here.
Jordan 7 1992 Game Used Sneakers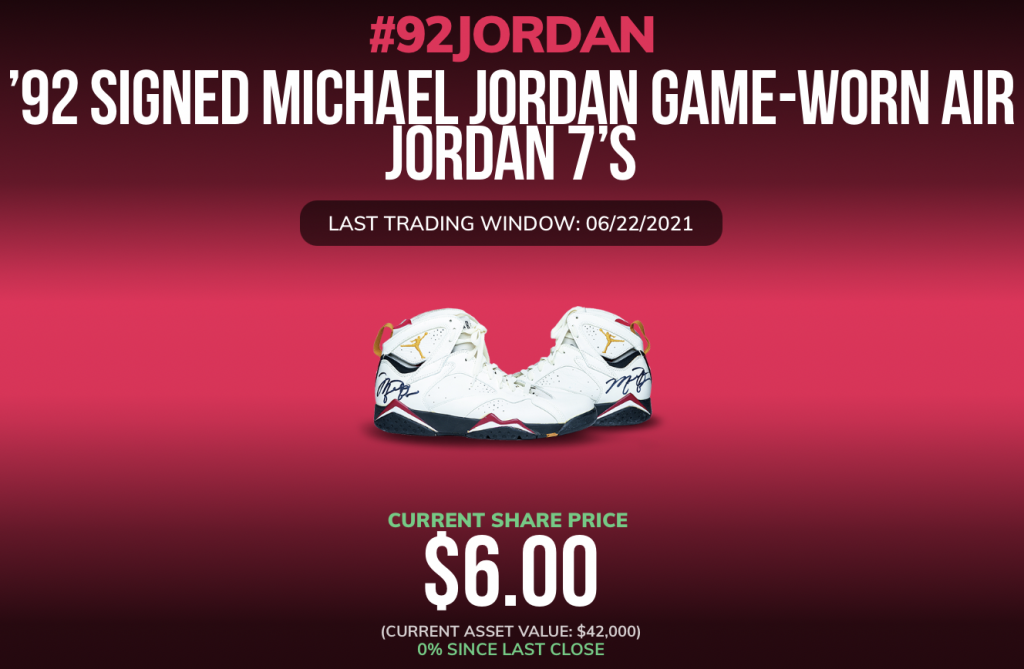 There's also plenty of memorabilia available on Rally. This week, a pair of game-used AND autographed 1992 Jordan 7's are trading on Friday, October 1. Currently, this pair of Jordan 7's is sitting at $6 per share, and a current market cap of $42,000. Since these shoes were initially offered on February 23, the price per share did not change.
The 1992 season is extremely important to Michael Jordan's career, as he wore the Jordan 7's on his way to his second consecutive NBA championship and Finals MVP. Not to mention, he grabbed the gold medal with the Dream Team in the Barcelona Olympics. This particular colorway features a red, white, and blue sole with hints of gold throughout the shoe, including the jumpman logo – a perfect colorway to commemorate the Dream Team and 92 Olympics. The interesting thing about the Jordan 7's is that when they were released, it was the first Air Jordan show to exclude all Nike branding on the exterior. It was the shoe that sent the Air Jordan brand into a class of its own.
On top of all that, the story of Rally's pair all comes down to an act of kindness. The shoes were given to a ball boy named Rick Lindstrom by MJ after Lindstrom overheard MJ tell his rep that he needed additional tickets to the game for personal guests, so Lindstrom offered Jordan his father's tickets. MJ asked Lindstrom what he could do for him, and Lindstrom requested his shoes from the game. After dropping 39 points, Jordan signed both shoes and gifted them to Lindstrom.
Conclusion
Thank you everyone for tuning into the second SlabStox Rally Report, sponsored by Rally. We're excited to track these assets throughout next week, but a couple other assets going live for trading are the Pokémon Red nineteen ninety eight Gameboy WATA nine point two A++ and the 2003 Michael Jordan Exquisite quad patch BGS 8.5 numbered to 3. We hope you all have a great week!