SlabStox, the market leading analytics sports card platform, is hosting an in-person/virtual charity event at The National Sports Collectors Convention on July 30 from 6pm to 9pm central time.
100% of proceeds will be donated to Camp Kesem 
Auction features a rare two-time NBA MVP Giannis Antetokounmpo 2013 Prizm Green Rookie Card PSA 10 Gem Mint valued at almost $15,000 and a Lionel Messi 2004 Panini Mega Cracks Rookie Card PSA 10 Gem Mint valued at more than $10,000.
Sponsors include industry leaders Panini, Topps, SLAM Magazine, PWCC, StockX, Loupe and many others.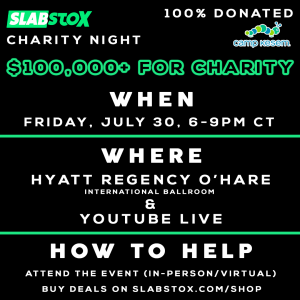 On July 30th, SlabStox will host what organizers are hoping will be the largest sports card charity event ever.  The event will take place during the world's largest sports and entertainment collectible show, the National Sports Collectors Convention held in Chicago.
100% of the proceeds from the event will be donated to Camp Kesem, a nationwide community, driven by passionate college student leaders, that supports children through and beyond their parent's cancer. Camp Kesem offers innovative, fun-­filled programs that aim to ensure that every child impacted by a parent's cancer is never alone.
As of July 16, there have been over $100,000 in sports card product donations made, including a rare Giannis Antetokounmpo 2013 Prizm Green Rookie Card valued at almost $15,000.
All of the donations will be sold via product pages on slabstox.com/shop. Kesem Redemptions start at just $20, and everyone is guaranteed to win an item. The key auction items will be auctioned through PWCC via eBay and will close throughout the event with the ambition of raising as much money for Camp Kesem as possible.
Support has been overwhelming with key sponsors including many leaders of the sports card industry including Panini and Topps (the two biggest card manufacturers), StockX, PWCC, Loupe and many more. Items that have been donated include the rare Giannis Antetokounmpo Rookie Card, the Gem Mint 2004 Lionel Messi Rookie Card, boxes of sealed cards across all sports and graded single cards of iconic athletes.
Lizzie "Crocs" Geiger from Camp Kesem: "Kesem provides a community full of love, light, and magic to all of our campers and counselors, and everyone else who has the opportunity to be touched by this organization. We have been operating virtually over the last year and a half, and this donation will offer us HUGE support in bringing everyone together for the first time in-person for our upcoming fall weekend camps."
"I was involved in the Camp Kesem when I was in college as a counselor, and it's a passion of mine to help make a difference through sports cards and SlabStox. Giving back is always the most important part," said Aaron Nowak, SlabStox Founder & CEO. "People can help by sharing the link slabstox.com/shop, buying a spot and joining us on the night either in person or the live-steam on YouTube."
Tracy Hackler, Hobby Marketing Manager at Panini America: "We genuinely appreciate the mission of Aaron and SlabStox to help, if only for a bit, make lives a little more enjoyable for kids who are going through, or who have recently gone through, a rough time. So much is made in the sports card industry about exorbitant prices being paid for certain cards, but collecting trading cards is about so much more than that. It's about community and the greater good that can come from just a few boxes of trading cards. We're honored to work with Aaron and the SlabStox team to benefit a great cause like Camp Kesem."
For people who may not be interested in buying into sports cards but may still want to donate and support Camp Kesem, they can do so through our SlabStox Camp Kesem page.
THANK YOU SO MUCH TO OUR SPONSORS FOR MAKING THIS NIGHT HAPPEN!
PRESENTING SPONSORS:
GOLD SPONSORS: