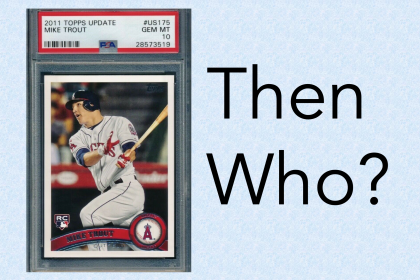 SlabStox is back covering the MVP landscape, but this time we'll be looking at the AL race. Like we did with the NL, we'll be taking a closer look at the top three candidates along with their rookie/auto cards.
When it comes to the AL MVP race you will look no further than the best player in baseball: Mike Trout. Alex Bregman will probably place second, but after that, things get really murky. Based on fWAR, Bogaerts should be third, but the Red Sox probably won't make the playoffs. Marcus Semien should be fourth, but he isn't the typical name you'd see in a top three. On the pitching side, the top fWAR pitcher is Lance Lynn (which makes no sense to me), and the Rangers probably won't make the playoffs. My best guess is that third place goes to Gerrit Cole, Justin Verlander, or Charlie Morton. For this article, we'll cover Gerrit Cole. I'd like to cover Charlie Morton, as I think he's the most interesting, but his cards aren't a hot commodity, so he'd be pointless to include in this article.
Mike Trout – Los Angeles Angels
What else is there to say about Mike Trout that you don't know? We'll try to find some things.
For starters, he leads the AL in HR, RBI, OBP, SLG, OPS, OPS+, and IBB. Besides leading his league in a ton of stats, he's also been incredibly consistent. This year Trout has a 1.109 OPS at home and a 1.105 OPS on the road. He had a 1.098 OPS in the first half and has a 1.130 OPS in the second half. Trout also has had an OPS over 1.000 every single month of this season.
The one knock against Mike Trout is in losses, he only has a .959 OPS… which would put him right ahead of Josh Bell for 10th in OPS in the MLB and ahead of probable second place MVP finisher Alex Bregman. Trout is so good that when he's merely amazing instead of unbelievable, his team loses. Imagine how bad the Angels would be without him.
While Trout is having his best offensive season of his career and has been insanely consistent, his price haven't moved much over the last month (when he's been on fire).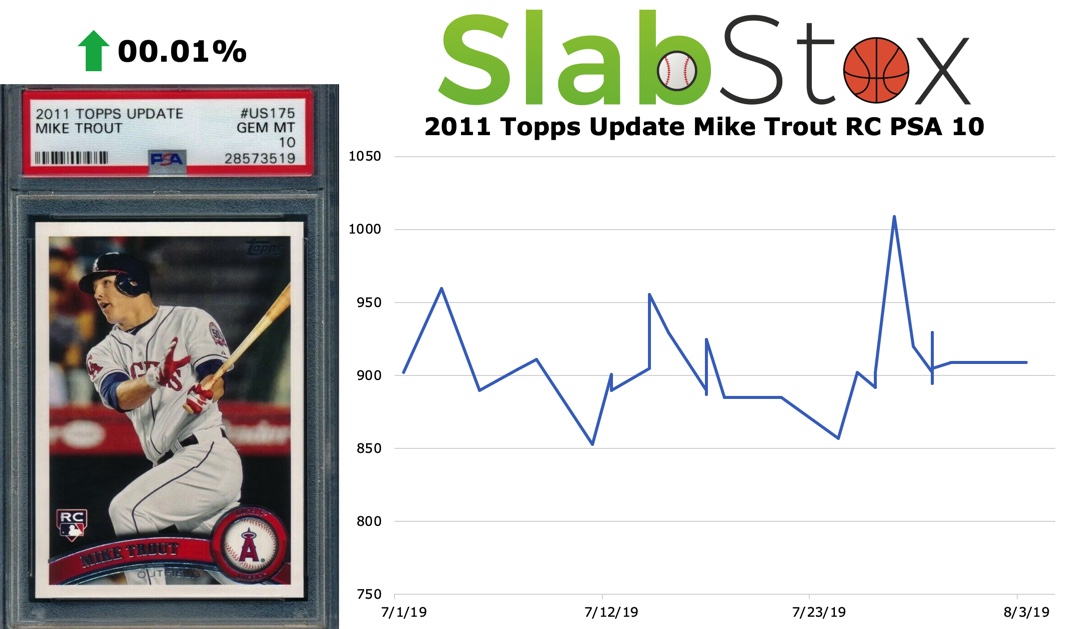 Trout's Topps Update PSA 10 has been up and down, but it finished the month almost where they started. I wonder where they'll finish if he is given his third MVP. My bet is they jump into the low thousand dollar range.
Alex Bregman – Houston Astros
Bregman doesn't have the stats that Trout does (no one does), but he does have great stats along with a personality that draws people towards him in both good and bad ways. Bregman is hitting .276/.406/.549/.956 (career high OPS) with 28 bombs and good defense at both 3rd and SS. While these numbers are good, they really pale in comparison to the numbers we just covered when talking about Mike Trout.
While I don't want to make this only a Mike Trout article, looking at other player stats isn't exciting after looking at Trouts. The only argument Bregman can make to win the MVP award is that his team is good and Trout's isn't. The problem with this argument is that Bregman has Cole, Verlander, Grienke, Miley, Springer, Correa, Brantley, and Altuve who are all better players than the third-best player on the Angels. Most of those guys are better than Ohtani, the Angels' second-best player.
Let's look at how Bregman's card prices are doing based on the strength of the best season of his career and excellent team play.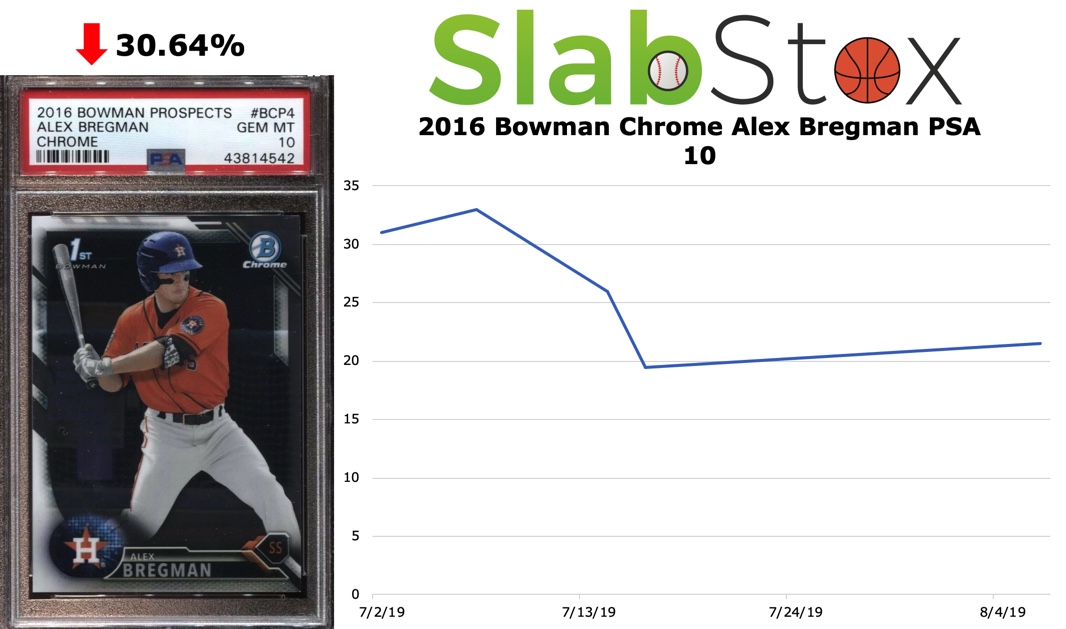 Bregman doesn't have a ton of rookie PSA 10 sales to choose from, so we took his 1st Bowman PSA 10 prices. His price dropped in July corresponded with his worst OPS (.854) month of the season. The good news is he's had a hot start to August, so his prices should trend back up. I imagine these prices will go even higher if the Astros can break through to the World Series and potentially win it.
Gerrit Cole
Third place in the MVP race is wide open, and this spot could go any which way. I picked Gerrit Cole because he's the best pitcher on the best team in the AL. No other player has a strong enough draw for me where they deserve it over potentially the best pitcher in the AL.
Cole has been incredible this year. His 2.87 ERA ranks second in the AL to his teammate Justin Verlander. His 226 K's rank first in the MLB, and he's only thrown 156 innings. He seriously has a shot at 300 K's on the year. Cole has been limiting his walks to a near career-best rate. He's done all this to help lead the Astros to the best record in the AL.
How has Cole's incredible year affected his card prices? Let's take a look.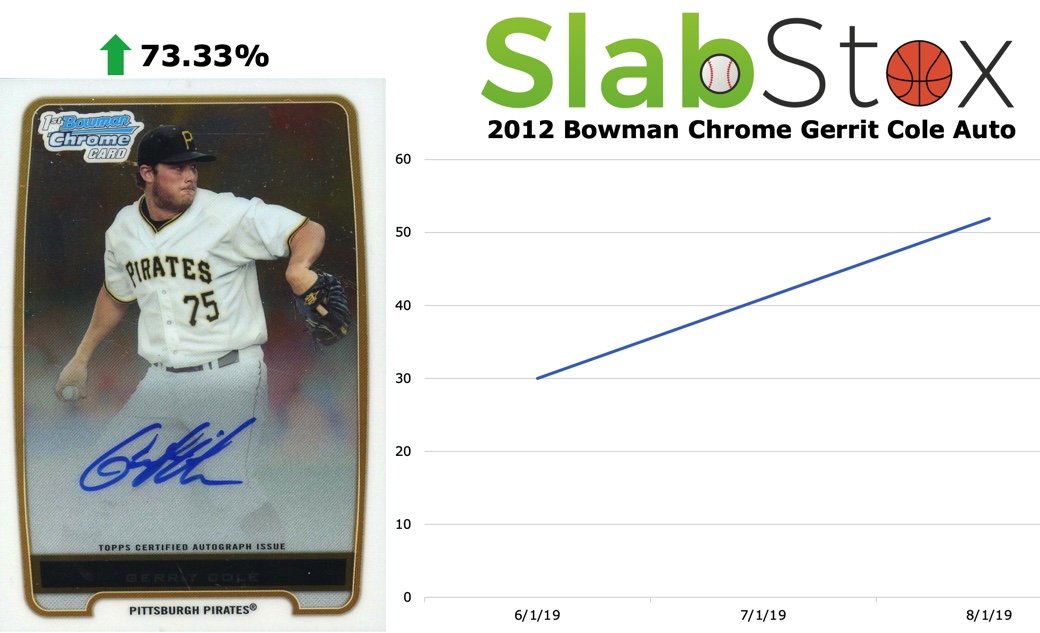 Like with Bregman, Cole doesn't have a ton of rookie cards moving, so we went with his 1st Bowman Chrome auto price. From this two-month price graph, Cole's prices have been soaring. If you had invested in him two months ago, you'd almost be doubling your money. It'll be interesting to see how the Astros playoff run affects his prices.
Conclusion
With the MVP race, you have three different players with three unique buying opportunities depending on how they do in the upcoming AL MVP vote. Trout is obviously the most expensive, but he also is the best long-term investment. Bregman and Cole have a much lower cost of entry but are also much more risky plays because they won't be winning the MVP, so you'll have to bank on the rest of the year/playoff performance to drive their prices up. Cole also has the added risk of changing teams in the off-season which could affect his market.
If I had endless money, I would put all of it into Trout, as that's as safe of an investment you can make right up there with Brady, LeBron, and Gretzky rookies. I don't though, so if I had to choose between the other two, I'd go Bregman. He's routinely one of the top five players in the AL and has the personality to make himself the face of the MLB in the future (like Harper was for a while). At around $25 for a PSA 10 1st Bowman Chrome, I like my chances of making money in the future.
Have you signed up for The Daily Slab yet? Get top sports news and card market insight to your inbox now.