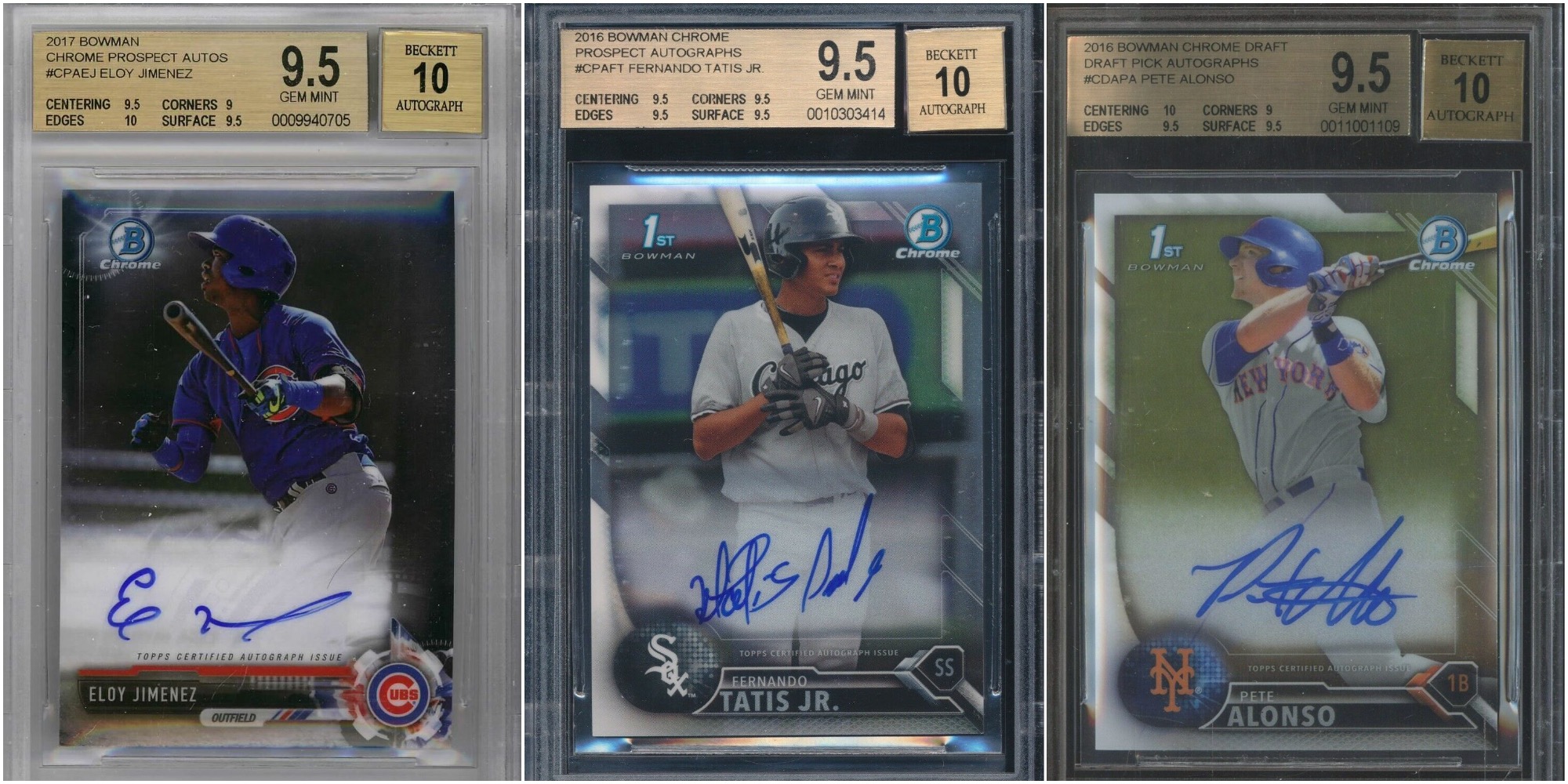 Ever since the end of the 2018 season I have been waiting impatiently for 2019 Opening Day, and it's finally here!
This Opening Day is different than most, with something happening that hasn't happened in 25 years. Three of the MLB's top 4 prospects are starting in the big leagues: Fernando Tatis Jr, Eloy Jimenez, and Victor Robles. With front offices putting emphasis on call-ups happening after April 15th to save a year of control on a player, this is a rarity.
Since Victor Robles has made his MLB debut twice now over the past two seasons (but has maintained prospect status), I am going to swap out Robles for Pete Alonso, the New York Mets first base prospect who can hit a baseball to the moon. Alonso is MLB Pipeline's 51st ranked prospect and is making his debut today.
I will provide a run down for each player on expectations, best/worst case scenarios, and predictions. In the expectations section projection systems will be used. Instead of using only ZiPS projections (created by Dan Szymborski at BTF and ESPN), I will also use Fans (crowdsourced by Fangraphs). This provides two different outlooks to not rely too heavily on one projection system.
One thing to note is projection systems can be way off, but they are data-driven numbers that can provide a glimpse of what can happen. Don't rely on them.
For the best/worst case scenarios, they will be reasonable. They won't be *player* hits 60 home runs this season or *player* breaks leg and is out for season.
To read about what a "SlabScore" is, check out yesterday's blog where I explain it.
Pete Alonso – New York Mets 1B (51 – MLB Pipeline)
SlabScore: 9.39
Expectations
After a 2018 Minor League season where Alonso belted 36 homers and hit for a .285 average, he's coming into 2019 with all eyes on him in his Mets debut. Not only did he have an off-the-charts 2018, but this Spring Training he put up a .352 (AVG)/.387 (OBP)/.620 (SLG) slash line with four home runs and four walks.
In AA and Spring Training, he hit for over a .300 average. That is not a reasonable expectation, as he hit .260 in AAA in 301 plate appearances. Fangraphs gives him a 50 future hit tool, which does not translate to a .300 MLB hitter.
However, his power is off the charts. He has a 70 future game power and an 80 future raw power. Basically, he out muscles any prospect in the game other than Eloy Jimenez and Vlad Jr.
While expectations from investors and fans are high for Alonso, projection systems vary.
ZiPS
.239/.324/.450, 24 HR, 9.4 BB%, 25.6 K%, .774 OPS, 1.8 WAR
Fans
.257/.353/.531, 32 HR, 10.7 BB%, 23.4 K%, .884 OPS, 3.1 WAR
Clearly, these are two completely different projections. Which one do I think is closer to what we'll see his rookie season? Make sure to see the predictions for that.
Best/Worst Case Scenarios
Best Case
Alonso thinks it's spring up till the All-Star break and hits 20 HRs and hits for over a .300 average in the first half of the season. After the All-Star break, he starts striking out a bit more, but the power is still there. He ends the season hitting .280 with 38 HRs, leaving his Bowman Chrome Base auto 9.5/10s selling for $600 at the end of the season.
Worst Case
Pitchers figure out how to get Alonso to strike-out at over a 25% rate, and his bat doesn't play the way it did in AA and Spring Training. After the first three months of the season, he has 10 home runs, but he is hitting .220. People start worrying that he is going to be the next Joey Gallo. He already has a 40 grade defense, so it is hard for the Mets to justify playing him. Instead of Alonso being the every day first baseman, he squanders away at-bats to Dominic Smith. By the end of the season, Base Alonso gems are selling under $100, only staying above $50 because he still has massive power.
Predictions
I don't predict either of those cases to happen. What I'm expecting to happen is somewhere around the Fans projection, with there being a slight possibility of hitting .270 for the season. The only thing that will keep him from hitting over .250 is if his K-rate is over 25%. If he can keep it in the low 20s, I wouldn't be surprised to see him at .270.
I see him hitting between 25 to 35 home runs over a full season, given he sees a regular work load for a starting first baseman. He's got the power to hit over 40, it just depends on how much he can barrel up over the course of the season.
If he hits .270 and 30 home runs, I think his base gems will be around $350 still. Anything higher in both those categories, and they are definitely closer to $500 than $350. If he's hitting .240 with 25 home runs, I think these will be closer to $200, since expectations are so high right now.
MLB Debut Prediction: 1 hit, 1 RBI, 1 K
Eloy Jimenez – Chicago White Sox OF (3 – MLB Pipeline)
SlabScore: 10.59
Expectations
Well, what do you think expectations are? The man just signed the largest pre-MLB debut contract in the history of baseball (6 yr, $43 M w/ options for a 7th and 8th year).
All of the South Side of Chicago is hoping for Eloy to be the saving face of their franchise. The front office did a tremendous job acquiring talent for the rebuild; however, they have been getting extremely unlucky thanks to injuries and players not starting as hot as they'd hoped.
In 2018, Eloy had almost a perfect split of time between AA and AAA. He had one of the best half-seasons of AAA as a prospect I've ever seen. In 211 at-bats, he hit for a .355 AVG, 12 HR, .996 OPS, and under a 15% K-rate. Truly incredible numbers. The expectations and hype are well deserved.
Moving into the projections.
ZiPS
.289/.338/.525, 28 HR, 6.6 BB%, 20.3 K%, .863 OPS, 2.6 WAR
Fans
.294/.345/.521, 29 HR, 6.8 BB%, 16.5 K%, .866 OPS, 3.4 WAR
Now these are some hefty projections. The only place they disagree is in his K-rate with it being a 4 percentage point difference. For these offensive numbers, his WAR would be expected to be a little higher; however, there are serious concerns about his ability to play in the outfield, and he could be transitioned into a DH at some point in his career (or rookie season).
Best/Worst Case Scenarios
Best Case
Eloy fixes his outfield issues and shows he can play a corner spot every game. His bat plays as it did in the minors, and by the All-Star break he is hitting .330 and has put up 17 HRs. That's good enough to land him as the White Sox representative on the All-Star team. By the midway point, Eloy Base gems are hitting $1,000 and every one knows they will only go higher by the end of the season. He doesn't slow down, and by the end of the season he hit .320 with 34 HRs, landing top 5 in the AL MVP voting with Base gems eclipsing $1,250. Chicago, you've got a star on your hands.
Worst Case
He comes out of the gate cold, like really cold. The massive contract is too much pressure on him, as he feels like he needs to produce at an All-Star level right away. His bat regresses and by the All-Star break he is hitting .250 with only 8 home runs. He couldn't adjust to MLB pitching, leaving his Base gems to lose 50% of their value by midseason. He has a better second half and ends the season at 17 home runs with a .265 average. His Base gems are sitting at $150 at the end of the season, with prospectors, investors, and White Sox fans wondering if he will ever turn it around.
Predictions
I think the odds of the worst case happening are extremely marginal. Eloy has the hit tool mixed with the power and ability to not strike out to carry himself to stardom in his rookie season.
My biggest worry is him getting moved to DH. Looking at past Bowman Chrome autos of DHs (J.D. Martinez), I'd be a little nervous as an investor. The good thing is, he should at least stick at outfield for his rookie season.
My prediction is the same as the Fans projection. I think he hits slightly over .290 while adding around 30 homers. With that, his base autos would see an increase, probably sitting around $600 by the end of the season.
MLB Debut Prediction: 3 hits, 1 2B, 1 HR, 2 RBI, 1K
Fernando Tatis Jr. – San Diego Padres SS (2 – MLB Pipeline)
SlabScore: 9.80
Expectations
All I've got to say is wow. I really didn't expect Tatis to make the Opening Day roster. Not because I don't believe in his abilities but because I didn't think the Padres would sacrifice a year of control to have him up at the start of the year. This does show the Padres are serious about now; they don't want to wait. The only thing they're waiting for is some more pitching talent and for Urias to work out some kinks in the minors.
Before Tatis injured his thumb last year, he hit 16 home runs and for a .286 average in 353 at-bats in AA. With that came a high K-rate at 27.7%. He also added 16 stolen bases and an .862 OPS while adding above average defense.
Out of all these prospects, Tatis is the full package. The defense, the hit tool, the power, the speed. The only thing that is lacking the amount to swings and misses. Even with that, he is one of my favorite prospects and investment opportunities (in the top five).
I will provide the projections, but just know they are based on 110 games because they were not expecting him to break camp with the Padres. However, everything but the counting stats will be like a full-season projection.
ZiPS
.221/.292/.406, 18 HR, 8.2 BB%, 33.5 K%, .699 OPS, 1.4 WAR
Fans
.259/.320/.446, 17 HR, 7.5 BB%, 24.1 K%, .766 OPS, 2.8 WAR
Yikes. ZiPS is looking like it will be used as Tatis' worst case scenario.
Best/Worst Case Scenarios
Best Case
Tatis could become the next great power-hitting shortstop by slugging 30 home runs his rookie season. On top of that, he swipes 30 bags and lands in the 30-30 club while hitting for a .280 average. Alongside Machado, he leads the Padres to a Wild Card berth and the small Padres fanbase go wild for him. Not only them, but every other MLB fan too. His Base gems eclipse $1,000 as Tatis shines as the next star MLB player at 20-years-old.
Worst Case
ZiPS happens. Tatis struggles to hit about .220 while striking out at over a 30% rate. By mid-season, the Padres can't mortgage their future, so they are forced to send Tatis back down to the minors to work out the kinks. His Base gems sink into the $200 range, and all the hope the Padres had going into the season went out the window as they are, once again, at the bottom of the NL standings.
Predictions
At 20-years-old without having played in AAA, there is a big possibility Tatis gets off to a slow start. He looked good this spring, but Spring Training stats have to be looked at marginally over the full body of work.
I wouldn't be surprised if Tatis hits .240 this season with just over 15 home runs. Then again, I also wouldn't be surprised if he hits .280 with just under 30 home runs. It's the gamble you play with a calling up a young player like Tatis.
Reasonably, I see Tatis at .268/.330/.470 slugging his rookie season. I'm not sure if he's going to be able to fulfill the high expectations of making an Opening Day roster; however, he always could. This is me being cautious. I'd expect Base gems to be around $200 to $250 if he doesn't show the ability to hit against MLB pitching right away. But, he could always go .280/.345/.500 and end up being a $650 Base gem.
With that being said, if Tatis keeps on developing his game, I love his long-term outlook. He would be my choice to have the best all-around career, while Eloy having the best offensive career.
MLB Debut Prediction: 2 hits, 1 2B, 1 SB, 2 K
Kick back, relax, and enjoy baseball season!
Stay up-to-date on all things sports card trading with SlabStox. Sign up for The Daily Slab today!