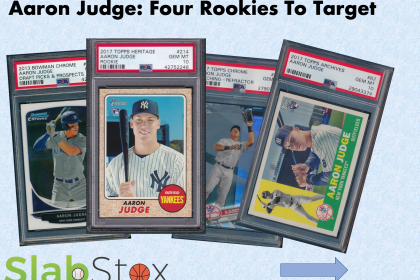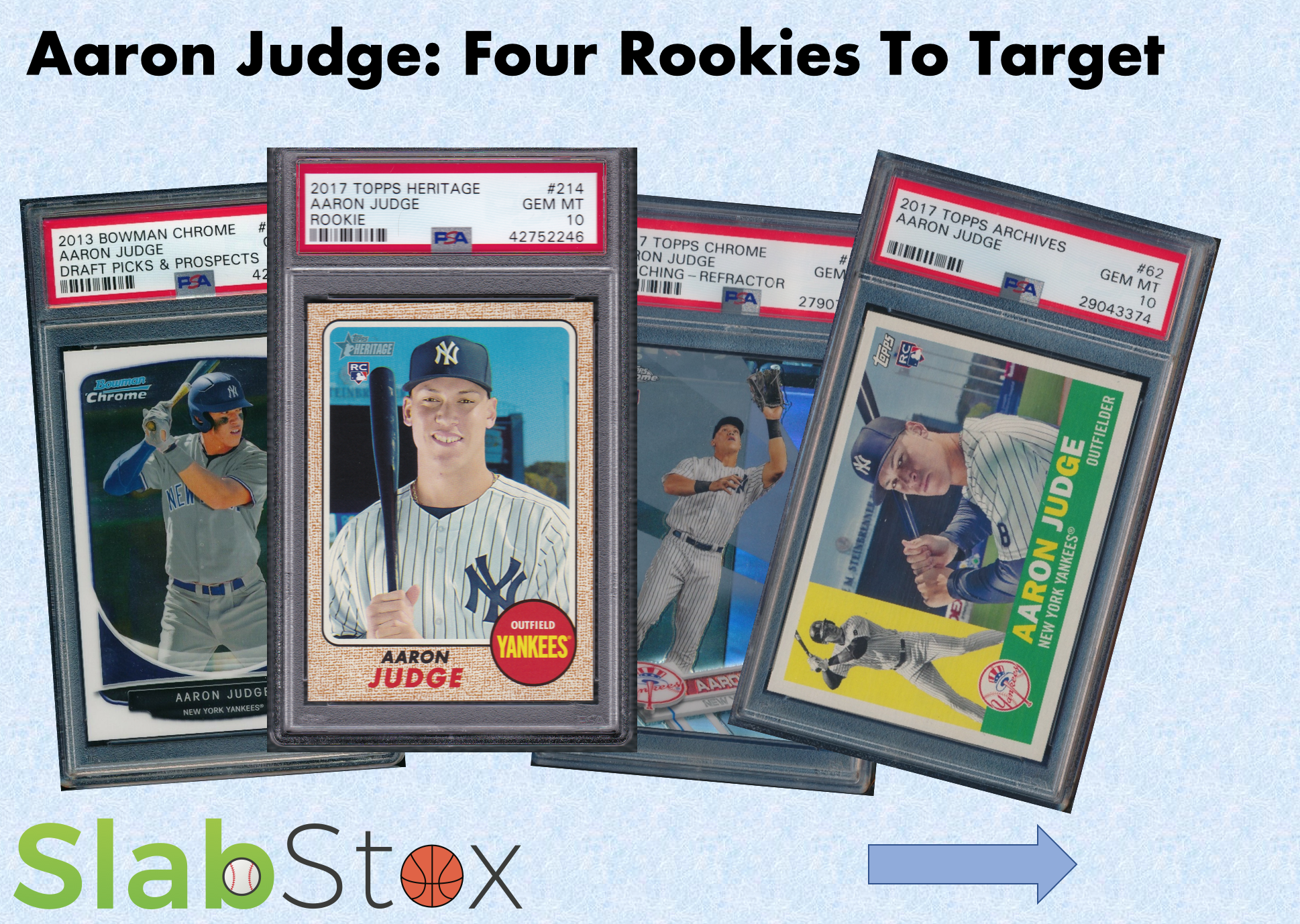 Today's all about the #bronxbomber, Aaron Judge. Over the last few days I have gotten a lot of questions about which Aaron Judge rookie is the one to invest in, so here are four for you to look into! I'd recommend buying these as PSA 10s, because it will be very difficult to turn these cards into a 10 now. Since there are a plethora of Judge rookies available, hopefully this gives you an idea of what to keep your eye on.
With Judge hurt, this may be one of the best times to pick up a nice PSA 10 rookie.
2017 Topps Heritage Action SP PSA 10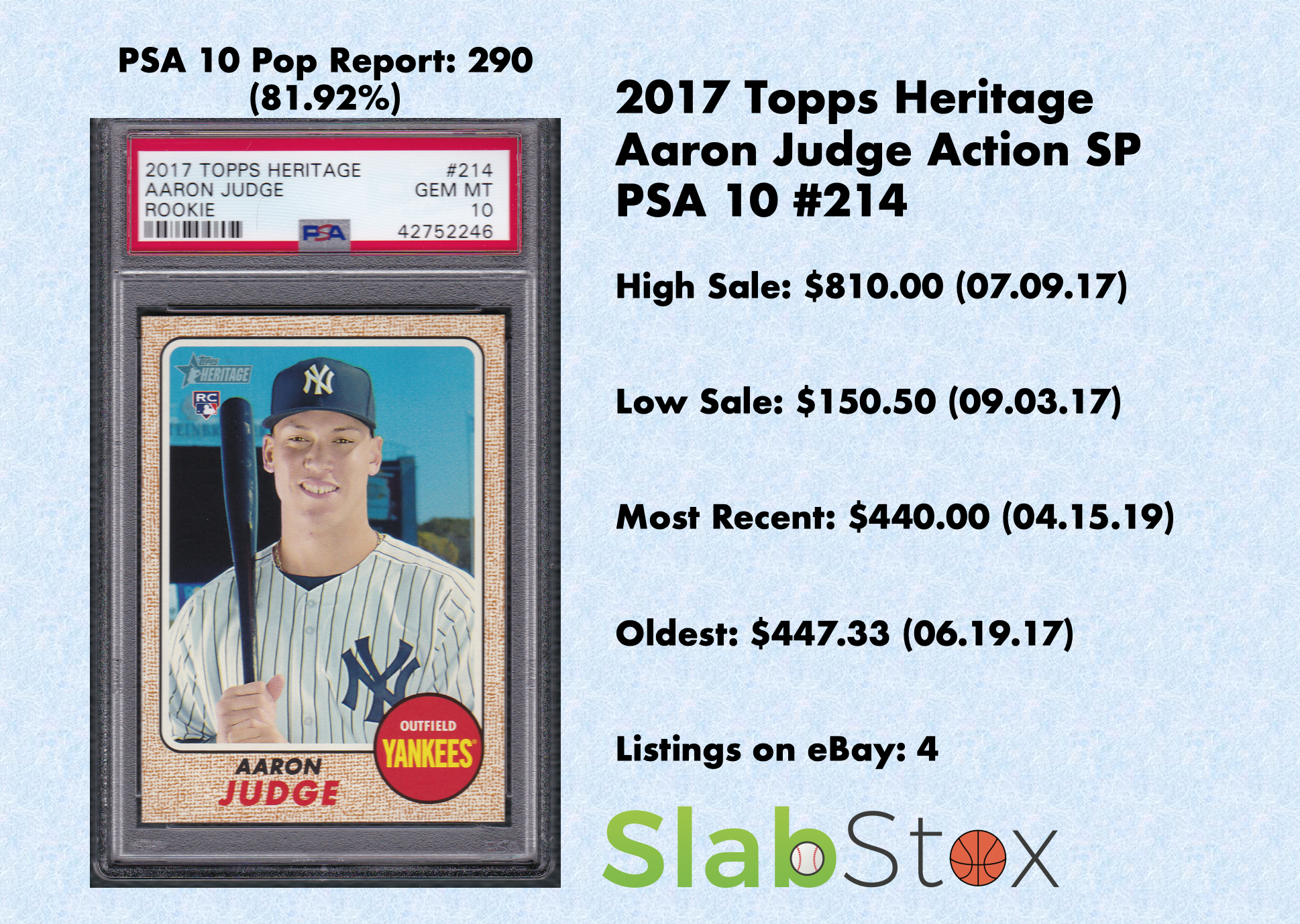 This is the highest value non-numbered Aaron Judge rookie. The "Action SP" is the iconic Judge rookie. Instead of the dual rookie with Tyler Austin, this one features him in a solo shot. There are 290 PSA 10s out there, but the overall pop report is small.
2013 Bowman Chrome PSA 10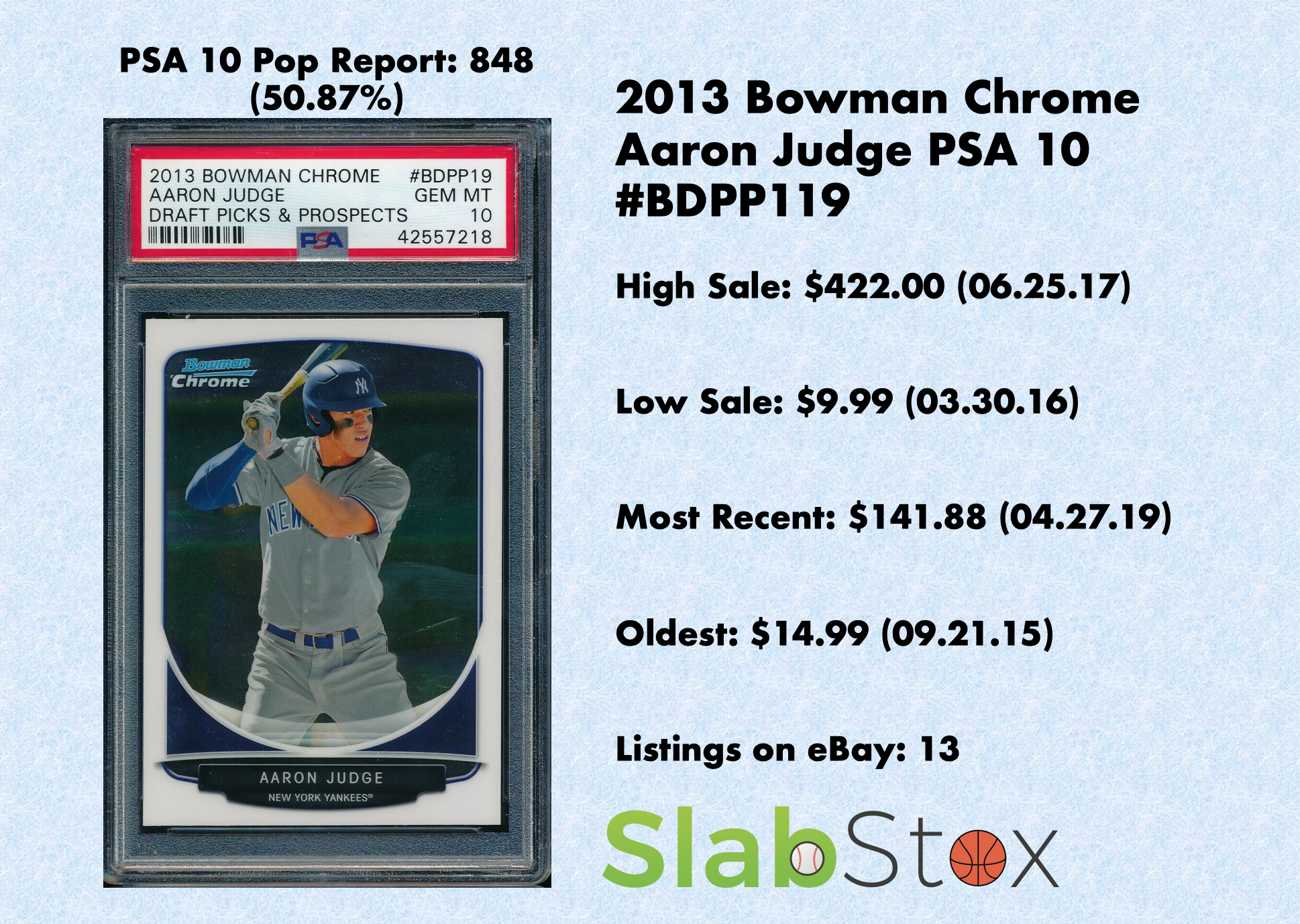 While it isn't a rookie and is missing the "1st" on the card, this is Judge's first BC card. Since it's his first prospect card, it will always maintain long-term value. Refractors of this card are hard to come by!
2017 Topps Archives PSA 10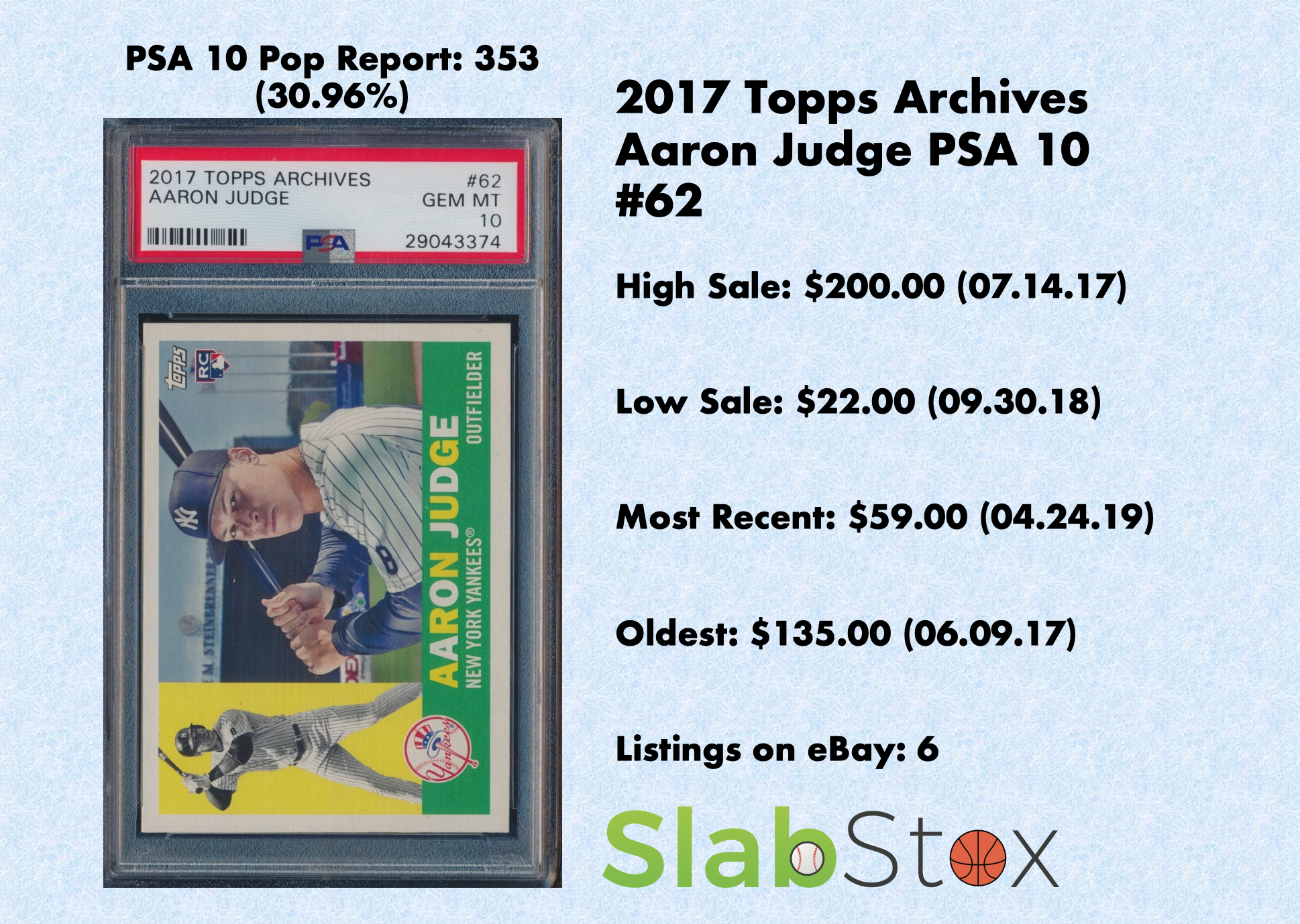 This is one of the hardest PSA 10 cards of Judge out there. Only 30.96% of PSA graded cards are 10. This is also Judge's highest value "base" rookie. I'd highly recommend one of these for anyone's collection or investment portfolio!
2017 Topps Chrome Refractor PSA 10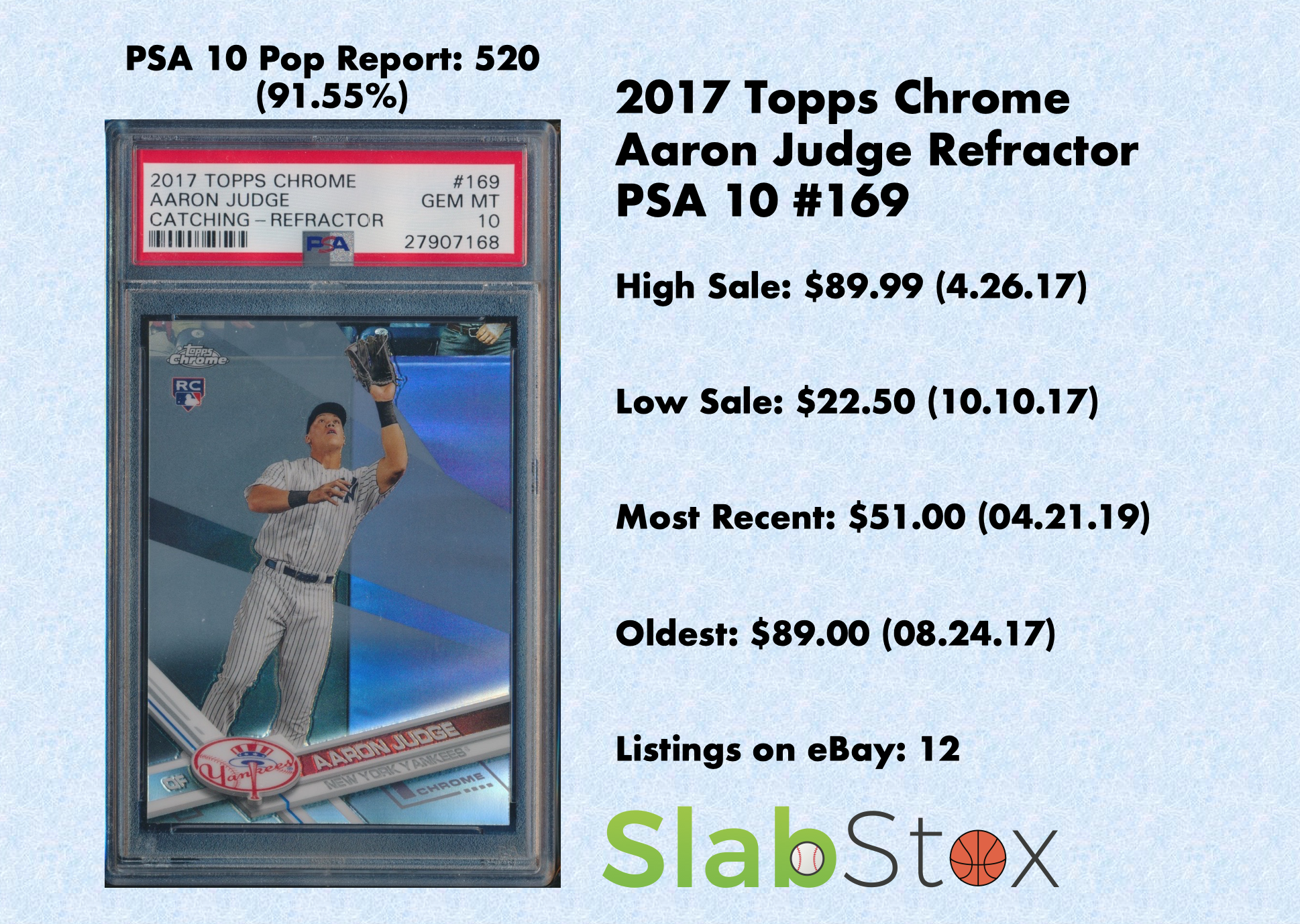 I'd recommend putting up the extra $30 to secure the refractor PSA 10 than the base PSA 10; however, if you're only looking to spend $20-$30, the TC base PSA 10 would be the way to go (over the S1 paper)
Why are there no Update Judges here? Because Judge didn't have a base rookie in Update. He only had an ASG and Rookie Debut, both of which are not good long-term investments.
If these don't fit into your budget, feel free to email us at slabstox@gmail.com to discuss other options!
Head to the SlabStox YouTube or Twitter accounts for the most up-to-date sports card insights.