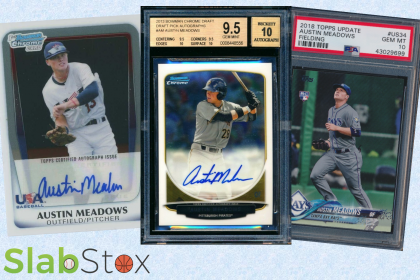 15. There are 15 rows on Fangraphs for Austin Meadows' statistics through the Minor Leagues before making his debut. If you don't know what I'm talking about, check this out.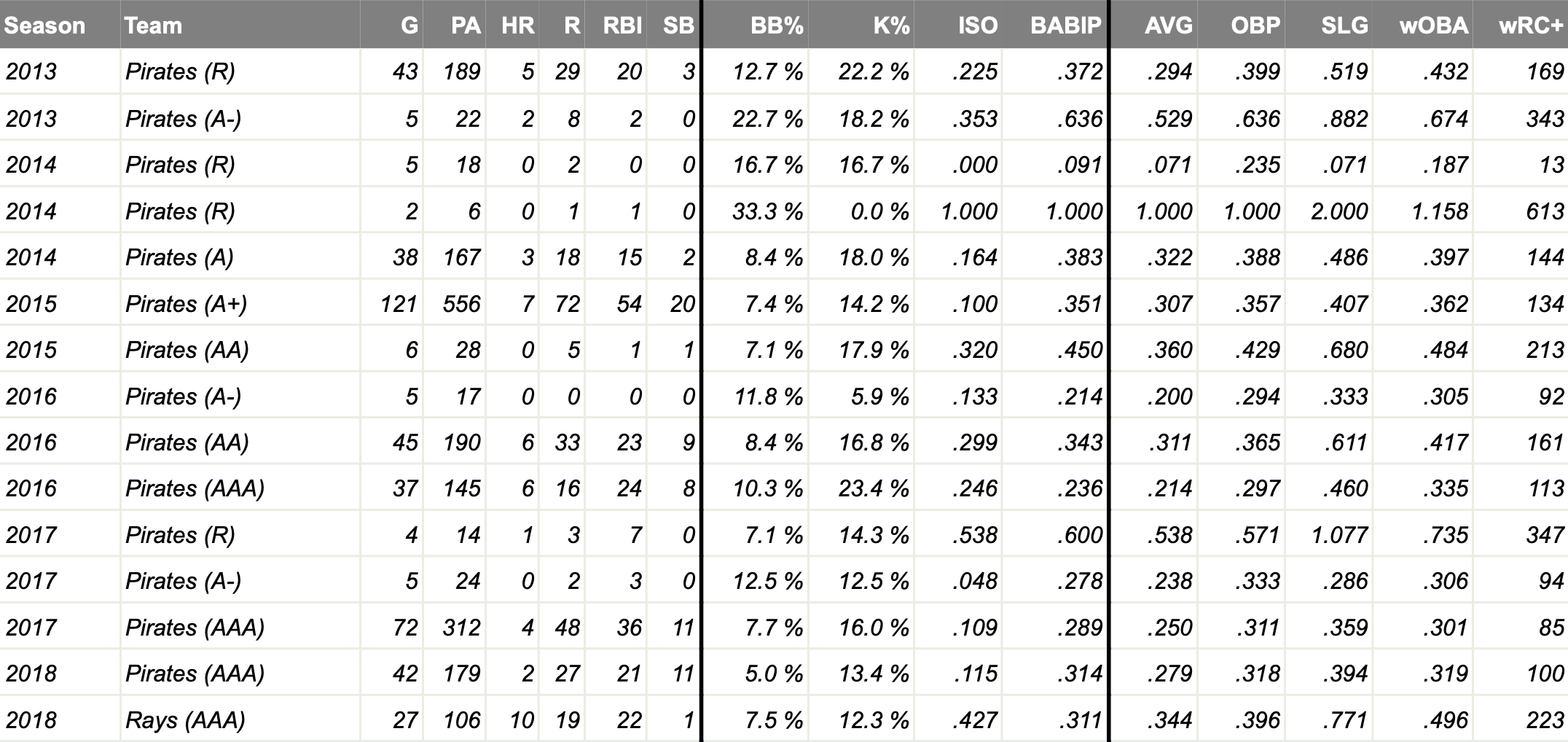 To see how another 2013 draftee high school hitter progressed, check out Clint Frazier.

Fangraphs assigns a row to a player for each team/level they play on in each year. Some accumulate more rows than others by injuries (rehab assignments), trades, or repeating levels. For Austin Meadows, it's been a long winding path to be able to make the majors due to injury.
He was placed on the DL four different times, in-turn leading to him only playing over 100 games in a single season ONCE out of the four full years he was in the minors. Clint Frazier did it three of three full Minor League seasons.
Prospect Pedigree
Meadows has been in the spotlight for years. While his 2013 Bowman Draft auto is more desired, his 1st Bowman Chrome card was a 2011 Bowman Chrome USA auto.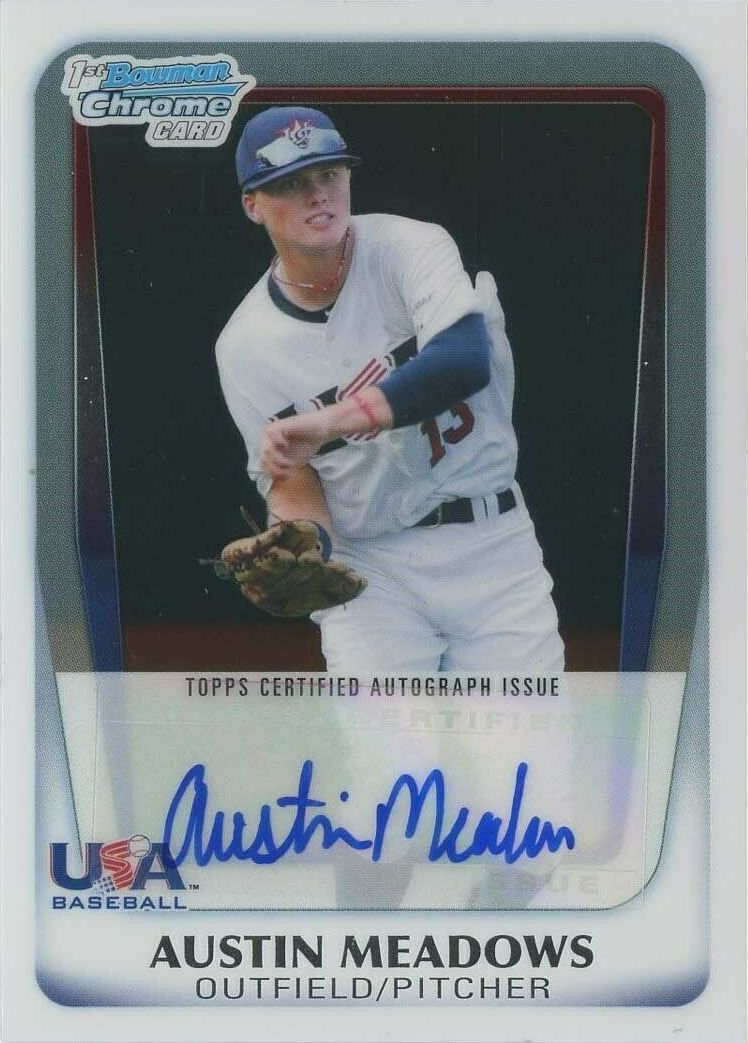 He's appeared on a card as a high schooler, drafted 9th overall in the 2013 MLB Draft to the Pittsburgh Pirates, and graced the MLB Pipeline's Top 100 prospect list five straight years (2013 – 69, 2014 – 45, 2015 – 22, 2016 – 9, 2017 – 17) before graduating from the list in 2018. That is FIVE years of being bought and sold as a Top 100 prospect, with three times being in the top 25.
Normally, you'd look at that and think his values were high during the full duration of his prospect career, but that isn't even close to the case.
Price Fluctuation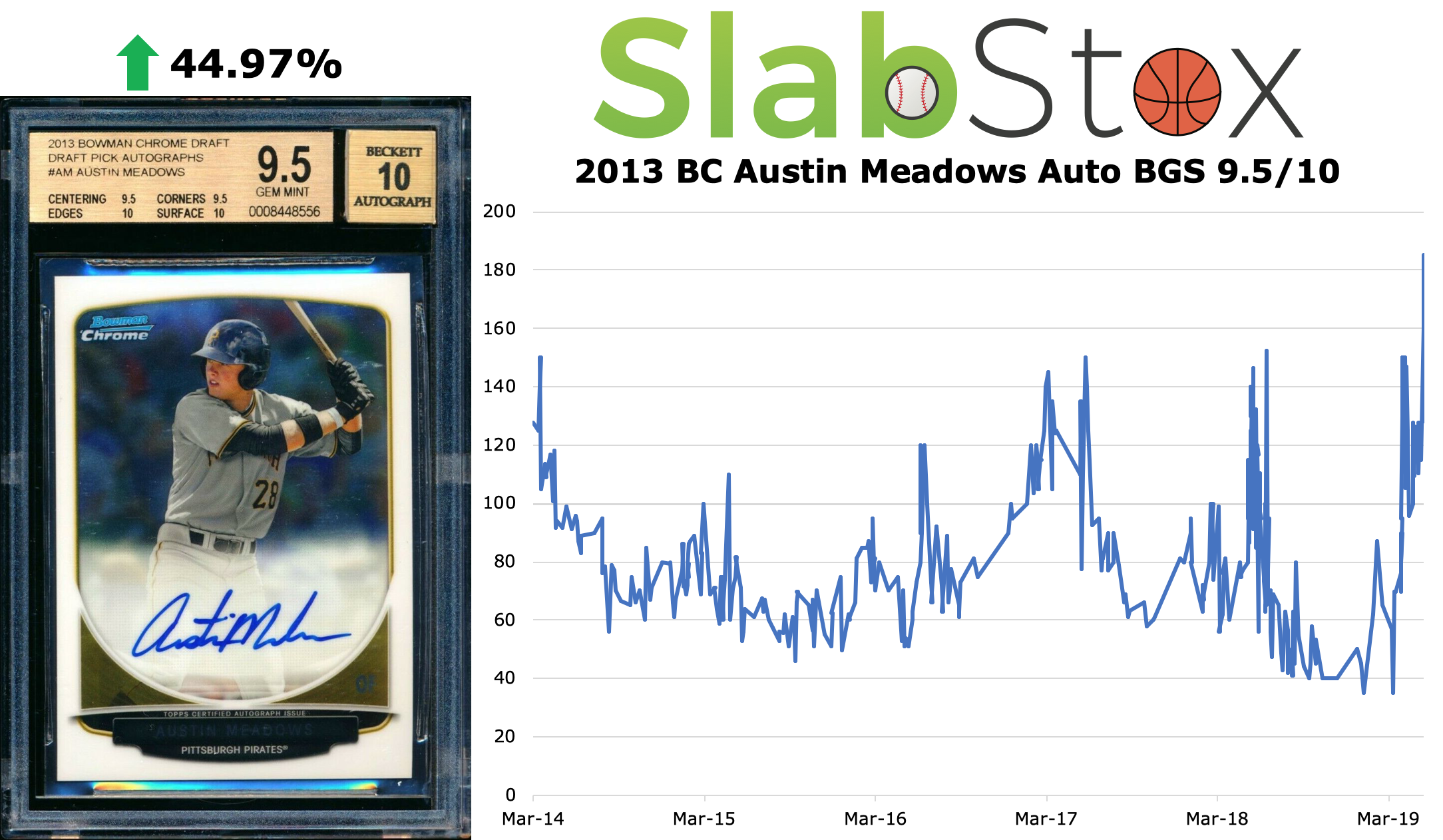 There is only one way to describe Meadows' 6-year trend: up and down. You'd be hard pressed to find someone that has went from $150 down to $50, back up to $150, back down to $50, and back up to $185. I've never seen someone drop and rebound as much as Austin Meadows.
One thing to note is this, the market has changed. It has grown a lot. If the 2013 value of $150 was in today's game, I am sure it would be 1.5x that at least. Meaning, the drop would look much bigger if the values were adjusted for market growth; however, the market has changed, so there's no reason to speculate on what values could be.
Why did this happen?
Well, there are a couple reasons. The biggest one being injuries. There is nothing investors hate more than buying an injured player and waiting (even though this is a smart thing to do). When Meadows played, he actually performed well (except for one instance). The real problem was he never played enough games in a row to ever keep values afloat.
One of the big drop offs was due to career low numbers towards the end of the 2017 season in AAA. He struggled to hit the ball, and was striking out at a career high mark. Investors were already worried about injury concerns, and after struggling in AAA, the values plummeted again.
He never had crazy home run numbers in the minors, but that was mostly due to not having enough games played to get his counting stats up, but his slugging percentages were always between .400 and .600 (except for his first stretch in AAA). His second stretch in Triple-A was phenomenal, but that came after a major event: getting traded.
How did we get to where we are today?
After making his long-awaited debut on May 18, 2018 with the Pittsburgh Pirates, he was traded to the Rays later in the season, which may go down as one of the worst trades in recent memory. The Pirates traded Austin Meadows, Tyler Glasnow, and a player-to-be-name-later (PTBNL) for Chris Archer, who currently has a 5.75 ERA.
Not only did the Rays get Meadows, who is now an early season MVP candidate in the AL, they also grabbed Glasnow, who before injury had one of the lowest ERAs in the MLB this season. Oh, and that PTBNL? "Just" Shane Baz, a 2017 1st round pick who is dominating A-ball at 19-years-old (11.25 K/9, 2.25 BB/9, 1.80 ERA). Two intricate pieces to the team right now, and one that will play in the future for an average or low MLB starter.
So far this season, Meadows (24-years-old) has been unstoppable. He missed a few weeks with a right thumb sprain, but his season numbers are still tremendous. Currently he sits at a .360/.437/.691 slash line with 12 home runs, numbers that are towards the top of the entire MLB. Unless he gets injured (not out of the question) or hits a massive slump, he should be a lock to be an All-Star this year. He's one of the driving forces behind the offense of this hot Rays team that currently sits one game out of first place in the AL East.
While it hasn't been pretty, he's finally put the pieces together to reach his potential. With that said, there are still some concerns:
Can he finally stay healthy?
Can he be consistent for the long-term?
Both questions are necessary to ask yourself before making an investment decision on Meadows.
Is it time to buy, sell, or hold?
This morning, I was talking to Nate about this exact question. For starters, if you bought Meadows cards in the past and still have them, it's never a bad idea to take profit if it's there. Deciding if you should sell or hold all has to do with what you bought at.
Given the risk that one injury could derail Meadows' season, buying right now seems like a slippery slope as well. BUT. Meadows is on a great trajectory right now; it could definitely pay off. If he stays healthy and keeps playing like he has showed, he will become a star. At this point, there isn't enough there to say Austin Meadows is a star. However, this isn't titled "Austin Meadows and His Journey to Stardom," it's "Austin Meadows and His Journey to Reach Stardom." At the moment, Meadows' B/S/H is a mystery, and there is no one clear answer.
He's only into his second season in the MLB, so there's a lot of work ahead. The risk is there with the injuries and only two months of real MLB success, but the pay off could be big down the road.
Sign up for The Daily Slab email to get the most up-to-date sports card insights straight to your inbox.