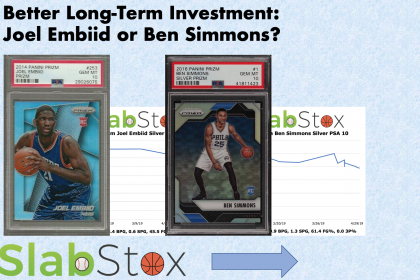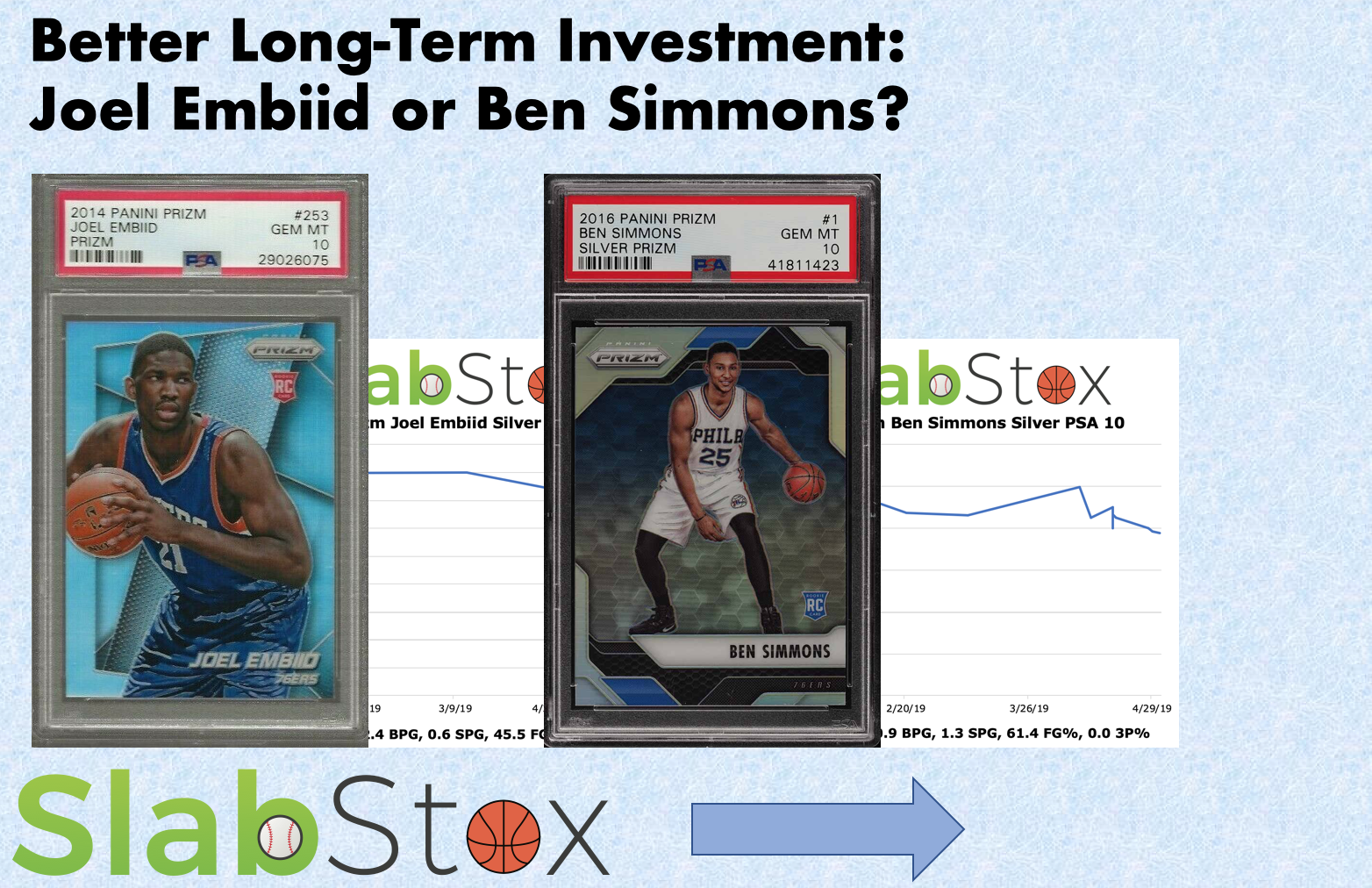 Last night, the Sixers took control and pummeled the Raptors in the 4th quarter, largely in thanks to a double-double by Joel Embiid (33 pts and 10 rebs on 18 shots), who also poured in 3 three balls. While Embiid flourished last night, Simmons struggled only scoring 10 points on 13 shots. The last sale for an Embiid Silver PSA 10 was $678.86 (4/28). The last sale for a Simmoms Silver PSA 10 was $777.86 (5/1).
Before getting into each player's game, let's look at the cards themselves. Embiid's Prizm rookie was released in the 3rd installment of Prizm, while Simmons' was the 5th. There are some really interesting numbers that come with the PSA Pop Report. There are 41 Embiid PSA 10s out there, with a total of 49 PSA graded cards (83.67%). For Simmons, there are 117 PSA 10s, with a total of 274 graded (42.70%).
What does this tell me? 1. 2014 Embiid Silvers are extremely rare, but *presumably* easier to grade and 2. 2016 Simmons Silvers are not as rare, but *presumably* a lot harder to grade. That should cancel out any of the "Pop Report Effect" on value (let me know if you have a different take).
And for the players. Embiid: freak of nature 5-man who can score inside, outside, and knock down his free throws (12/13 FT last night). He averaged 27.6 PPG, 13.6 RPG, 3.7 APG on the season while putting up a 26.21 PER (12th in the league). Embiid is also three years older then Simmons.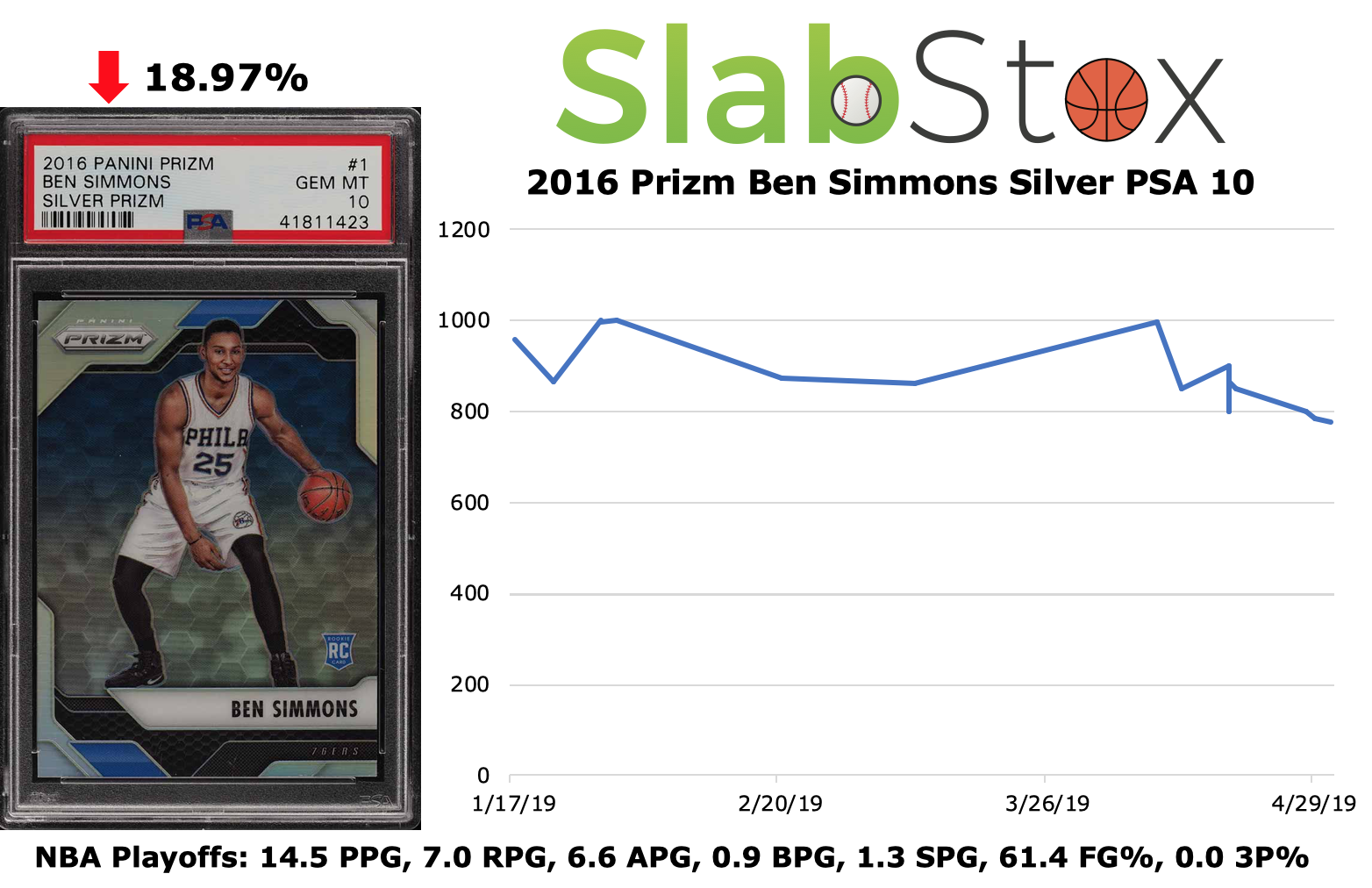 Simmons: super sized point guard who runs the break like a maestro and pours in the all-around stats (a triple-double threat every night). He averaged 16.9 PPG, 8.8 RPG, and 7.7 APG on the season, while having a 20.07 PER (64th in the league). Like always, the black eye on Simmons is he can't shoot… like at all. In his career, he's attempted 17 threes (regular season) and hasn't made one.
A lot of people think big men don't demand the prices that guards do because its a guard driven league. Clearly, the prices of these two Silver PSA 10s would support that claim. Currently, there are two Embiid Silvers on auction to end in a few days… will his prices finally pass Simmons?
If you're looking for my take on it, it's YES. While Simmons is fun to watch, eventually his card values will take a hit from him not shooting. Unless he makes a change, I doubt they will hold up in the $800's. For Embiid, he's clearly one of the best players in the Eastern Conference and probably the best center. He really can do it all (even if he is incredibly annoying).
Give your take in the comments below!