"Dunk everything." Those were the words of Pelicans' Head Coach Alvin Gentry to Zion Williamson before the prized rookie's career debut. Instead, Zion dunked nothing at all. Through three quarters, it appeared that the first overall pick would start his career looking exactly like a guy who had just missed three months of action.
Perhaps we would have to be patient with the 19-year-old. But as announcer Mark Jackson greedily stuffed the airwaves with jabs of fat-shaming and historical revisionism, the Duke product started to shake off the rust. And once the rust was cleared away, Zion-mania transformed into full-blown hysteria.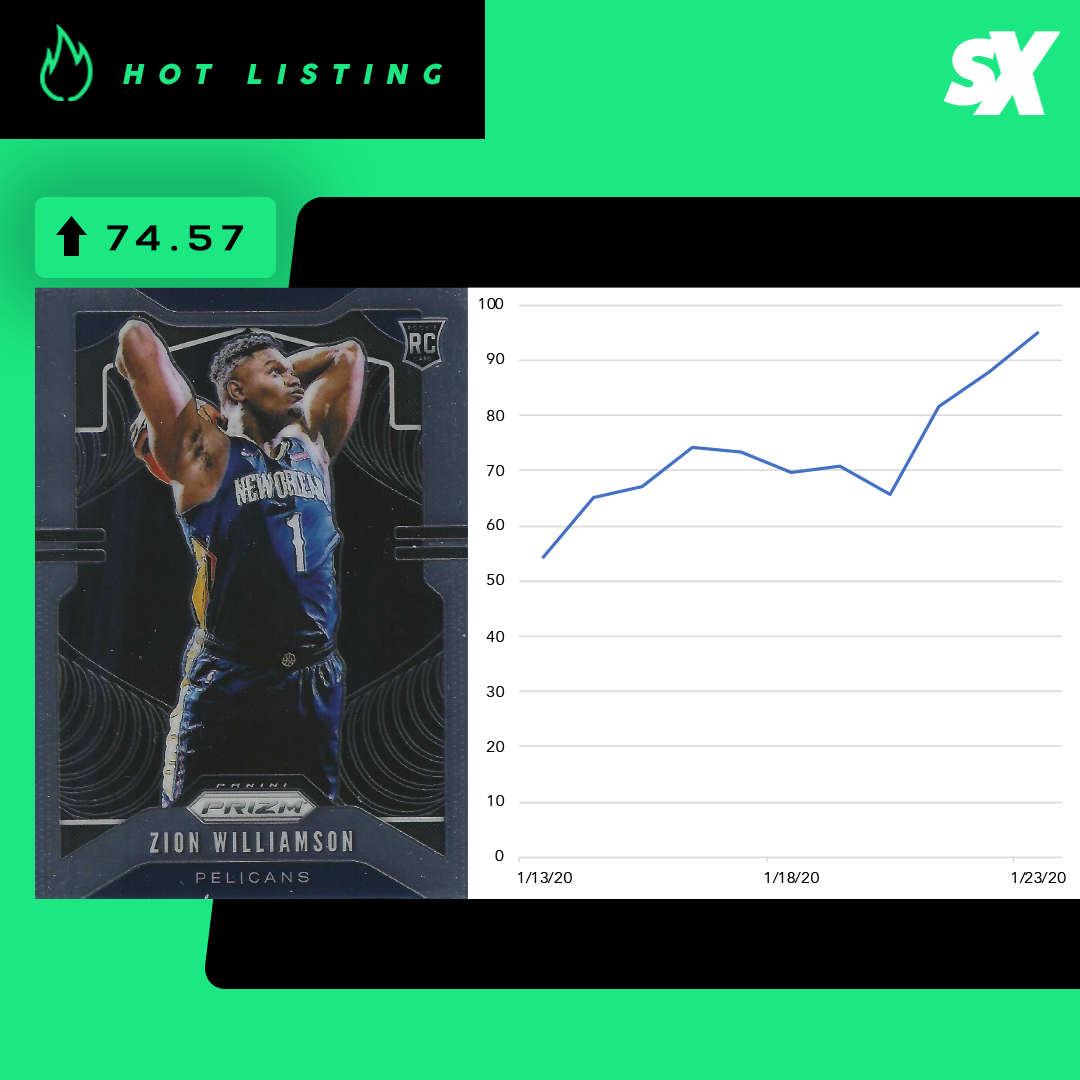 You all know the stats by now: 18 minutes with 22 points, 7 rebounds, and 3 assists. In 7 fourth quarter minutes alone, Zion went 4 for 4 from beyond the arc and scored 17 straight Pelicans points. Twice during that stretch, Coach Gentry tried to sub a traditional center in for Williamson, and twice the sub was summoned back to the bench. The big man was too hot, and his teammates continued to feed him the ball as the Pelicans surged to a narrow lead. Sadly, it would not last as Gentry listened to his medical staff and removed Zion from the game with a little over 5 minutes remaining. The Pelicans lost.
In spite of the loss, Zion's performance continues to be the main topic of conversation today. Even on a night when he didn't appear to have full use of his powers, Zion still captured the nation's attention in a way we haven't seen since the debut of a teenage LeBron. As a result, Zion's ungraded base Prizm RCs are now going for $95, up 74.57% from 10 days ago.It was far from a perfect game, but it was enough to leave us collectively yearning for more.
With 8 nationally televised games remaining on the Pelicans' schedule and a potential playoff berth in the offing, it's a safe bet to assume the attention will only grow from here.
Sign up for The Daily Slab email to get the most up-to-date sports card insights straight to your inbox.