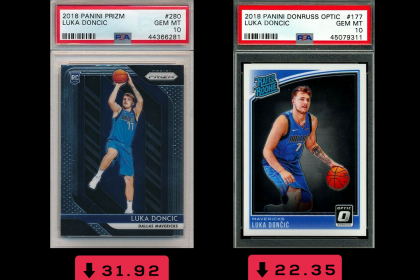 We're just about one week after the NBA announced the season has been suspended for a minimum of 30 days due to the spread of COVID-19 (coronavirus), and a lot has changed since. There has been massive fallout in the American economy. To hear a robust discussion about this topic, be sure to listen to the full podcast this article derives from – there is a lot more information in the podcast. For a quick overview of the effects COVID-19 has on the sports card market, keep reading!
9 Basketball Cards Dropping
*(March 10 to March 17 % Change) – No Particular Order
1. Luka Doncic Prizm Base RC PSA 10 – ($650 to $442.50) – (31.92% drop)
2. Luka Doncic Optic Base RC PSA 10 – ($425 to $330) – (22.35% drop)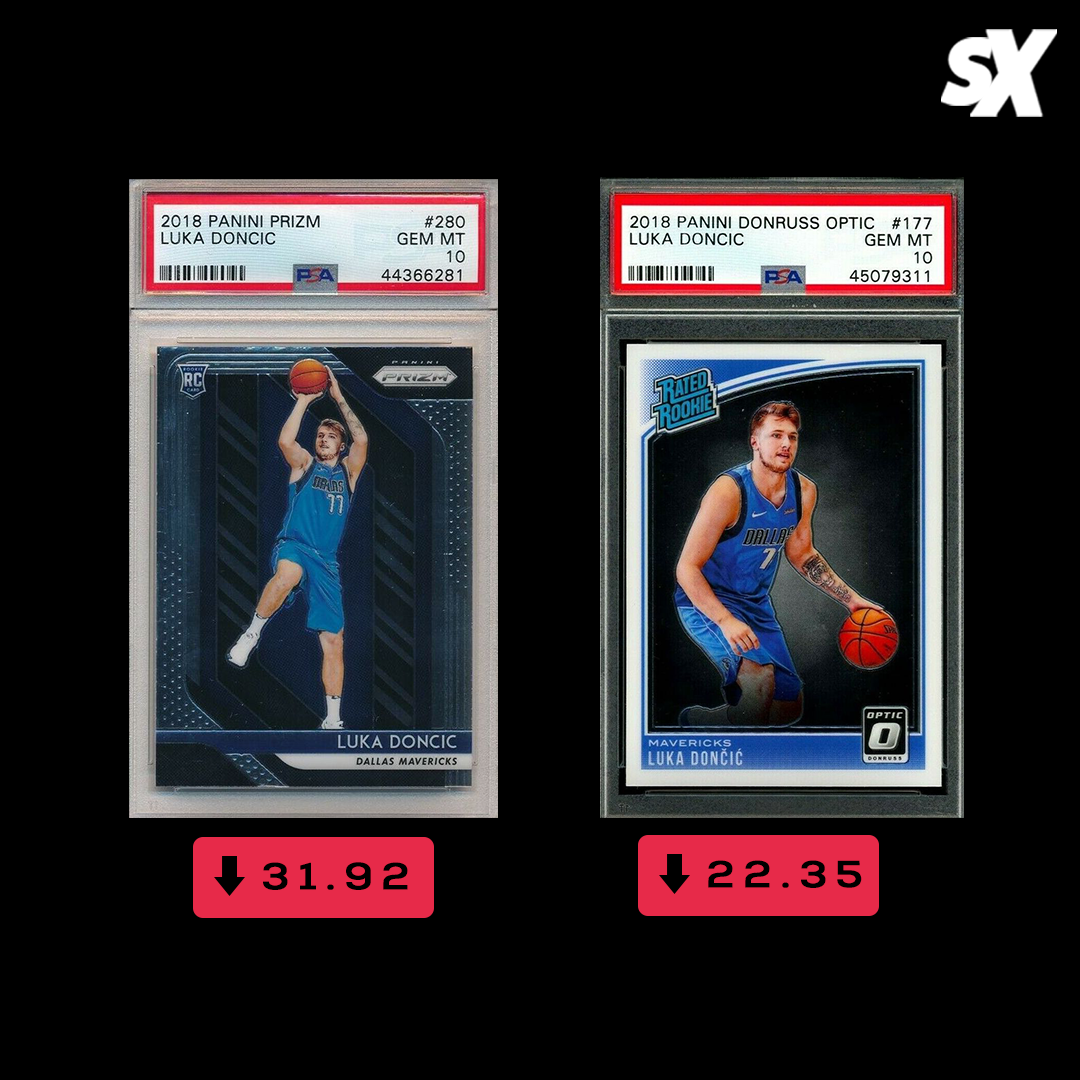 3. Jayson Tatum Prizm Base RC PSA 10 – ($300 to $235) – (21.67% drop)
4. LeBron James 2003 Topps Chrome Base RC PSA 10 – ($6,750 to $5,250) – (22.22% drop)
5. LeBron James 2003 Topps Chrome Base RC PSA 10- ($2,300 to $2,000) – (13.04% drop)
6. Giannis Antetokounmpo 2013 Prizm Base RC PSA 10- ($2,250 to $1,875) – (16.67% drop)
7. Giannis Antetokounmpo 2013 Select Base RC PSA 10- ($950 to $675) – (28.95% drop)
8. Zion Williamson 2019 Prizm Base RC PSA 10- ($825 to $650) – (21.21% drop)
9. Ja Morant 2019 Prizm Base RC PSA 10- ($400 to $255) – (36.25% drop)
4 Baseball Cards Dropping
1. Ronald Acuna Jr. Topps Update Base RC PSA 10 – ($237.50 to $187.50) – (21.05% drop)
2. Juan Soto Topps Update Base RC PSA 10 – ($140 to $100) – (28.57% drop)
3. Fernando Tatis Jr. Topps Series 2 Base RC PSA 10 – ($110 to $75) – (31.82% drop)
4. Cody Bellinger Topps Update Base RC PSA 10 – ($250 to $175) – (30.00% drop)
Why are these dropping so fast?
The very easy (and true) explanation is they are not rare, they increased in price way too quickly, and the buyers who invested in them want to dump them before prices fall more. A lot of the cards listed above gained 100%+ in value over the last month, and with a rough economic and social time period, they will drop/have dropped just as fast. The more rare, stable investments are not falling much at all. Some cards that have dropped less than 10% drops in value are Shai Gilgeous-Alexander Prizm Silver rookie cards (non-graded), Luka Doncic 2018 Prizm Silver RC PSA 10s, Jayson Tatum 2017 Prizm Silver RC PSA 10s, and Kawhi Leonard 2012 Prizm Base RC PSA 10s. These cards are rarer, more stable, and have a stronger audience for consistent demand.
What should you do with your investments and how will the market change going forward?
Here's how I envision this playing out. It is not a guarantee, it's a prediction. This isn't supposed to be a panic message, if anything, it's the opposite. It's a look at how I think the market will react in the coming months.
Base RC PSA 10s will return to their value before the explosion a month ago. That means $250 Luka Doncic Prizm PSA 10s, $4,000 LeBron James Topps Chrome PSA 10s, $100 Ronald Acuna Jr. Topps Update RC PSA 10s. When will they go down to those values? I'd expect the half way point between today and when the sport seasons start back up again. If the NBA returns mid-way through June, that means in 1.5 months the sports card market will hit the low point. After that, hype will build, demand will return, and prices will go up. With that being said, there will be a MASSIVE buying opportunity that will arise for two to three weeks prior to the low point. If you wait for rock bottom, you won't be able to get enough volume. If you buy for two to three weeks leading up to the low point, your average cost will be perfect for selling during the NBA Playoffs.
All I can say is don't panic with your cards if you're not over leveraged (meaning you have cash savings to last during this tough economic times). Don't take a loss if you don't have to. If you are over leveraged, you'll probably have to do some selling. Hold your rare stuff. Hold you PSA 10s. Hold it all if you can. Sports will be back. Sports card demand will be back. We know this is a tough time for many different reasons, and all of our lives are drastically changing. Try your best to exercise patience and all will go well.
Wishing you all good health for yourself and your family members. Stay safe out there!