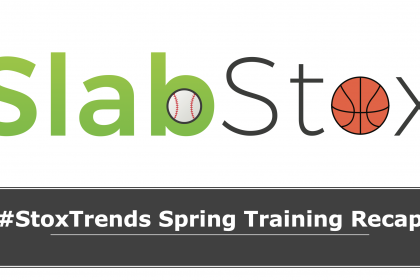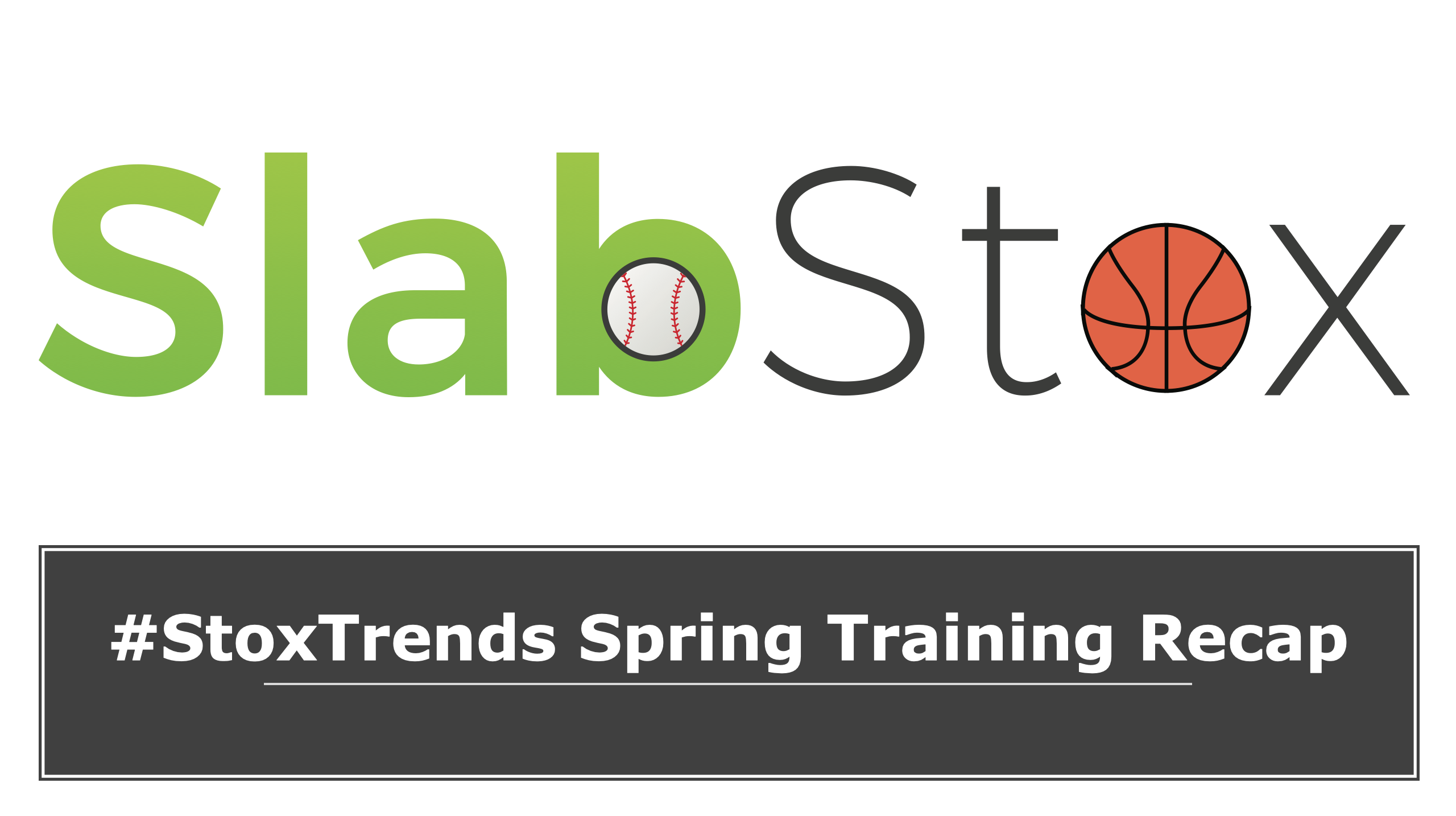 Since Week 4 marks the last full week of Spring Training, I thought I'd switch it up and provide a recap of the biggest movers since the start of it all.
If you haven't had the chance to read the previous three #StoxTrends, it may be wise to check them out before reading the recap.
Since there are plenty of players that moved up and down, there is a possibility that I missed some guys. If that is the case, send me who you think I missed! Here are a few other things to keep in mind:
Most of these players have made appearances in this blog over the last three weeks, but now the graphs reflect a full-month trend from the sale closest to the start of Spring Training to the closest sale today.
Some of them are BGS 9.5 sales, some sales are for ungraded cards.
They are ranked by percent increase, so the difference in price won't make a difference (unless a 9.5 increases faster than a base for a given player—that would take more research on my end).
I expanded this week's analysis to 16 players. I will not be giving analysis on all of them. Instead, I will choose three "must watch" prospects from this list for full-season ball, and explain why below.
Overall, I can say this. What a fun Spring Training! It wrapped up with the largest contract extension for a player who hasn't made his MLB Debut: Eloy Jimenez (6 yr, $43M). What a time to be a collector and investor!
The next time I write a #StoxTrends, the regular season will have begun. How great does that sound?
#StoxTrends: Spring Training Recap
16. Keston Huira – Milwaukee Brewers (+26.87%)
15. Bo Bichette – Toronto Blue Jays (+30.00%)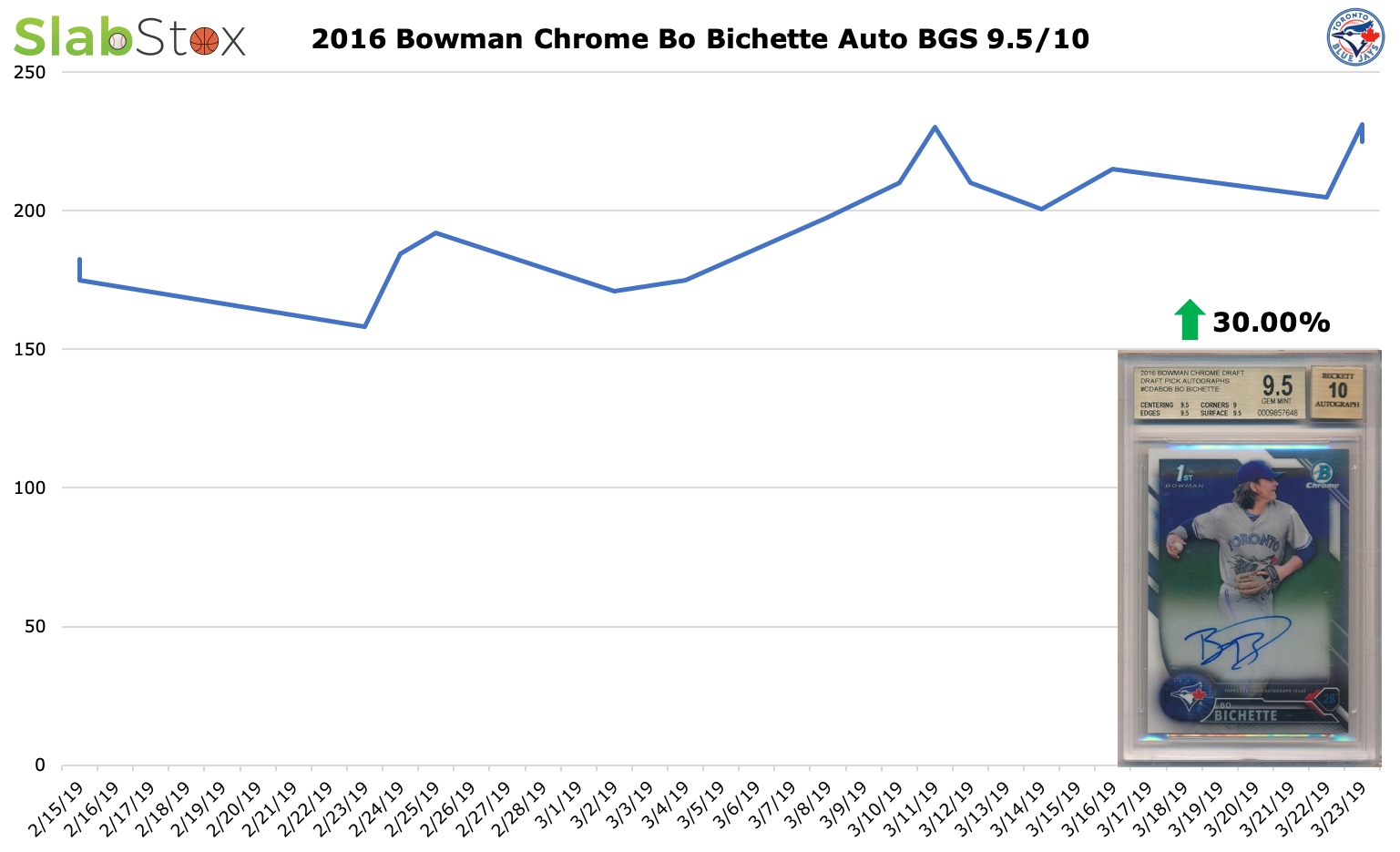 14. Kyle Lewis – Seattle Mariners (+37.48%)
13. Carter Kieboom – Washington Nationals (+46.25%)
12. Ke'Bryan Hayes – Pittsburgh Pirates (+49.95%)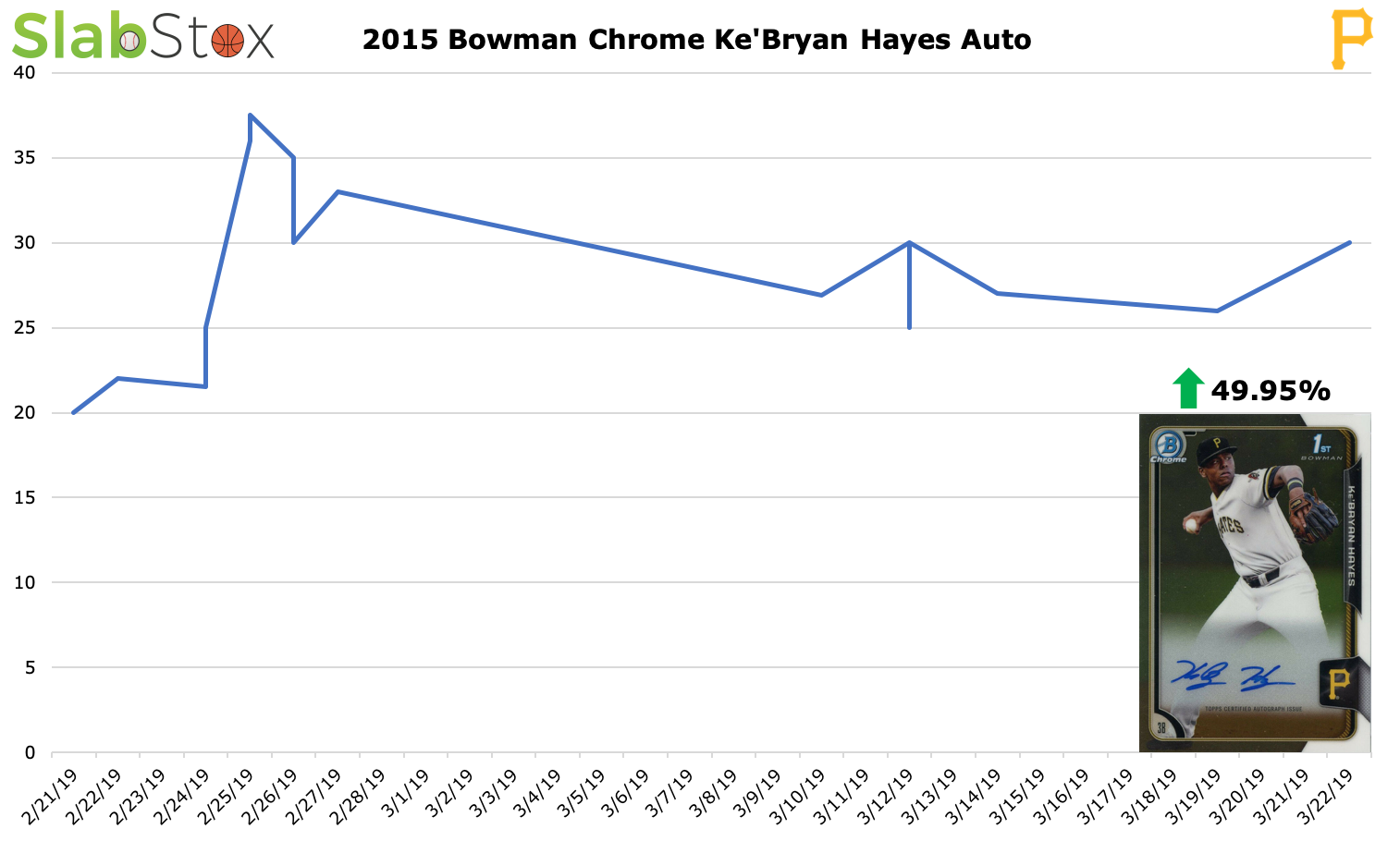 11. Cristian Pache – Atlanta Braves (+54.55%)
10. Austin Hays – Baltimore Orioles (+55.56%)
9. Oneil Cruz – Pittsburg Pirates (+62.71%)
8. Cole Roederer – Chicago Cubs (+64.44%)
7. Estevan Florial – New York Yankees (+76.12%)
6. Byron Buxton – Minnesota Twins (+78.57%)
5. Pete Alonso – New York Mets (+91.43%)
4. Nico Hoerner – Chicago Cubs (+100.00%)
3. Chris Paddack – San Diego Padres (+129.65%)
2. Alek Thomas – Arizona Diamondbacks (+257.73%)
1. Matt Thaiss – Los Angeles Angels (+400.00%)
Personally, I am really surprised Thaiss ended Spring Training over $10. I don't think it will take long until he is below that threshold again.
---
Three Must Watch Prospects (No particular order)
Cristian Pache
Pache makes this list because I have publicly stated why I don't like him as an investment (hinged on his defense is why he's a top prospect). With that being said, he has been very impressive this spring. Not only putting the ball out of the park, but racking up doubles, as well.
If Pache can get his hit tool to develop more and tack some extra power on, he could be a great investment. I like to wait to see a month of the MiLB season to make a decision if I am investing or not in players I think have to work on something to become a "buy." I do that to mitigate my risk. That is the same course of action I will be taking with a lot of 2018 Draft hitters (Hoerner).
Pache falls into that category. I will be watching him every day to see how he is progressing, and if he can improve from last year (with a bigger sample size), count me in.
Oneil Cruz
If anyone missed it, yesterday Cruz hit an absolute moon shot in a Spring Training game. If he can tack on some more muscle onto his slender frame, that will start to be a regular occurrence.
Nate wrote a Prospect Profile on Cruz in early March, and he provides everything you'd want to know about Cruz. Much like Pache, if Cruz advances his hit tool he becomes an instant buy (I already consider him a buy around $45 to $50). There is risk with him, but there is massive reward.
If Cruz can show he can consistently hit this year, he will be a top-50 prospect by mid-season, and if continues on the same trajectory, top 25 by the end of the year.
Keston Hiura
I still think he is too cheap. A lot of people know my opinion on Hiura, but I think he is one of the best pure bats in the Minors (behind Vlad Jr.). He has the highest power/hit tool combo out of any prospect other than Vlad Jr. Even more so, he has some of the quickest hands I've ever seen.
I fully expect Hiura to dominate Double-A this year. Last year, in his first full year, he was battling an elbow rehab during most of the year. This year, he is fully healthy, and he even was playing second base for the Brewers in Spring Training. Now that he can focus solely on progressing his already great all-around offensive game, he will take it to the next level.
I could see a September call-up towards the end of the season, but I expect him to be the full-time starting second base next year for the Brewers. If you want to wait and see what Hiura can do before buying in, that is fine. Just make sure you're watching so you don't miss out!
---
Lastly, a HUGE thank you to all these Instagram users for providing me with extra players to research to work into these weekly #StoxTrends.
@zuckyscards, @dodgerscards42, @tx.graphs32, @litsportscards, @oceanstatecards, @gasportscards202, @dc.cards, @chitown_sportscards, @macs_sports_cards, @luke.graphs.13, @44prospecting, @bestsportscards28, @newenglandpieces, @lonestargraphs, @golo_baseballcards, @ttm_patrick, @kagnosportscards
It was a fun Spring Training, but I cannot wait for the regular season. Upon my arrival home to the United States (yup, still studying abroad in Barcelona, Spain), be prepared for weekly podcasts!
Let's GOOOOOO!
Previously on SlabStox: Farewell, Ichiro. Hello, Profit
Next on SlabStox: #StoxTrends: Regular Season Week
Stay up-to-date on all things sports card trading with SlabStox. Sign up for The Daily Slab today!