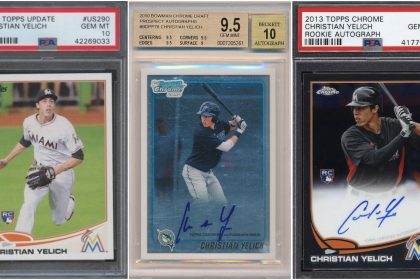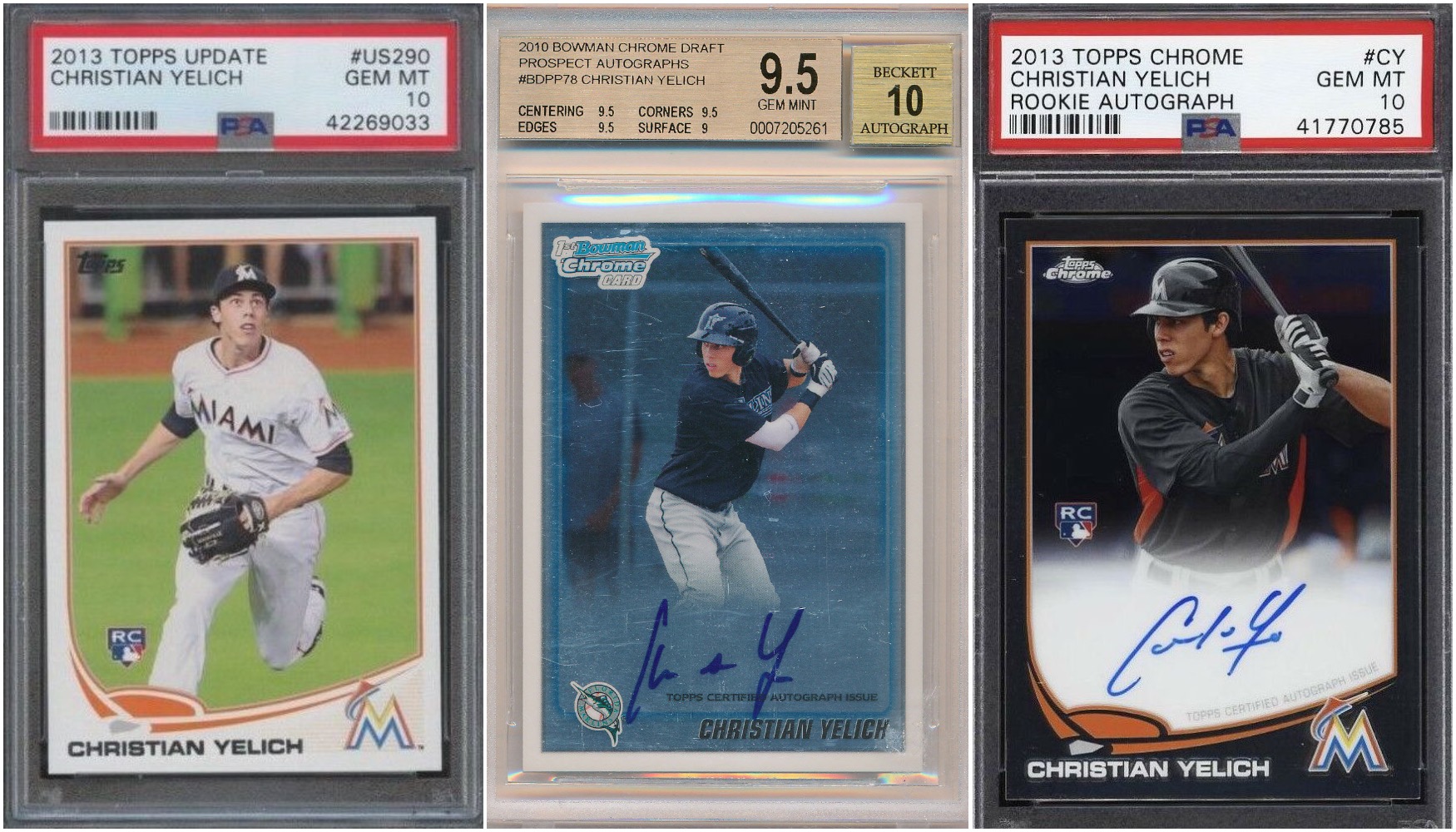 Of course I am going to be biased in saying this, but that was the most exciting and action-packed Opening Weekend I've ever seen. As a Brewers fan, there is no way it gets better than that, other than not giving up 3 homers to Goldschmidt in one day.
With that being said, we saw some monster performances around the league ranging from hitters to pitchers to individual teams. The Dodgers set the record for most home runs in an Opening Day game with 8, Christian Yelich tied a record by hitting 4 straight home runs to start the season (will he break it tonight?), and pitchers dominated all over the place.
For this Opening Weekend recap, I've pegged three hitters to write on and a bunch of pitchers to highlight who spun the ball exceptionally.
*Note: When looking at the graphs, there are big vertical lines on the most recent sale dates. That is due to the lowest buy-it-nows being bought first, then incrementally more buy-it-nows get hit as the day progresses. The likely trend in one day is they start at the lowest point on the line, and make their way up it.
The Bounce Back
First up is Cody Bellinger. After a rookie season in 2017 where Bellinger crushed any ball he saw, he regressed in his sophomore season (which happens to many). To go along with the regular season regression, he has been extremely underwhelming in the playoffs, although he won the NLCS MVP last year.
Over the weekend, Bellinger collected 10 hits in 20 at-bats while adding 4 HR, 8 RBI, 1 SB, and a 1.624 OPS. Truly an incredibly (and overshadowed) stretch of three games.
Since the start of February, his Base Bowman Chrome autos are up 155.33% giving his rookie season investors hope they can creep their way back up to top tier prices.
Bellinger is going to be someone to keep a close eye on. He has been too inconsistent throughout his career to think he can keep up top tier play. However, if he fixed the hole in his swing and starts driving through the ball, he could quickly launch himself towards the top of the NL talent pool.
Should he be invested in right now? Probably not, since his prices are trending way up. BUT. If he hits a small slump over a week and they come back down for a brief period, it could be worth it. When you're keeping a close eye on him and he brings consistency to his game, that would be a time to hit the purchase button.
The New Team, Same Player (Or Even Better)
Up next is Paul Goldschmidt. After a huge slump to start the 2018 season, Goldy went on a tear to make the All-Star team, win a Silver Slugger, and finish 6th in the NL MVP vote. In a trade the Diamondbacks got absolutely fleeced in, the Cardinals landed the stud first baseman.
Over the weekend, Goldy went 6 hits in 16 at-bats, added 4 HR with 6 RBI, and put up a 1.569 OPS. He was the most talked about player on Friday since he sent three over the fences in that game alone.
Since Goldschmidt clearly has one rookie card that is sought after (unlike Bellinger who has multiple different ones), I added a chart on both his Update RC PSA 10 and 1st BC Auto (ungraded and BGS 9/PSA 9 sales). I included those sales since raw and 9s sell around the same, and it gave me more data to work with.
An Update PSA 10 sold $160 at auction (an outlier), but these have been around $95 to $115 other than that. The percent increase was calculated based on an average of 3/31 sales.
His Bowman Chrome auto has not reacted the same way, with the most recent sale on 3/31 being $251.50 leading to an 85.69% increase (based off an average of the last two).
I know it's early in the season, but I see Goldschmidt as a top-3 MVP candidate this year right next to Yelich and Arenado/Baez/Harper (not sure who yet). If you think Goldschmidt has potential to go up in price, by all means invest. If I were looking for something to buy into, it'd be his 1st Bowman Chrome auto. With Pete Alonso rewriting the script for first baseman prices, it is only a matter of time before Goldschmidt sells for big numbers.
The What Is Going On
Yep, the 2018 NL MVP is having people feel like Jim Halpert.
After one of the hottest second halves ever in 2018, Yelich has picked up right where he left off. Over four games this weekend, Yelich got 6 hits in 12 at-bats with 4 HR, 8 RBI, 6 BB, and a 2.250 OPS. Video-game numbers.
Not only were the overall numbers extraordinary, he also tied the record for most games in a row with a home run to start the season (4) and smacked a walk-off double on a Jordan Hicks 102 MPH fastball.
If there is going to be any team he's breaking the record against, it's going to be the Reds. Last year he had two cycles against them, and the Reds is a home run friendly ballpark. While it would be insane for him to hit his 5th in a row tonight, I wouldn't be surprised.
Since last night, his stuff has EXPLODED. A PSA 10 Bowman Chrome Base auto went for over $600 and a PSA 10 Topps Chrome auto for $275. Here are his 2013 Topps Update PSA 10 and 2010 Bowman Chrome Base auto charts since February.
Even more than a jump since February, the real jump was in the last day.
Yelich's trends are the exact opposite of Goldschmidt. Yelich's BC auto is way out in front at 232.45% compared to the Update PSA 10 at 135.06%. If Yelich goes nuts again tonight, will his Update PSA 10 catchup in rate of increase with the BC auto? I'd assume so.
As everyone by now knows, I am a massive Brewers fan (along with Nate). Yelich has been my favorite player ever since the day the Crew traded for him. This four-game hot streak is incredible, but I think people forget he's been on a heater since the All-Star break of last year. He even destroyed the baseball in Spring Training.
While I don't expect him to hit a HR every day (obviously), we may be witnessing the up-and-coming of the best player in the National League for years to come. Last year was just the beginning.
His prices hit their peak up to this point. Is there room for them to reach an even higher peak? Of course there is! Like with any player, prolonged success at the top of the MLB produces a substantial rise in prices over an extended period. If you want to buy in right now, please do not buy in for a quick flip. You must believe Yelich can become the best player in the NL for years to come; otherwise you will be left being disappointed if you're trying to sell by the end of April.
The Pitchers Who Spun Gems
I won't produce charts for these guys yet, but if they produce at a similar level for a second start, they'll get a chart.
Let's start with non-rookies or prospects (no particular order)
Max Scherzer: 7.2 IP, 2 H, 3 BB, 2 ER, 12 K
Jacob deGrom: 6 IP, 5 H, 1 BB, 0 ER, 10 K
Jake Odorizzi: 6 IP, 1 H, 2 BB, 1 ER, 11 K
The Young Guys
Jose Berrios: 7.2 IP, 2 H, 1 BB, 0 ER, 10 K
Berrios destroyed the Indians pushing his Base auto to sell for $55. Berrios was a great investment at the beginning of the season. I was very close to writing about him in my MLB Breakout blog, but refrained due to people mostly wanting to hear about hitters. At 24 years old, he is going to cement his status as an ace in the AL this year. He is going to be fun to watch for years to come.
Corbin Burnes: 5 IP, 6 H, 1 BB, 4 ER, 12 K
Extremely overshadowed by Yelich's historic start to the season, Burnes made his first ever MLB start and struck out 12. Last year, Burnes was a weapon out of the bullpen in the playoffs for the Crew, but this year, he gets a shot to mold into their frontline starter by next season.
I really, really liked Burnes as an investment opportunity before the season. The main reason I didn't write on him was 1) Brewers bias and 2) I have a small collection myself and did not want to prop up Burnes' market (he was an afterthought for almost all investors) However, on one of our Sunday live-streams, I mentioned I could see him as a sleeper pick to be an NL Cy Young contender. If anyone was lucky enough to hear that, I hope you picked up a Bowman Chrome auto as Base autos are now pushing $15.
I know, he gave up 4 runs. All were via the long ball. One to Dejong, one to Matt Carpenter, and one to Goldschmidt, all very polished power hitters. He missed three pitches the whole day, and they made him pay. As you expected, this comes with a but. And that but is he struck out 12 against a Cardinals lineup that is towards the top of the NL.
Not only did he strikeout 12, he also broke a Statcast record (in use since 2015). While Burnes flashed an elite slider yesterday, his fastball is the record breaker. Burnes registered an average of 2,913 rpm on each fastball, which gives the pitch its rising effect. That's the new record in an outing where a pitcher threw at least 25 four-seam fastballs. Anything north of 2,600 rpms is considered elite. The previous record was shared by Max Scherzer and Justin Verlander at 2,681 rpm. Yup.
As Burnes faces teams more than once, he will need to mix in a curve or change against his opponents. For now, his elite slider and fastball will be enough to rip through lineups. Take that information, and invest accordingly to your beliefs.
The Prospect
Chris Paddack: 5 IP, 2 H, 1 BB, 1 ER, 7 K
In his MLB debut at 23-years-old after skipping AAA, Paddack ripped an impressive 5 innings off against the Giants, while striking out 7. If anyone remembers, we promoted Paddack as a buy (at $25 to $30) after his first Spring Training start in the Week 2 #StoxTrends and in a livestream that same night. After he hit $40 a Base auto, he even got a Prospect Profile.
If you read our content or listened to our weekly livestream, you should now own a Base auto that is selling between $50 and $60. If you own multiples, I would sell one and hold one right now. Secure some profit and hedge your bets while holding onto a player that should turn into the Padres frontline starter by the mid-season mark.
I hope you had as much fun watching baseball this weekend as I did. Here's to the rest of the 2019 season!
Previously on SlabStox: Prospect Profile: Yordan Alvarez
Sign up for The Daily Slab email to get the most up-to-date sports card insights straight to your inbox.