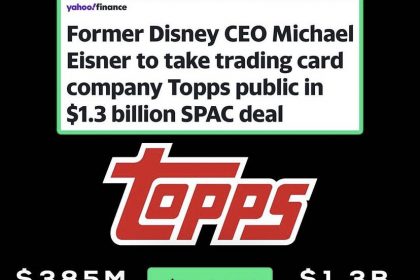 Minutes before Tuesday's market opened, Yahoo Finance announced that former Disney CEO and current chairman of The Topps Company, Michael Eisner, will be taking the company public through the SPAC, Mudrick Capital Acquisition Corp. II (MUDS). This is huge news for those investing indirectly in the sports-card industry. Previously, investors looked to Collector's Universe, the parent company of PSA, but that went private December 2020. 
What does this move mean for Topps? How will this additional capital infusion change the landscape of the sports card industry? Let's break it down. 
What is a SPAC? 
A SPAC, or special purpose acquisition company, is designed to provide a simpler process for companies to go public. Instead of going through an IPO, which can be thought of as a company looking for money, a SPAC can be thought of as the reverse—money is looking for appropriate companies.
A SPAC is usually created by a well-known investor or group of investors who have a reputation for investing in good companies. Based on the plan and reputation, investors fund a SPAC before the specific companies to be acquired are announced. The process ends with the acquired company or companies taking over the SPAC's original ticker symbol and trading as a normal public company. 
Successful companies that went public through a SPAC are DraftKings (DKNG) and Virgin Galactic (SPCE). 
How does this change the Topps outlook? 
The positives: As a company that has been looking to go public, Topps has successfully partnered with Mudrick Capital and will complete the process. By becoming a public company, it has access to many different funding channels at competitive rates.
The negatives: The one negative in becoming a public company is increased formal transparency with shareholders. This means releasing earnings statements and calls quarterly. 
Now that Topps has access to new capital, let's have a little fun speculating where the company could go: 
Capital could be used to create more products within existing baseball, soccer, or entertainment products currently offered. Topps needs to re-invent their high-end products to compete with Panini products. This move could raise the additional funding for new products.
There has also been speculation that Eisner could use his relationship with Disney to build on their Star Wars license and land a license to produce Disney cards, including Marvel and PIXAR lines. With the popularity of Pokémon cards, adding Disney trading cards to the industry could be huge for collectors and investors alike.
While Topps has been in the non-fungible token (NFT) space for over a year, this move would allow for a more complete NFT product line and blockchain services, including entry into the secondary NFT markets. Eisner revealed plans to do just that according to a Yahoo Finance interview. The NFT market is very popular right now and is looking for a leader in the space, especially the sports NFT space. This move by Topps could lead to becoming a major player in the NFT space.
How does this affect the sports card industry? 
This could be the beginning of Topps re-entering the sports card market for basketball and football, which are currently exclusively licensed to Panini. Old Topps football and basketball cards still hold tremendous value. Previously produced Topps cards could be in high demand if Topps were to emerge as a major competitor to Panini.
Something to keep in mind: with Topps going public, they have to report quarterly to their board with earnings per share, putting the focus on revenue/profit. If that becomes the only thing that matters at Topps, production runs on certain products might go through the roof to capture as much revenue as possible. This could lead to lower values due to high production and too much supply in the market.
So, what do you think? Good move for Topps? For the industry? Will you be investing in MUDS? Sound off in the comments below!
Sign up for The Daily Slab email to get the most up-to-date sports card insights straight to your inbox.