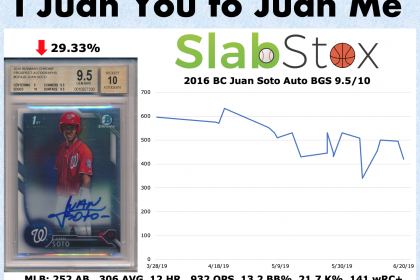 Robin Zander, who was born in Wisconsin, is the lead vocalist of the band Cheap Trick. He famously just wanted someone to want him and much like him, Juan Soto just wanted someone to believe in him after his slow start to the year. Before we take a closer look at Soto, enjoy a song by Cheap Trick. This is a band I hadn't thought about in years until I was trying to come up with a title for this article. Then I saw Zander was from Wisconsin, and I had to run with it because I'm shameless.
Now, let's take a closer look at Juan Soto and what he's done this year.
Raise your hand if you were worried about Soto's start to the year. Did you panic sell or did you hold on expecting a rebound? If you sold, this article is definitely for you. I understand if you were worried about Soto's star; after all, he had a season low OPS of .759 on May 16. Sometimes though, if a player looks like he could potentially be on a Hall of Fame trajectory, you just have to let it ride.
If you let it ride, Soto has rewarded you by raising his season slash line to .305/.399/.534, good for a .934 OPS as a 20-year-old. This is after having a .923 OPS as a 19-year-old last year. I don't need to tell you how good it is to have an OPS above .900 two straight years to start your career, especially from a player who can't legally drink yet. For kicks and giggles though, here is a list of players to have an OPS above .900 as a 19 or 20-year-old. I set the minimum to 100 games. If you drop the minimum game amount down, Soto would be on the list for this year (not just last year). As would Fernando Tatis Jr, who has an OPS of .958 in 43 games played as a 20-year-old.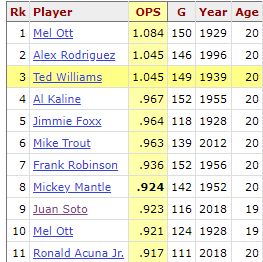 You'll notice when looking at this list there is a common theme to it. Every player on here is either in the Hall of Fame, going to be in the Hall of Fame (Mike Trout), or had Hall of Fame type talent (Alex Rodriguez). The two exceptions are obviously Soto and Acuña; however, both players are on Hall of Fame type trajectories when compared to other players who have been in their situation. Interestingly enough, if Soto finishes the year with an OPS over .900, him and Mel Ott will be the only players in MLB history to have an OPS above .900 at the ages of 19 and 20.
One more example of how uncommon Soto has been is this: two players that come to mind, for me, when thinking of all time greats that played at 19 and 20 are Ken Griffey Jr. and Robin Yount. Yount OPSed .674 and .593 as a 19 and 20 year old, respectively. Griffey OPSed .748 and .847 as a 19 year old and 20 year old. Both these players are Hall of Fame players that had incredible careers at the plate ,and yet Soto's stats blow theirs out of the water.
All of this brings me to the point I'm trying to get across. If a player has so much success at such a young age where literally every comparable player is or should be a Hall of Famer, don't freak out about a slow start. Slow starts happen for a myriad of reasons, but more often than not talent will rise back to its level. That's what has happened to Juan Soto, and I fully expect him to continue hitting well for years to come barring injury.
Now, let's bring it back to his Bowman Chrome autos.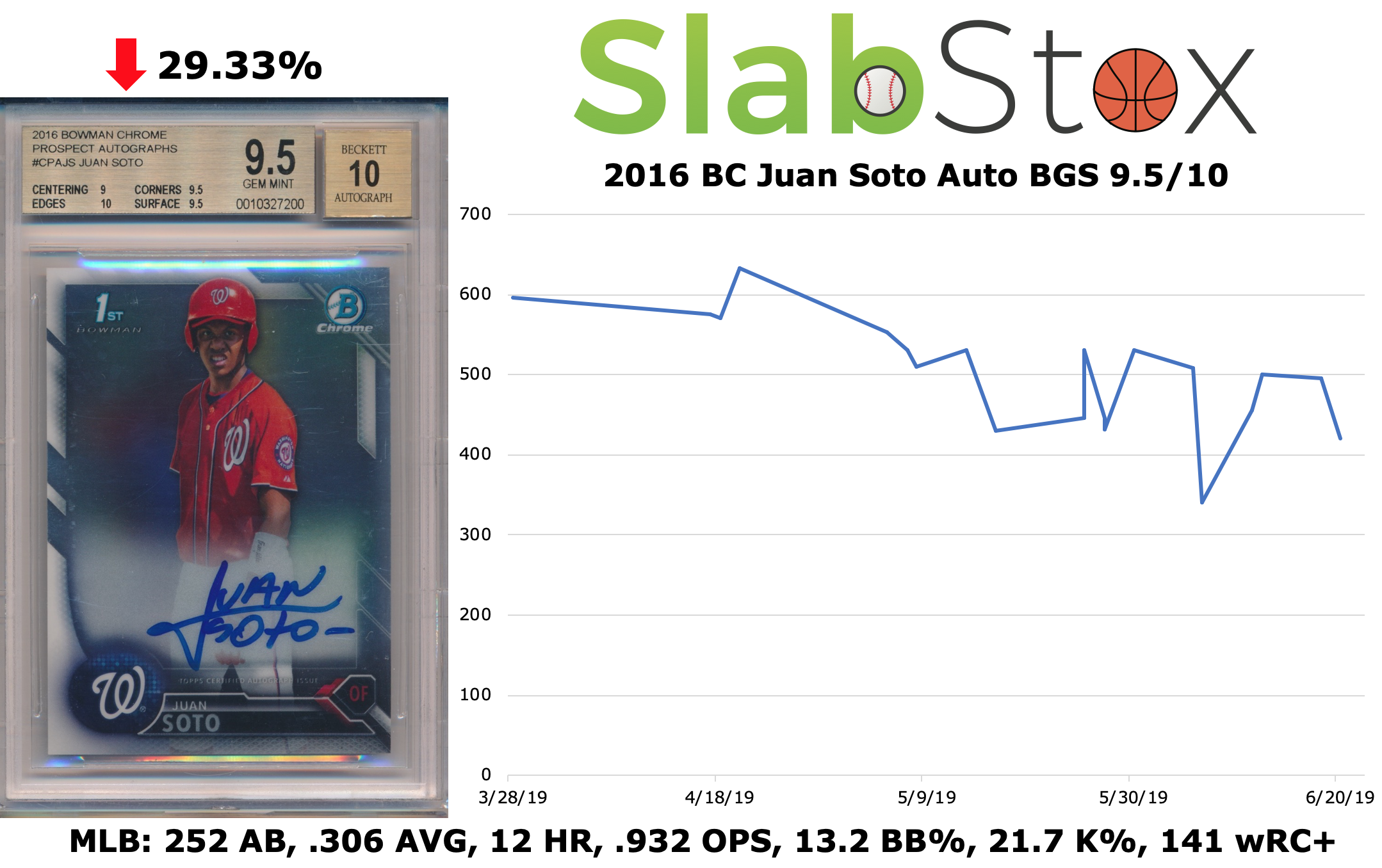 Right at the start of the season, his base auto BGS 9.5s were around $600. Since then, they have only went down. They are now sitting around $400ish. While saying to go out and drop $400 isn't feasible, I will say this. Soto has rebounded in a big way after the early season slump. He brought his numbers up a ton. He's 20 for the rest of the season. So why are his autos still only around $400? I don't know, you tell me. The only thing I can come up with is the Nationals obviously aren't good this year; however, Soto is amazing.
It's up to you if you go and pick one up for the lowest cost since last season, but the facts have been presented for you to go make a decision.
*All stats are from Baseball-Reference.
---
Interested in getting a daily newsletter including eBay links to hundreds of auctions and buy-it-nows (including Soto rookies and autos)? Sign up for your one week free trial today here: eBay newsletter