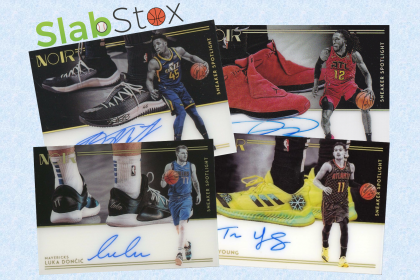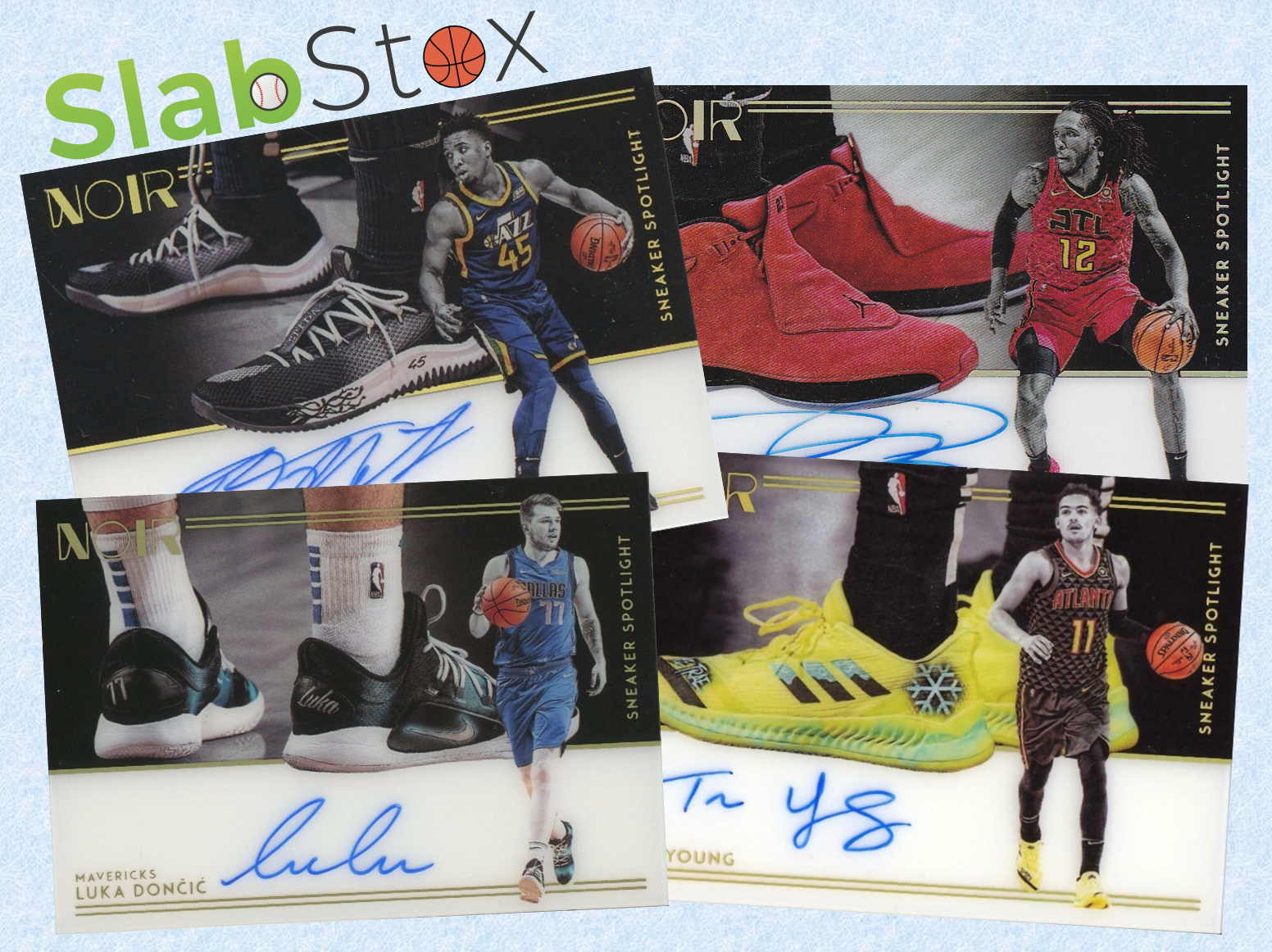 Right when I heard Noir added a new set called "Sneaker Spotlights," I was automatically intrigued. Basketball was my life through middle school, high school, and even one year of college, playing at the University of St. Thomas in Minnesota. With that, sneakers have always been a big pull for me.
Through middle school and high school, the Kobe and KD signature lines were always my favorite to wear to school. I remember rocking the Kobe 8 "Milk Snake" (left) until there were holes in the bottom of the shoes. I even grabbed a pair of the KD 4 "Battle Tested" (right) Spring 2018 when they re-released shoes of NBA Champions.
Because I sprained my right ankle three times in high school (one time really badly), I couldn't play in low-top shoes. Instead, I had to find ones with good ankle support, or at least some that ankle braces would fit snug into. In comes the Jordan 28 SE (left) and the Kyrie 3 (right), both of which I had three pairs of, spanning six different basketball seasons (different color ways, of course).
The Kyrie 3s even boosted my vertical a couple of inches in college. Maybe that's why I liked them that much…
I even treated shoes like I do cards; I found a way to make money on them. During spring semester freshman year, my mom and I would wake up early on Thursdays, Fridays, and Saturdays to get Nike and Jordan releases online. It worked well for a while, especially when the Nike Air Vapormax was released for the first time and the PG 1 debuted.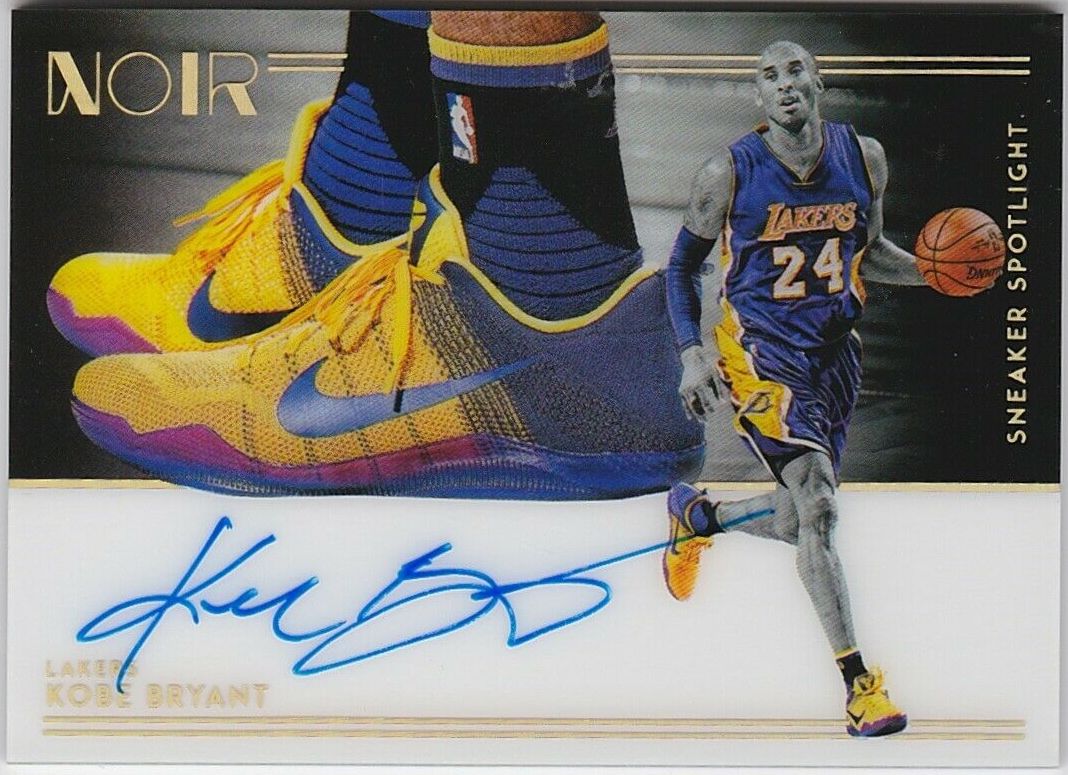 A combination of all of that and here I am today, wanting to build a full set of Noir Sneaker Spotlights. Because that doesn't even come close to fitting in my budget, I will be living vicariously through this article.
The set consists of 40 players. The most notable retired players are Kobe Bryant, Shaq, Dwayne Wade, Ray Allen, and Jason Kidd. The most notable current veterans are Kevin Durant, Giannis (redemption), Damian Lillard (redemption), Kyrie Irving, Donovan Mitchell, and Karl-Anthony Towns. And the most notable rookies are Luka Doncic, Trae Young, Marvin Bagley, Shai Gilgeous-Alexander, and DeAndre Ayton. Some of the cards are /49, the rest are /99.
Here are some of my thoughts on this set.
Why I think this set has long-term potential
The other day I got a text from Tyler Wagner (former Brewers prospect) asking for my opinion on which players from the set have the best long-term potential. After some back and forth, that eventually turned into me coming up with criteria for which specific cards will do well with time. Think of this as a "yes/no" checklist. This isn't an "all or nothing" thing, but a "have one of these." Another very key thing is this: the player has to be good.
Legendary signature line worn by that player (Kobe)
Internationally based brand (D-Wade)
Personal branding on the shoe (Shaq)
Custom shoe (Trae Young/Karl-Anthony Towns)
First model of a sneaker ever (Bagley/Ayton with Puma, and even Lonzo Ball with BBB)
After the player qualifies as "good" (also known as sought after), just add one of those five points to the card and the long-term potential should be there. A lot of NBA fans (and probably card collectors/investors) are fans of shoes since it plays a large part in NBA culture.
I'm not the only one out there that enjoys basketball, the NBA, basketball shoes, and cards. Also, I'm going to go with what GaryVee said and reiterate more shoe resellers are going to be getting into cards eventually. Once they get into the game, they will figure out about these cards, and at that point it's game over.
Worst shoe choice and design goes to…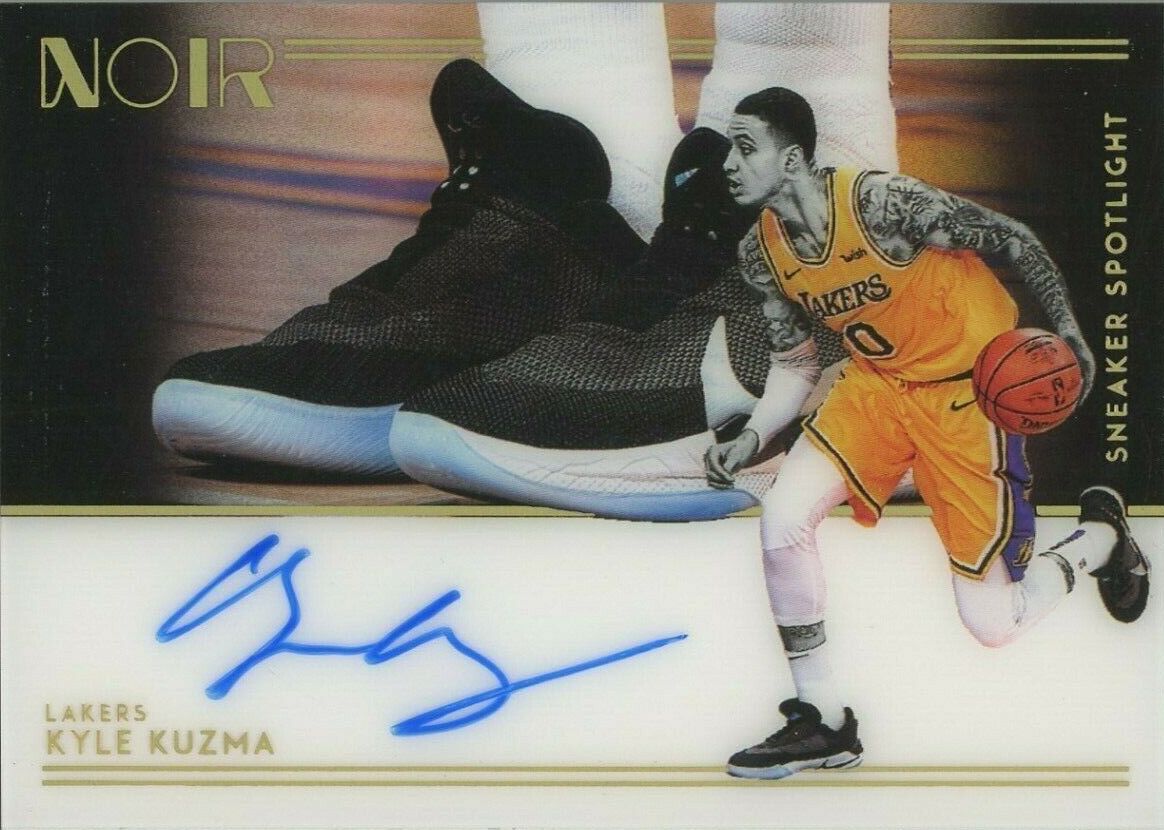 I know, I know. This fits into #5; it's the first Nike Adapt self-lacing basketball shoe. BUT. The shoe looks insanely bland and boring; there is no eye appeal. Not to mention, the only actual exciting part of the shoe (the Nike swoosh) is blocked by Kuzma's body. I think it was a great choice having Kuzma in the set, but they failed miserably with designing this shoe.
The Wild Card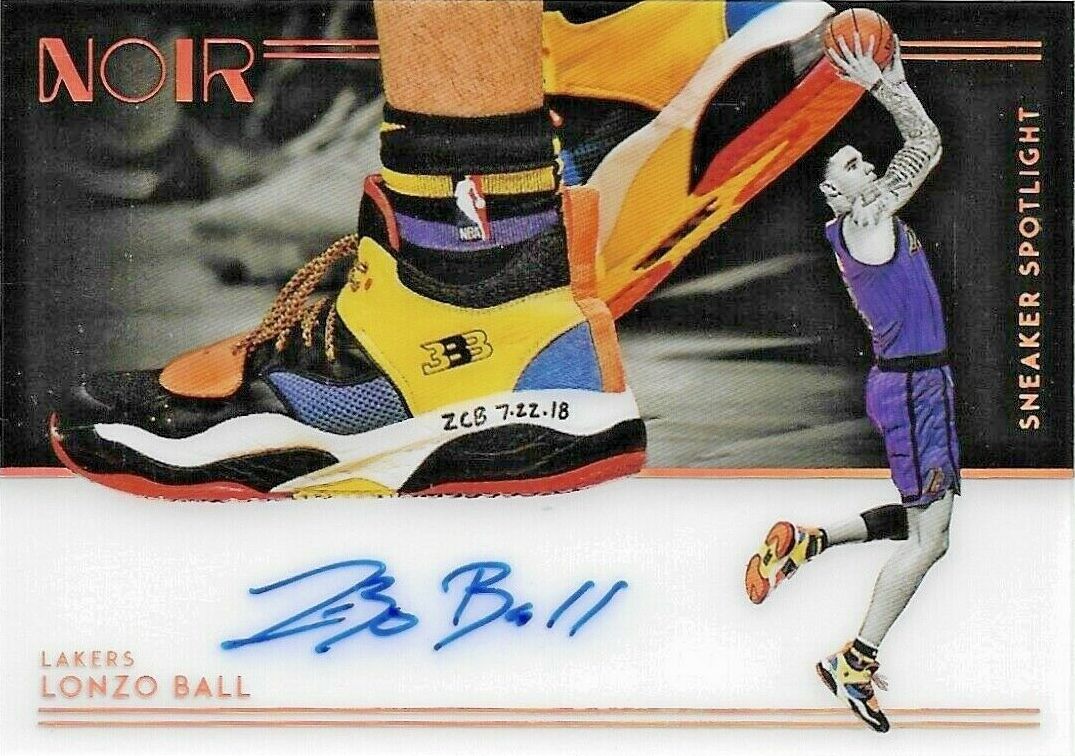 Normally, I'd say Lonzo Ball cards are terrifying investments. However, this one makes me think twice. The Big Baller Brand phenomenon was one of the weirdest things I've ever seen; however, weird stuff sells. And not going to lie, I could argue this for every point above except for the international brand. The only thing holding me back on this one is if Lonzo Ball flops hard in New Orleans, probably no where to go but down on this one.
My Top 3 Sneaker Spotlights
This all has to do with my favorite cards from this set, not that I think these three are the best to invest in. Because I love shoes and cards, this was fun to come up with.
3. Shai Gilgeous-Alexander /99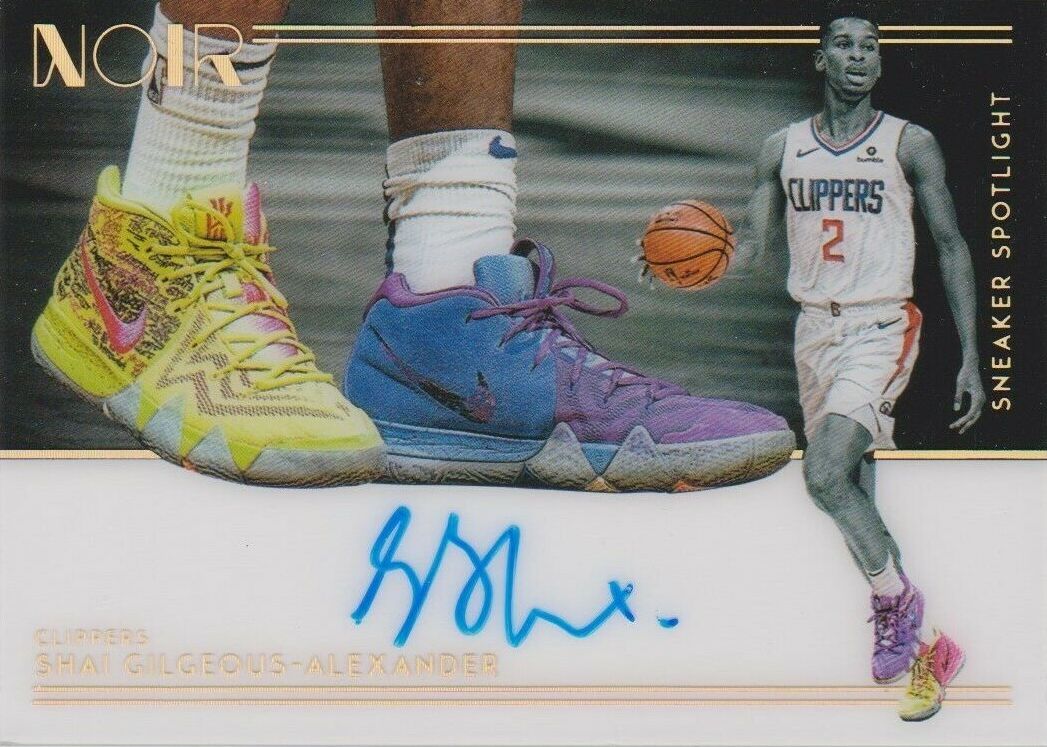 I'm a huge fan of Kyrie's, and I'm a huge fan of Shai. The Kyrie's I wore were the 3s (these are the 4s), but I actually like the design of the 4s a lot. By the time they came out, I was done playing basketball. While I wouldn't wear this color way myself, I am a huge fan of it as a shoe in general and love it on the card.
2. Trae Young /99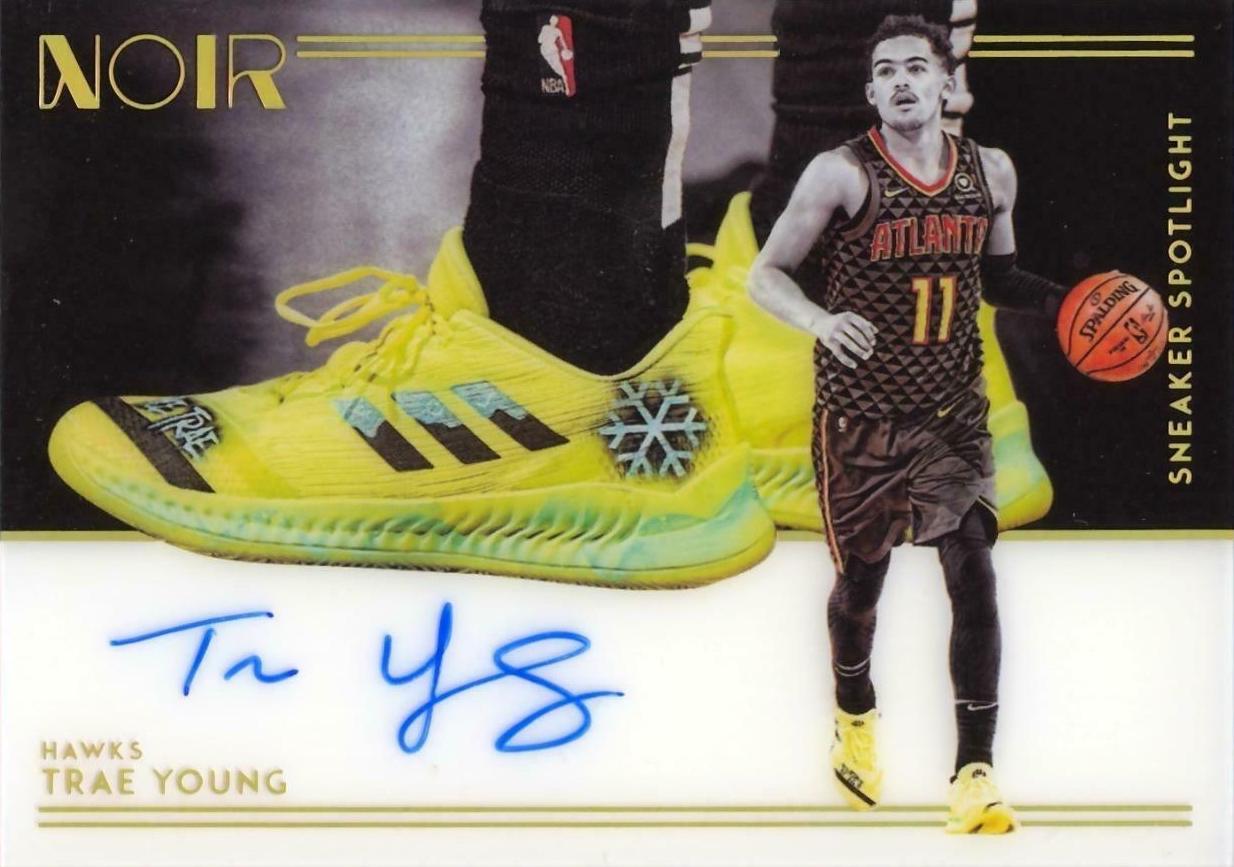 Normally, I'm not about that three stipe life; however, this custom shoe is absolute fire (or should I say ice, ha). The snowflake emoji combined with the personal branding on the toe makes this shoe awesome. Not to mention, Trae is easily one of my favorite 2018 rookies. He's incredibly fun to watch play the game.
1. Karl-Anthony Towns /49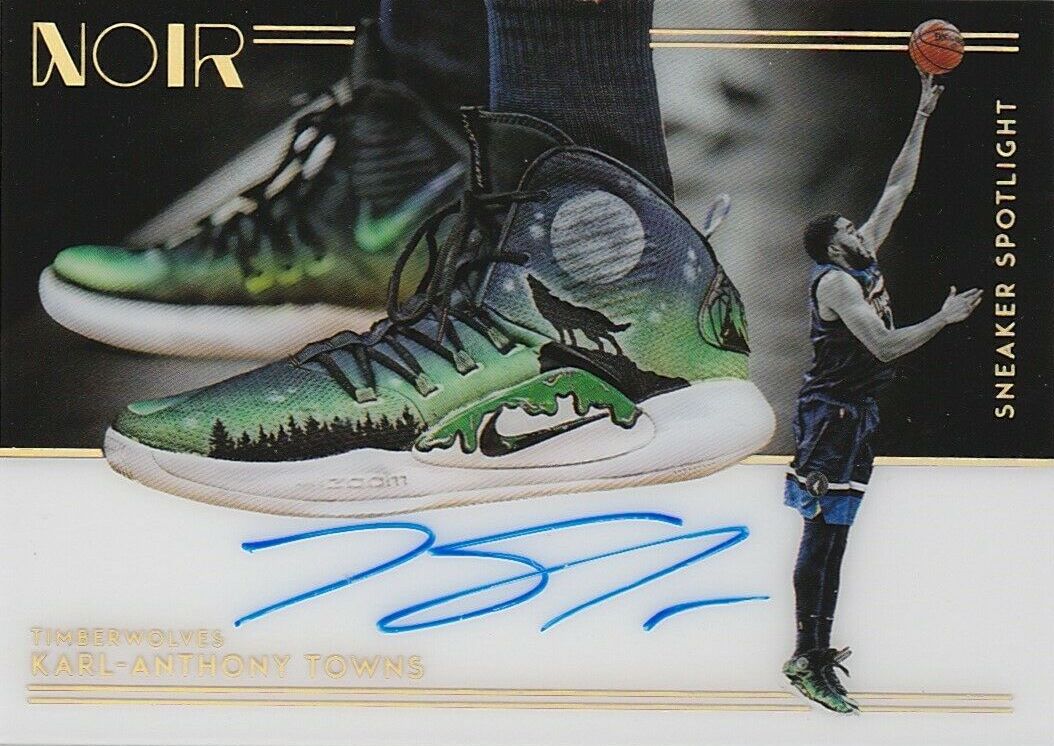 I'm sure a couple of you out there could've guessed it. I can't count on two hands the amount of games I saw Karl-Anthony Towns play in the Target Center. I love the custom shoe by @kickstradomis, Towns is one of my favorite players, AND the card is /49, making it more rare and satisfying to have (which I don't… yet).
I missed two of these today. One because I didn't accept a counter offer, and the second because I was recording a PennyStox YouTube video. So if anyone has one and wants to sell, you know who to call!
After reading this article, hopefully, you took away these two things at the very least: 1) I love basketball and shoes, and 2) I love cards. That is all.
Sign up for The Daily Slab email to get the most up-to-date sports card insights straight to your inbox.