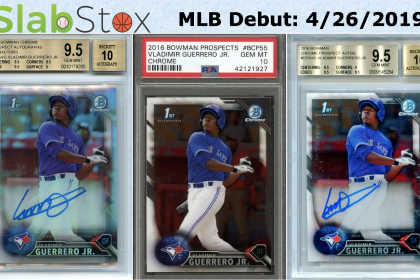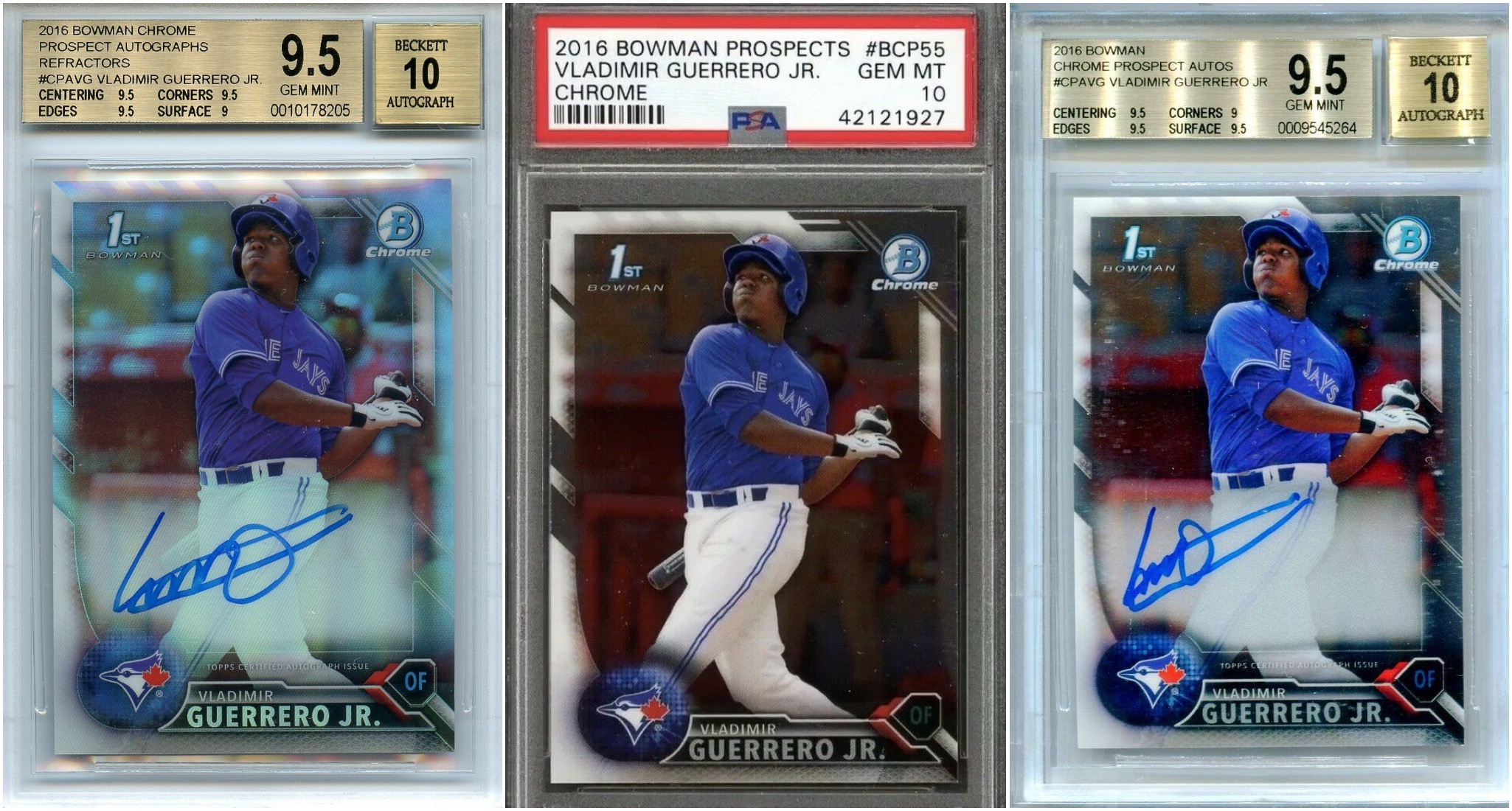 Finally. The #1 prospect in baseball, Vladimir Guerrero Jr, has gotten called up and will debut tomorrow night (4/26) against the Oakland Athletics.
After a 2018 season where Vlad Jr. hit for 29 doubles, 20 home runs, a .381 average, and over a 1.000 OPS all in only 93 games, his 2016 1st Bowman Chrome auto BGS 9.5/10s started eclipsing $1,000. Something unheard of for a 19-year-old player yet to make their Major League debut.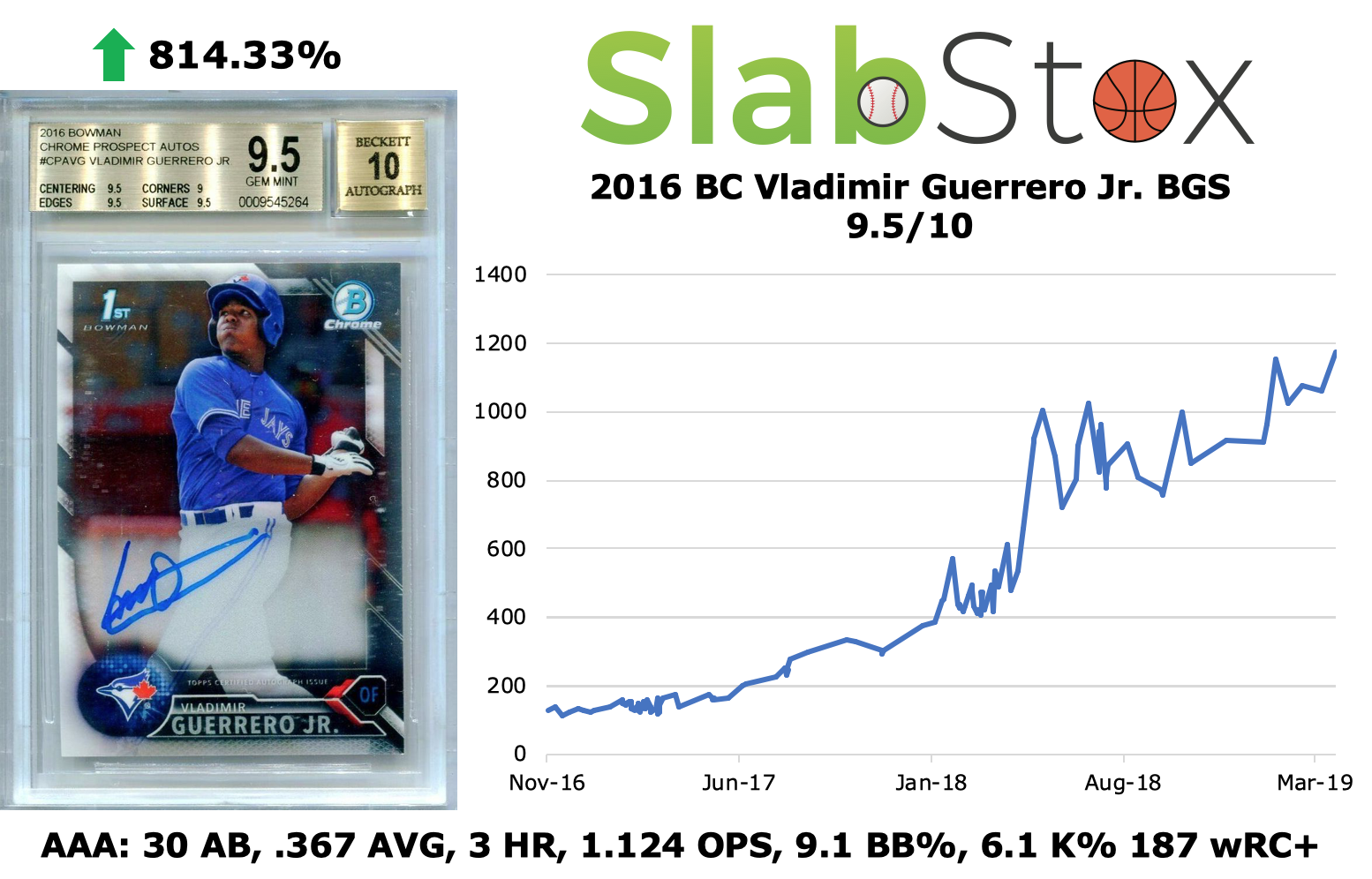 Since people were scrambling to get their hands on anything Vlad this pre-season, the 2016 1st Bowman Chrome non-auto PSA 10 exploded in price. A massive demand spike occurred, sending cards featuring Vlad Jr. and the 1st Bowman Chrome logo into a frenzy.
Undoubtedly, these are the two cards of Vladimir Guerrero Jr. to own (not counting any rookies releasing later this season). While the Bowman Chrome auto is a huge card, the non-auto PSA 10s increased at a faster rate from release date. Buying $200 of non-auto PSA 10s would've left you better off than $200 of BGS 9.5/10 autos (*cough* Bowman Chrome non-autos *cough*).
Before analyzing an undervalued Vlad Jr. card that could be a nice, low cost investment, I'll be doing something similar to what I did with Alonso, Tatis, and Jimenez before their debuts.
Expectations
Clearly, expectations are sky high for Vlad Jr., as they would be for any player who is the son of a Hall of Famer, only 20-years-old, and arguably had one of the best Minor League careers ever.
Want to know a crazy statistic? Vlad Jr. never struck out over 14% of the time in any level of the minors. He also walked around 10% of the time his entire career. Not only does he possess crazy amounts of power and the ability to hit at a level never seen before (hence his 80-grade hit tool), he also has one of the best approaches at the plate. We're talking best approaches among all players, not just players his age! Vlad Jr is truly a generational talent when it comes to hitting the baseball.
Because of all of that, his 9.5/10 autos are over $1,000. If there is going to be any pre-MLB to meet the $1,000 expectation coming into the league, it'll be him.
I fully expect to see Vlad Jr. towards the top of the offensive statistic lists from the day he steps on a MLB diamond to the point he retires. He's that good. The only thing that could slow him down during his career are injuries, but that can be said for any player.
Since we're all about data over here, I'm going to display ZiPS three year projection on Vlad Jr (from Fangraphs.com).
There's a lot to take in here, but I'll break down the basics.
For some reason they're only projecting around 113 games a year (maybe injuries?)
By 21, they have him posting over a .900 OPS.
They don't have him hitting over 30 home runs in any of his first three seasons.
He's projected to be almost a 5 WAR player by 22.
Personally, I think these stats are on the conservative side (even though I know they run simulations and data tests to project them).
I'll give my predictions later.
Best/Worst Case Scenarios
Best Case
Vlad Jr. becomes the second best hitter in the AL by the All-Star break by hitting .345/.410/.595 with 14 home runs. He also makes the AL All-Star team, even though he missed the first month of the season. Due to how lucrative the baseball card market is now, his 9.5/10 Base autos are selling for over $2,000, with investors confident he'll win MVPs in the near future. He continues mashing the baseball the entire season, and finishes 2nd in MVP voting at 20-years-old, only behind Mike Trout. At the end of the season, he is the first 20-year-old ever to have a 9.5/10 Base auto sell for over $2,500.
Worst Case
Since his bat is just that good, I don't foresee a worst case scenario happening due to poor play. Like I said earlier, the only thing that will slow him down are injuries. Like last year, he pulls some muscles and is constantly hitting the Injured List. Because of that, he only plays in 75 games his rookie season, hitting .295 with 15 home runs. Due to the high potential he still possesses, 9.5/10 Base autos are selling for $500.
Predictions
I'm such a big believer in his hitting ability and think he'll avoid injuries, I'll give a higher probability to the best case happening than the worst. He really is one of the most polished hitters the minors has ever seen.
For his rookie season, I'll give Vlad Jr. .300/.365/.560 with 25 home runs. I fully expect him to hit for extra bases all over the place, leading to the .925 OPS.
Honestly, I have no idea where to project out his 9.5/10 Base auto prices. Anything can happen with a massive hot streak, and I'm here to watch and enjoy.
4/26/2019 MLB Debut Prediction: 3 H, 1 2B, 2 RBI, 1 BB
Now to move onto the undervalued card to invest in:
2017 Bowman Chrome Vladimir Guerrero Jr. Mega Refractor PSA 10
Yes, it is not a 1st Bowman Chrome. However, those are approaching $200 a pop. I wanted to offer an investment option that is around $50. The 2017 Bowman Mega Boxes were the first to release, with 2018 Bowman Mega Boxes coming last year. There has been a crazy amount of demand for these sealed boxes, especially with Ohtani and Acuña having cards in it. With the memories of collectors racing around every Target they could get to for these boxes, the 2017 Mega refractors of star players should always be in demand (compared to something like a 2017 Draft refractor).
The last one of these to sell went for $50, and truthfully, there aren't too many of these listed on eBay right now (PSA 10s). If you're looking to pick up an ungraded, I'd definitely recommend that one as well.
If you are wanting to wait until 2019 Topps rookies come out of Vlad Jr, check out "2019: Year of the Vlad," to see some sets he is already slotted to be in.
Get ready for tomorrow; VLAD IS COMING!
Sign up for The Daily Slab email to get the most up-to-date sports card insights straight to your inbox.