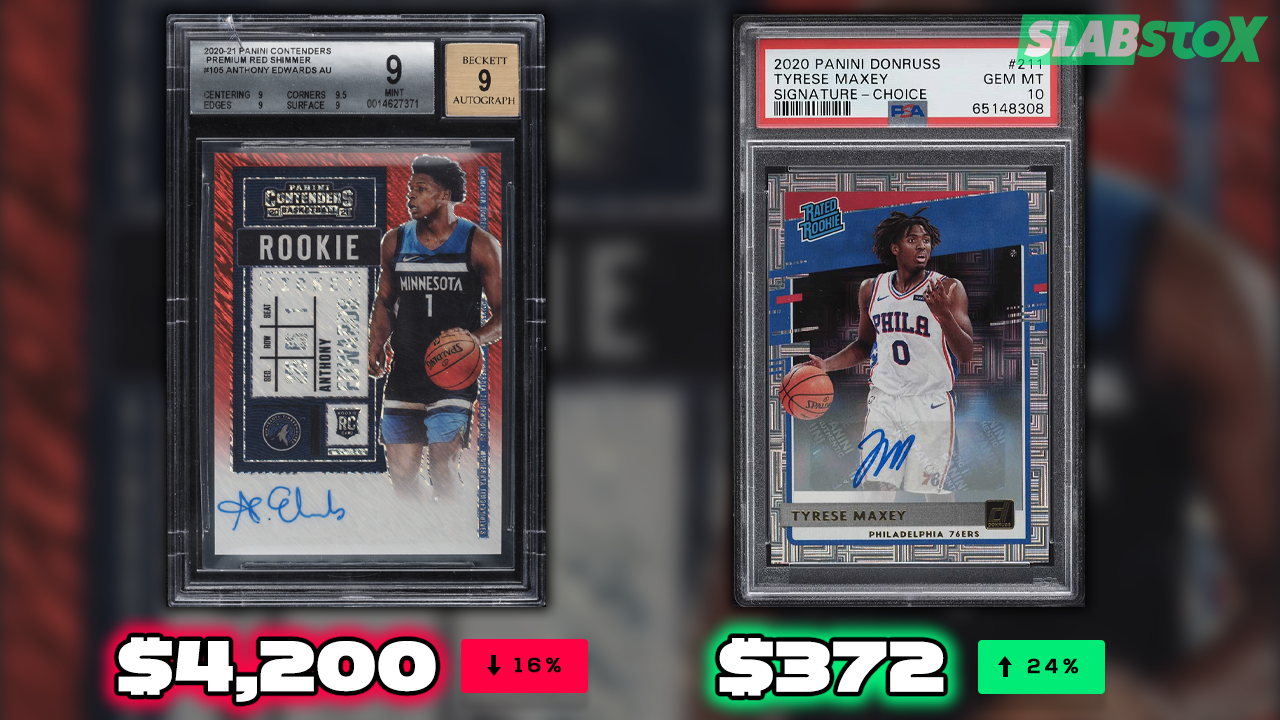 The third year for an NBA player is extremely important. Tyrese Maxey is taking over for the Sixers, especially with James Harden out with an injury. He currently has the highest PPG for the team with 24.9 points per game (for qualified players). He's scored 25+ in 6 of his 10 games this season.
Maxey under radar his NBA rookie season
Unlike Anthony Edwards and LaMelo Ball, Maxey had a much smaller role with the Sixers his rookie year, only playing 15.3 minutes per game and averaging 8 points per game. The growth between then and now from the Kentucky Wildcat speaks for itself. Maxey's 2020 Donruss Choice RC Auto PSA 10 sold for $372 in last night's PWCC Weekly Auction #42. Earlier this month this card sold for $300, an increase of 24%.
Edwards grounded, sports cards react
The high flying Anthony Edwards has yet to register a dunk on the season so far, and the media has been all over him for it. Even though he hasn't slammed home one of his signature dunks yet, he's still averaging 22.8 PPG so far, just barely higher than last year's 21.3 PPG. The Timberwolves currently sit at .500 and 10th in the Western Conference with a record of 5-5. While the scoring numbers aren't terrible for Edwards, this Wolves team has much higher expectations than 5-5, and many collectors expected Edwards to be up there with the 25+ PPG scorers. Because of this, his 2020 Contenders Red Shimmer RC Auto /5 BGS 9 sold for $4,200 last night, a 16% decrease since 6/9/22.
*Sales data is provided by Card Ladder, which combines 14 data sources into one (eBay, PWCC, etc). Create your Card Ladder account here!