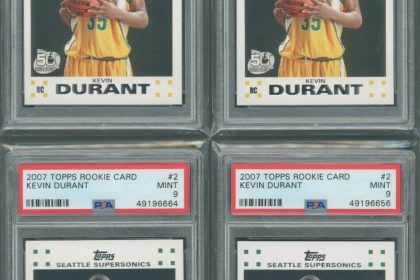 A quick update on the card market as the NBA season gets underway.
The start to the 2020-2021 NBA season has provided a ton of action and has been incredibly fun to watch. Most teams have only played a couple of games so far, but we have already seen some incredible performances and moments. 
The rest of the season should provide even more entertainment and fun for both fans and collectors of the top NBA stars. Although the sample size is small, there are some key trends and players to monitor after these opening week games.
Kevin Durant: Trending UP
It has been an absolute wild start to the season with blowout games, record-setting performances, and surprising teams/players. There are so many things that we just don't quite know yet, but one thing is for certain. Kevin Durant is back, and he is playing like the best player in the Eastern Conference. 
The NBA is much better with Kevin Durant back and playing at a high level, and he has exceeded expectations so far to start the season with his new squad in Brooklyn. He and Kyrie are looking like a force to be reckoned with in the East, and his numbers are resembling his pre-injury greatness. 
Returning from an Achilles injury can be one of the biggest feats for any athlete. When looking at other notable NBA stars' statistics from before and after this type of injury, a clear dropoff in production and capability can be seen. Demarcus Cousins, Kobe Bryant, and Rudy Gay all follow this decline in performance following this significant injury. These players were clearly not the same after suffering the injury, but so far Kevin Durant has proven to be in very good form. 
Durant has looked on point in his first three games back. His stats have been impressive so far, and when taking a closer look at his advanced stats, it further proves he hasn't really lost a step since his injury in the 2019 NBA Finals with the Warriors. He's playing a good amount of minutes and is being used at a high rate. As long as he stays healthy, the league is in good hands.
This start has also energized his card market. When looking at the chart below, it is clear these first three games have really sparked an interest in his 2007 Topps White Border #112 Rookie Card PSA 9. Prices of this card are trending up 38% and are seeing much higher sales volume than before the season tipped off. The uncertainty of what he would look like coming back from his injury seems to have been put to rest for now as prices are heading in the right direction for his card investors.
Christian Wood: Trending UP
Another recent player who has been seeing their sales go through the roof is Rockets Forward Christian Wood. He only has a few Rookie Card options out there on the market, with the most notable one being his 2015-16 Donruss Rated Rookie. In its raw (non-graded) state, this card has increased 80%, going from about $50 a piece to hovering in the $90 range as of late.
Wood has always been an excellent per-minute player, and last year he got his huge break by getting good minutes with the Detroit Pistons. He was then able to turn that one successful season into a 3 year deal with the Houston Rockets, which will open up a ton of minutes for him to play. 
He has put up good numbers in his first two games so far this season (see below), which has many investors excited about his potential future since his position on the Rockets sets him up for a ton of minutes and hopefully points moving forward. 
The PSA population report on this card is very low, but that will change as more people start buying these raw and sending them to get graded.
It is a good investment opportunity, but it is really important to be cautious when looking into these cards since they are a paper product, which tends to suffer more dinged corners than chrome products. Simply buying up raw versions in hopes of receiving PSA 9's and 10's isn't a great idea.
Domantas Sabonis: Trending UP
Sabonis, the 11th pick in the 2016 NBA draft, is another player off to a hot start this season with the Indiana Pacers. As a result, his 2016 Donruss Optic Rated Rookie Holo is trending up 185% since December 6.
One thing to love about Sabonis is the steady progression he's made as a player in the first 5 seasons of his career. His points, rebounds, and assists per game have all increased year over year, on average, which is extremely promising. This year, he is really showing the potential to be another dominant big man in the league who can spread the floor.
Sabonis has gotten his name in the same conversation as the likes of Nikola Jokic and Bam Adebayo, as some of the most dominant bigs in the NBA. All three of these players share the ability to stand at the free-throw line and direct the offense with their passing abilities. 
The 24-year-old is putting up incredibly good numbers and is hardly in the national spotlight just yet. While he is no Jokic right now, he has the ability to see very good returns with his cards, and those will only get better as he receives more notoriety. Things are definitely looking up for him after he received honors as the Eastern Conference Player of the Week. 
Collin Sexton: Trending UP
The young Cavaliers Point Guard has been on an absolute tear to start this season, and his card prices have responded accordingly. So far, he has been scoring nearly 30 points per game on elite efficiency. So elite, that he is paralleling Steph Curry's unanimous MVP season. The normal deficiencies of his game are still there, but posting a true shooting percentage of 66% and nearly 30 PPG will overshadow any of those flaws.  
This efficiency will most likely not stay the entire length of the season, so expect a dip in this to come at some point. Selling some of his Panini Prizm Base PSA 10 cards to secure some profit while it's up 177% might be a smart move, and maybe keep a few just to see what happens. People love to invest in scoring, and Sexton definitely knows how to light up that area of the stat sheet.
See SlabStox's most recent Instagram post on Collin Sexton.
The "Starting" Five
Here is a check-in by Sam on 5 young players who have been in the league for 1-3 years. These players are still starting their careers off and have either been trending in the right or wrong direction after the start of the NBA season. Remember, this is only after a few games for each player. These trends could certainly change as the season progresses. 
Brandon Clarke: Trending Down
After a good rookie campaign with the Grizzlies, Clarke has been making waves for all the wrong reasons in his second season. He has debuted a new jump shot that is absolutely atrocious. He'll need to turn things around quickly after his horrendous start to the season.   
James Wiseman: Trending Up
The young big man out of Memphis has had a great start to the season in contrast to the rest of his team. He looks extremely strong and athletic in these first few games. He is also stepping in as the number two man and playing a major role already, which is very promising and will surely boost his Prizm prices when they are released this year.
Darius Garland: Trending Up
After an awful rookie season last year, Garland has been showing encouraging signs for his card investors. Through 3 games, he has averaged 19 points, 8.3 assists, 4 rebounds, and 2 steals. He's been a huge factor in the Cavaliers' 3-0 start and seems to be looking much more comfortable at the start of his sophomore campaign. 
Keldon Johnson: Trending Up
The 29th overall pick from last year's draft also looks very impressive to start the season. After not playing much last year, he has started all three games for the San Antonio Spurs and is averaging 14 points, 8 rebounds, 3 assists, and 2 steals a game. Johnson looks like he will be slotted in at the 3 spot for most of the season and is definitely a player to keep tabs on.
Ja Morant: Trending Down
The number two overall pick from last year has not seen his stock go down, but unfortunately, he went down the other night after a very scary ankle injury. Early reports revealed he suffered a Grade 2 ankle sprain and will miss 3-5 weeks. It's a shame since he is one of the most exciting players in the league, and was off to an incredible start this season. Long term, this should not affect him at all. If you see his prices dipping from panic selling, buy up his cards. He will be one of the best and most well-liked players in the league for a while.