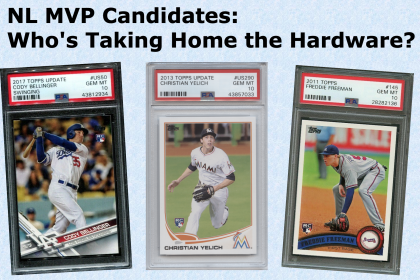 When it comes to the MVP race this year, it's a short list of who will win the award. On the American League side, you have Mike "Nothing He Does Surprises Me Anymore" Trout. On the National League side, you have last year's MVP Christian Yelich and the young stud Cody Bellinger. While the races are pretty much closed (of course, there's the possibility for a monster last couple of months), let's take a closer look at the top three competitors from each league and their corresponding Topps RC PSA 10 prices. We'll cover the National League today, and the American League on Friday.
Christian Yelich – Milwaukee Brewers
First up is the hitter who's having the best statistical season ever put up by a Brewer, Christian Yelich. Yelich, for those of you that don't know, leads the MLB in slugging percentage, home runs, and OPS. He's second in average, on base percentage, wRC+, and fWAR. He's also fifth in stolen bases, ninth in runs scored, and tenth in RBI.
Again, in case I didn't get the message across, those are stats for the entire MLB. Not just the NL. Yelich is currently on pace for the 28th best OPS season of all-time. The players ahead of him are Barry Bonds five times, Babe Ruth eight times, Lou Gehrig three times, Jimmie Fox three times, Mark McGwire twice, and Mickey Mantle twice. After that, it's Hack Wilson, Larry Walker, Sammy Sosa and Ted Williams who all did it once. All of these seasons were either produced by a Hall of Famer or players that could be in the Hall of Fame if they hadn't used steroids. And then there's Larry Walker, who didn't use steroids and should be in the hall.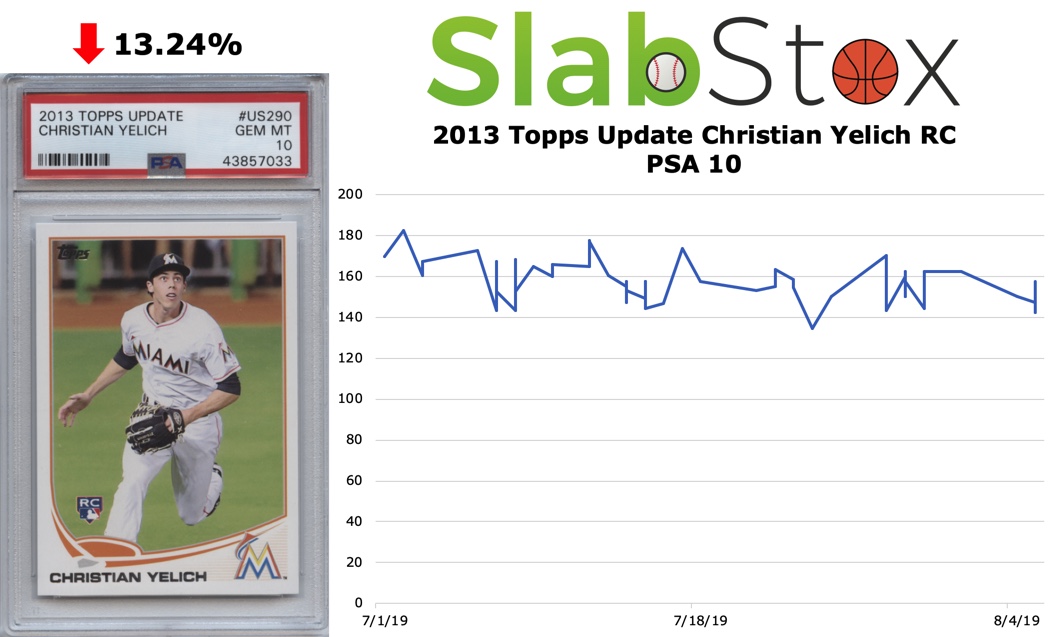 Yelich has been hot, but he's not on his other-wordly pace from the first half of the season. In turn, you'll notice a slight decrease in his prices over the last month. I imagine if he wins MVP again, these prices will pop backup.
Cody Bellinger – Los Angeles Dodgers
The freshly minted 24-year-old is having a career year, albeit of a relatively short career so far. He boasts an impressive .322/.422/.668 batting line along with 62 exta base hits, 37 of which are homers. Belli's 1.090 OPS comes in at 10th all time for an age 24 and under season. The same all-time greats that were ahead of Yelich are ahead of Bellinger. You've got Williams, Gehrig, Foxx, Mantle, DiMaggio, Ruth, Pujols and then Harper. That's pretty great company for Belli to keep as all are Hall of Famers, and then Harper.
Bellinger has obviously been great. Depending on which WAR measurement you use, he's either the best player in the NL (bWAR) or the second best (fWAR).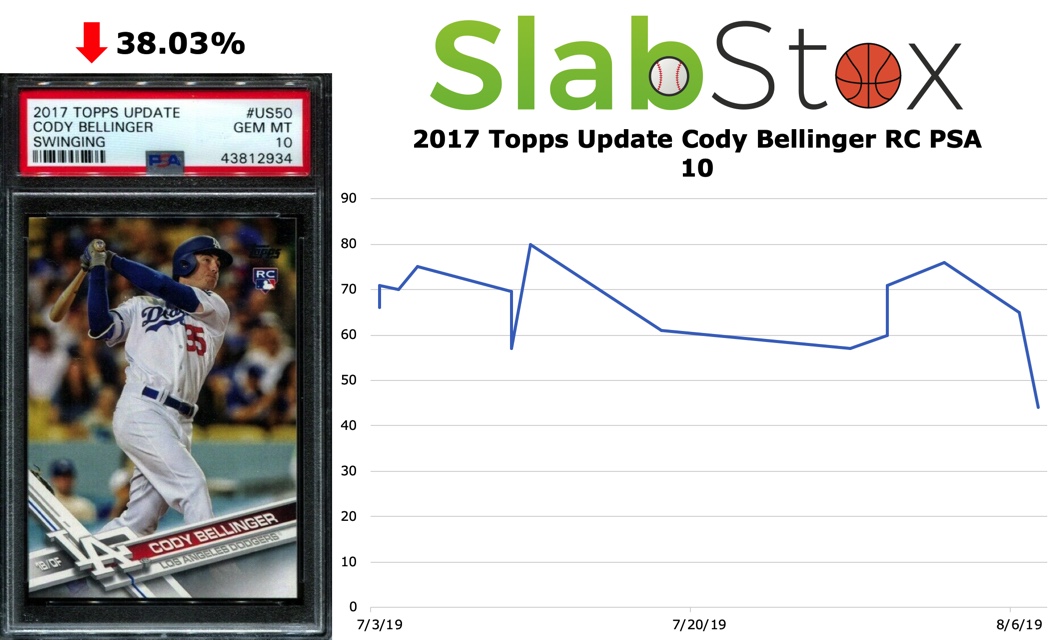 Bellinger has been incredible this season, but because his start was so hot, he was never going to be able to sustain his early season numbers. Sure enough his AVG, OBP, and SLG have gone down a little bit with every passing month. While he still has great numbers in those months, they pale in comparison to his .431/.508/.890 slash line from the first month of the season. Because of this, you can see a significant drop in price from this last month of sales.
Freddie Freeman – Atlanta Braves
At the time of the writing of this article, Freddie Freeman had the most votes for third place in the NL (via our Instagram Question of the Day, linked above). It'll probably go to Max Scherzer, but you gotta give the people what they want, so let's look at Freddie Freeman.
Freeman is currently 5th in the National League in OPS. If you remove Charlie Blackmon, who has a 1.305 home OPS and a .686 OPS on the road, he moves up to 4th (I realize it's not as easy as discrediting Blackmon's home stats, but they are definitely buoying his overall numbers past where they should probably be). Freeman is currently having one of the best years of his career, unfortunately, he's an afterthought as Yeli and Belli have been unbelievable the entire year. Making matters worse for Freeman's bid to win an MVP is he also has to go against Max Scherzer and Anthony Rendon, who are arguably the 3rd and 4th best players in the NL.
Freeman's chances of winning the award are slim (probably non-existent).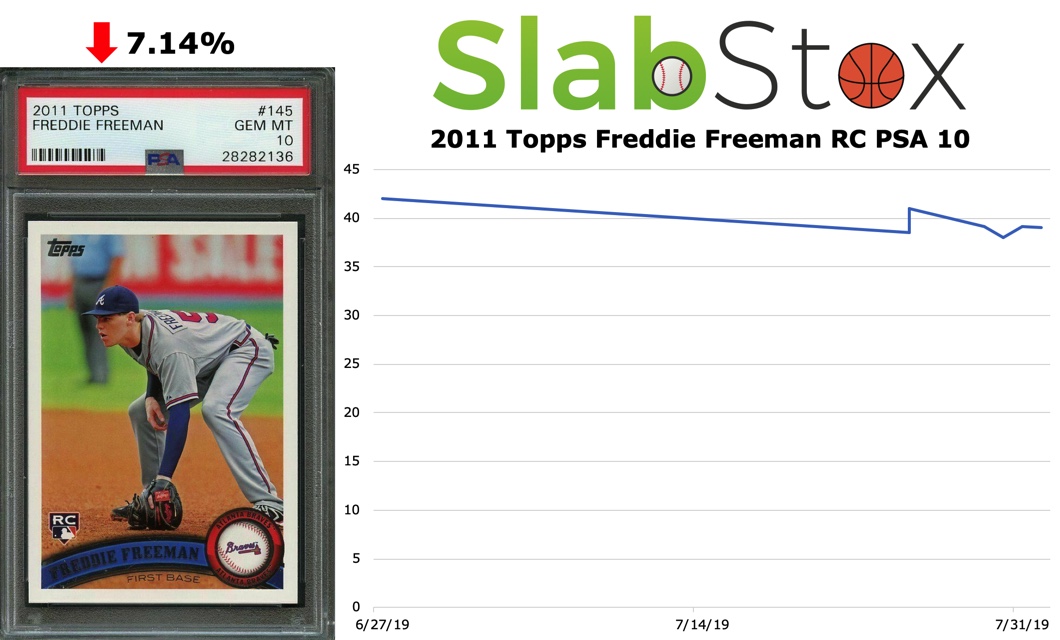 Freeman is coming off of his worst month of the season with a .816 OPS in July. This is more than 100 points lower than his next lowest month for OPS. You'll notice his prices correspond with his small slide, as they dropped 7% in the last month.
Three different MVP Candidates, but they all had drops in price. Yelich has had an OPS in the 1.000s every month but one, and yet his prices have dropped, presumably because he started the year hitting homers almost every other day. As for Bellinger and Freeman, their price drops make more sense, as their stats have merely been amazing, as opposed to other worldly. It'll be interesting to see who wins and what their Topps rookie card prices end at. If I was a betting man, I would bet on Yelich to secure another MVP.
Stay up-to-date on all things sports card trading with SlabStox. Sign up for The Daily Slab today!