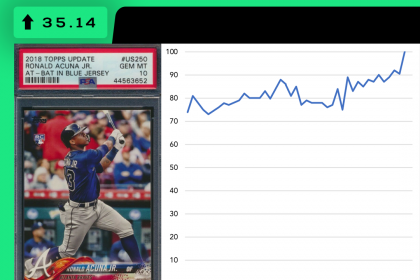 So…who's excited for Spring Training?! Pitchers and catchers have finally reported to camp, and we are just 8 days away from the first games. Already, we are starting to see an uptick in some key Topps baseball RCs. And as we all know, you can't talk about "key" RCs without talking about the one, the only Ronald Acuña Jr Topps Update US250 PSA 10. While this card is incredibly high in supply (300+ have auctioned off since the new year), there is just as much demand. The PSA 10 population for this card crossed over 10,000 recently, and these have risen 35% since the start of 2020.
Last season, Ronald Acuña Jr. was well on his way to a 40/40 (HR and SB) season until he sat out the last couple of weeks due to getting an injury healed up for the post-season. He ended with 41 home runs and 37 stolen bases. Acuña is only 22-years-old. Yesterday, @mlb had a post with a quote from Ozzie Albies, his teammate: "He's talking about 50/50 this year. That's the first thing he said when he got here." No player in the history of the MLB has ever put up a 50/50 season. If Acuña becomes the first player to complete that at 22-years-old, how much will these Update RC PSA 10s be? $200? Definitely. $300? Possibly. $400? Why not. There really is no telling, as we have yet to see how much new demand can be funneled to baseball RCs during the middle of the season. This baseball season is going to be great not just because we get to watch these young superstars, but because we have a whole new market to track. November, December, and January were perfect times to lock in your baseball RC investments, as some cards are starting to go up in price as we move closer to Spring Training. There is still room in these RCs since we haven't even reached Opening Day yet, but don't wait too much longer as these will stay on a steady incline leading up to the start of the season.
Head to the SlabStox YouTube or Twitter accounts for the most up-to-date sports card insights.