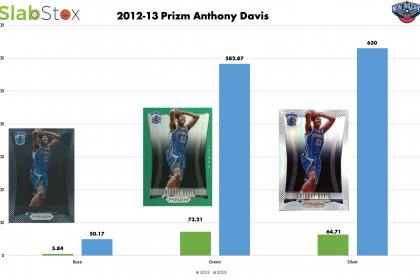 With thousands of collectors every year anticipating the release of Panini Prizm Basketball, people who chase the top rookie Silver Prizms must consider: is it worth it to cash in or hold for a possible big time investment?
Take yourself back to when Prizm first hit the stage in the 2012-13 season. Anthony Davis was coming off an amazing season leading the Kentucky Wildcats to a National Championship. Upon his arrival to the NBA, thousands of collectors were ready to chase his rookie cards, and 2012-13 Panini Prizm offered that chance.
The arrival of Prizm Basketball had dawned a new age of collecting to the modern era, reminiscent of the 1990s, where pulling an insert was as big as pulling a hit. Collectors of all ages were chasing the new Prizm parallels (Prizms) to fill their Topps Chrome void. Since Topps was years removed from the basketball market, this was a collectors first chance to get their hands on some shiny prismatic rookie cards once again.
Fast forward to today and the craze for rookie Prizms has done nothing but increase. Every early December, social media pages are flooded with posts from collectors ransacking local retail stores to find their Prizm basketball fix. A numbered Prizm of a top rookie in great condition can fetch thousands on the open market without the rookie even playing any more than one or two good pro games.
This begs the question: if these Prizm rookies go for so much when released, how much will they fetch five or ten years down the road after the market isn't flooded?
The answer may surprise you. Having some collector's patience may get you three times or more than what the market originally demanded.
Let's continue using Anthony Davis as our example. While the original Prizm release was still coming into its own as a product, the desire for it was high. Below are the average prices for 2012-13 Anthony Davis Rookie Prizms consisting of the 3 basic Prizm parallels: Base, Silver, and Green.
These prices are within the first month of the release in December of 2012.
Base: $5.84
Green: $73.21
Silver: $64.71
Fast forward seven-plus years and here are Anthony Davis prices for the same cards as of December 2018 to February 2019.
Base: $50.17
Green: 582.87
Silver: $630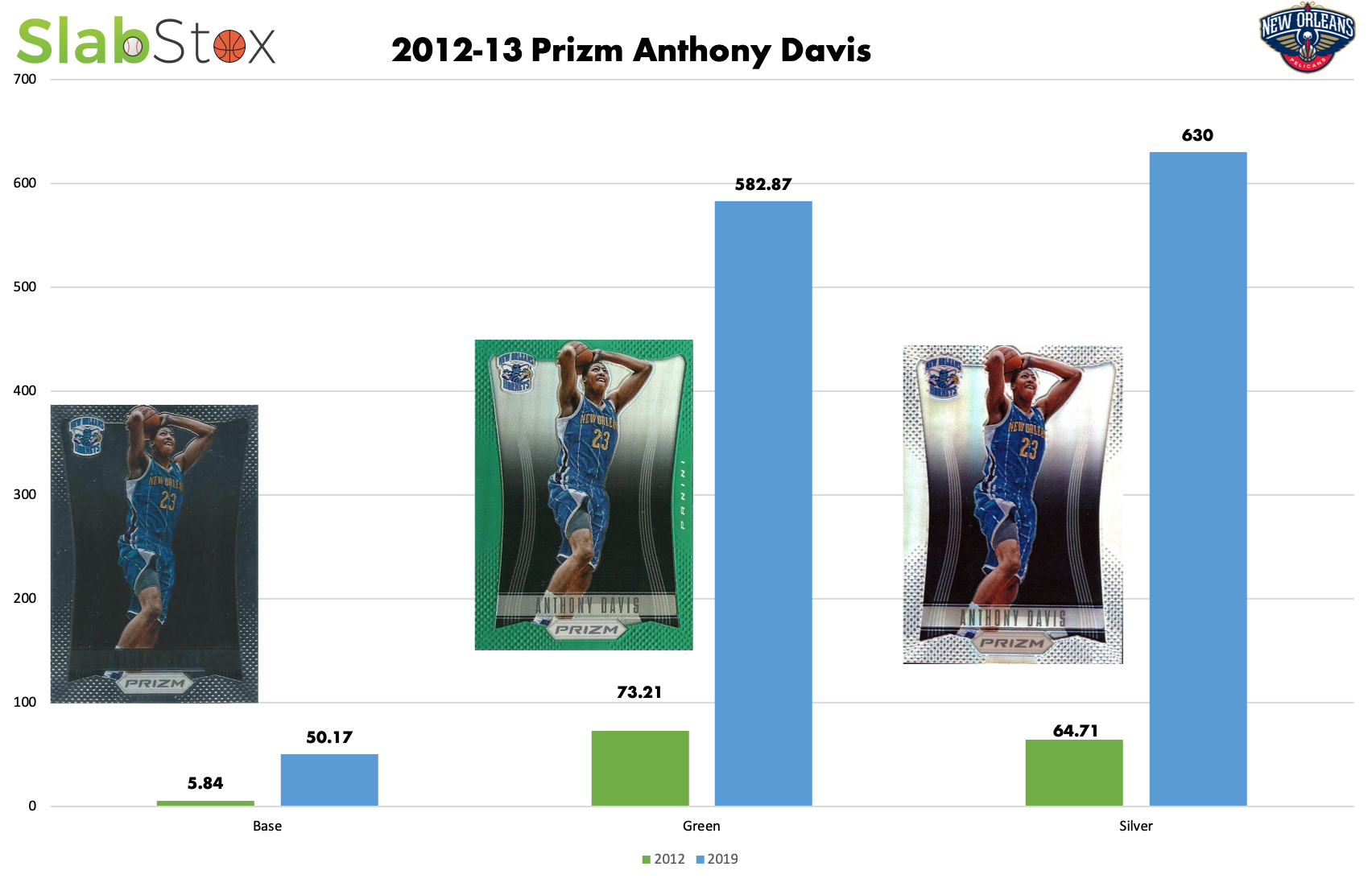 That's quite a jump in seven years.
Let's move ahead a year to the 2013-14 release which included the Giannis Antetokounmpo Prizm Rookie. These are the prices for the "Greek Freek's" Base, Silver and Green Parallels within the first couple of months of 2013-14 Prizm Basketball after release.
Base: $0.63
Green:$5.11
Silver: $5.74
Compare those to today's numbers as of December 2018- February 2019
Base: $95.75
Green:$331.57
Silver: $829.50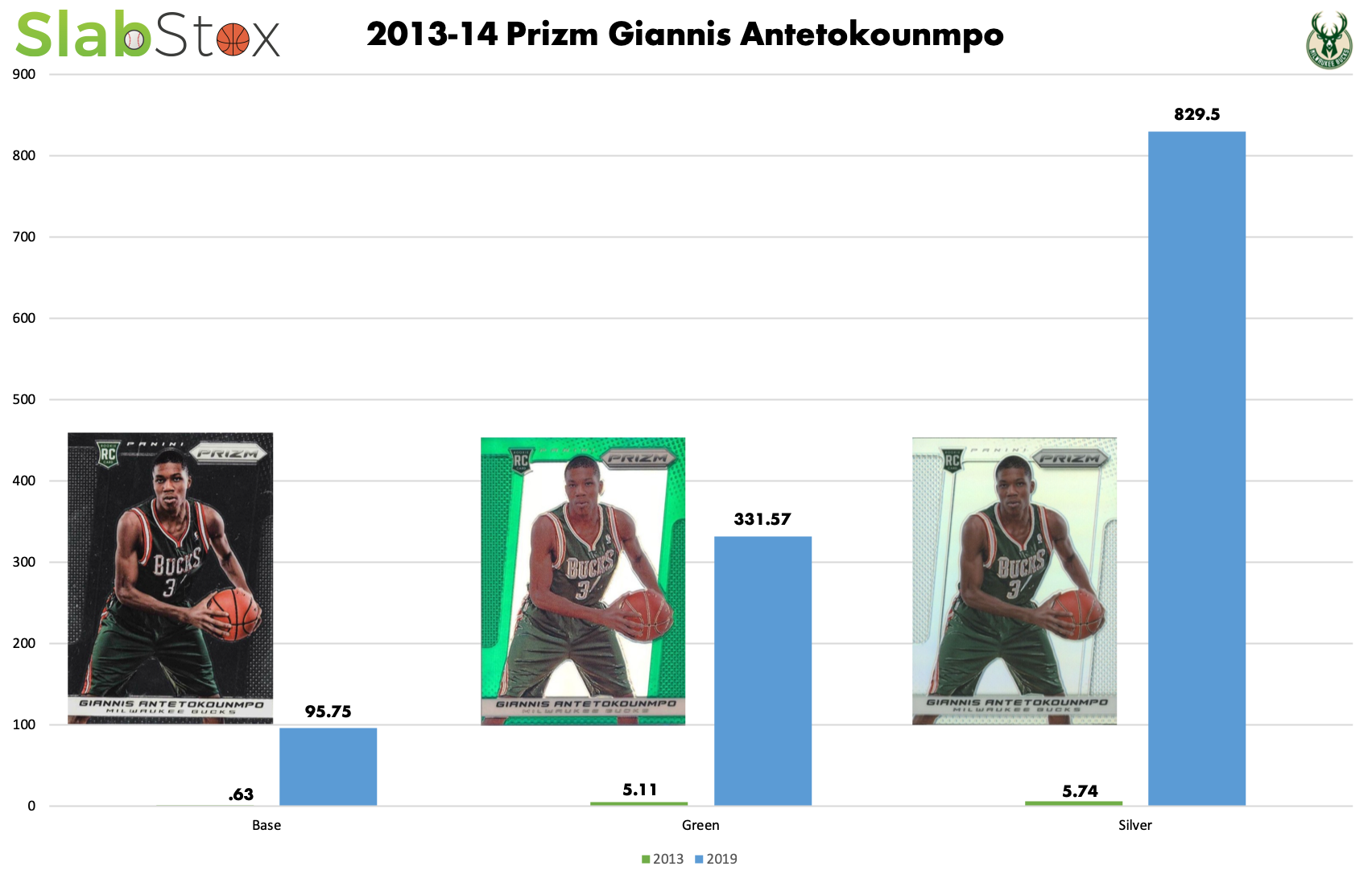 The price increase in around six or seven years is quite tremendous.
This year's release has a lot of promising rookies, but one in particular, Luka Doncic, has been the main talking point of not only NBA rookies, but the entire league. His Prizms are fetching top dollar early in his career, but as the data has shown us, can we expect an increase in five or six years down the line?
Here is Luka Doncic's prices as of early 2019 in his Base, Silver, and Green variations.
Base: $16.05
Green: $109.52
Silver: $218.33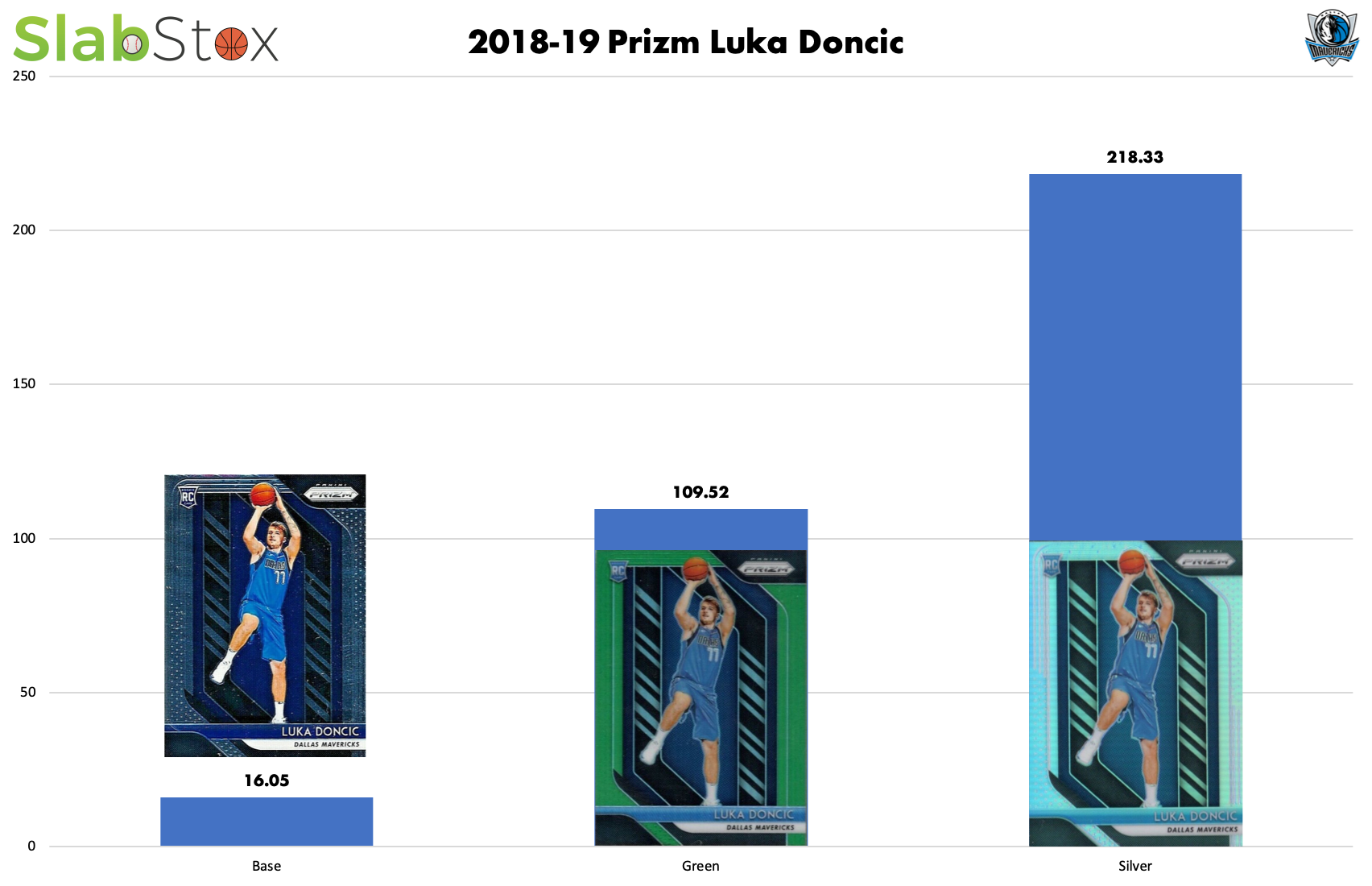 It may be a worthy option to hold onto these sought after Prizm rookie cards. Now, I am not comparing Luka to either of these guys, but considering the hype surrounding him as a current day rookie, he was the most appropriate choice for the example.
With modern day Prizm, there are many more Prizms now than the original release. However, the original three Prizms remain the same to the average collector: Base, Green, and Silver.
Now it is time to decide for yourself: are Prizm rookies worth holding onto?
Sign up for The Daily Slab email to get the most up-to-date sports card insights straight to your inbox.