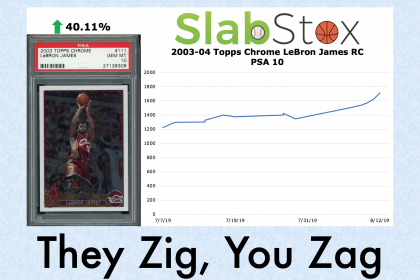 Every year the LeBron/MJ debate heats up, and with that, LeBron James' card prices do too. After the Lakers completed the trade for Anthony Davis, LeBron and AD prices have seen tremendous growth. Even more recent (July to today), the LeBron market is starting to catch fire, and all eyes are on the 2003-04 Topps Chrome RC PSA 10.
The Topps Chrome LeBron rookie card is THE basketball base rookie of the 2000s. Some of you may say, "But the Steph Curry sells for $4,000 in a PSA 10!" Well, the Curry Topps Chrome RC is /999. Compare that to LeBron, and there's a massive difference. The LeBron Topps Chrome RC isn't numbered, the PSA pop report is 4,000+, and the BGS pop report is 6,000+. If LeBron's 2003 Topps Chrome rookie was /999, I can't even imagine how much that'd be worth.
Back to why the Topps Chrome LeBron is THE card. It features the best player of this century, it is an action shot card (opposed to the draft night picture on his regular Topps rookie card) and it is Topps Chrome, the king of the early 2000s rookie cards (sadly discontinued after the 2009 release).
This is the one-month run the PSA 10 has been on…
*All of the data in this article is eBay auction sales as of 8/14/2019 (unless stated otherwise).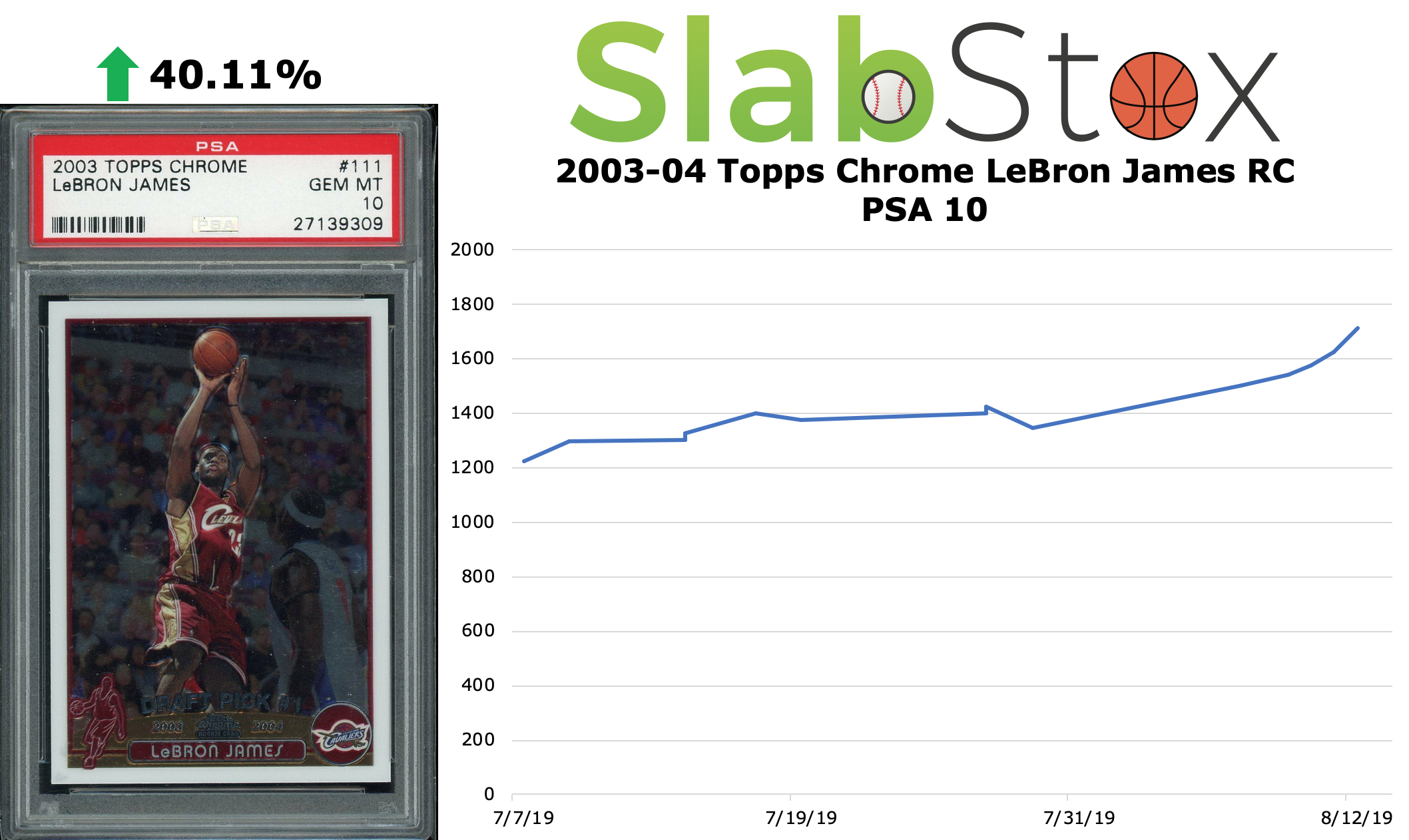 On July 7, these were sitting around $1,200. Within a little over a month, they have increased 40.11% and are approaching $1,800. Keep in mind, this is all after the AD trade.
So, why have these went up like crazy? Is it because StockX added this exact card to their marketplace? Or is the price increase an indicator that in the future the entire market will start shifting up?
The addition of the PSA 10 to StockX's marketplace causing this increase seems feasible, but isn't guaranteed; more people could be seeking out the LeBron Chrome PSA 10 because it is more visible to the public. Also, the other LeBron rookies aren't running up like this and aren't on StockX.
While that might be a contributing factor, there's no definitive answer; however, there is a way for us to start calling shots over the next three to six months, and here's how it works.
The Process of Finding Undervalued LeBron James RCs
(with five examples)
2003-04 Topps Chrome RC BGS 9.5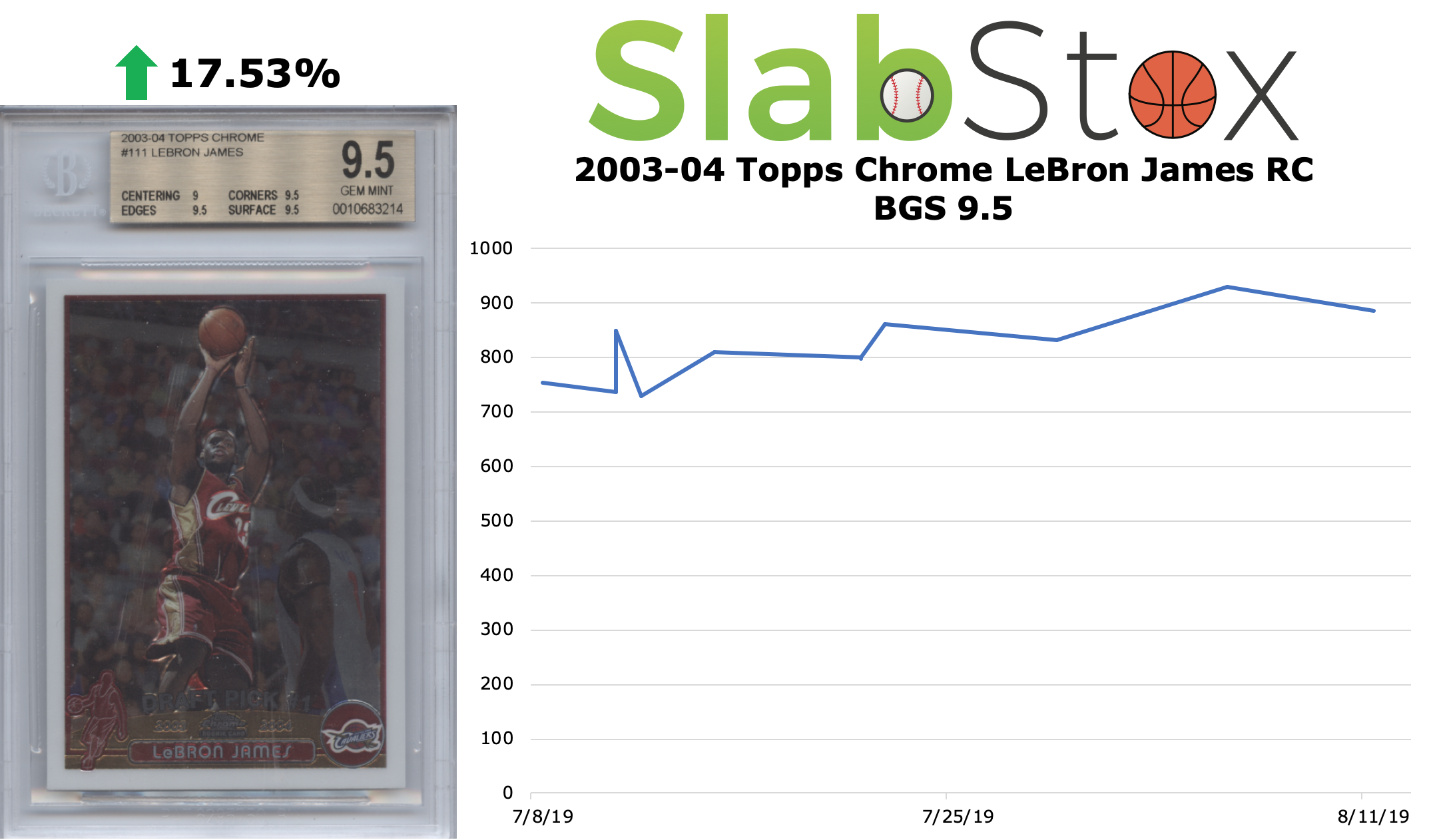 Yes, it's the same rookie card, but in a BGS 9.5 case instead of a PSA 10. That particularly is what makes this card so intriguing. I will recognize that PSA 10s normally outsell BGS 9.5s of marquee rookies, but get this. In early July, the BGS 9.5 was going for $750, and the PSA 10 was going for $1,200. That's a multiplier of 1.6. Today, the multiplier sits right under 2.0. That means the price gap between BGS 9.5s and PSA 10s increased by 25% in a month for no concrete reason.
Do you see what I'm getting at? Right now, based on PSA 10s going for $1750, I expect the BGS 9.5s to be worth around $1,100 on auction, not $885 (keep in mind, this is only auction sales). An auction sale hasn't ended in a couple days, so it will be interesting to see if one hits $1,100 soon (with no movement of the PSA 10 price). If you see a BGS 9.5 sell for $1,100 while PSA 10s are still auctioning off around $1,750, know that the gap has closed. Until then, it's open season.
July's PSA 10 vs. BGS 9.5 multiplier: 1.60
Today's multiplier: 2.00
What today's value "should" be: $1,100The "gap": $215
2003-04 Topps RC PSA 10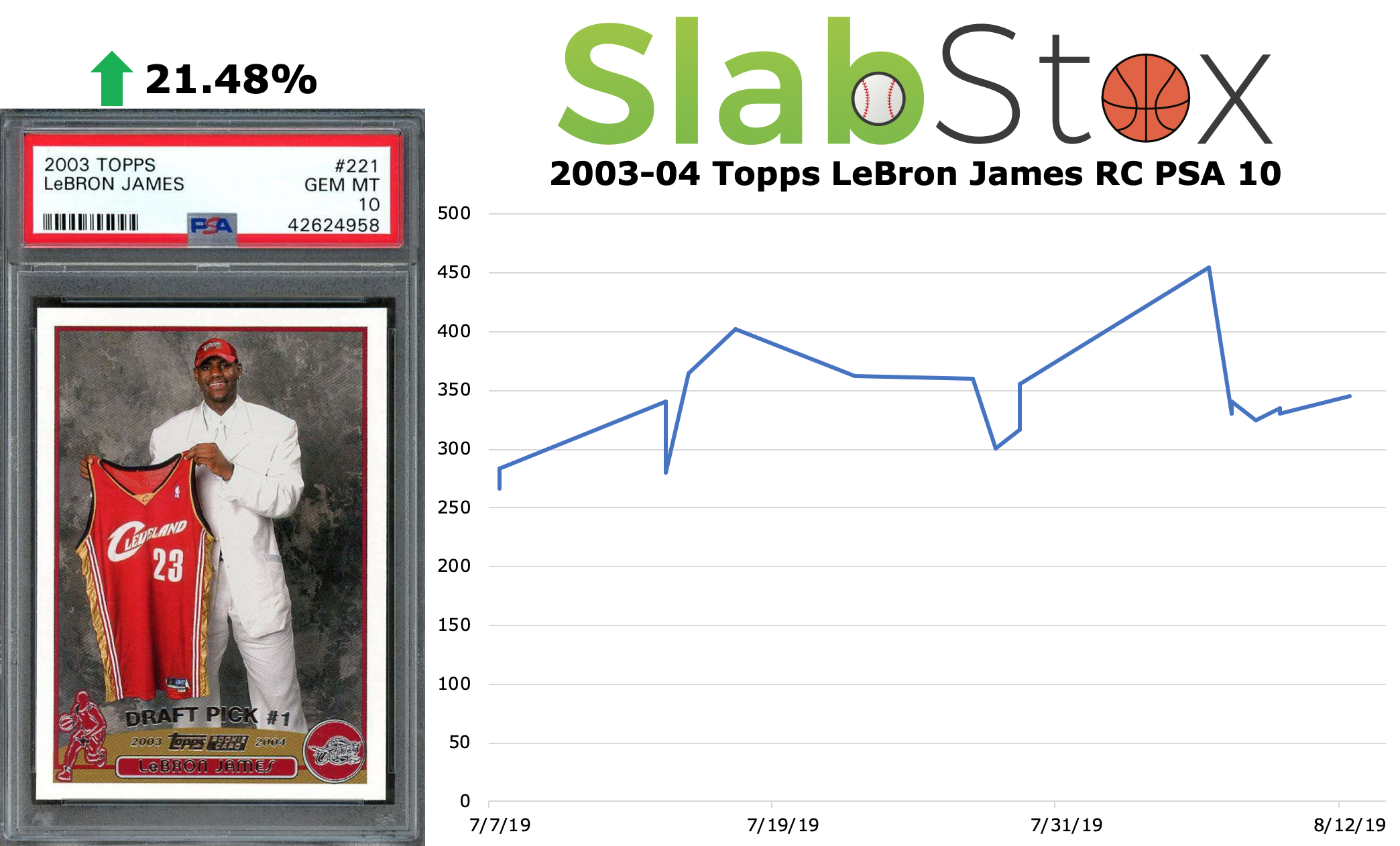 This is the card I was referencing at the beginning. The 2003 Topps LeBron rookie features him in his draft night suit (looking fly with the all white). This is a staple LeBron rookie next to the Topps Chrome. All of the same rules apply as the previous example (ie. given that the Topps Chrome PSA 10 sells for $1,750 on auction).
July's multiplier: 4.36
Today's multiplier: 5.00
What today's value "should" be: $400The "gap": $50
2003-04 Bowman Chrome RC PSA 10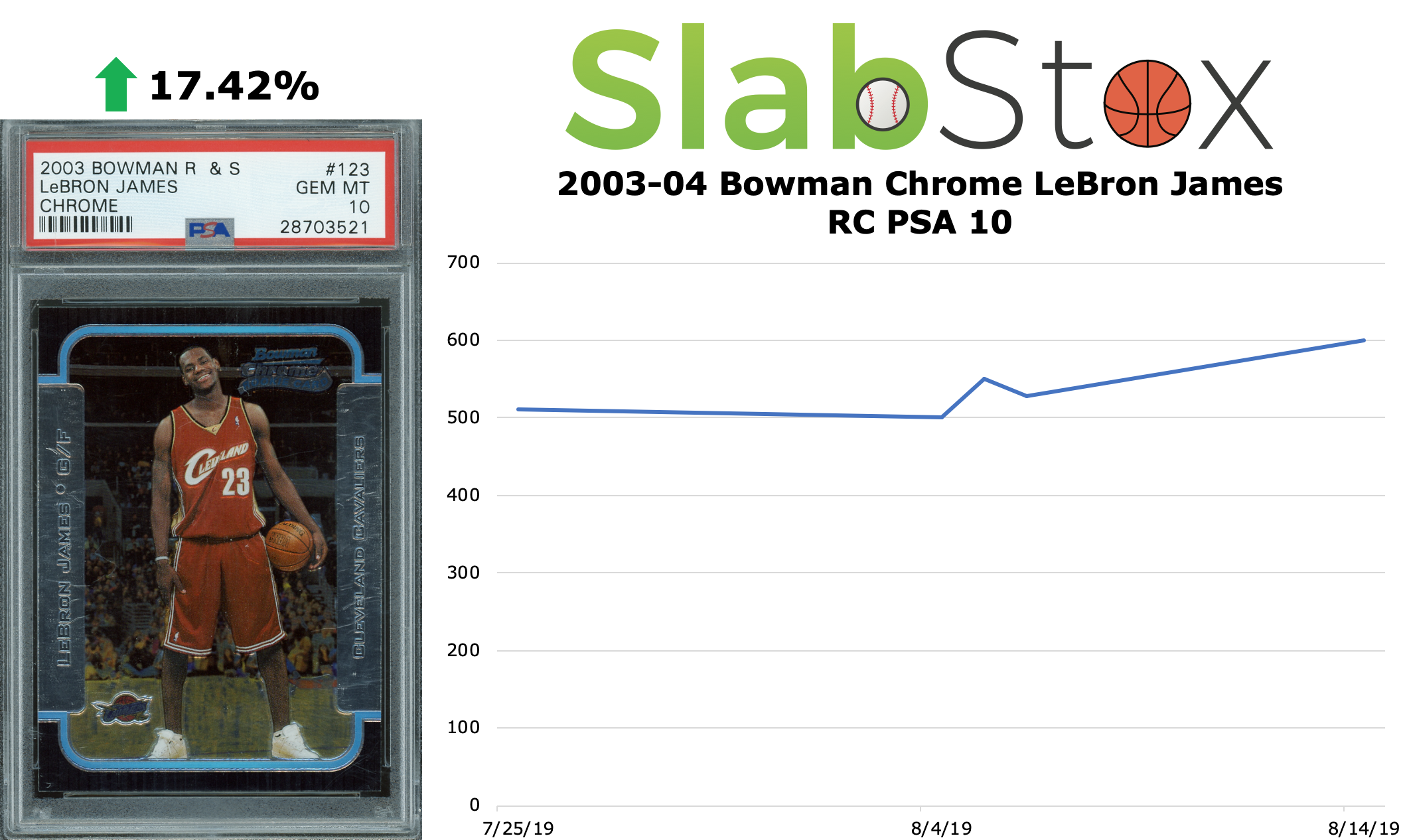 The Bowman Chrome RC is a lot tougher. They don't sell very often, so the data for this chart is a small mix of BIN/OBO and auction sales. The other difficulty is there really isn't a sale close to 7/7/2019 for the Bowman Chrome, so I went with the first July sale (7/25/2019).
If there wasn't a $600 BIN sale last night (a great purchase), the gap below would be much larger.
July's multiplier: 2.40
Today's multiplier: 2.92
What today's value "should" be: $730The "gap": $130
2003-04 Topps Pristine RC PSA 10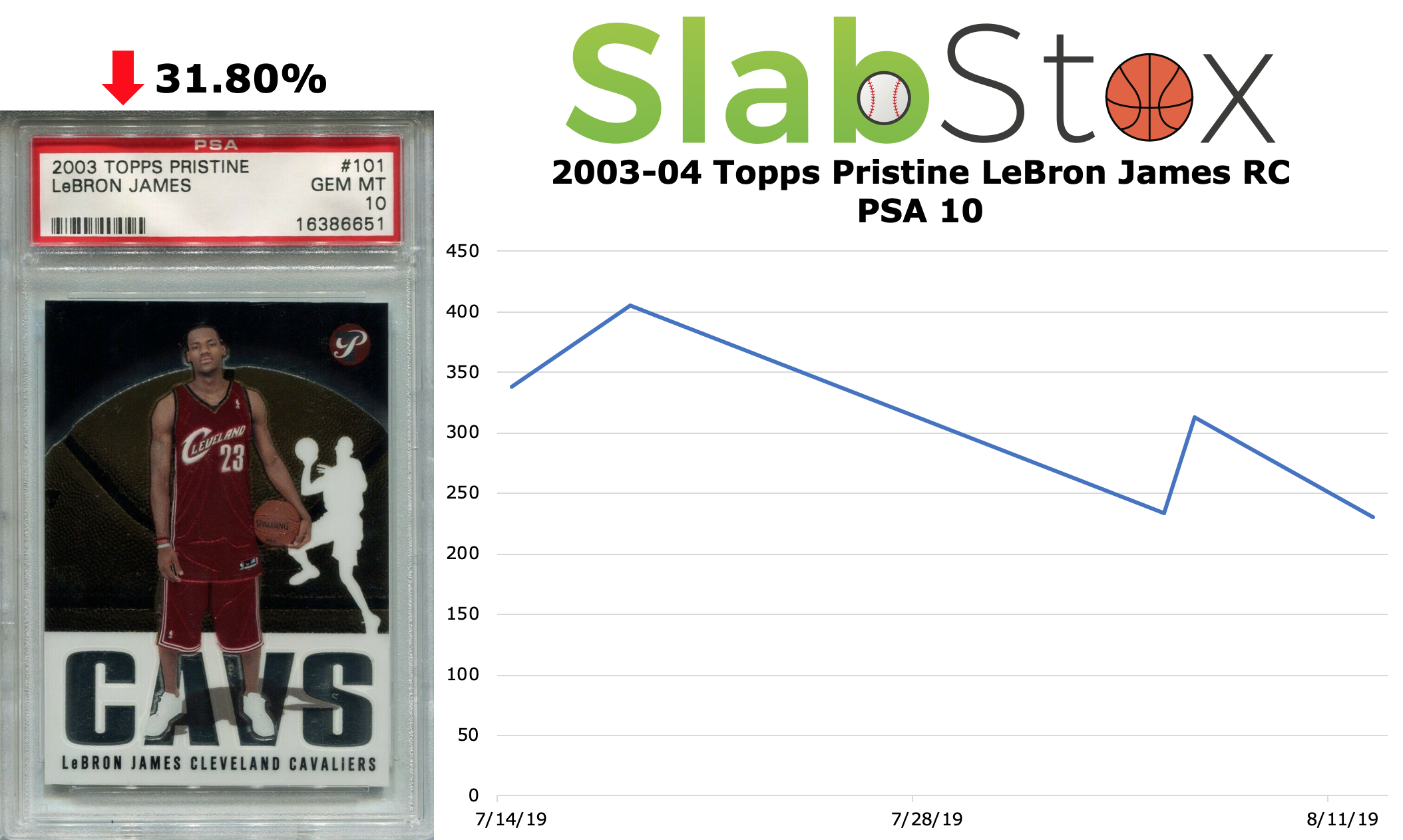 The Topps Pristine rookie has a chrome finish, but one of the more unappealing designs (in my opinion). For some reason, this one has dropped a ton. I'm not sure if it was a couple low sales, or it wasn't really worth $350 back on 7/14. I would take this one with a grain of salt since the disparity will be massive. It could be a great gamble, though.
July's multiplier: 3.43
Today's multiplier: 7.60
What today's value "should" be: $510The "gap": $280
Don't bet on this one going up $300, but there should be some room for growth.
2003-04 Topps Finest /999 RC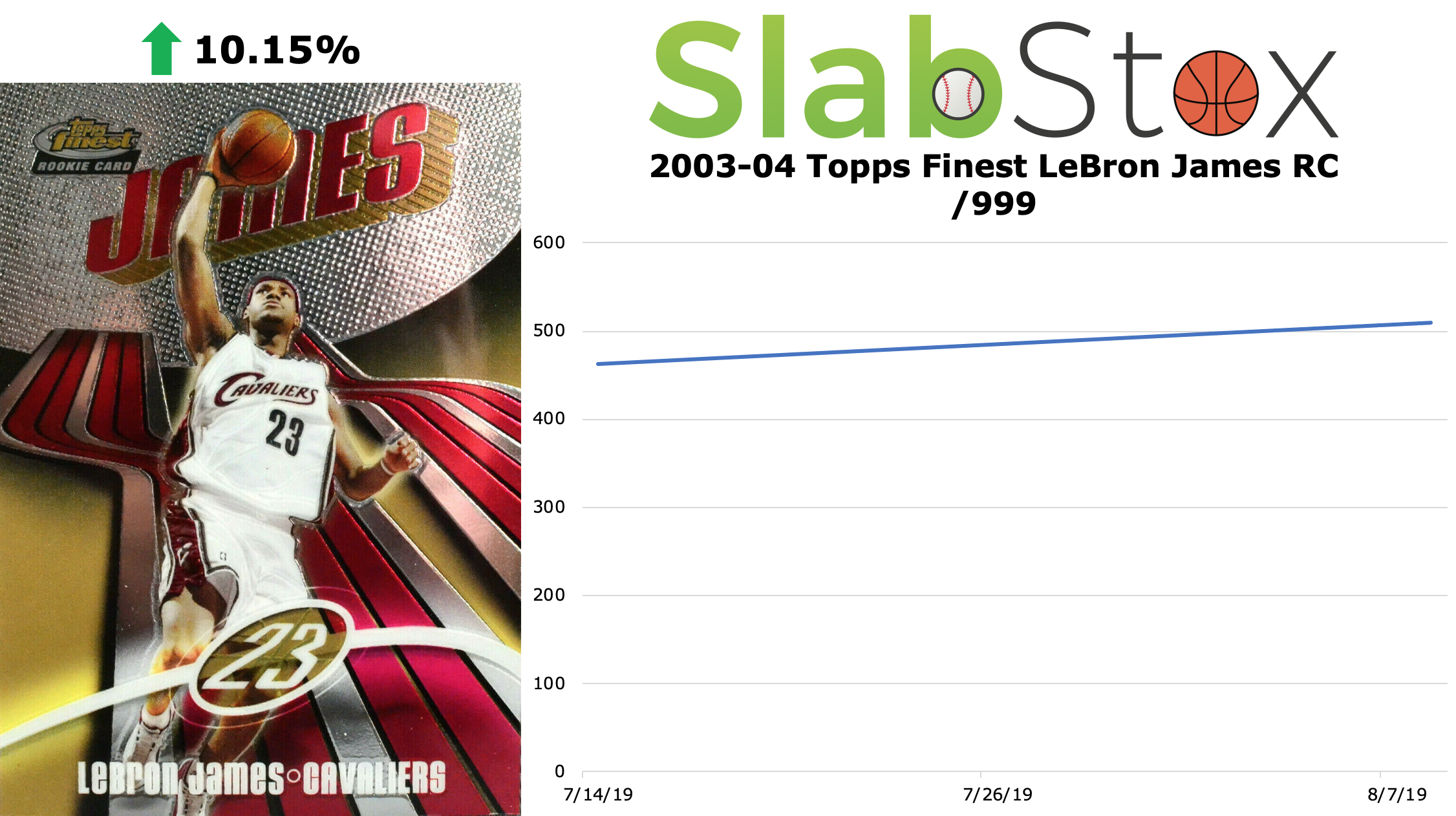 This is easily one of my favorite LeBron rookies. It's got an amazing design, and it is serial numbered which provides knowledge on how many are available, and also adds long-term value. I will run the same numbers as the previous ones, but these are so rare they do not sell often, especially in the same raw or graded form. Because of those factors, this will be the hardest to gauge.
July multiplier: 2.53
Today's multiplier: 3.43
What today's value "should" be: $691
The "gap": $181
If you can get your hands on one of these, I'd pick it up!
So what's the secret?
Here are the steps to do it yourself with any LeBron, any time.
Choose the Topps Chrome RC PSA 10 and another rookie card.
Find their values on the same day in the past.
Take the TC PSA 10 and divide it by your rookie of choice.
Find the TC PSA 10 current value.
Divide the TC PSA 10 current value by the past date multiplier.
Subtract the current value from the value in #5.
You now have your "gap".
Here's an example (with made-up values)
Topps Chrome PSA 10 and Topps Base RC PSA 10
Topps Chrome = $1,000, Topps Base = $200
$1,000/$200 = multiplier of 5
Current TC value = $1,500
$1,500/5 = $300 (what the value "should" be)
Current value = $225, $300 – $225 = $75
$75 is your gap between what the card's value is and what it should be.
*If that "gap" value is negative (or exactly $0), then there is no market difference.
While it may not be extremely complex or secretive, it is definitely something that can help you in figuring out where to zig when others zag. You can apply this to any LeBron rookie card (or really any card ever). I'd recommend testing this on a bunch of different LeBrons to find the most undervalued.
When doing this exercise, be aware there can be some error. If there is one high sale or one low sale you use, it could skew the numbers and create a misconception of what the value "should" be.
---
LeBron cards are a wonderful investment right now. He has clearly cemented himself as a living legend, and with time, these should continue to go up. Whether you're a short-term or long-term investor, money can be made on a ton of different LeBron James cards.
What LeBron rookies are you going to be chasing after now?